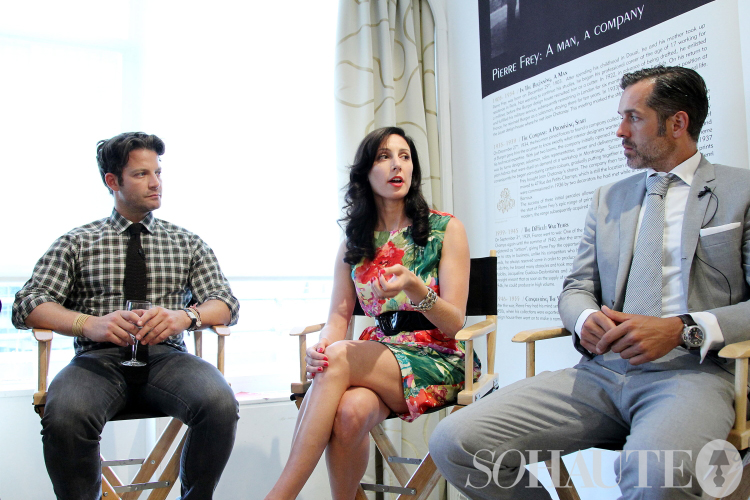 At Wednesday's Right Now In Design panel, the intriguing discussion revolved around three main topics: building a brand, the state of the industry and what's new and next in design. Myself and Josh Greene moderated the talk and below is a detailed recap of the highlights.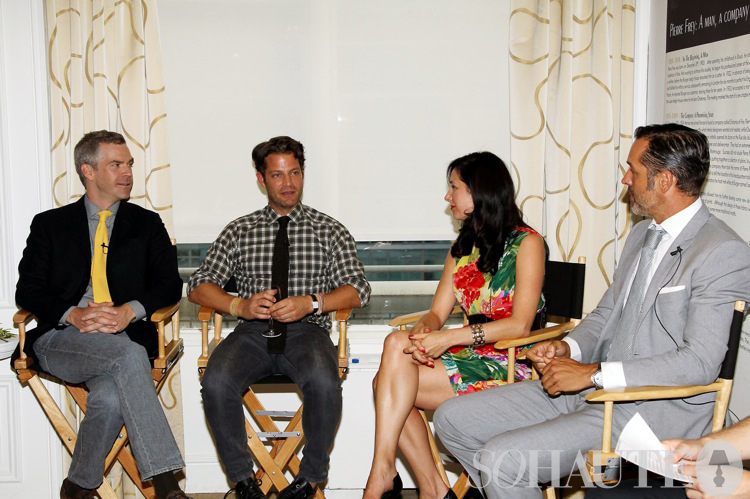 On Building a Brand…
The first questions touched on whether or not having a specific and recognizable signature look is important to developing your brand and what the key is to creating a successful brand as a designer. Nate and Steven both felt that maintaining a consistent point of view in your work is essential and Nate expanded on that by talking about the importance of maintaining integrity in your work as well. He believes you should never waver on being consistent with your point of view, regardless of how adamantly a client may demand a specific piece, never incorporate a piece into a space if it's something you don't believe is a reflection of your point of view.  Nate believes the same tenets hold true when it comes to product design and that quality is crucial.  He says consumers are extremely savvy these days and regardless of whether something costs $9.99  or $9,099, if a customer looks at the product and feels it's lacking in quality, they'll move on to the next item on the shelf. He believes you don't necessarily have to spend a lot of money to "live well," which is an expression he embodies throughout his work.  He also says that throughout all of his work whether it be his television shows, books or his products for HSN, he is always conscious of being consistent in his aesthetic and approach.
Josh and I also asked the panelists about the role of publicity in building your brand and touched on the demise of many of our favorite shelter publications. The designers immediately brought up Domino and acknowledged the huge impact the magazine had on and the industry even though it was only  around for a short time.  There was also consensus about the increasing importance of online media, although they all agreed there's nothing like touching and feeling an actual glossy magazine. Jesse Carrier spoke about how publicity has really helped him to create awareness of his brand and reinforce  his credibility as a designer. Since his recent flurry of press this year (He was named one of Traditional Home's top 20 young designers and also honored on Elle Decor's A-List) his phone has been ringing a lot more and there is a lot more interest in his firm in general.
We also touched on the subject of licensing. Laura is quite the expert in this field having multiple licensing deals including lines with Ann Sacks, Baker, Kallista and Maguire (all Kohler Interiors Group brands) plus a line with Arteriors Home and a couple of new top secret collaborations in the works. She says that licensing deals are appealing to designers because they think they'll make a ton of money, but revealed that a scoring a deal isn't necessarily a surefire way for a designer to get rich. It's contingent upon the nature of the deal and many other factors.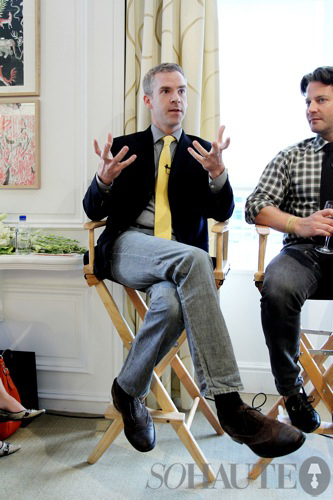 On the State of the Industry…
We kicked off this topic with the predictable yet still-very-relevant question of how the sagging economy has impacted the design industry and if there are signs that things are finally picking up. Nate, Laura and Steven who all operate larger firms agreed that throughout the recession business definitely slowed down a lot and that people, even the very wealthy, just didn't want to spend the money on a decorator when times were uncertain. Laura also said that she thinks the recession may have forced people to think differently about how they spend their money and told the story of a client who is currently debating whether to spend the money to re-decorate his home or do something philanthropic with it instead. The designers also felt that their design projects are taking twice as long these days. The reason why is that clients are taking much longer to make decisions because they're giving very careful consideration to every purchase. Jesse had a different experience than the other designers and said that he benefited from having a smaller design firm. During the recession he was able to secure clients who might have otherwise gone to a larger design firm which resulted in a boost to his business.
Being a blogger, I couldn't help but ask Nate about the infamous Moggit Girls story. For those who don't know what I'm talking about, back in May a duo called the Moggit Girls who write a satirical blog about design, tweeted Nate that he should do a show with an audience full of design bloggers. Nate tweeted back that it was a great idea and within an hour tweeted again to tell the Moggit Girls that he wants to do the show and to expect a call from his producers! Talk about the power of social media! This story led into a question about how social media has impacted the industry and how having a social media presence has impacted the designers' businesses and brands. Jesse, Steven and Laura all acknowledged the importance of social media but confessed that they haven't quite unlocked the secret to finding the time to build a huge social presence for their brands online. Laura does has a Facebook page and says that social media is always a topic that comes up in her marketing meetings, yet she hasn't quite embraced it the way she would like to. Nate, on the other hand, has a huge social media since joining both Facebook and twitter earlier this year. He admitted though that he fought the idea of  twitter and Facebook tooth and nail but after attending a social media conference at Harpo, finally bit the bullet and now it has become a huge part of his business. He also says that social media will play a big role in his new nationally syndicated show which premieres September 13. (Visit thenateshow.com to check your local listings for air times). The topic of blogs came up and the panelists acknowledged how important design blogs are becoming to consumers. They all said that rather than bringing in tears from magazines, clients are now emailing them links to inspiration they've found on blogs. And while they appreciate the exposure that design blogs offer, they're not quite sure how to manage that publicity against the print world because print is still the priority and they would never want exposure on a blog to cannibalize an opportunity for a print feature.
I mentioned to the designers that with the rise in how-to television programming on networks like HGTV and the wealth of information available through blogs, clients seem to be more educated than ever. I followed that up by asking the panelists how this affects the way they approach their role as a designer. They all agreed that clients seem to know way too much these days, but that it's not always a bad thing. Whereas designers used to be the ones that presented memos to their clients, the clients are now handing the designers memos from sites like 1stdibs! Still, they feel their roles as designers are solid because while a client can certainly have an eye to spot a beautiful piece, they don't have the expertise to understand if the scale will work in the space, if it will fit through a doorway, etc.  It also challenges designers to be far more creative with their sources. also, specifying custom furnishings really allows them to take the front seat and lead their clients to their choices.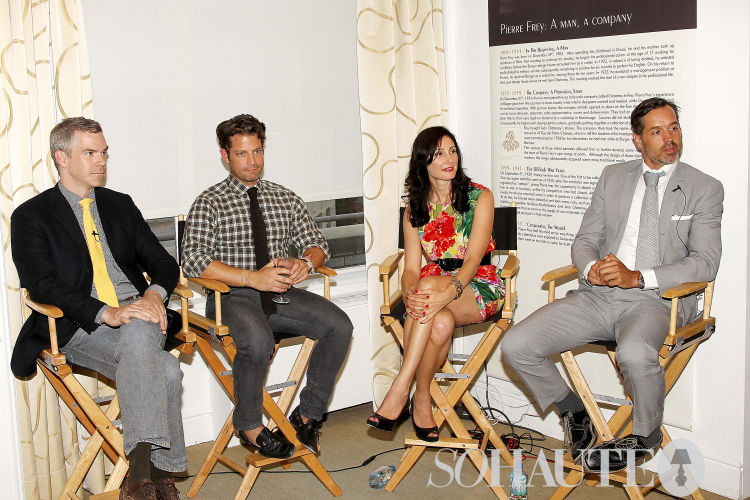 On What's Right Now and What's Next in Design…
Josh broached this topic by asking our panelists for their predictions on the next big color trend and their point of view on color in general. Steven said that he's drawn to blues and personally loves to use color in his projects although it's really up to the client in the end. He spoke about a client who expressed how much he adored his use of color but that it wasn't for him so instead Steven was challenged to experiment with textures and layering rather than strong color. Nate said that he is usually drawn to a combination of colors rather than one specific color, while Laura talked about the practicality of using color in context. She feels that the location of a home has a huge impact on the color choices that are appropriate for the space. She gave the example of how a pink house would look amazing and possibly even commonplace in Florida but if you had a pink house in New York it would seem totally odd.
As a final question, I asked the panelists what they were obsessed with "right now in design." Jesse is currently obsessed with upholstered walls and Steven has an obsession with interesting surfaces and finishes. Nate and Laura both share a current obsession with mid-century Mexican furniture, a coincidence I found to be quite uncanny!
That about sums up the key points of the panel discussion. I want to give a special thanks to Pierre Frey, my gracious co-host who was so kind to let us hold the event in his beautiful showroom! In case you're not familiar,  Pierre Frey the company was founded in 1935 in Paris, France and designs, creates and manufactures fabrics and wallpapers in the purest French tradition. The company is celebrating it's 75th anniversary this year! Along with Pierre I want to thank my co-host Josh Greene and his business partner Alex Kale as well as Pierre's showroom manager Kim Huebner…we all worked together to make this event a success. And finally, a special thanks must be given to our generous sponsors for the evening: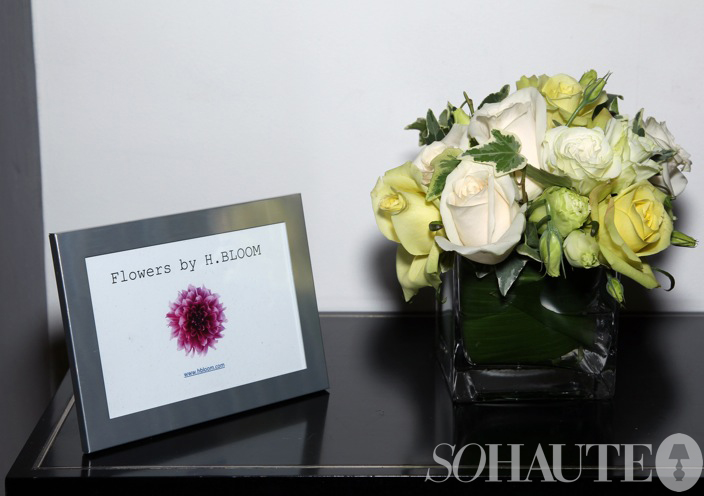 The beautiful floral arrangements were provided by H. Bloom. Check out HBloom.com to try their floral delivery service in New York City.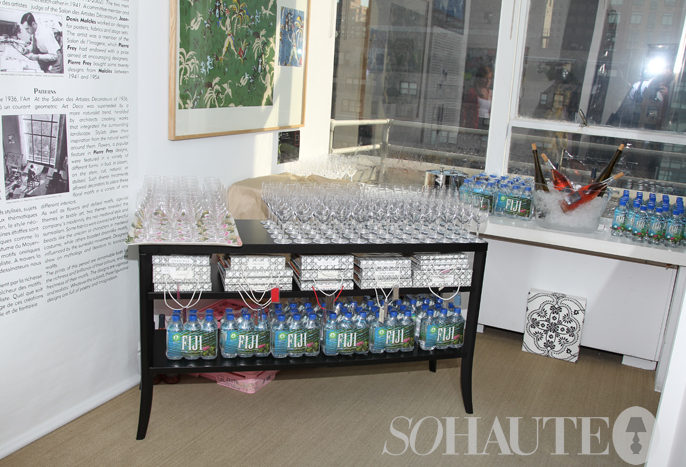 Fiji Water provided water for the evening to help keep our guests hydrated! Check out Fiji Water's blog here.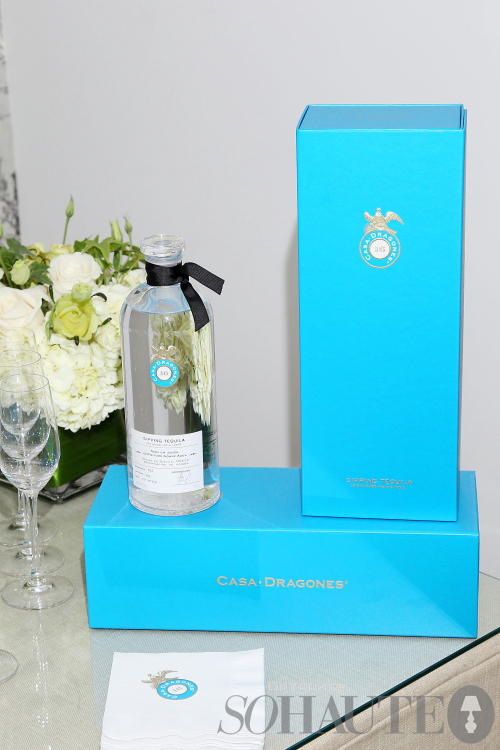 Casa Dragones provided its ultra smooth 100% blue agave sipping tequila for our guests to taste. Visit the Casa Dragones website here.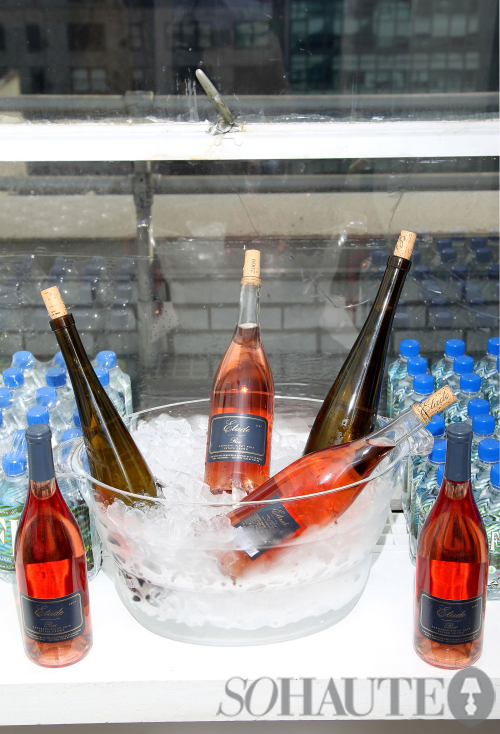 And finally, Etude wines provided a fantastic rosè and chardonnay for the evening. Visit Etude's website here to learn more about their wines and vineyards.