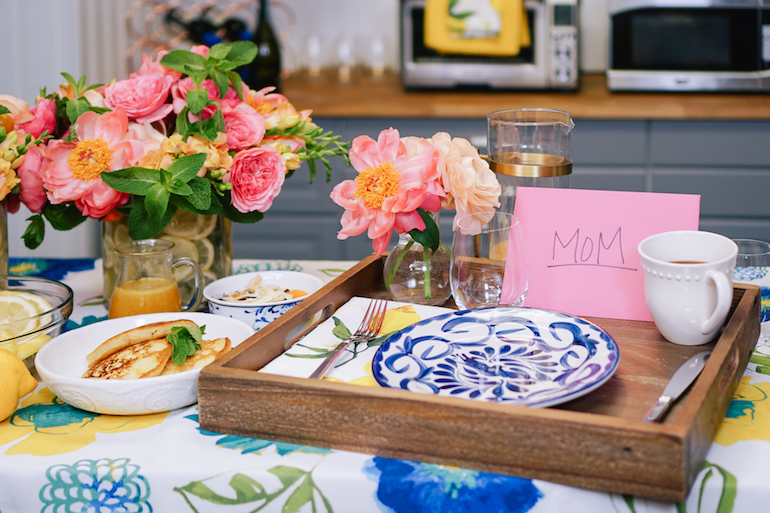 If you're in a panic because Mother's Day is right around the corner I've got some easy DIY gift ideas to share with you that will hopefully come through in a pinch! I recently joined my friend, Chef Vanessa Cantave to share few fun DIY Mother's Day gift ideas on her weekly cooking show, The Hostess Next Door, which airs live on the Little Things Facebook page. Do you guys know about The Little Things? They produce high-quality lifestyle videos that air live on their Facebook page which has nearly 10 million fans! On this week's The Hostess Next Door I showed how to create the perfect setting for a Mother's Day breakfast in bed, a luxurious DIY coconut-grapefruit body scrub, plus a deliciously beautiful floral arrangement infused with kumquats, mint and lemons. Vanessa cooked up some yummy recipes and everything we created was centered around a citrus theme! Read on for a recap of all my tips and ideas plus find the link to the entire Little Things video segment below!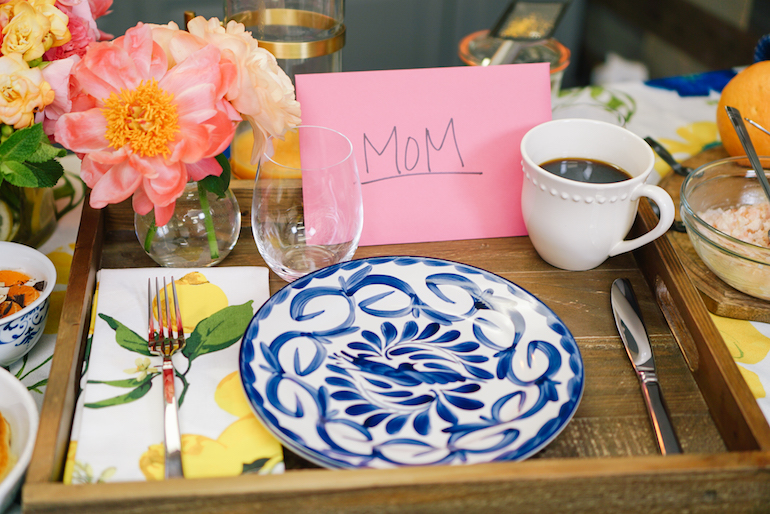 Breakfast in Bed How-To
Most moms I've polled say they just want to be pampered and given some kid-free "me time" on Mother's Day so why not start her day off with a delicious breakfast in bed so she doesn't have to lift a finger. My philosophy in design and in life is whatever you do, make it stylish so, of course, you'll want to put some thought into your presentation. Here are my best tips for creating the ultimate breakfast in bed:
No. 1 – Fix a simple menu but elevate it with beautiful garnish and unexpected twists. For this setup, Vanessa made simple pancakes but took it up a notch by adding some fresh orange zest and making a super yummy orange syrup to pour on top. She also made the most amazing frozen mimosas. Keep reading for info on the recipe!
No. 2 – Once you have your food prepared, start with a lovely tray to carry her breakfast to the bed. Treat the tray like you're setting a table. Find unique dinnerware items and mix up pieces that introduce color and contrast into. I chose these awesome Pueblo dinner plates from Pottery Barn which are artisan made in Mexico so they have such a beautiful handmade feel. I love the classic blue and white combo and I paired them with these adorable lemon napkins which have a yellow and green print. The colors are a lovely compliment to the blue and white! I used classic, stainless flatware plus a stemless wine glass for the mimosas which are much easier to balance on a tray than a champagne flute.
No 3. – Include some fresh flowers on her tray. There's no need to overdo do it, just a few stems of her favorite flowers in a small bud vase will do the trick. Don't forget the card.
No 4. – Don't forget the card. Give her a card to show your appreciation and make it extra special with a handwritten note inside to convey how much she means to you.
That's it! A simple breakfast in bed setup that's beautiful and easy to make!  Here's how to get the look: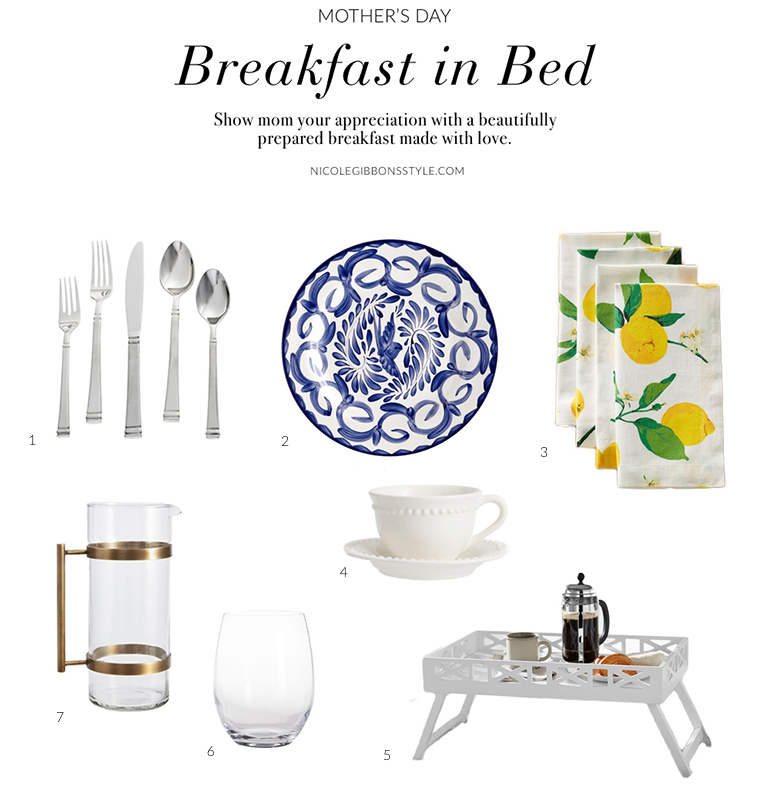 All items from Pottery Barn: 1. Riley Flatware / 2. Puebla Dinnerware / 3. Lemon Napkins / 4. Emma Teacup / 5. Lap Tray / 6. Stemless Wine Glass / 7. Pitcher
Citrus Infused Floral Arrangement DIY
Another gift idea I showed on The Little Things was how to create a colorful and cheerful spring floral arrangement using citrus! Of course you can just order flowers online or buy some from a store but making your own arrangements is easier than you think, plus the effort and love you put into it will truly make Mom feel appreciated. Here are some tips for creating this stunning arrangement seen above!
No 1. – Buy high-quality flowers. I got all of these from the flower market here in NYC. Your local flower market is where all the florists and event planners shop for supplies and they'll always have the freshest flowers around. A good grocery store like whole foods or Trader Joe's also generally have higher-quality flowers. Here I used peonies, ranunculus, garden roses, kumquat branches and mint which you can usually find at a flower market. To keep your arrangement more budget friendly, you can use a single variety of flower but if you want to splurge a bit, it's nice to mix up different flowers to add dimension and interest.
No. 2 – Prep your flowers. Trim stems at a 45-degree angle to create more room for the stem to absorb water. This will help keep them fresher longer. Also, trim any leaves, thorns or foliage that will be submerged in water because otherwise, they'll create bacteria which can cause your flowers to die sooner.
No. 3 – Arrange your vases. I bet you're wondering how I got the lemons so perfectly in the vase and whether or not the acidity of the lemons will poison the water. Well here's a trick: Use two vases!This completely separates the fresh floral water from the acidic lemon water so you're not going to kill your flower and it looks super adorable. Place one smaller vase inside the larger vase and sandwich your lemon slices in the space in between.
No. 4 – Next, with your flowers all prepped, start inserting them one by one into the smaller vase crisscross each new stem as you go along. The crisscrossing in the vase works like webbing to keep your flowers in place where you want them. Once you near the end, fill in any holes with your kumquats and extra flowers.  Mix in the mint as you go. Experiment, take your time, play around with it until you're happy with how it looks. Here is the end result…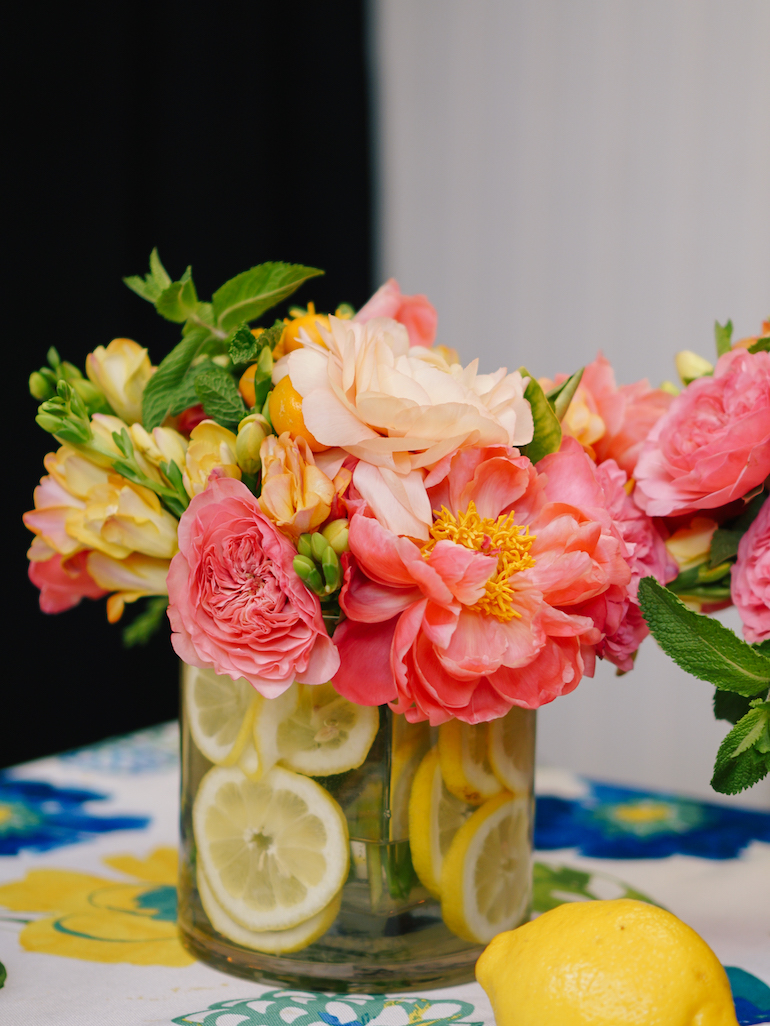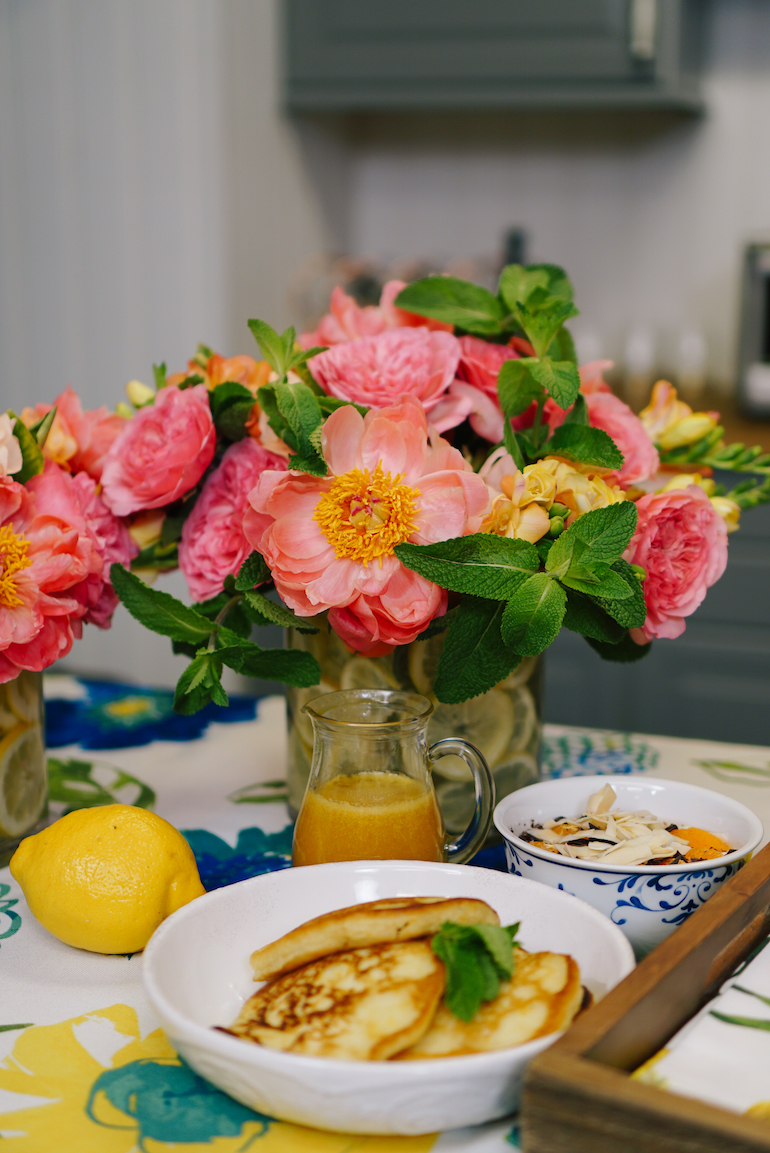 So pretty, right? This arrangement is colorful, vibrant and the touch of lemons in the vase is very fun and unexpected. It's such a cheerful arrangement that is sure to brighten Mom's day!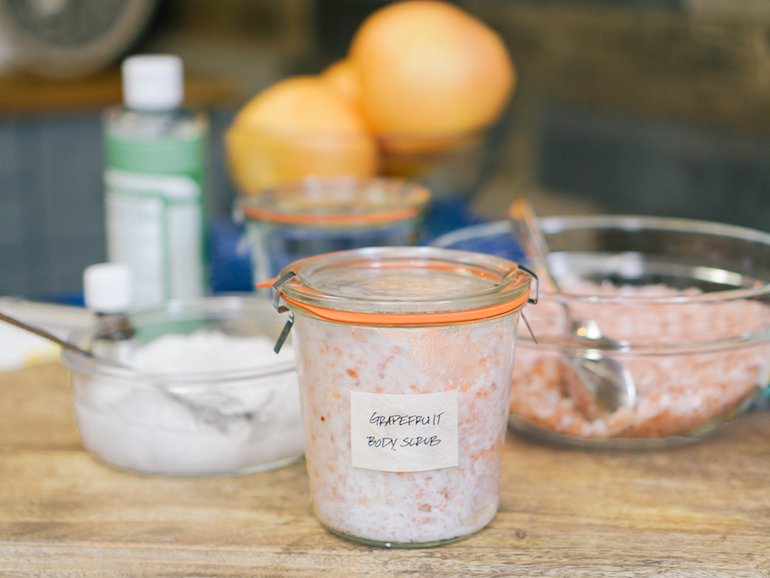 DIY GrapeFruit – Coconut Body Scrub
This hand-made body scrub is a great way to give mom a gift that will not only nourish her body but also give her an excuse to indulge in that much-deserved "me time." It's made with simple, all-natural ingredients, many of which you may already have in your kitchen pantry. The coconut smells like a tropical vacation and the grapefruit has an energizing scent that smells like a sunny morning!
Ingredients:
Coconut Oil – Provides deep moisture for healthy, glowing skin. It's a great base oil to help bind the ingredients of this scrub together and it softens the skin to makes exfoliating easier.
Himalayan Sea Salt: Finely ground pink Himalayan salt is great at exfoliating and removing dead skin, plus it helps draw out toxins and impurities.
Castile Soap: This soap is vegetable based and lathers up really well and is the key ingredient to make this scrub also double as a cleanser.
Grapefruit Essential Oil & Grapefruit Zest: Grapefruit essential oil helps to stimulate the lymphatic system and the scent is energizing and invigorating. We're adding a little fresh grapefruit zest to really enhance the grapefruit scent and give the scrub a beautiful, organic look.
Instructions:
Mix equal parts coconut oil, sea salt and castille soap into a bowl. Add drops of grapefruit oil until you achieve your desired fragrance intensity. I used a 1/2 cup of each main ingredient and about 20 drops of grapefruit oil to make my scrub. Simply whisk the ingredients together with a fork or spoon and you've got yourself a nourishing, all-natural and  a ready-to-use scrub!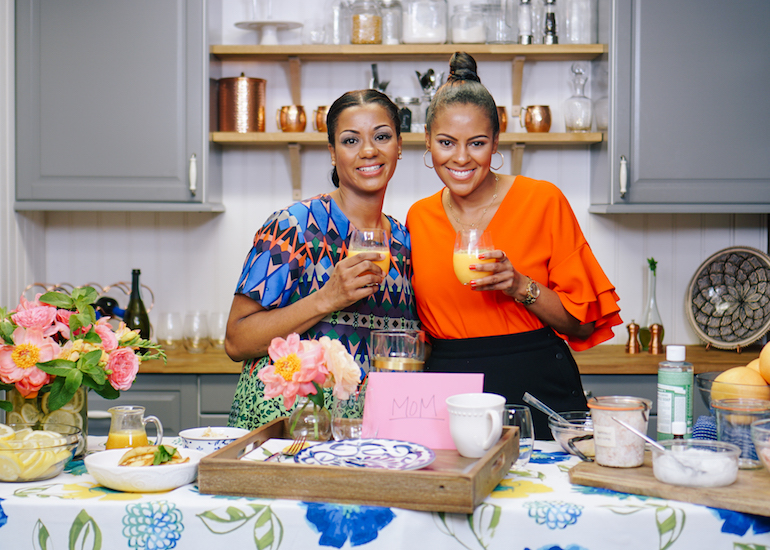 I hope you enjoyed these fun DIY gift ideas and that they inspire you create something special for the moms in your life! There's nothing better than a gift made with a little love, creativity, and effort! To see me demonstrate how to make each of these DIYs, click here to watch the full video from my appearance on The Little Things. You can also get all of Vanessa's celicious recipes! And be sure to follow The Little Things on Facebook for more inspiration plus a healthy dose of fuzzy, feel-good viral videos!
More Mother's Day Gift Ideas