It's always fun to connect with old friends from college to see where they are now. I first met Adrienne Moore, who you probably know as "Black Cindy" from Orange is the New Black, as an undergrad at Northwestern (go Cats!). I remember her being such a big personality with a presence that commanded attention when she walked into a room. So it's no surprise that just a few short years (ahem) after we graduated she's now an extremely successful actress who stars on a hit show and is totally killing it! Earlier this year Adrienne wanted to embark on redecorating her Brooklyn apartment and a mutual friend suggested we reconnect. I stopped by her apartment to see her place and took on the fun challenge of giving her space a stylish new look. I teamed up with Lowe's and ATG Stores on this makeover and I'm excited to share the before and after plus a look into the design process.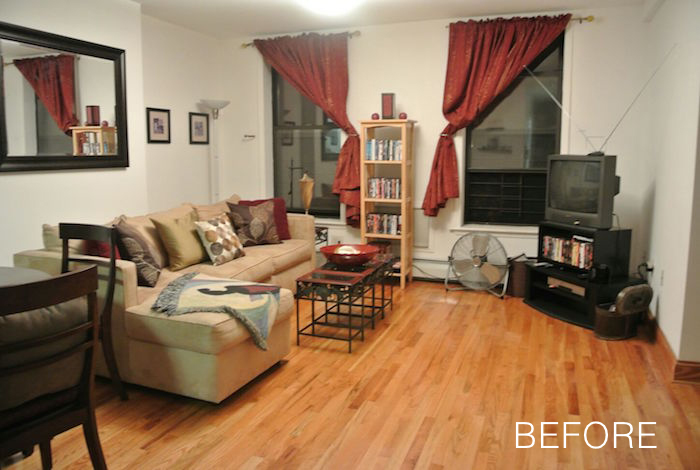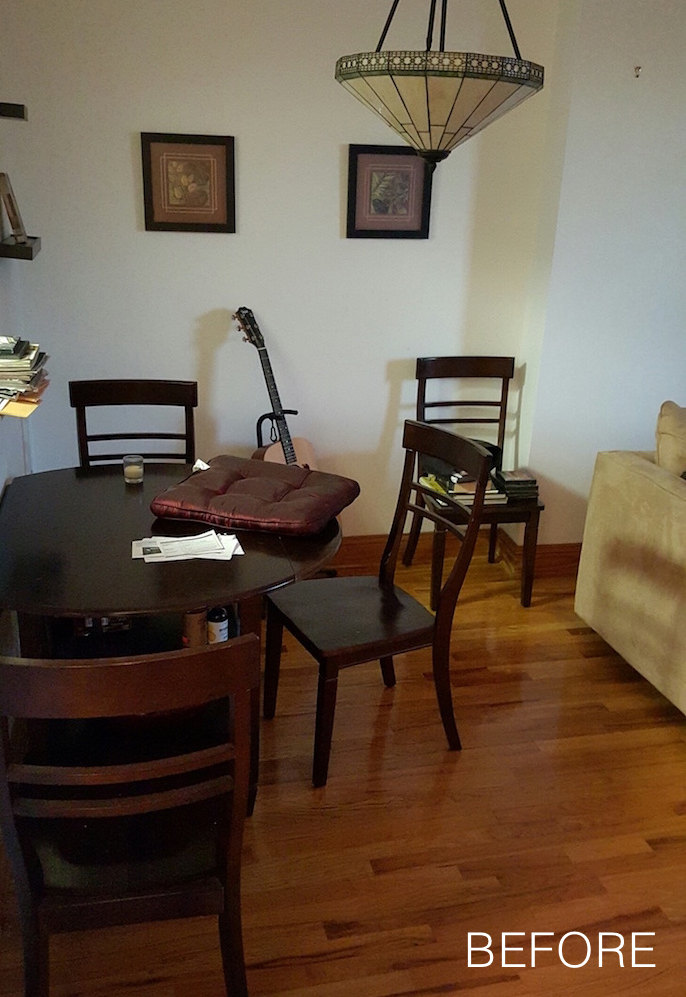 Here's what the space looked like before. The furniture and accessories were perfectly functional but the color choices and overall look felt dark and just didn't reflect Adrienne's vibrant style at all. If you've ever seen Adrienne on the red carpet she's always rocking bold color and looks like a total babe. I wanted to make sure her space reflected her killer style and was not just functional but also so beautiful she'd want to hang out in the space all day.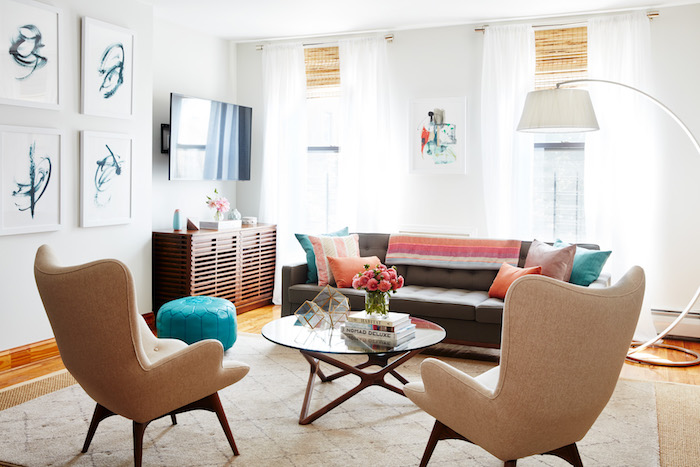 Here's a look at the after! Because Adrienne's apartment is a rental, her landlord would only allow the space to be painted white so I replaced the previous white color which had a yellowish tone and felt too institutional with a bright shade from Valspar called Palisades Gray which looks crisp and bright during the daylight while taking on a cool, more sophisticated tone after dark. The moroccan on sisal layered rugs help to ground the space and give it texture while the mid-century tufted sofa anchors the seating area. I kept the foundation of the room pretty neutral and added in pops of color with accessories and layering pieces such as the teal leather poufs, colorful throw and mix of pillows. Whenever I want to make a space feel airy I always opt for sheer linen curtains and love layering them with bamboo roman shades to add more dimension. I used these ones from Lowe's which are a go-to budget friendly option.
Another element Adrienne's space previously lacked was ample storage so I brought in two walnut cabinets from Lowes.com which not only added extra storage but also provided a beautiful styling moment to showcase accessories that helped tie the room together. The super comfortable armchairs have a whimsical feel and were another great find from ATG along with the glass top coffee table that kept the space feeling open and airy.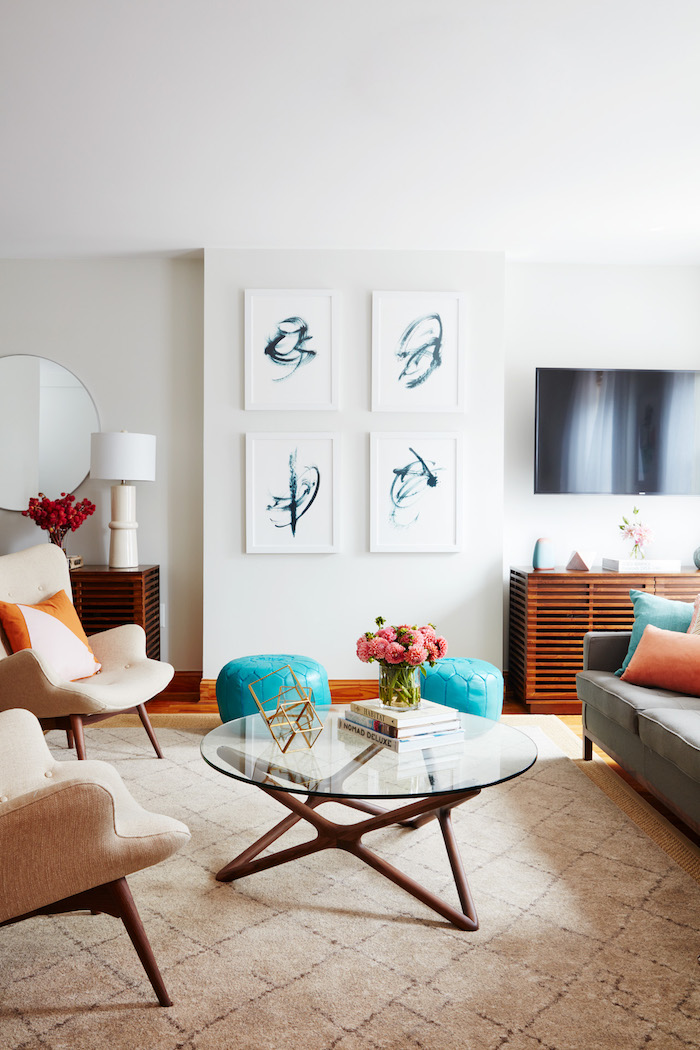 Art is another key element that helps tie the space together. I love the simplicity of these abstract prints from Minted by artist Misty Hughes! Rather than going with an eclectic gallery wall, I grouped four prints from the same series together for maximum impact which gives the room interest yet keeps the walls feeling clean and uncluttered.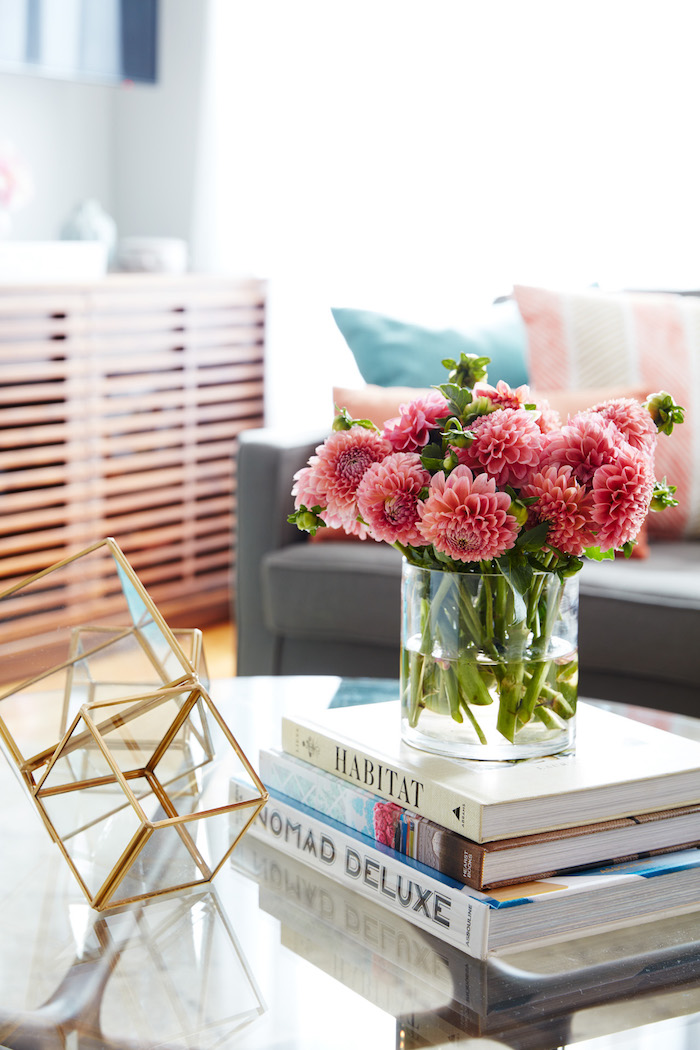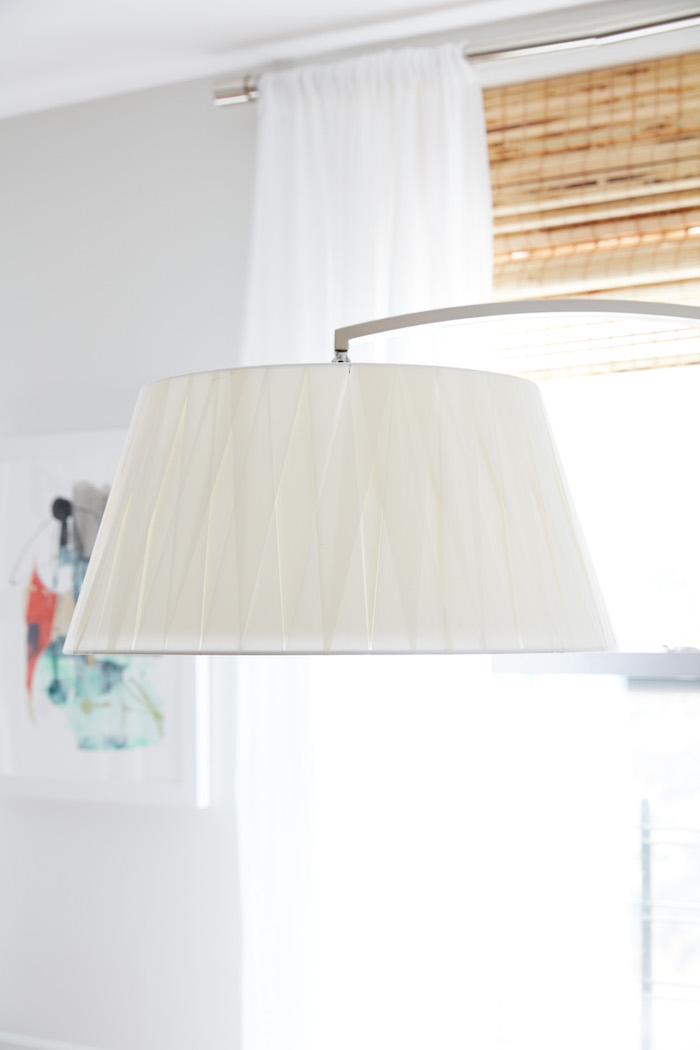 The floor lamp in the room was a find from Housing Works' design on a Dime fundraiser!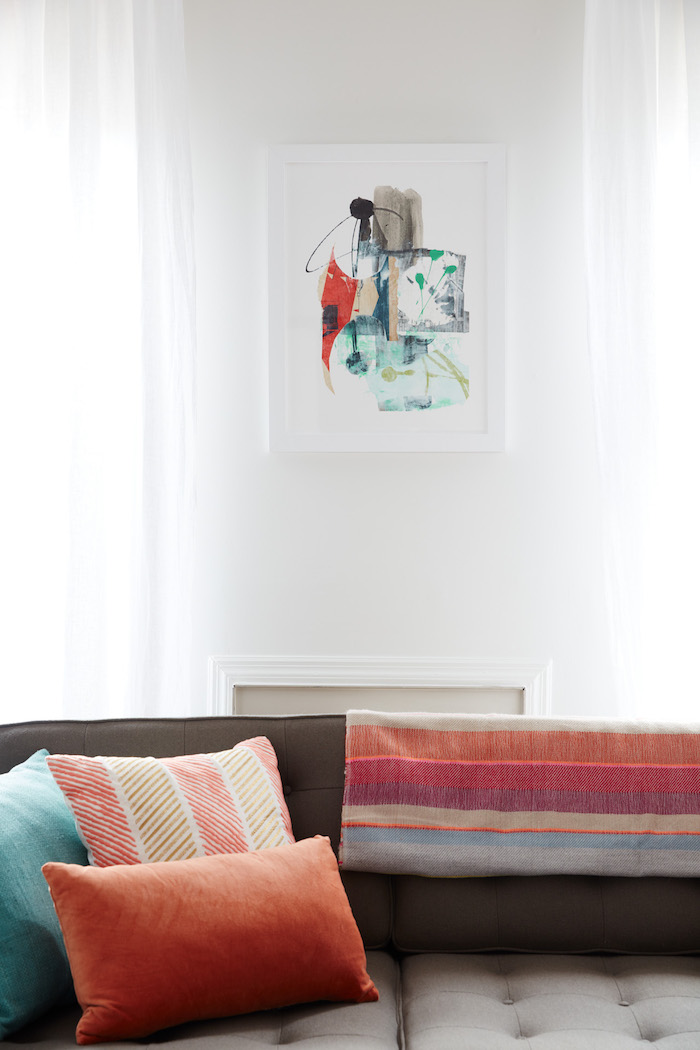 Another abstract art print from Minted brings more pops of color into the room!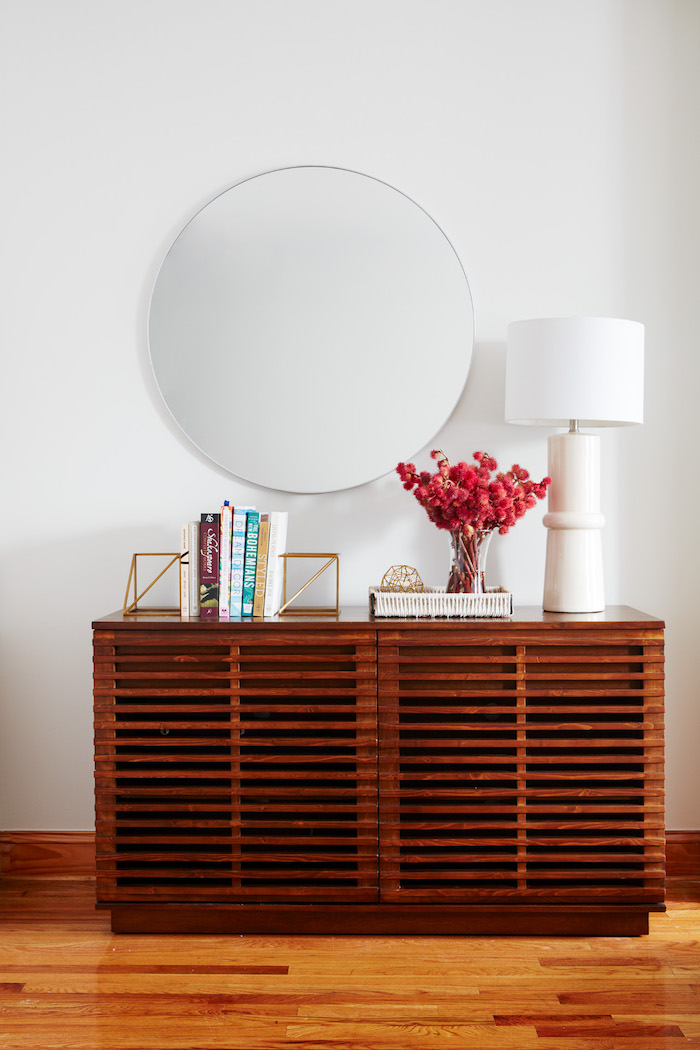 This moment in the room is one of my favorite vignettes. The large round mirror reflects light and really helps to open up the room even more. I hung it intentionally off center which felt more interesting than having perfect symmetry. The lamp is from Lowe's, and the brass cubes used as bookends, the brass orb sculpture and woven tray (similar) were the perfect finishing accessories.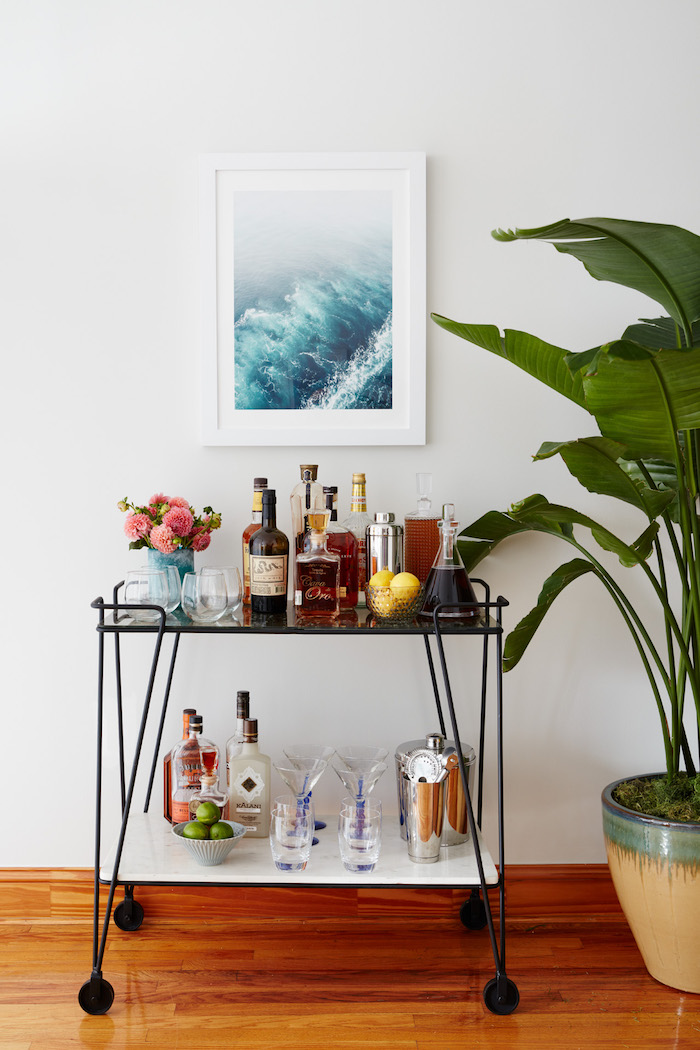 I love a good bar cart and love using them in small spaces. They are so versatile and provide another great opportunity for beautiful styling! I found this one at ATG and styled it out with a mix of items from Adrienne's collection plus some new pieces including decanters (here & here), an ice bucket, bar tools and glassware that I selected to help create the ultimate home bar! The banana leaf plant is another find from Lowe's and I've been using these in lots of projects lately. They have huge, dramatic leaves and help add color and life into a room.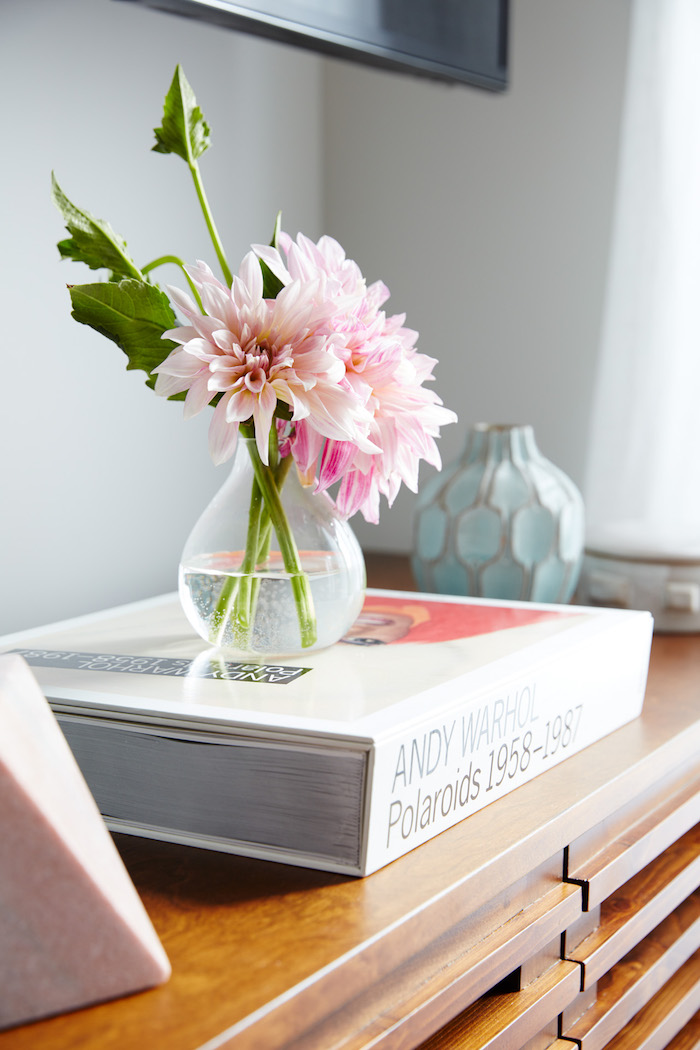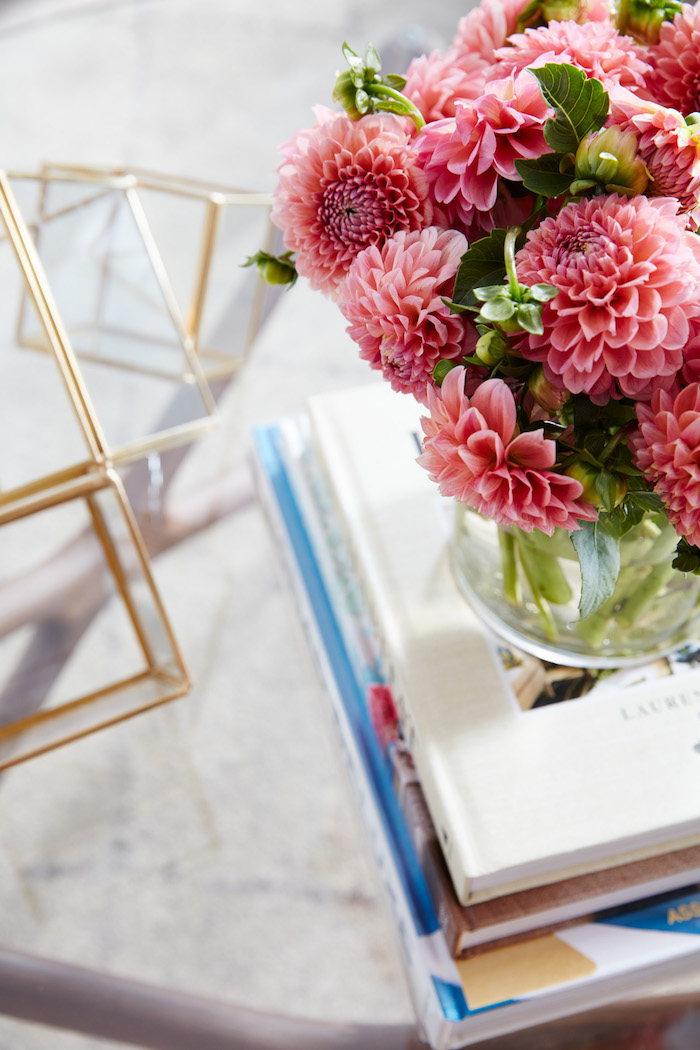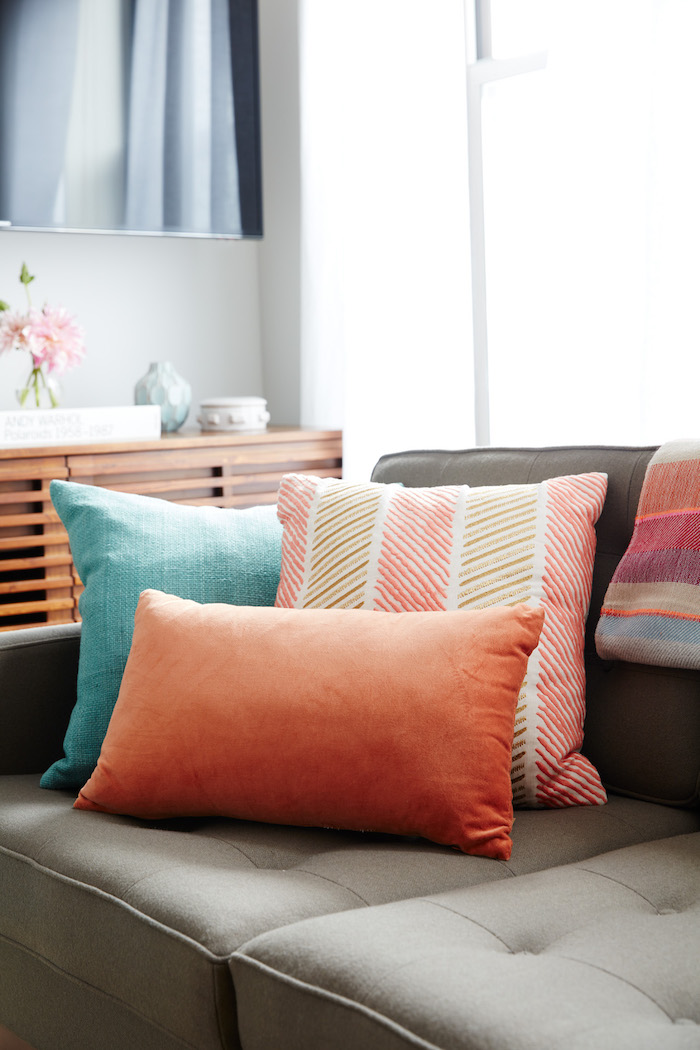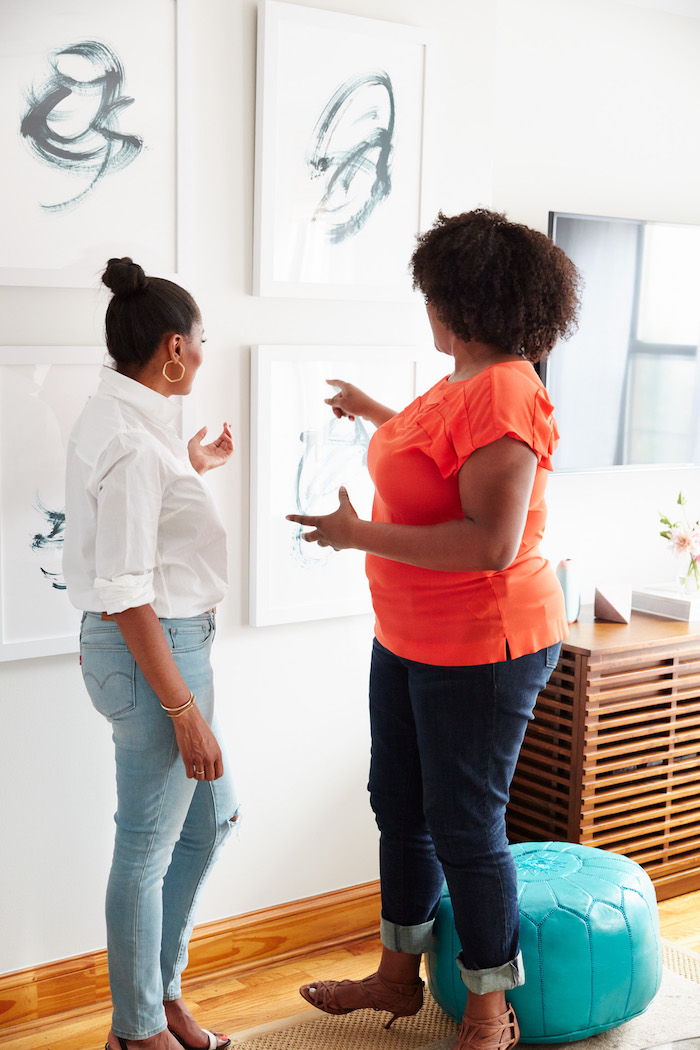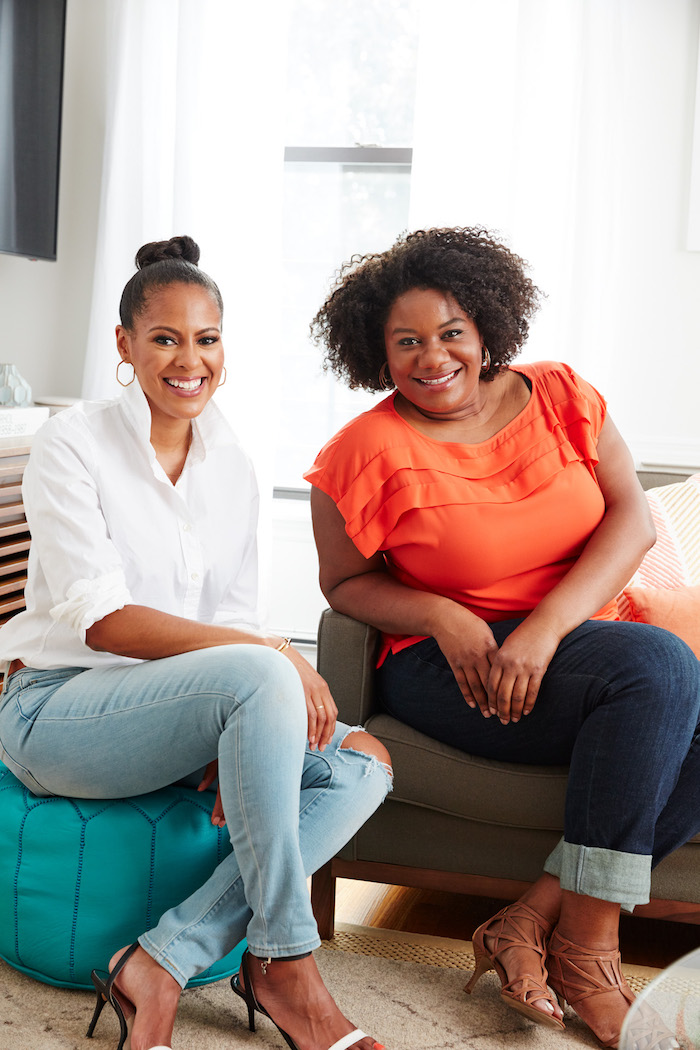 The day after we installed all of the furniture in Adrienne's space she texted me to say she stayed in her living room util 3AM because it was so beautiful she didn't want to leave! So I'll say this makeover was a mission accomplished! What do you think of the before & after? Do you have a favorite piece in the room?