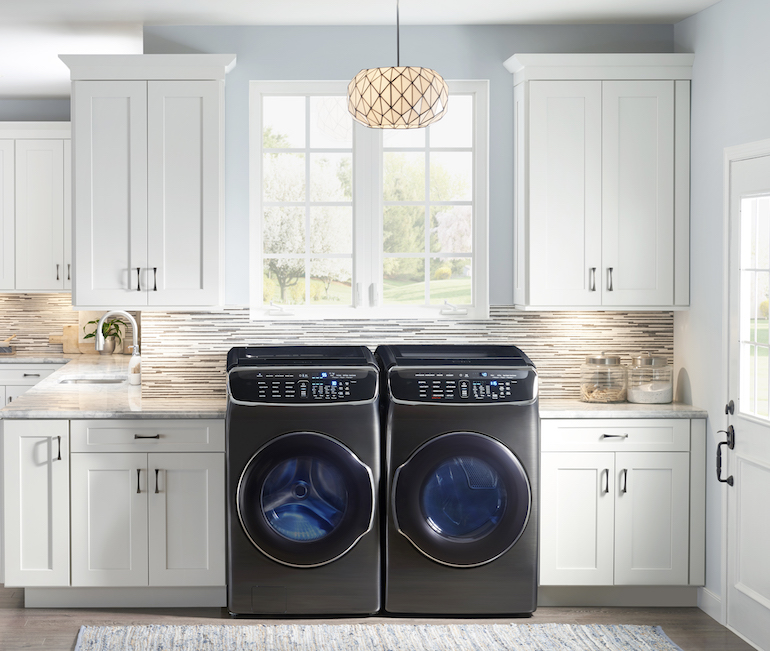 Doing laundry is probably everyone's least favorite chore. Between sorting, washing, drying and folding it takes up SO MUCH TIME! And these days it seems like we're all living busier lives than ever. Between demanding careers, family, friends and just trying to have a life, who wants to spend endless hours doing laundry? Inspired by the new Samsung FlexWash + Flex Dry which features two washers and two dryers in one for maximum efficiency, I'm sharing five favorite time-saving laundry hacks that will save you a ton of time. Plus – there's a little inspiration for designing your dream laundry below!
Throw a dry towel in the dryer with wet clothes to speed up dry time. This is a genius trick that actually works! Let the dry towel tumble with your wet clothes for 15 to 20 minutes and it will soak up excess moisture from the wet items, enabling your load to dry more quickly.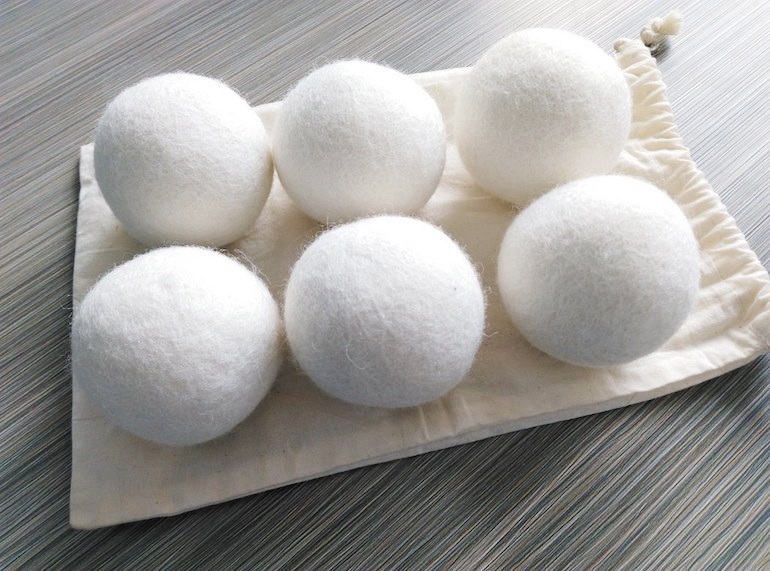 Fluff sheets faster with dryer balls. Dryer balls are typically made of wool and serve as a natural, eco-friendly fabric softener that also helps fluff your laundry. They're a great alternative to dryer sheets and liquid fabric softeners which contain chemicals plus they help cut down on drying time! If you don't have dryer balls, you can also just use a clean tennis ball instead!
Iron your clothes with an ice cube. Seriously. Next time you have a dry clothing item that's a little wrinkled, toss it in the dryer on the highest setting along with a couple of ice cubes and let it spin for about 10 minutes while you're doing something else more productive. The heat will melt the ice and create steam, which will help release those pesky wrinkles. Give your clothes a good shake and they should be wrinkle free!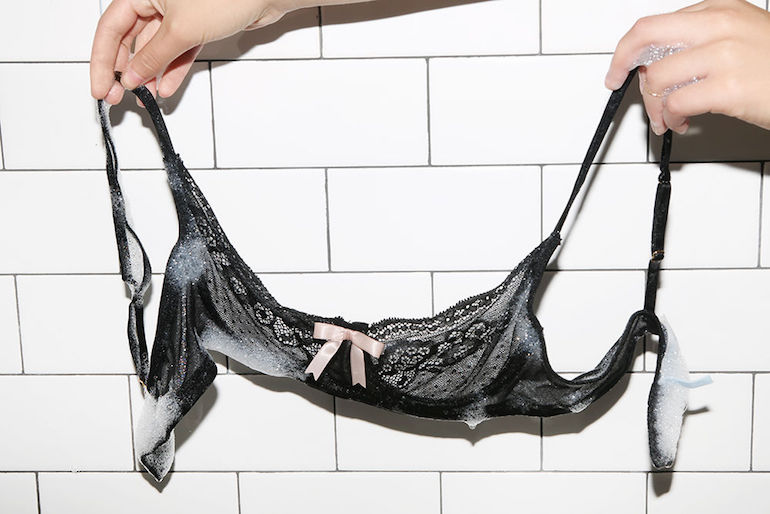 Use lingerie bags to save time spend hand-washing. Instead of spending time washing your bras or delicates old-school style by hand, use a protective mesh wash bag and run your items through the delicate cycle. (But always hang them up to dry!)
Let your washer/dryer do double duty. Unless your clothes are deeply soiled, always use your quick wash or quick dry setting which helps cut down on your laundry time, plus saves energy. And even better, opt for a machine that can do double duty like Samsung's FlexWash and FelexDry system which features two washers in one machine and two dryers in the other machine…. So you can wash both lights and darks at the same time or dry delicate items separate from the normal dryer mode simultaneously. You can also monitor your cycle using your smartphone and start loads of laundry, pauce cycles and receive alerts when your laundry is done. Genius!
Now let's talk about decor tips for creating your dream laundry room. Because, after all, if you're going to do chores you might as well do them in a beautiful, inspiring space!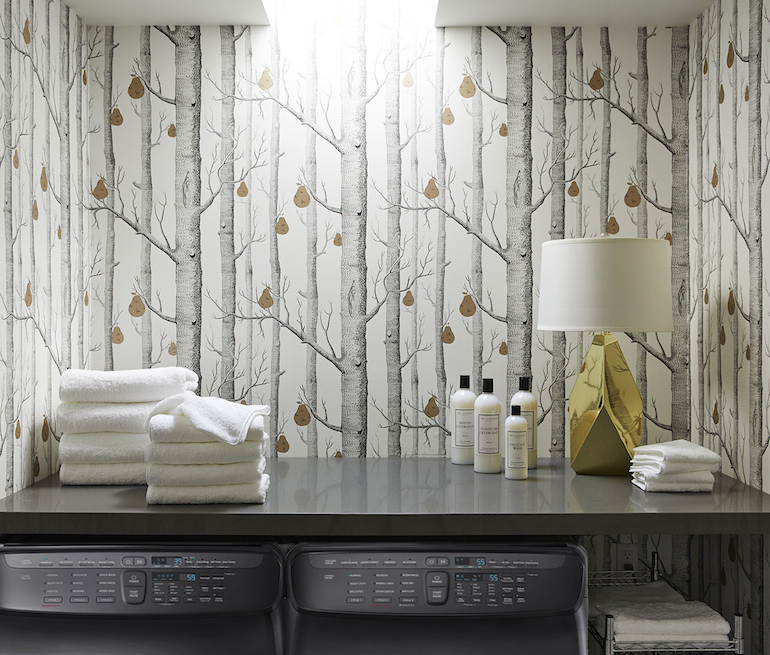 Here's a snap of a laundry room from one of my design projects in Brooklyn. The main wow feature is the bold wallpaper, which gives the space a whimsical and lively feel. It's also important to keep your laundry space beautifully organized. Below I've rounded up some of my favorite must-haves for creating a stunning laundry space, built around the FlexWash + FlexDry system!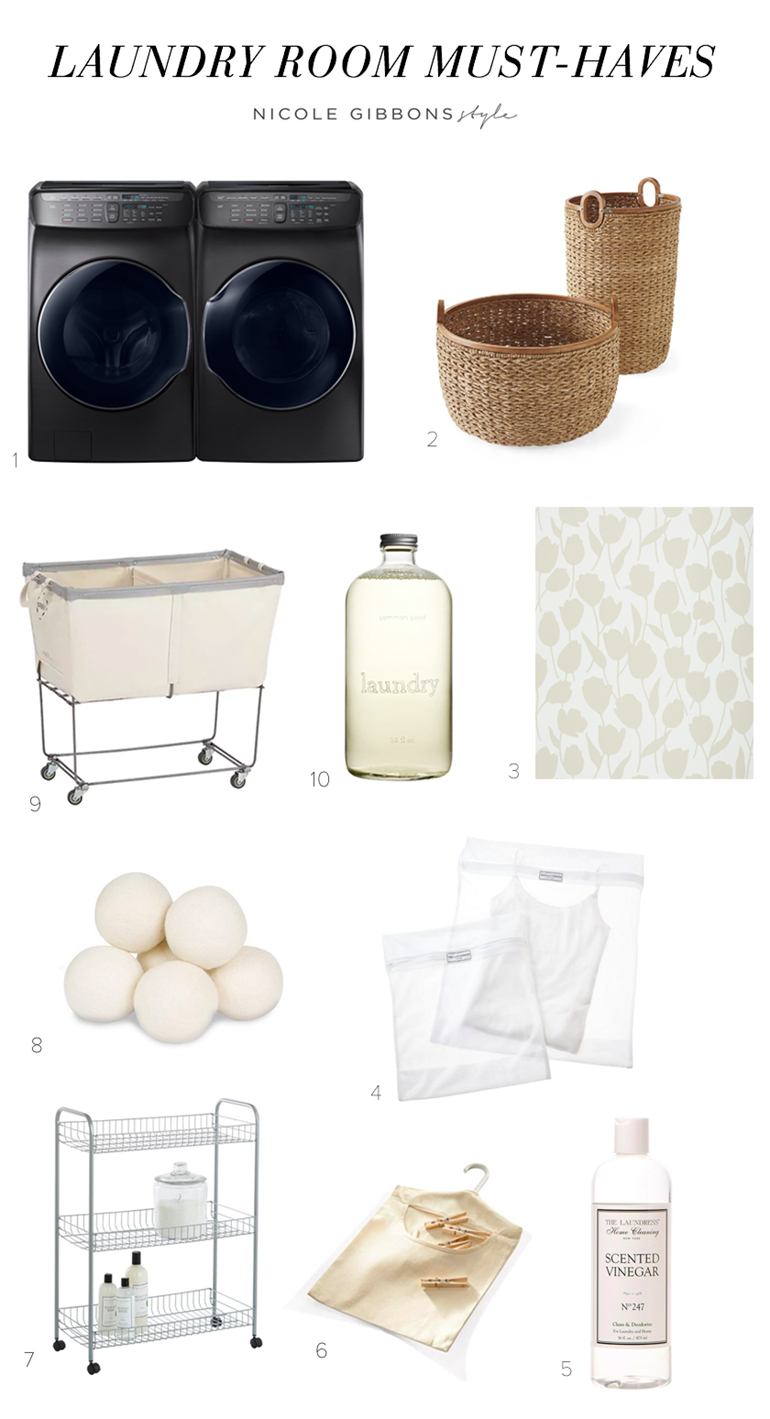 Samsung FlexWash + FlexDry / 2. Seagrass baskets / 3. Cortina Wallpaper / 4. Mesh Wash Bags / 5. Scented Vinegar / 6. Hanging clothespin bag / 7. Rolling Cart / 8. Dryer Balls / 9. Steele Divided Canvas Sorter  / 10. Common Good Laundry Detergent
This post is in partnership with Samsung.  All opinions are my own.