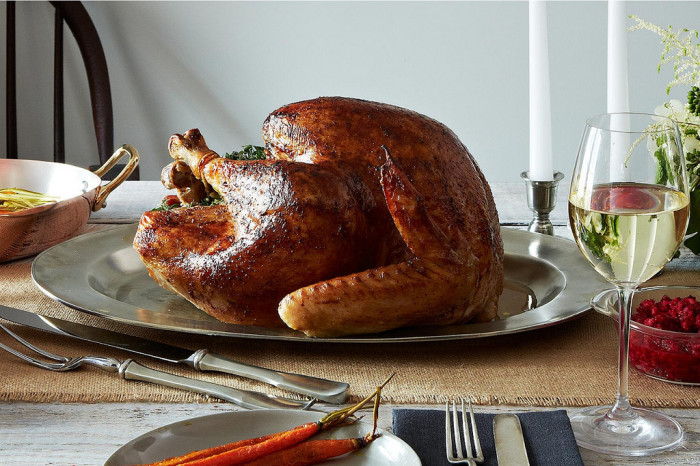 During the holidays we spend so much time obsessing over menus and food prep but let's be real people, the holidays are also an excuse for indulgent alcohol consumption! Aside from good food, I look forward to wine, wine and more wine on Thanksgiving! If you're stumped on what wine to pair with your Thanksgiving meal, I've asked Alpana Singh, Master Sommelier and owner of Chicago's Boarding House, to share her expert advice and go-to wine picks, all of which are widely available and almost all are under $20!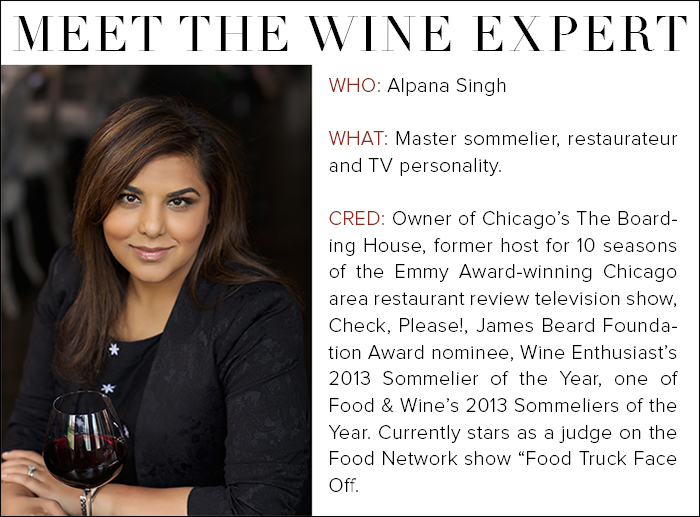 When considering what wines to serve on Thanksgiving, Alpana says not to concentrate too much on pairings with individual dishes because we spend more time waiting for dinner to begin and mingling after dinner than we do actually eating. She adds that Thanksgiving gatherings have evolved into more of an extended cocktail hour since many guests will often drop in before dinner then eat elsewhere or pop by after having dinner at their own homes and may only have a glass of wine or two anyway.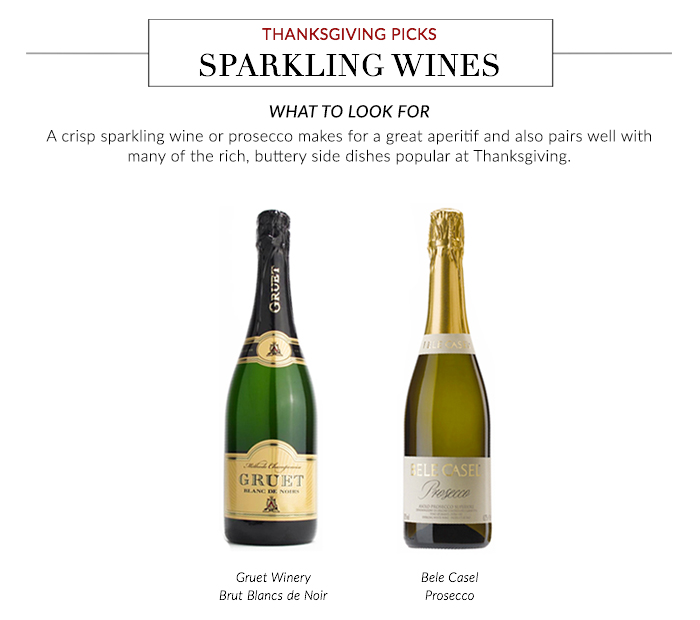 Alpana recommends starting off with a crisp sparkling wine or prosecco which makes for a great aperitif and also pairs well with many of the rich, buttery foods served on Thanksgiving. And, Thanksgiving is a celebration after all so a little bubbly is only appropriate! Her go-to picks:
Gruet Winery Brut Blancs de Noir: While this New Mexican sparkler is made from Pinot Noir, it shows clear, bright-gold glints against the light but no hint of pink. Apples and a hint of milk chocolate combine in an appealing aroma. Crisp and tart, ripe apples and tangy fresh-fruit acidity define the flavor; carbonation provides a foamy mouthfeel. Not overly long, but tart 'lemon-squirt' remains in a cleansing finish.
Bele Casel Prosecco: Straw yellow color. Creamy fizziness with fine, persisting bubbles. Intense fruity aromas with notes of yellow apple, pear, and exotic fruit, with hints of wisteria and acacia flower. Well balanced and delicate, with intensely fresh aromatic notes. Elegant and harmonious on the palate. An excellent aperitif wine. (source)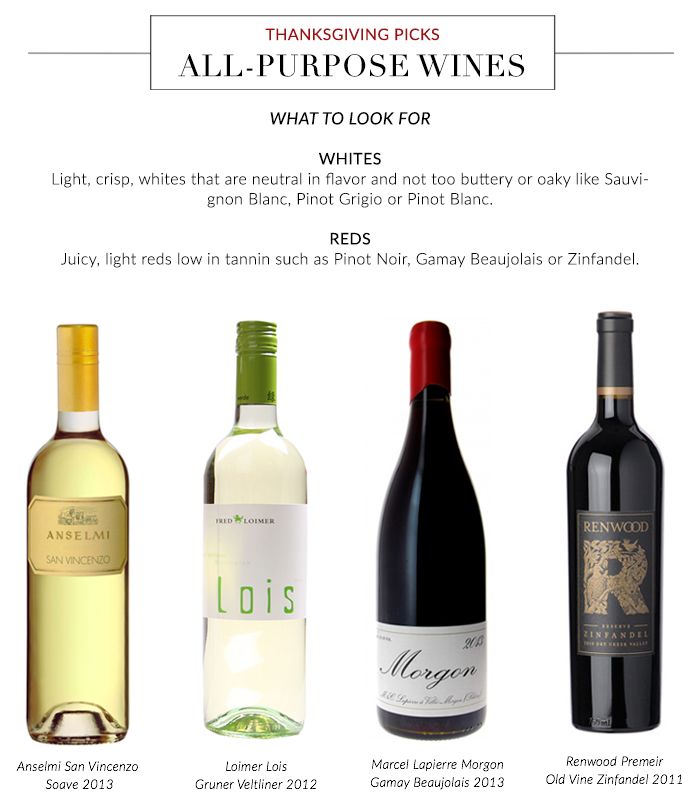 Alpana suggests drinking lighter bodied wines on on Thanksgiving since we generally begin drinking before dark and eat dinner much earlier than usual. A heavy wine combined with a heavy meal and extended wine consumption is a bit excessive so it's best to keep your selections light. She recommends having both a red and a white option on hand for your guests. Light, crisp, white whites that are neutral in flavor and not too buttery or oaky like Sauvignon Blanc, Pinot Grigio or Pinot Blanc are perfect for Thanksgiving as are juicy, light reds low in tannin such as Pinot Noir, Gamay Beaujolais or Zinfandel. And despite conventional wisdom Alpana says to serve your light reds slightly chilled. If any of your guests prefer a sweeter varietal, a riesling is Alpana's favorite choice.
Anselmi San Vincenzo Soave 2013: Light straw in color. Crisp and pure, with scents of minerals, lemon/lime, apricot and yellow apples. Medium-bodied, dry and fresh, with notes of citrus fruit.
Loimer Lois Gruner Veltliner 2012: Pale yellow color, this wine is purely aromatic and lively! Lovely aromas of fresh apples and citrus, this wine surprises on the palate with great spice components as well as exotic fruit and a refreshing acidity. To be enjoyed either on its own, as an apértif or with light dishes.
Marcel Lapierre Morgon Gamay Beaujolais 2013: Expressive violet and black cherry character with nice depth and balance and a long finish.
Renwood Premeir Old Vine Zinfandel 2011: Dark and rich on the palate, bold yet refined tannins with sweet vanilla oak and dusty berries on the finish.
Dr Loosen L Riesling, Germany (not pictured)
WINE ESSENTIALS