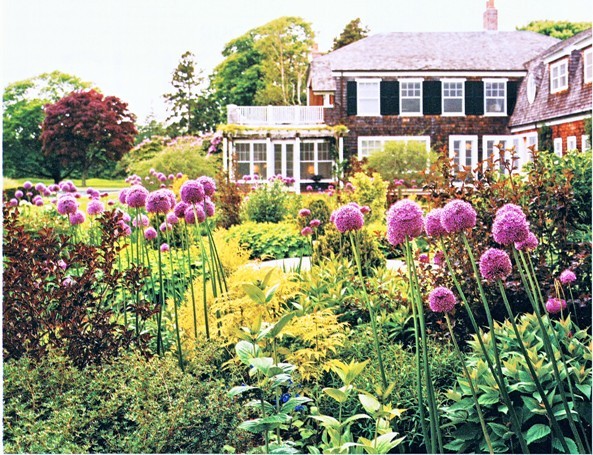 Photo by Julina Sohn for House & Garden, Apr '07
I have a love hate relationship with New York. While there are definitely many things I adore about this city, two things I can't stand are the lack of outdoor living space and the lack of natural beauty outside. There are a lucky few living in Manhattan who are fortunate enough to have their own private outdoor space whether it be a balcony, a terrace or a small yard in the back of their brownstone. Those things are true luxuries that make me green with envy. The rooftop terrace below belongs to photographer and filmmaker Carter Smith whose lower Manhattan home was featured in the January '07 issue of House and Garden. I think the home's red brick wall provides an interestingly beautiful and colorful contrast to the terrace's rustic looking furniture, textiles, flowers and greenery.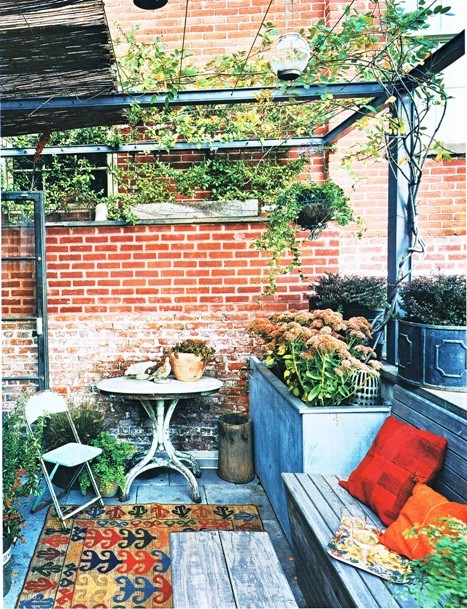 Photo by Martyn Thompson
This next terrace was featured in the April '07 issue of Elle Decor and belongs to a stylish interior designer and architect couple who resides in the historic colonial Mexican town of San Miguel de Allende. The views are incredible! I love the colorful textiles here and I think the hand painted floor tiles is what really gives this space its "umph". Simply beautiful!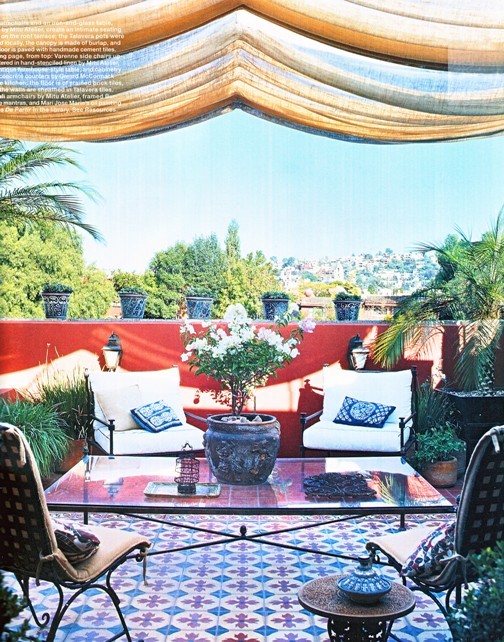 Photo by William Waldron
The wrap around terrace below was featured in the recent May issue of Elle Decor as part of a profile of architect David Mann's Manhattan studio. I love how the architectural details of the building are a such visible part of the space. This stylish little terrace has the feel of a garden in the middle of New York City…seems like such a perfect spot for cocktails at dusk!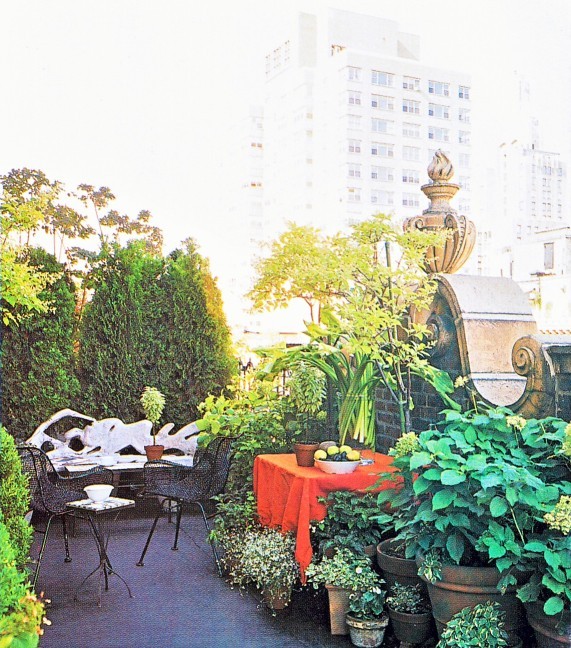 Photo by Joshua McHugh
Even if you're lucky enough to have a gorgeous terrace like the ones above, if you live in New York you still have to deal with horns honking and all the other annoying noises of the city, the views are usually the brick facades of neighboring apartment buildings and you never really have true privacy because there's usually someone's window just across the way with a direct view into your space. Take for instance the terrace below which is attached to a $995,000 two bedroom Upper West Side co-op currently listed for sale with Halstead Property. Sure, the terrace is nicely decorated and HUGE by New York standards but who wants to be within a birds eye view of someone else's apartment?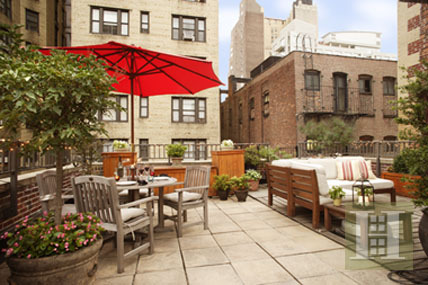 Photo via Halstead Property
And New York is not the prettiest city to put it nicely. There's garbage everywhere, the city stinks in the summer, everywhere you turn there's construction and you hardly ever see things like grass or trees. People will argue that there's always Central Park. Yes, it's a beautiful park, even more gorgeous in the summer and it's a nice refuge from the hustle and bustle of the rest of Manhattan. But whenever I go there and see people in their swimsuits sunbathing in the grass while surrounded by groups of photo snapping tourists and stinky horse drawn carriages I always think to myself, "something's wrong with this picture." I don't mean for this post to sound like a hate letter to New York but if you didn't grow up here, after a while you really start to miss the normalcy of being surrounded by trees, the smell of fresh cut grass, peace and quietness, clean fresh air and wide open space. After living here for five years I totally get why so many people have weekend homes. I'd give anything to have a quiet peaceful retreat to get away to when I'm feeling overwhelmed by the city. I would love to have a country home with a nice little sitting area surrounded by a pretty garden like the one below which was featured in House Beautiful. This would make the perfect setting for an afternoon lunch with girlfriends…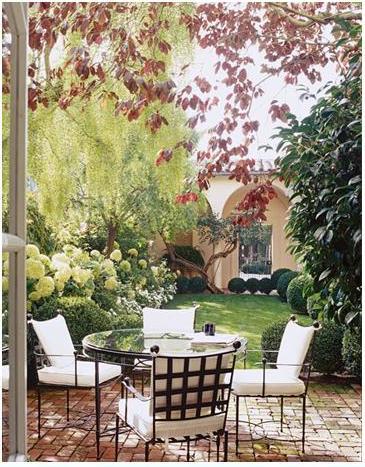 Photo via HouseBeautiful.com
Or how about a chic patio leading out to my backyard like this one designed by Thom Filicia…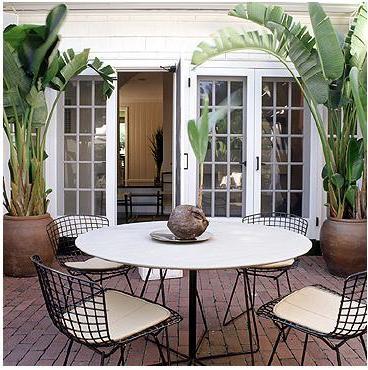 Photo via ThomFilicia.com
And wouldn't it be lovely to live near the beach and have a simple hanging swing on your patio complete with gorgeous views of lush hilltops and the ocean like the one pictured below? A girl can dream! This photo is from the portfolio of interior designer Jennifer Bradford Davis.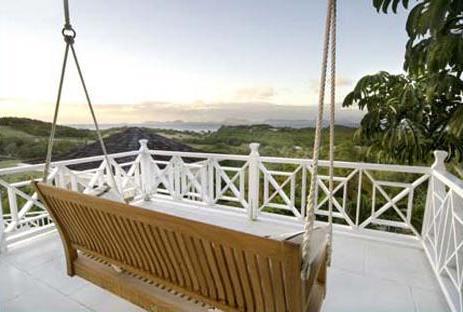 Photo via Jbradforddavis.com