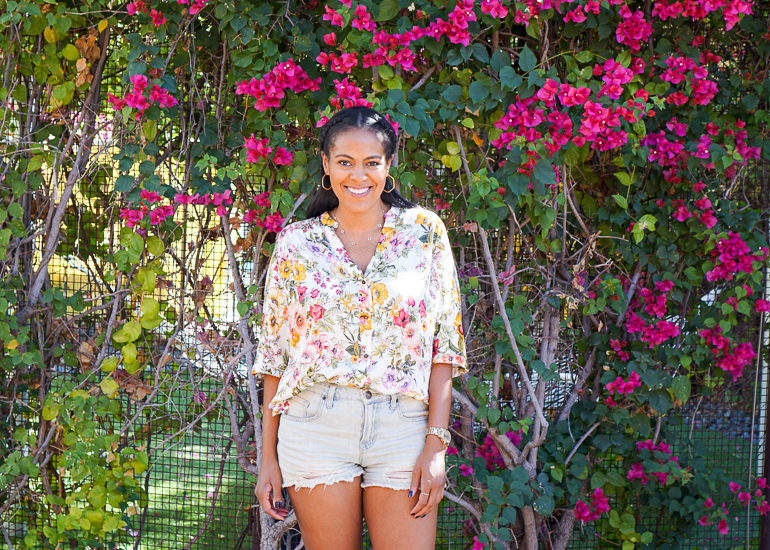 I recently spent a weekend in Scottsdale and was so excited to escape NYC for warmer weather. Little known fact about me is that I'm a total introvert and the best way for me to recharge my batteries is some major alone time. I always take solo trips and absolutely love getting away to the desert. I find the energy in the desert quite magical, plus, I can never get enough of sunshine and palm trees! I had an amazing time exploring Scottsdale and enjoying some much-needed downtime to rejuvenate. I put together this Scottsdale travel guide, curated with all of the best places to see and things to do on your next weekend trip!
WHERE TO STAY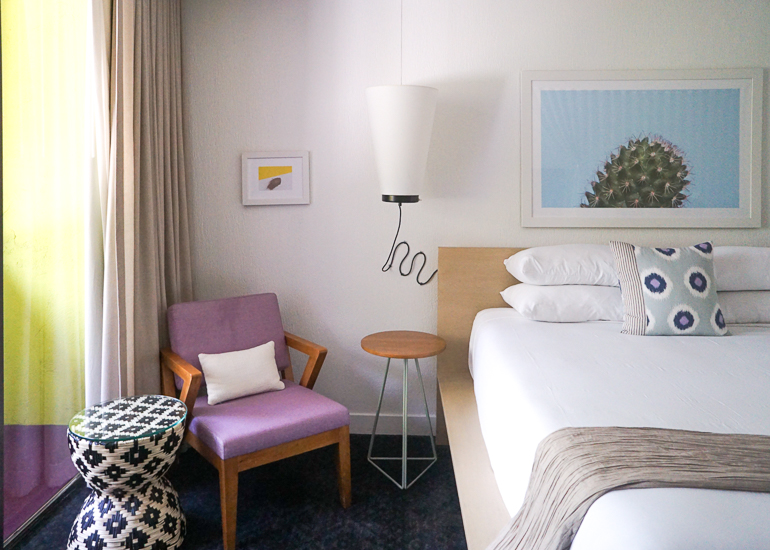 The Saguaro Scottsdale A budget-friendly boutique hotel with a stylish, modern aesthetic, a super chill pool scene and it's located right in the heart of Old Town Scottsdale which is full of things to do. I booked last minute so this ended up being a great option given the tight timeline but it was below expectations in terms of service.  If you want a higher-touch level of service, this may not be the spot for you but if you're budget conscious, appreciate a stylish environment and service isn't a priority, this could be a good option.
Mountain Shadows I've heard great things about Mountain Shadows which definitely has more of a luxury vibe and boasts incredible mid-century modern architecture with stunning views of Camelback mountain. The resort was recently renovated so the interiors are fresh and modern and the property features an 18-hole golf course.
WHERE TO EAT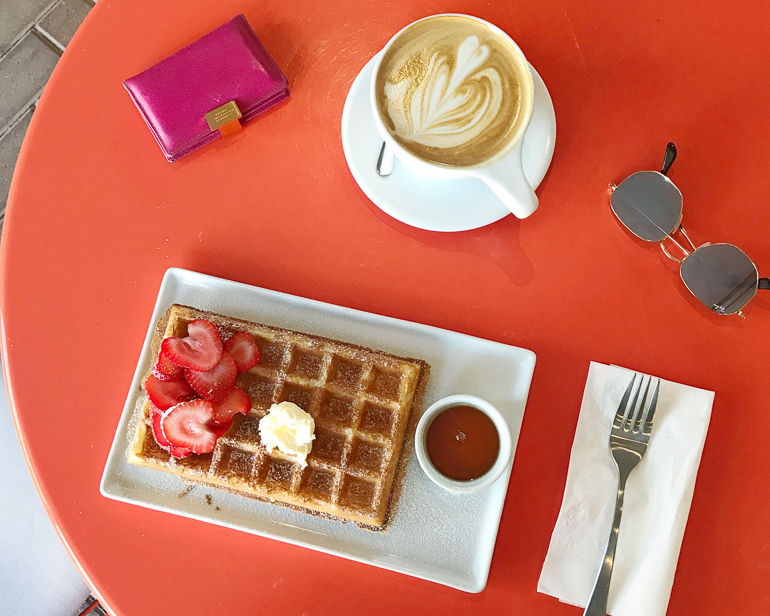 Berdena's This coffee shop in Old Town is a great spot to grab a quick cup of coffee and light breakfast. They have a range of delicious baked goods, yummy toasts and their yeasted waffle is not to be missed!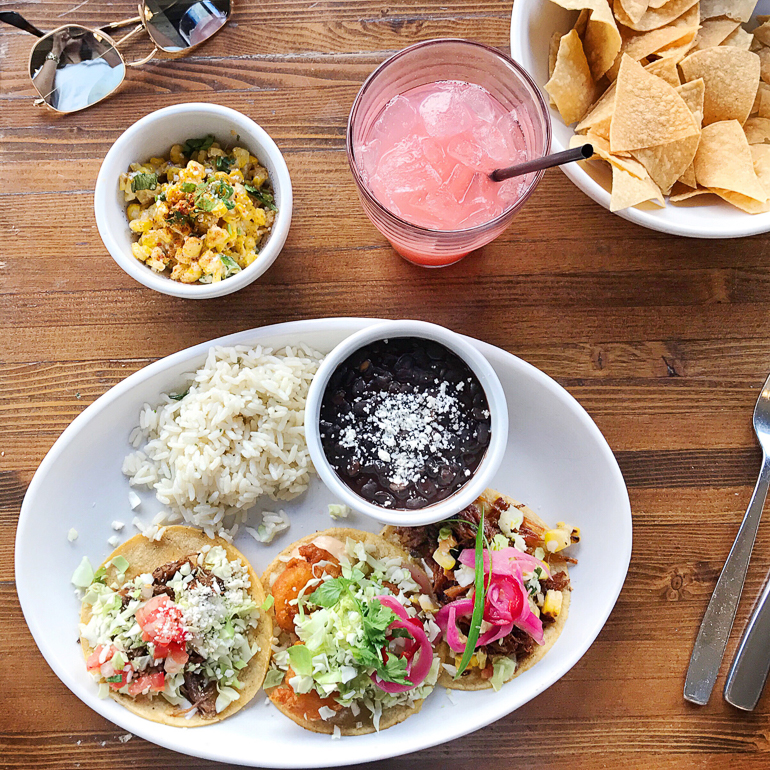 Blanco Tacos & Tequila Whenever you're in the Southwest, tacos are a must! I checked out Blanco's which was a solid chain taco spot.  My favorite was their award-winning slow cooked BBQ pork tacos which had the most perfect smoky sweet and savory flavor combo. Another must-visit is Lumberjack's Taco Shack – a pop up taco truck that's only open one day a week on Tuesdays. Sadly I didn't get to visit but everyone says they're the best tacos around! Definitely worth a visit if you're there for a longer trip.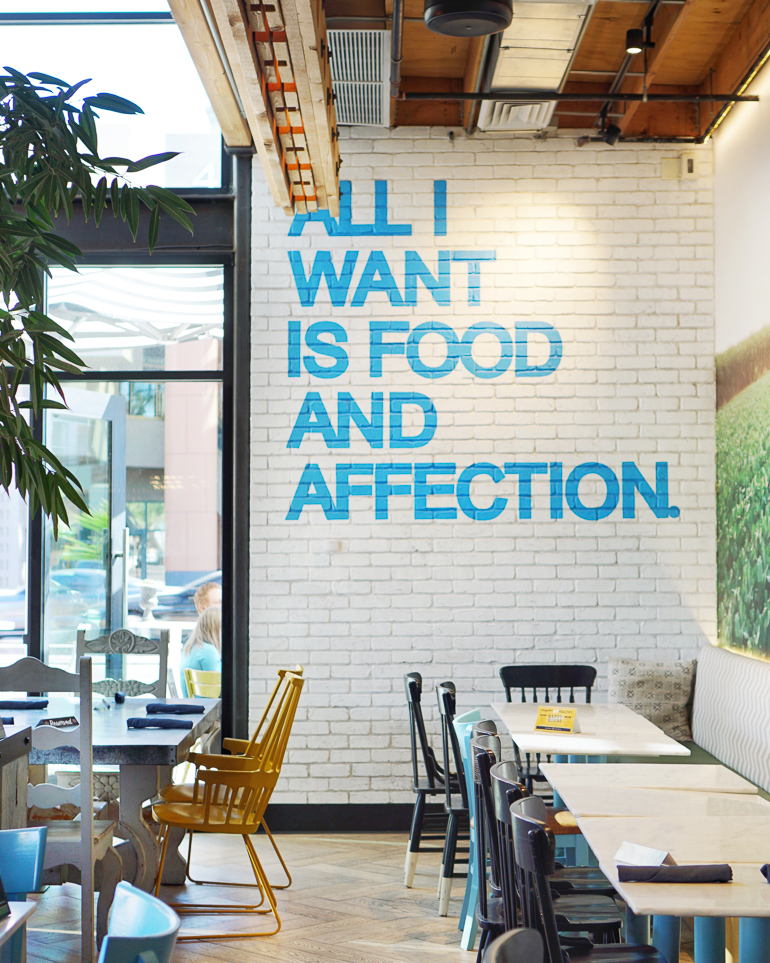 Farm + Craft If you're looking for healthier vibes check out Farm & Craft which has a wellness-focused menu that features sustainably sourced organic foods, fresh pressed juices, smoothies and gluten-free options. This trendy spot was packed for weekend brunch. I went for the spinach and black bean bowl and a matcha mule, an alcohol-free take on a moscow mule made with coconut water, kiwi, lime and ginger beer. I'm totally going to try to make this at home!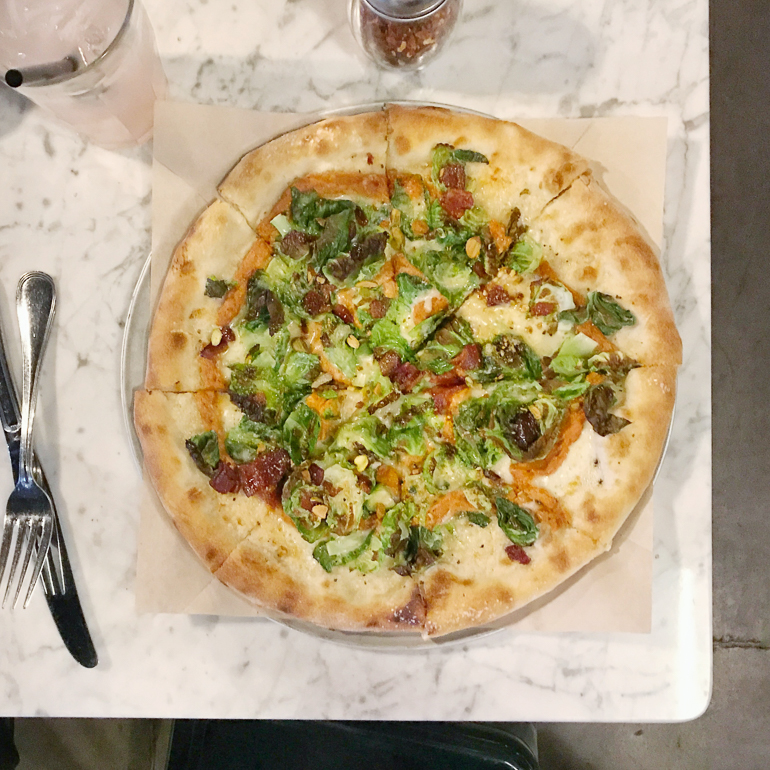 Doughbird – As the name hints, this spot focuses on two featured menu items: pizza and chicken. You really can't go wrong with this crowd-pleasing combo. I opted for pizza and tried the more out of the box brussels sprouts pizza which was surprisingly delicious!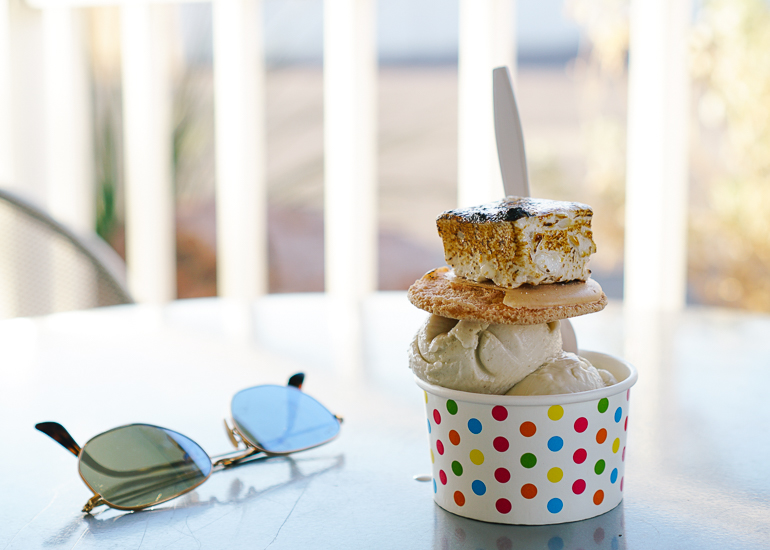 Fatty Daddy's – If you're looking for a totally indulgent sweet fix, try Fatty Daddy's for their Instagram-famous cookie sundae which consists of three ice cream scoops topped with a macaron and a fire melted marshmallow. It's worth all the calories and tastes just as good as it looks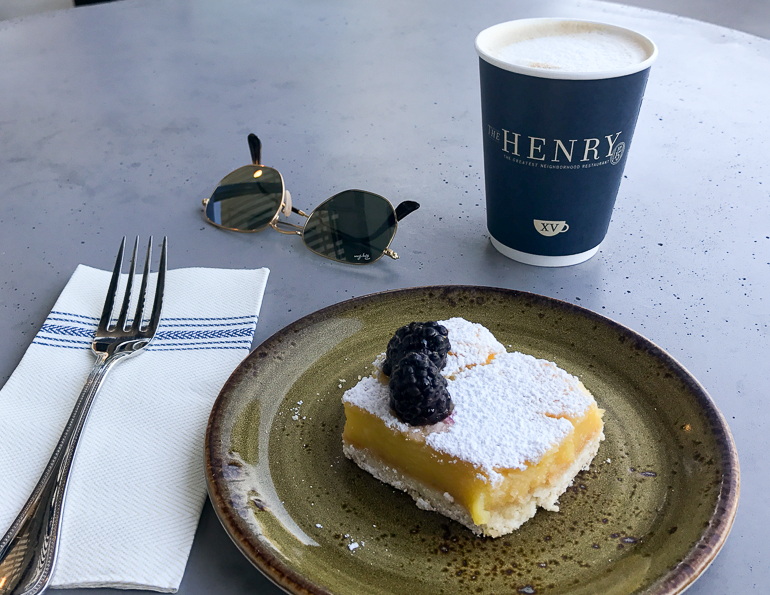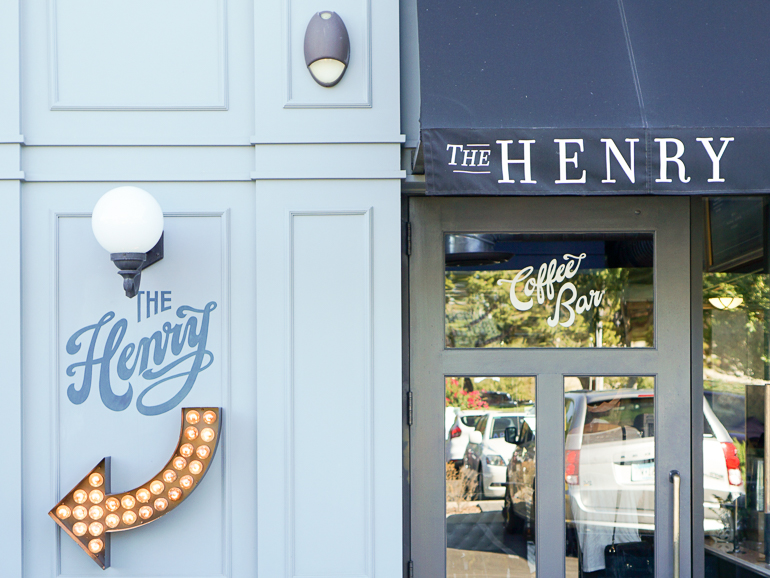 The Henry Coffee Bar: XV – Check out The Henry to get your caffeine fix and a light bite to eat. It's also a great spot to hit if you want to post up with your laptop and get some work done while enjoying a coffee in a cool atmosphere.
THINGS TO DO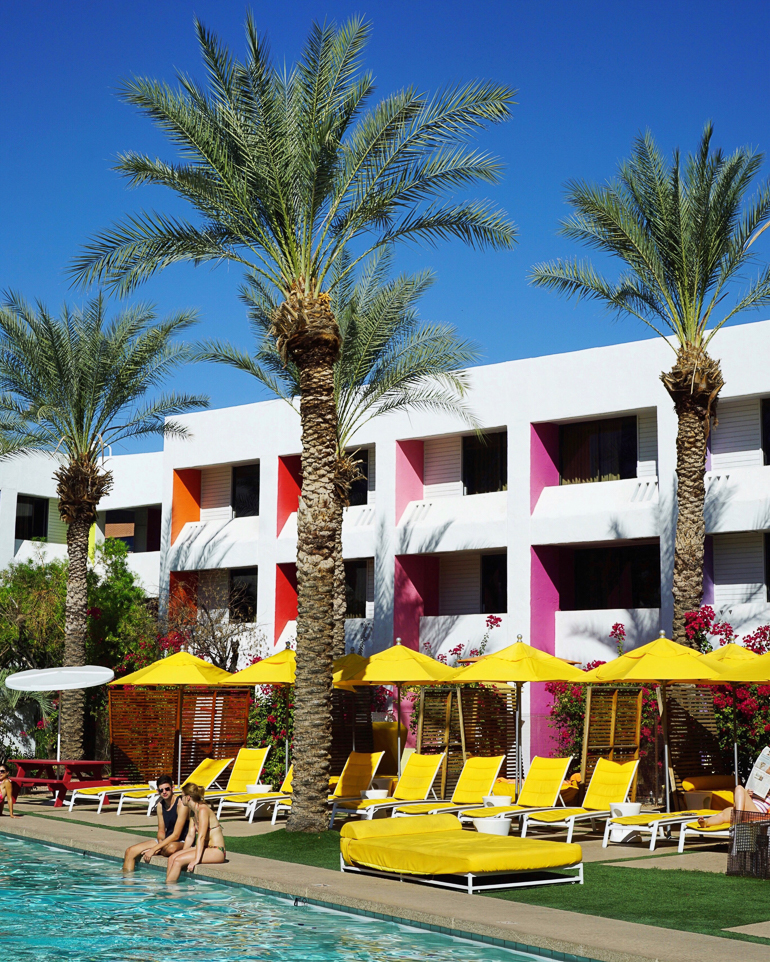 Lounge by the Pool. When you're in the desert where it's hot year-round, a little R&R by the pool is always in order. I spent most of my time right here at The Saguaro Pool soaking up all the vitamin D I could get before heading back to the crisp fall weather in NYC.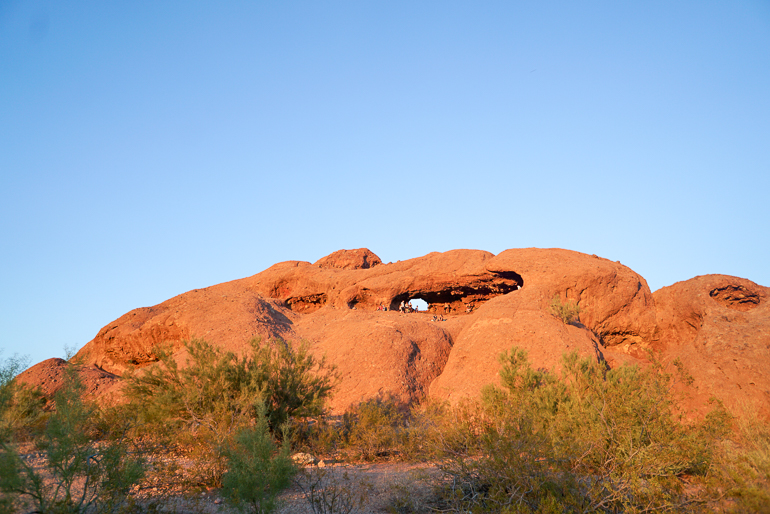 Papago Park.  Just a few minutes southwest of Scottsdale is Papago Park – a massive park complex that features multiple hiking trails with amazing desert views, a zoo and a botanical garden. It's a great option to see a lot at once if you're just in town for a weekend. The park features beautiful red rock hills including the iconic Hole in the Rock. Take a quick, easy hike up to this amazing, natural attraction to take in the Instagram-worthy views.
Phoenix Zoo While you're in the park, don't miss the Phoenix Zoo, home to more than 1400 animals including several endangered species.  There are also a ton of fun activities such as an up-close giraffe encounter, a walk-through monkey exhibition and even camel rides. It's the perfect place to take your little ones!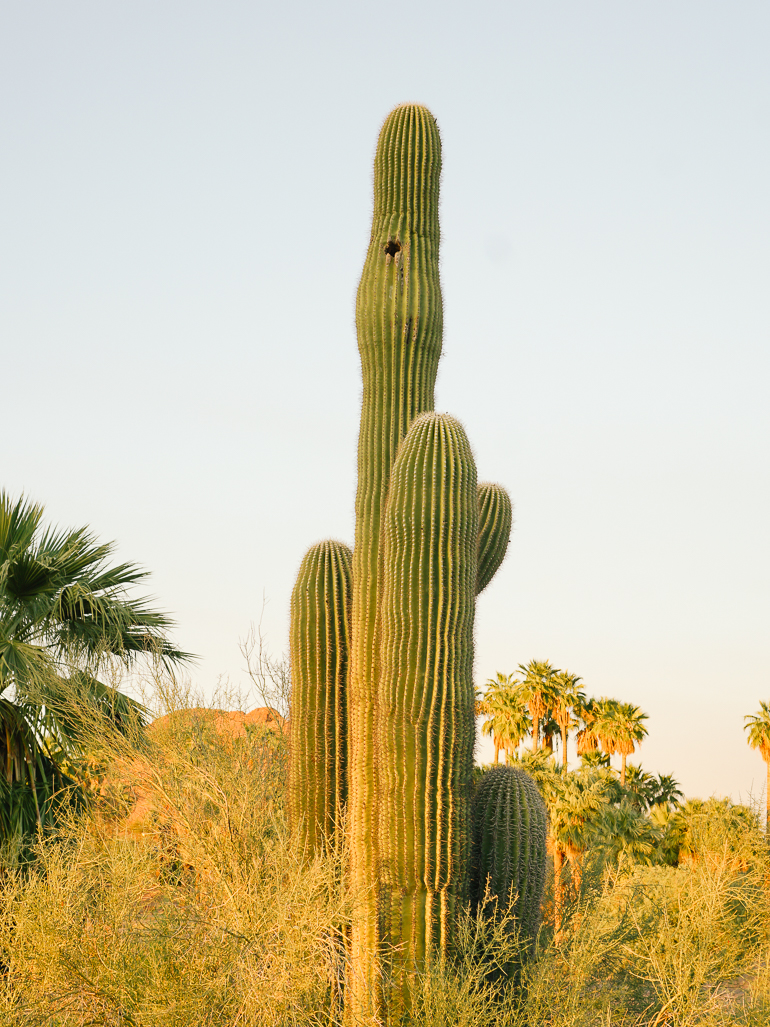 Desert Botanical Gardens This botanical garden pays homage to desert plants and wildflowers from around the world and is a great place to check out one of Arizona's most famous and plentiful cactus variety – the giant Saguaro which stands tall and tree-like.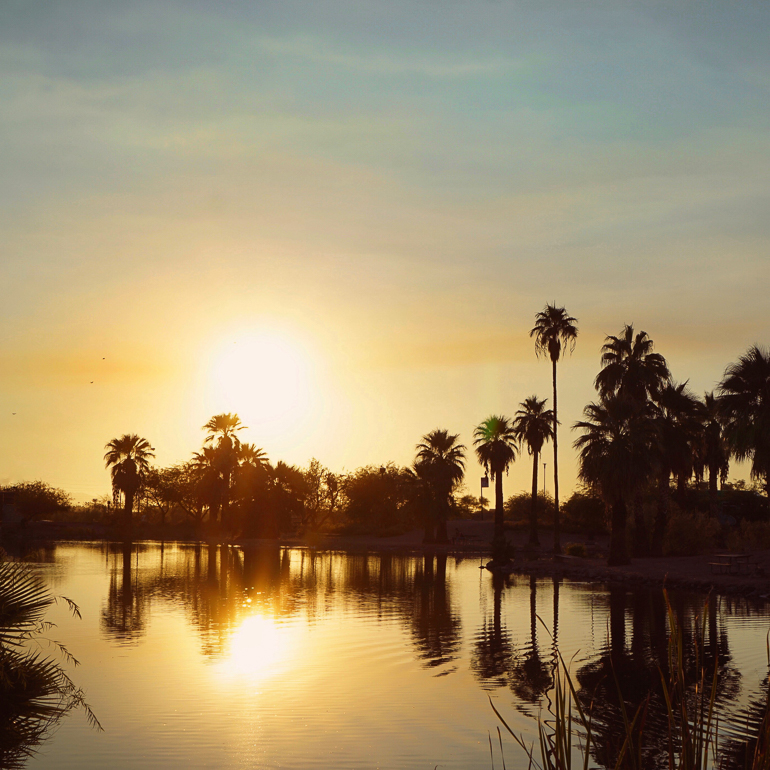 Catch the Sunset Be sure to stay at the park long enough to watch the sun go down over the lake. There's nothing more magical than a desert sunset and the double view of the sunset reflecting off the Papago lake is absolutely breathtaking!
Want more inspo for your next desert vacay? Check out Nicole's favorite hotel in Palm Springs!