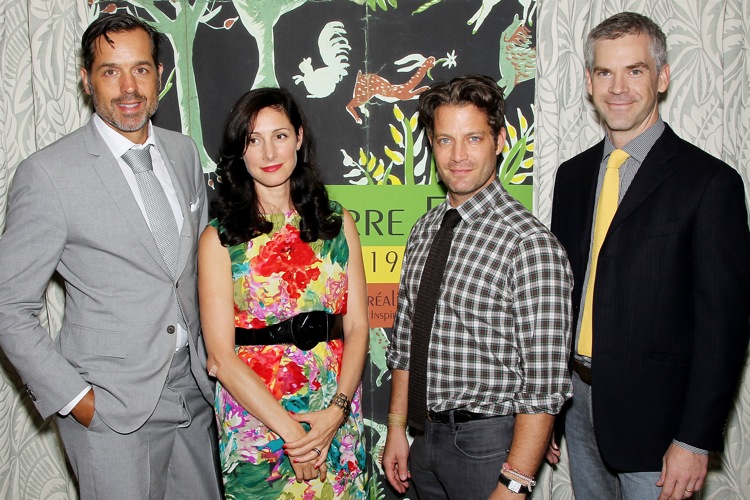 L-R: Steven Gambrel, Laura Kirar, Nate Berkus and Jesse Carrier. Photo: Marion Curtis/Starpix
Last night myself along with Pierre Frey and Josh Greene hosted an event with an A-List roster of designers that included Nate Berkus, Laura Kirar, Steven Gambrel and Jesse Carrier. It was a fabulous evening that started off with a cocktail party followed by a panel discussion on design. Now before I get into the recap of the talk, I'll give you some background on how the event came about and also fill you in on some of the insider info I uncovered about the designers during the course of the night.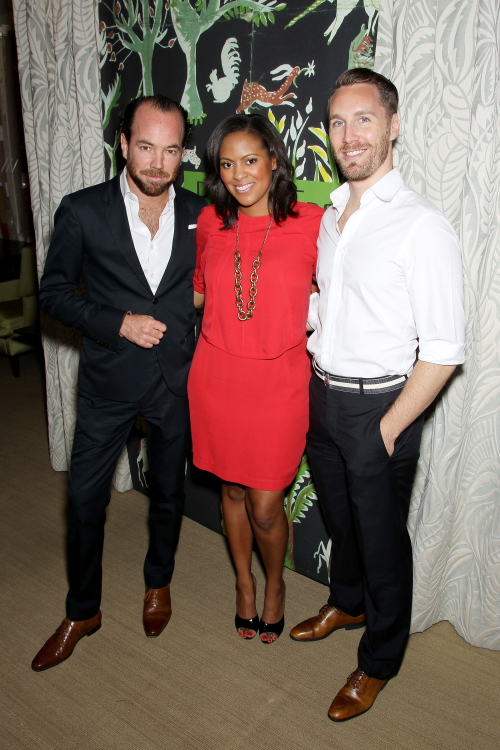 Me in the middle with co-hosts Pierre Frey to the left and Josh Greene to the right. Photo: Marion Curtis/Starpix
A while back not too long after Josh started his blog Shagreene, we casually kicked around the idea of collaborating together on a project. A few meetings, calls and ruled out concepts later, we landed on the idea of planning a panel discussion and then brought the idea to Pierre who graciously agreed to partner with us…and the rest is history!  We wanted to keep the event very intimate and bring together a group of young influencers in the design community to hear from our esteemed panel of speakers. Notable interior designers like Brad Ford and Harry Heissman plus a slew of magazine editors from publications like Elle Decor, House Beautiful and Town & Country came out to join us for the evening.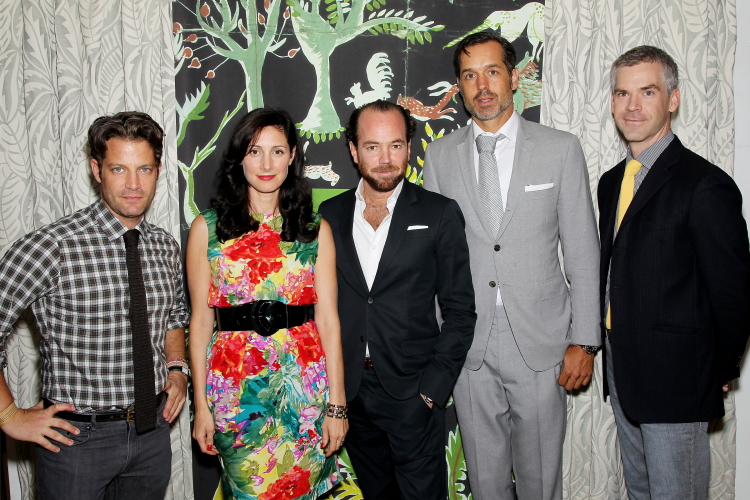 L-R: Nate Berkus, Laura Kirar, Pierre Frey and Jesse Carrier. Photo: Marion Curtis/Starpix
It was also quite surreal to be moderating a conversation with four AMAZING designers whom I admire greatly. I was so intrigued by what they had to say and each designer brought a unique perspective to the discussion. I felt so honored to be engaged in conversation with such an esteemed group of panelists.
Now I'm sure you want the inside scoop on the designers and what they were like so I'll gladly oblige. Let's start with Nate. First off I am a HUGE Nate Berkus fan. I love his design aesthetic and really identify with his approachable, down to earth point of view on living. I have most of his Oprah episodes saved forever on my DVR, I have his book and even his sisal rug from HSN…Needless to say I was beyond excited when he agreed to participate. Nate was so genuine, gracious, charming and also quite funny! During the discussion he kept everyone in stitches with his hilarious one liners and off-topic anecdotes. Before answering his very first question of a night he paused to poke fun at the fact that he recently lost a design job to fellow panelist Steven Gambrel! He also suggested we all close our eyes in remembrance of Domino when a question was raised about publicity and shelter magazines. Both Nate and Laura are native Chicagoans but had never met until last night. As the talk went on the two realized they were kindred spirits who both share a love for mid-century Mexican furniture and have a dream of renovating and designing a crumbly old hacienda in the Yucatan one day.
Laura Kirar
Laura, who was so elegant and poised, is actually living out her dream now as she recently purchased and is in the process of renovating a crumbly old dream house in the Yucatan! She joked that she'd invite Nate over for a visit once her house has a roof! She also filled me in on some exciting new collaborations she has in the works but you'll have to tune in to the first episode of So Haute TV to get the deets!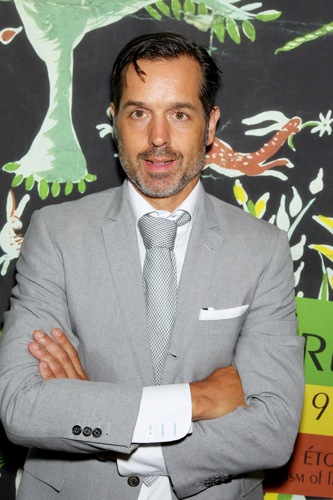 Steven Gambrel
Steven Gambrel also revealed that he's also working on some very exciting collaborations launching next year and he also gave the scoop to So Haute TV! (Are you getting excited for the first episode?!) I have to say I was quite enthralled with Steven's good looks. He's super tall, tan and incredibly handsome. His dapper gray suit was perfectly tailored…I wanted to pull a "Joan Rivers on the red carpet" and ask him who he was wearing! He shared with the audience that he prefers to specify custom furniture for clients as much as possible and given this, I'd be willing to bet his suit was custom too!
Jesse Carrier
Jesse was a bit more soft spoken than his counterparts and admitted to the audience that it was his first time sitting on a panel! Hearing him talk you would have never known. It's been a huge year for Jesse who is a principal in the design firm Carrier & Company along with his wife Mara Miller. He was named one of Traditional Home's top 20 young designers and also honored on Elle Decor's prestigious A-List so one of the questions I asked him was how all of the recent publicity has impacted his business. His answer? His phone has been ringing off the hook with calls from prospective clients! The recognition and the work is certainly well deserved!
Well, that's all the inside scoop I have for you now but be sure to check back later for my part 2 recap with a full overview of the panel discussion to hear what these design geniuses had to say about building a brand, the state of the industry and what's now and next in design.
All Photos: Marion Curtis/Starpix