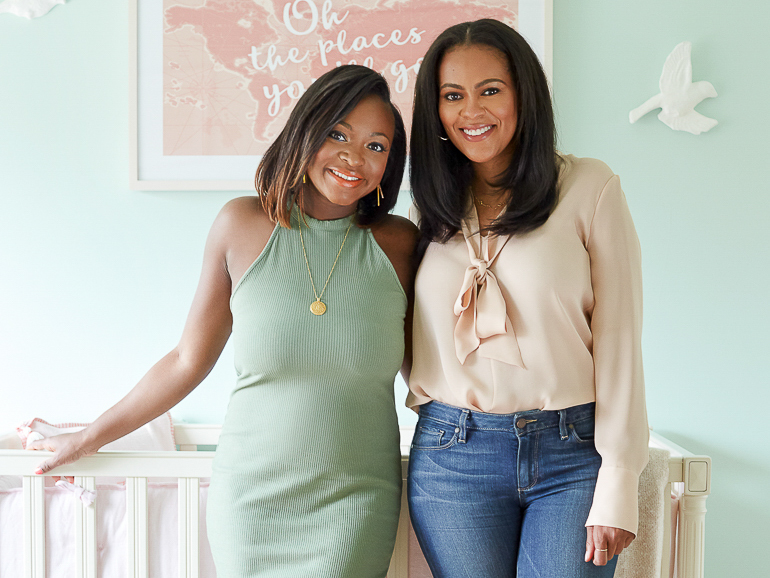 I'm sure you all know actress Naturi Naughton from her role as Tasha St. Patrick on the hit crime drama Power on Starz. She recently gave birth to her beautiful baby girl Zuri in July and I had a blast working with her to design her nursery! Pottery Barn Kids collaborated with us to help create a dream nursery space for Naturi and Zuri to enjoy and I'm excited to share a peek inside the room plus the scoop on how it all came together!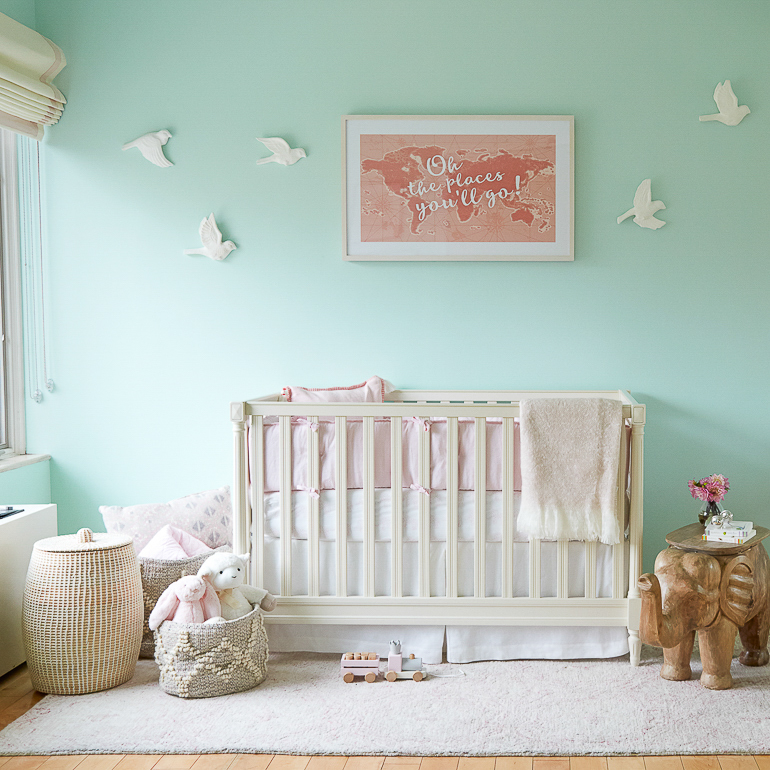 When Naturi and I first chatted about designing a nursery for her baby girl she wasn't quite sure how she wanted the space to look but she knew how she wanted it to feel. She wanted the space to be peaceful and serene and inspire the idea that her baby girl can go anywhere she wants in life – the sky is the limit! So with that in mind, I set out to design her dream nursery. For context, here's a peek at what the space looked like before.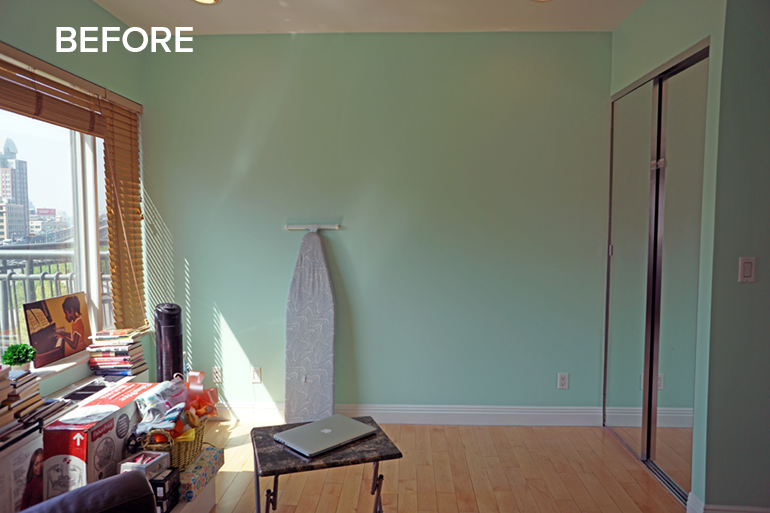 The room was a complete blank slate when we started but she'd recently had her apartment painted including Zuri's room and had already had the walls painted a fun, minty green shade.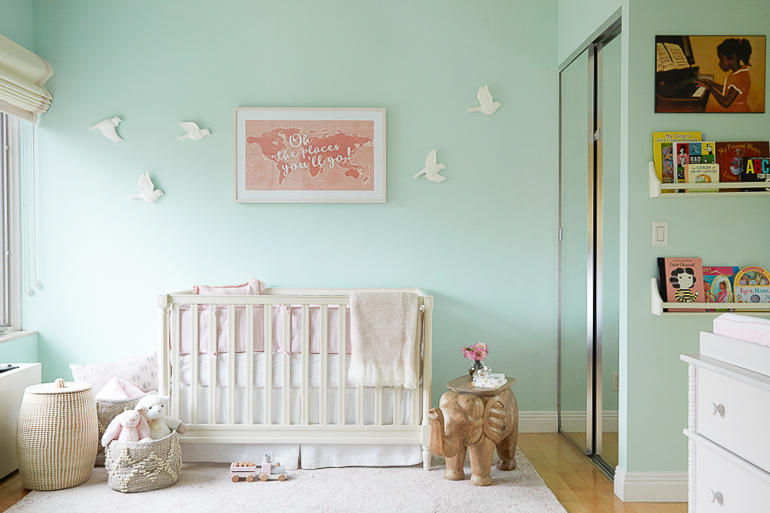 This is what the room looks like today!  The wall color has a lot of energy to it so I balanced that with pale pinks for a feminine touch mixed with soft neutrals since Naturi mentioned she loves earthier tones.  The space is so bright and airy now! I also created a space that felt more sophisticated so that it could easily transition as Zuri grows older.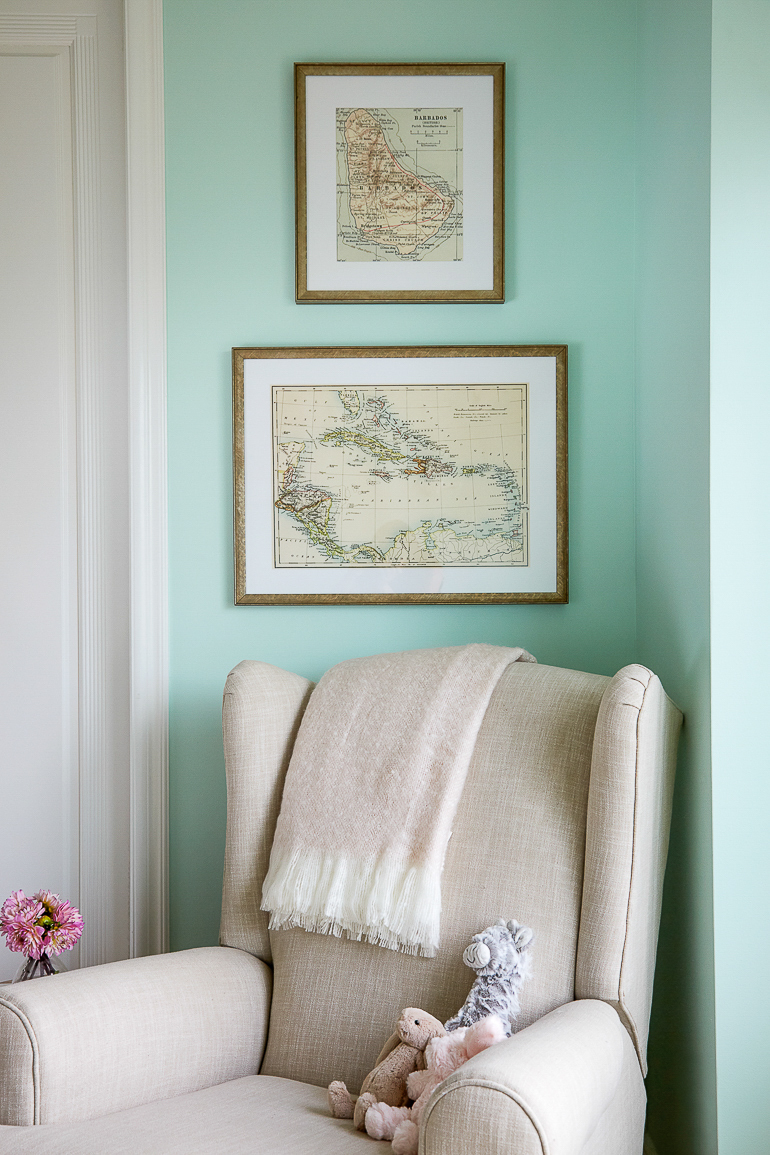 Hints of Naturi's Caribbean heritage were brought into the room which was a key item on her wishlist for the nursery. Naturi and her boyfriend's families are from Barbados and St. Croix so she wanted to pay homage to where they came from. I found these lovely vintage maps of Barbados and the West Indies online. These maps were the foundation for bringing in other global accents throughout the space and this global vibe became a subtle theme throughout the room.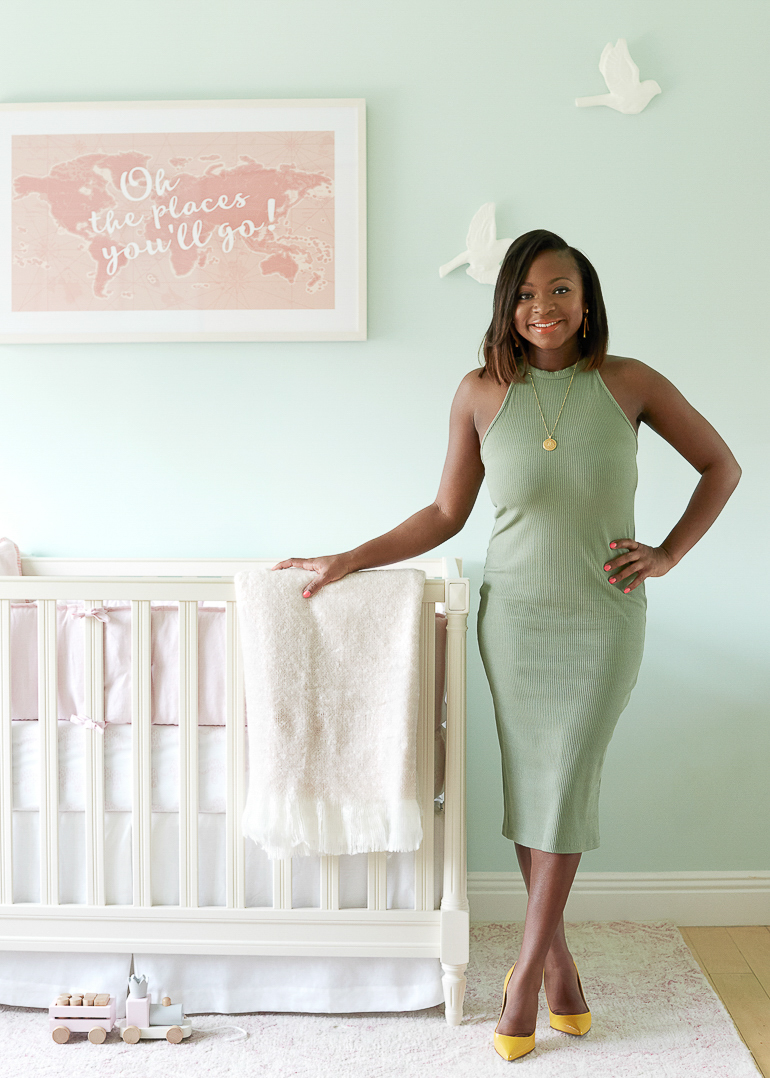 In keeping with this globally-inspired theme, I commissioned a custom world map art print to serve as a focal point above the crib and it's one of Naturi's favorite elements in the room. I started with a royalty-free digital map file and had a graphic designer recolor it and add the words "Oh the places you'll go" from the famous Dr. Suess title. It symbolizes the bright future ahead for baby Zuri and ties back to the idea that the world is her oyster! Can we also just take a moment to appreciate Naturi's post-baby snap back? These photos were taken about six weeks after Zuri was born!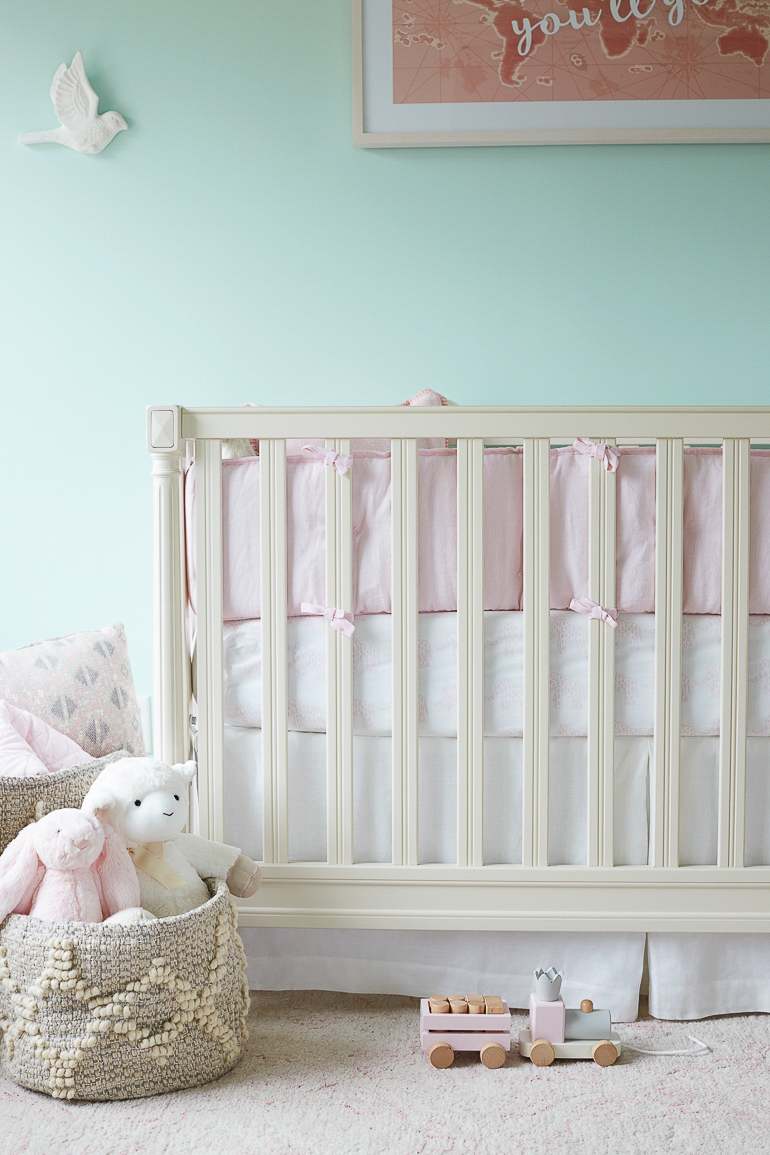 I also picked out a lovely rug with an ethnic-inspired medallion pattern while the elephant motifs bring to mind far-flung places where wild elephants roam. And how cute are these metallic woven baskets? Since the room is on the smaller side, they provide some much-needed extra storage and are super stylish to boot.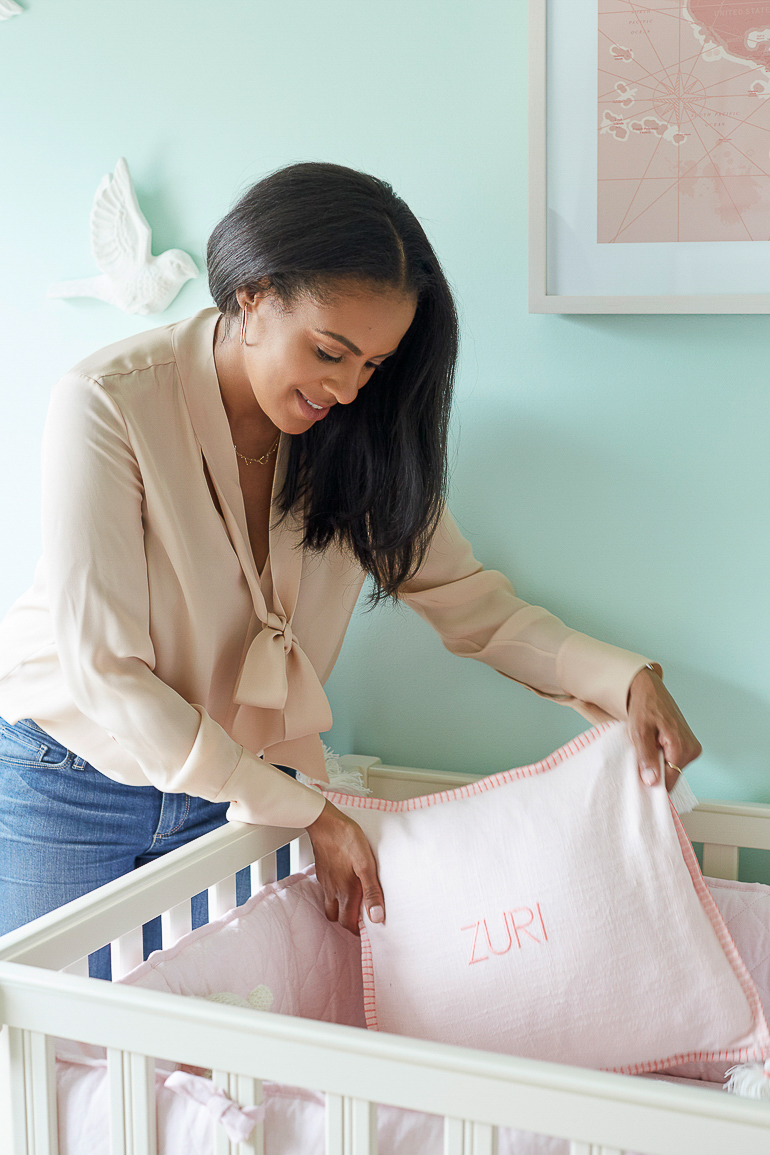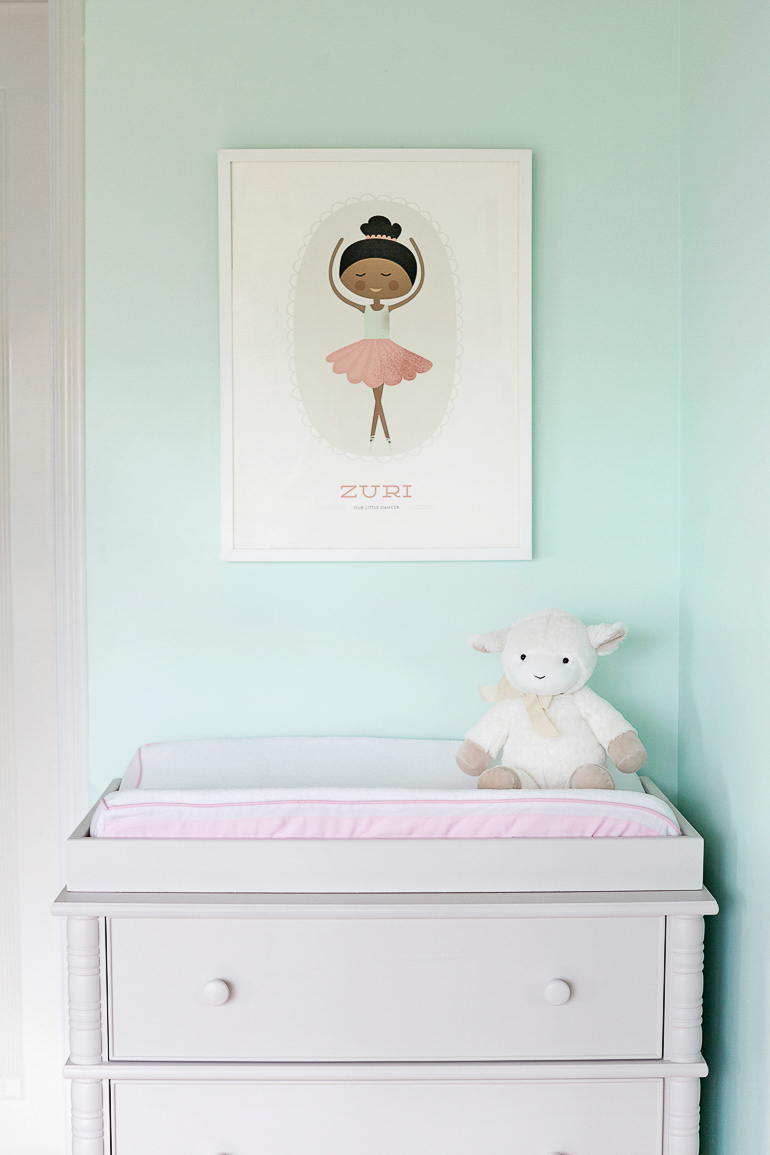 We wanted to incorporate Zuri's name in subtle ways throughout her room. The ballerina artwork from Minted over the changing table was custom printed with Zuri's name. I especially love that there's a ballerina option for every skin tone! We also incorporated a lovely monogrammed tassel pillow from Pottery Barn Kids and used it as a decorative element for the crib whenever Zuri isn't sleeping there.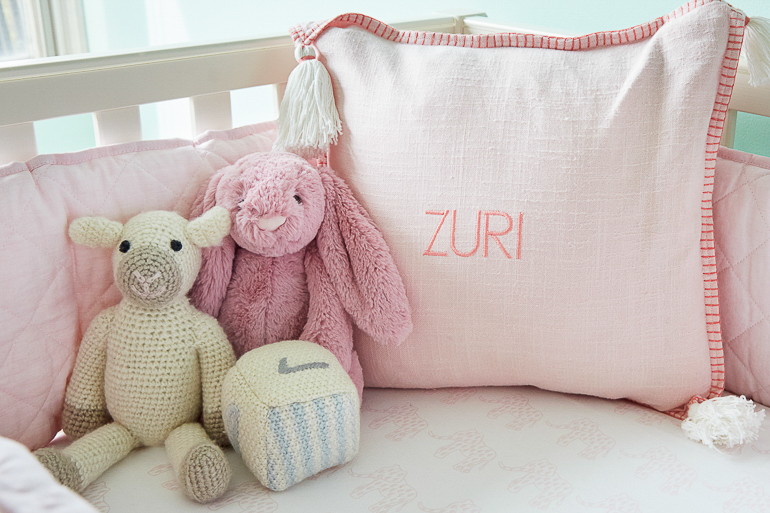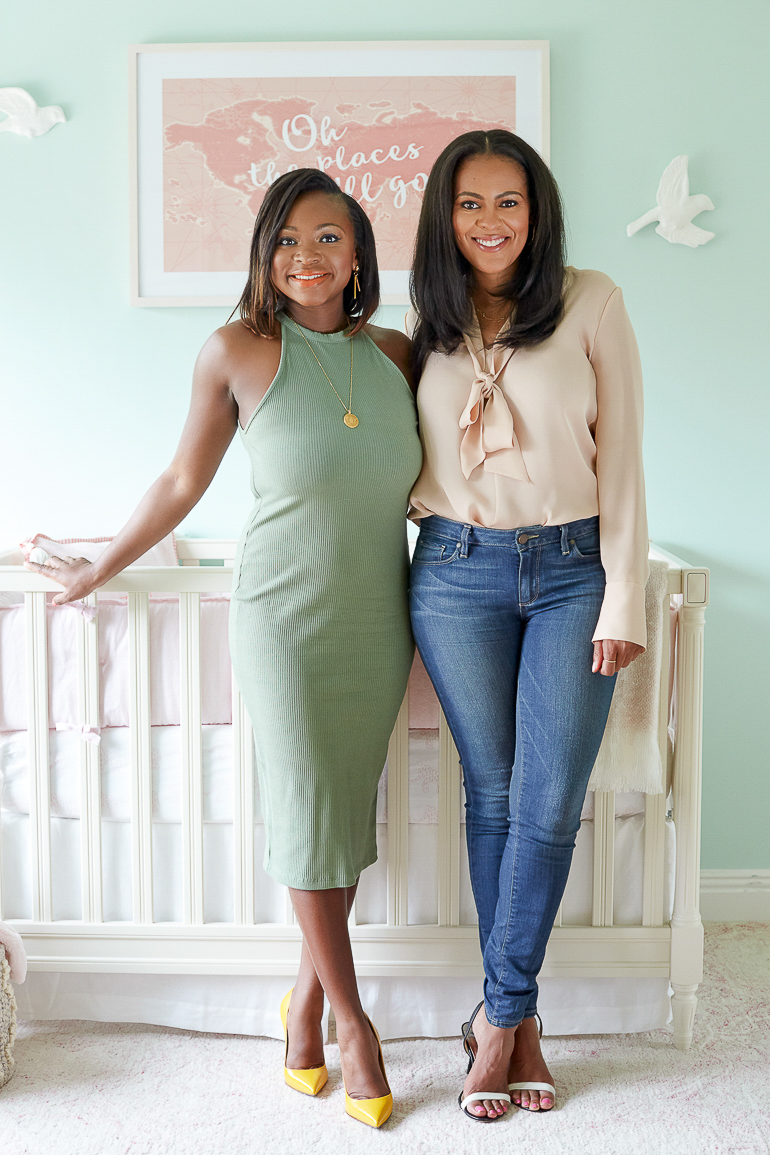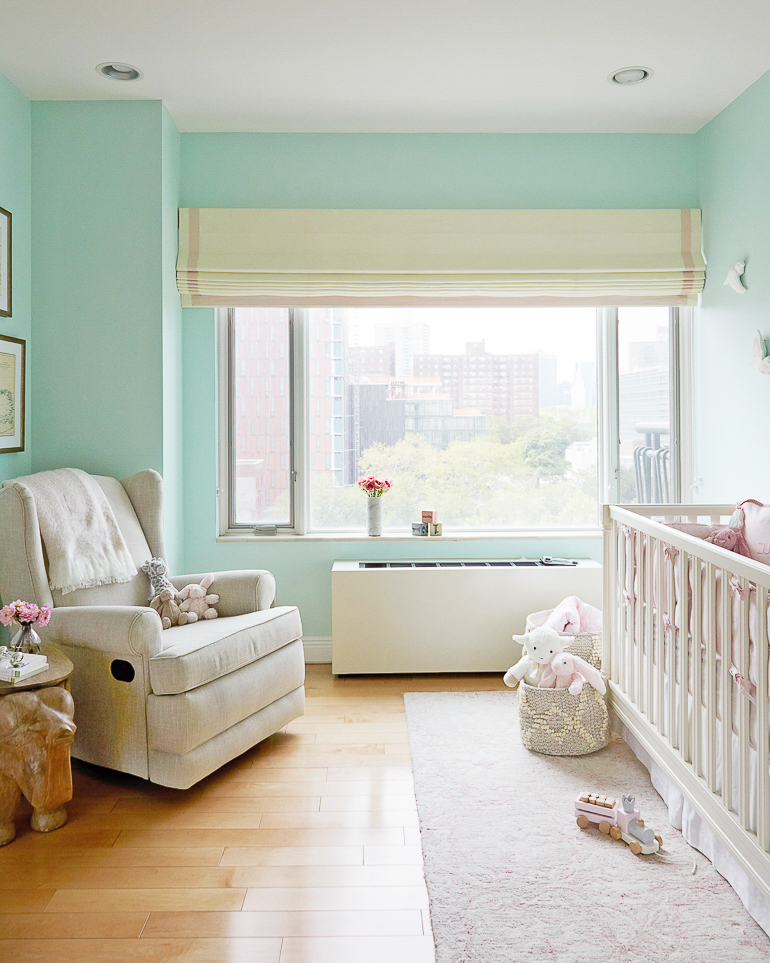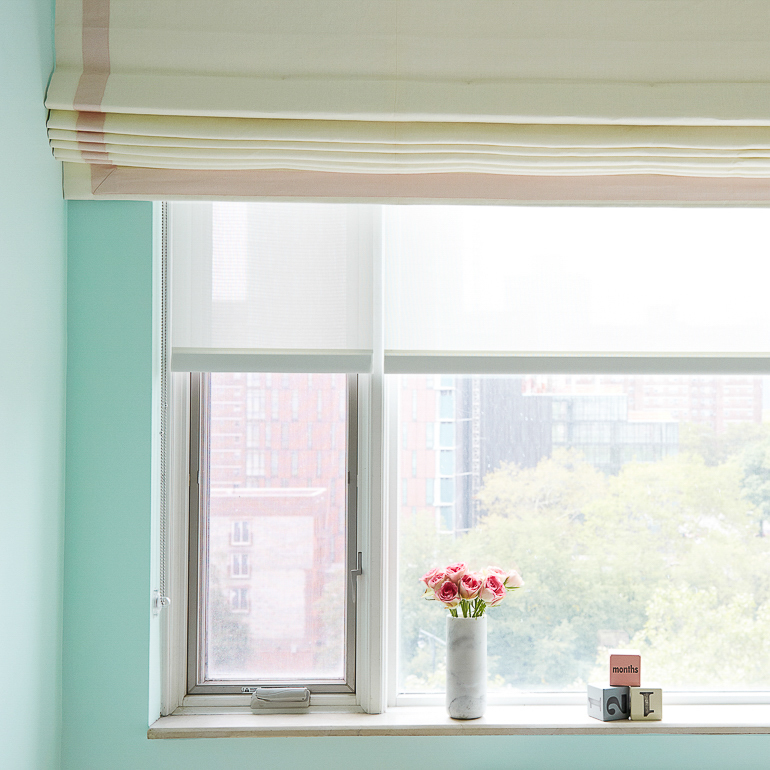 The window was had a tricky layout with three separate panels that Naturi likes to be able to access easily. I teamed up with The Shade Store on her window treatments and selected a beautiful ivory linen roman shade with a pink trim to cover the windows. The shade has a blackout liner so the room can go completely dark when Zuri sleeps. Since the roman shade is a blackout, Naturi still wanted a way to let light in but still maintain privacy because her neighbor's balcony has a partial view into the room. The solution was to layer a sheer roller shade underneath the roman, which allows the light in but still gives her privacy when she needs it. There is a shade for each of the window panels so she can have easy access to open and close the windows.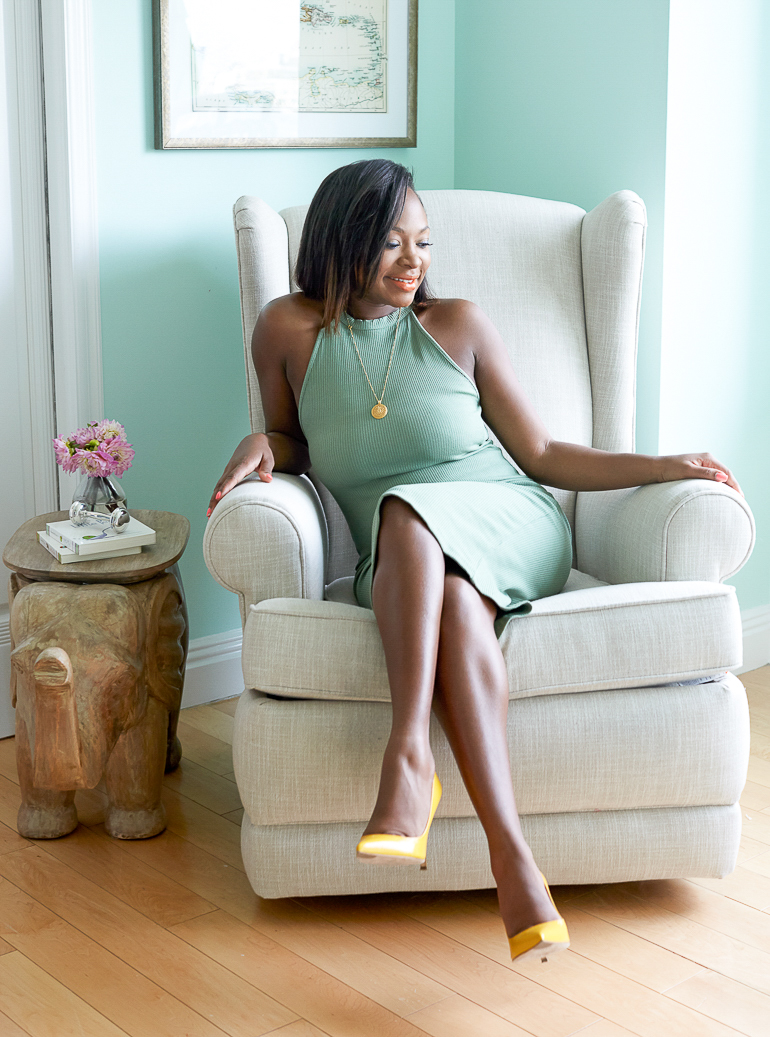 A comfy chair is a must in any nursery and Naturi loves this modern wingback glider and recliner that I tucked into a little corner. It's SO comfortable and since Naturi is breastfeeding this is where she nurses Zuri and rocks her to sleep. This cozy little corner nook is now the main spot where Naturi and Zuri share their precious mommy-daughter bonding time.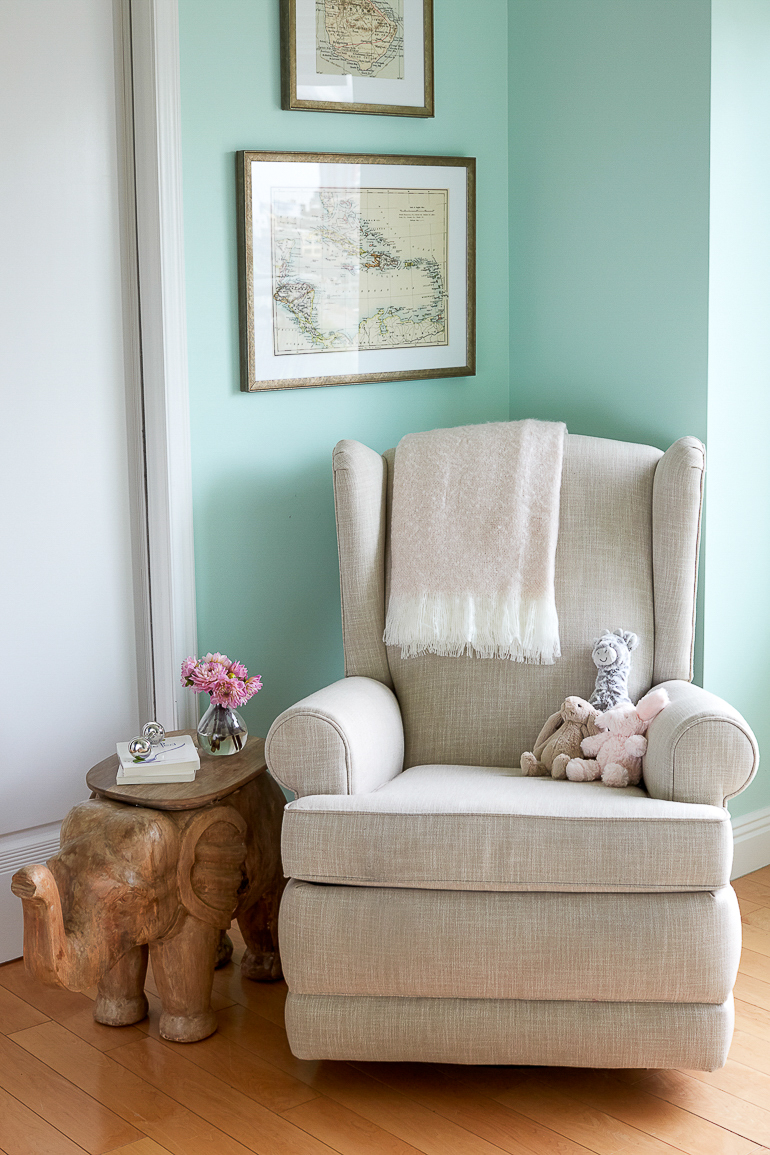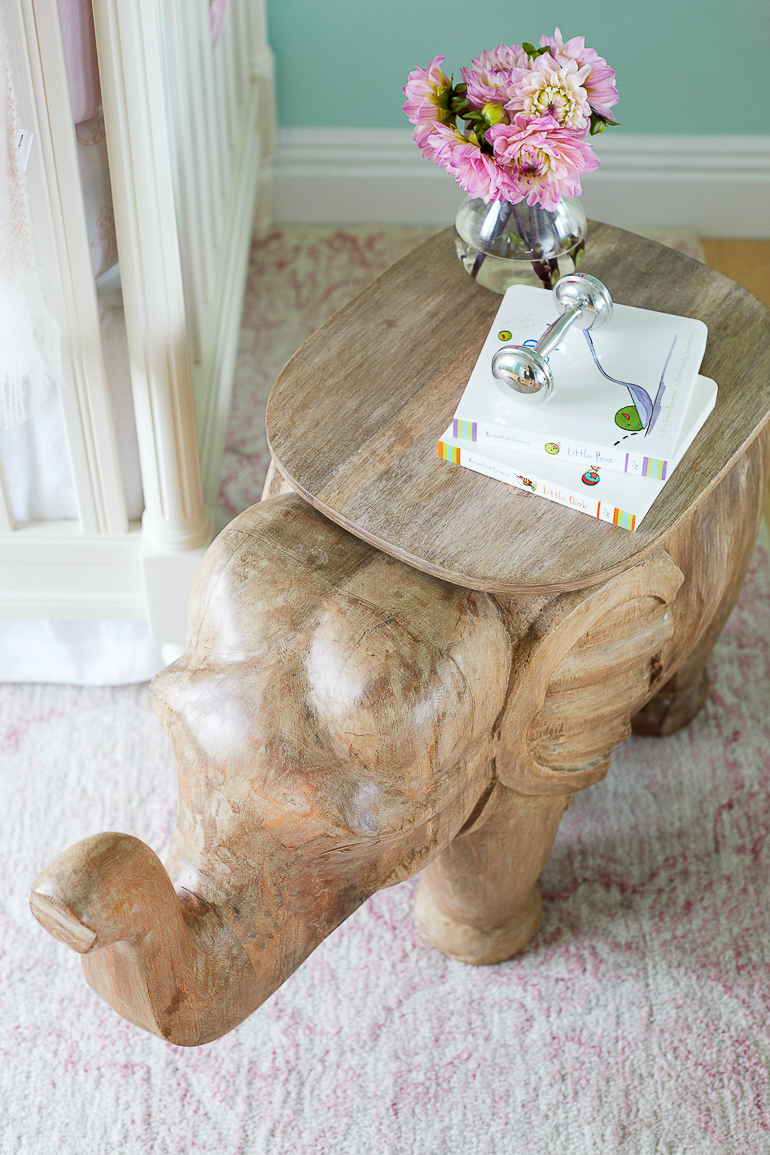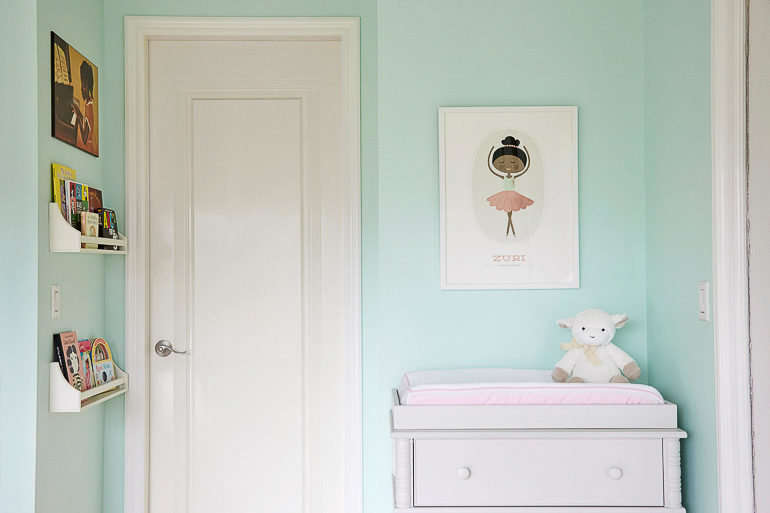 Storage was a challenge in the room which has just one small closet so we incorporated the Elsie dresser which provides extra storage for clothes and also doubles as a changing table.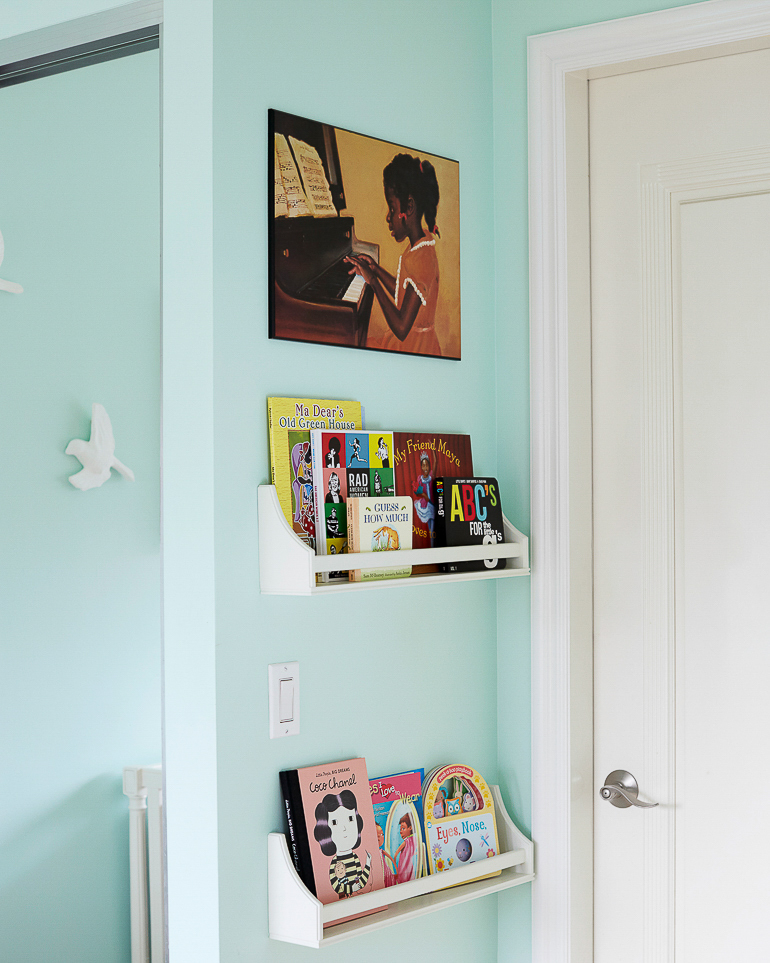 These super cute wall-mounted bookshelves also added clever storage to an unused wall without taking up any additional space. A fun fact about Naturi is that she plays the piano! The artwork above the bookshelves of a little girl playing the piano is a piece Naturi loves and has had for ages. Hopefully baby Zuri will follow in her mommy's musical footsteps!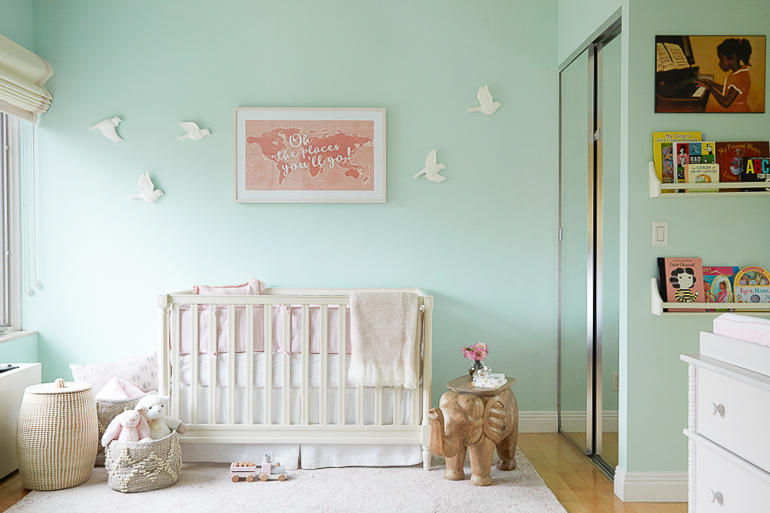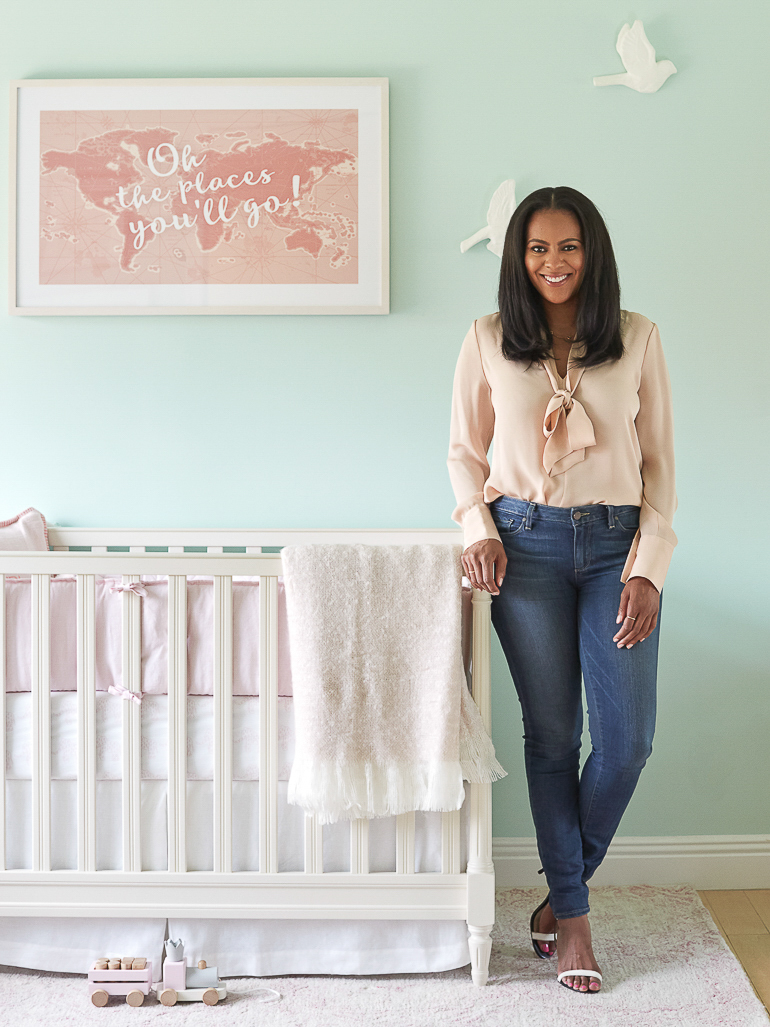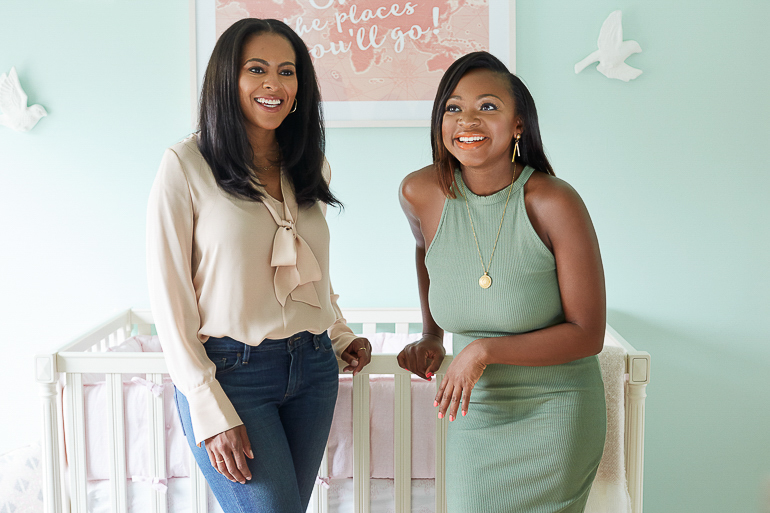 I hope you enjoyed this peek inside Naturi Naughton's nursery! Naturi couldn't have been more lovely to work with and I'm so excited for her journey as a new mom! We're both thrilled with how beautifully the nursery came together and it wouldn't have been possible without a few fantastic partners. Big thanks to Pottery Barn Kids for collaborating to provide all of the furniture and accessories in the nursery and to The Shade Store and Minted for also partnering with us! See how to get the look of Naturi's nursery below! (Photos by Stephania Stanley)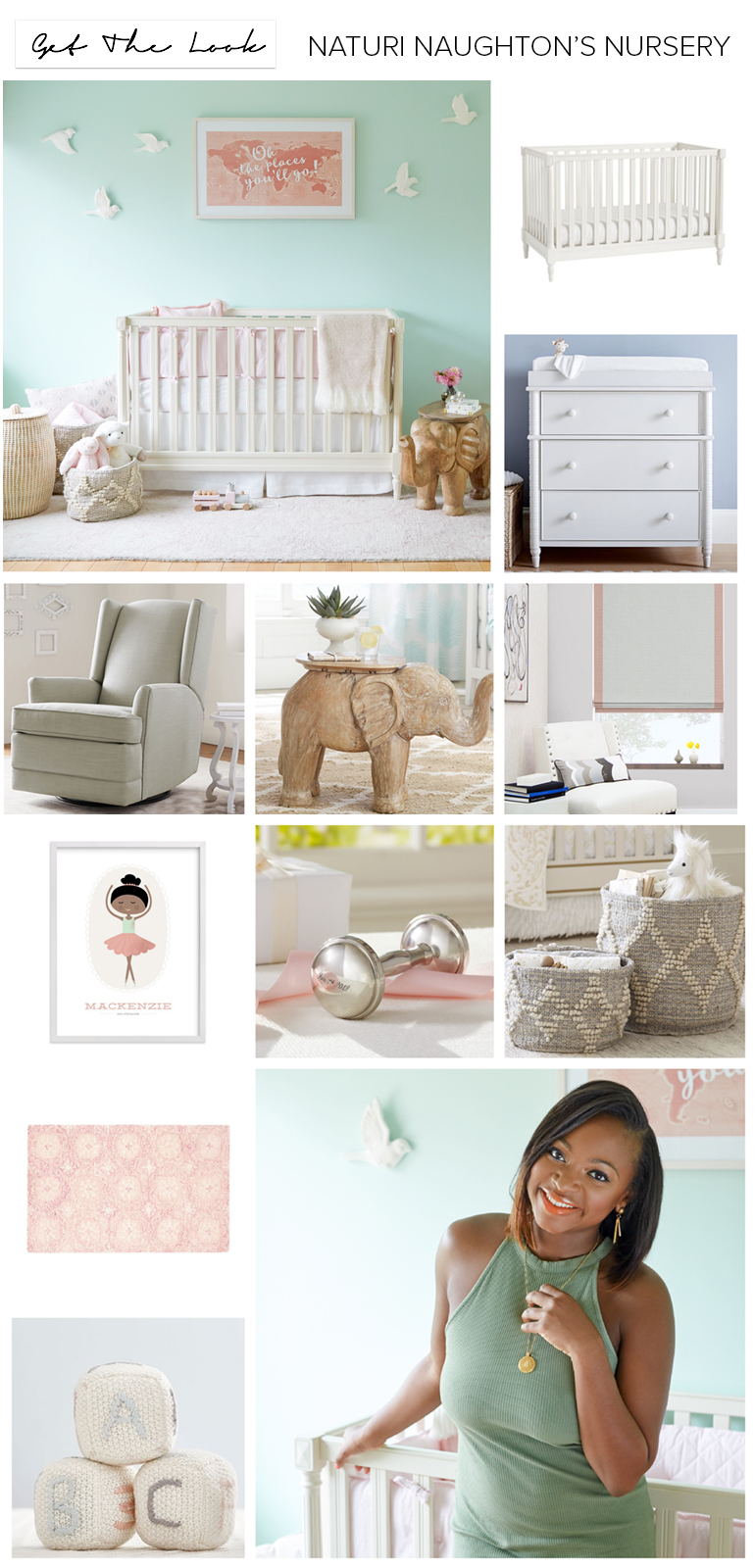 Crib / Dresser / Chair / Elephant Table / Roman Shades / Ballerina Print / Rattle / Storage Baskets / Rug / Knit Alphabet Blocks
More Ways to Get the Look