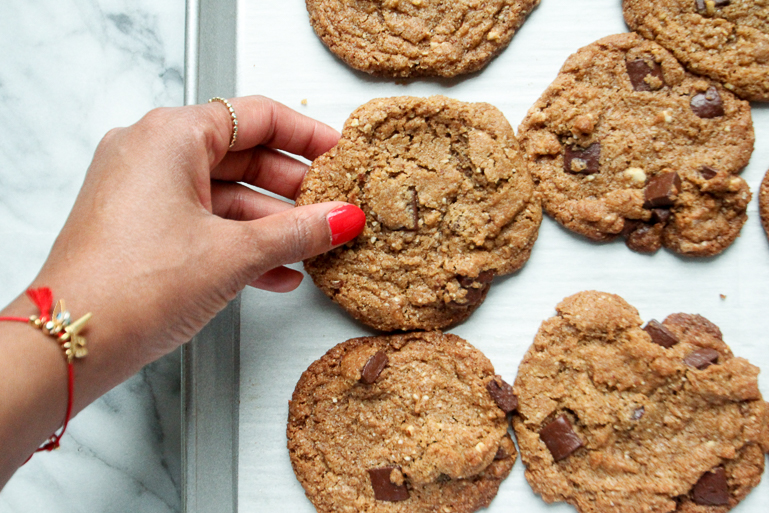 I never really need an excuse to bake sweets but National Cookie Day certainly seemed like the perfect time to share one of my all-time favorite chocolate chip cookie recipes. These cookies also happen to be vegan and made with almond meal. I know what you're thinking…vegan cookies made with almond meal?! But trust me, you would never know they're vegan. They are insanely good!  These thin, crispy cookies are made with brown sugar for a rich, caramel-y flavor and loaded with chocolate chunks that melt in your mouth when served fresh out the oven. Yes, please!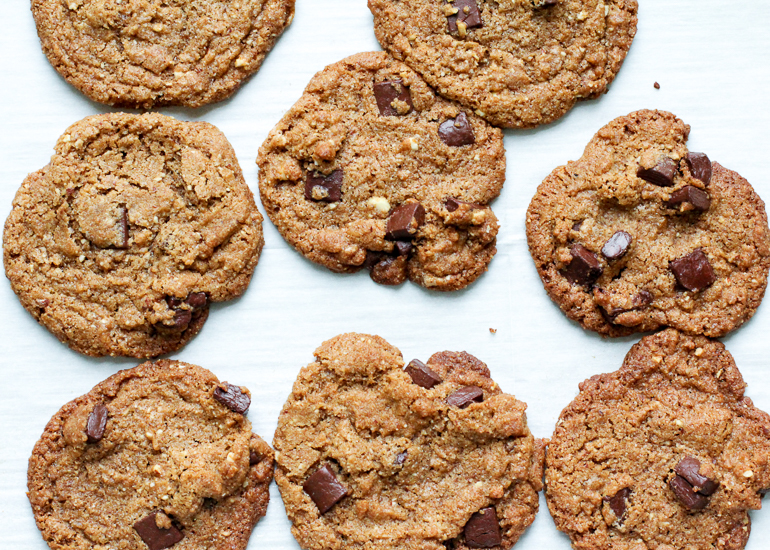 The key ingredient that makes this cookie healthy-ish is the almond meal. Almond meal is essentially just ground up almonds which contain the exact same nutritional profile as whole almonds. I grind up my own almond meal by pulsing raw almonds in my Vitamix and keep it stored in the fridge for freshness.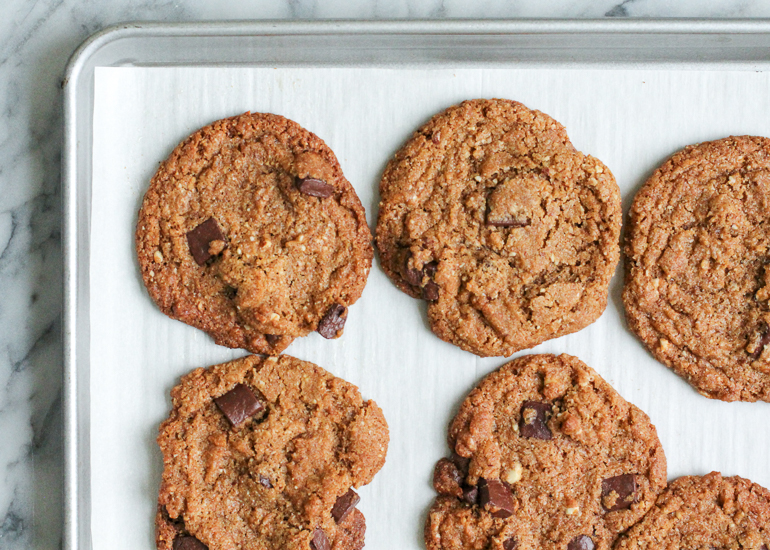 Almonds are rich in vitamins and minerals, high in protein, high in fiber, low in carbs and a good source of omega-3 fatty acids which promote heart health plus help lower cholesterol and blood pressure. These babies are also made with vegan butter which makes them easier to digest yet they still have that tasty buttery flavor that makes cookies so delicious. So the next time you want some chocolate chip cookies, try this delicious recipe and you'll get to enjoy all the good stuff with a lot less guilt!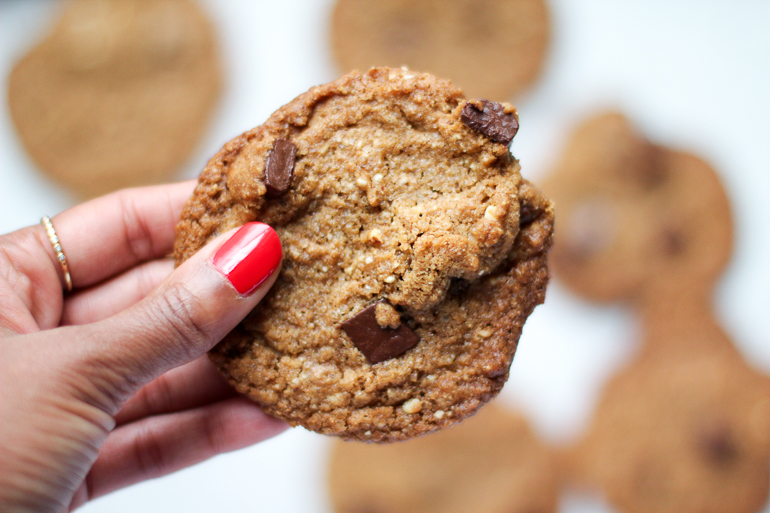 Healthyish Vegan Chocolate Chip Cookies
Ingredients
1 cup all-purpose flour
1 cup almond meal (or almond flour)
1 tsp baking soda
1/2 tsp baking powder
1/2 tsp kosher salt
3/4 cup vegan butter (this is my fave)
1 tablespoon almond milk
1 tablespoon coconut oil
1 tsp pure vanilla extract
3/4 cup organic brown sugar
1/2 cup organic sugar
As many chocolate chunks as you like
How to Make It
Preheat oven to 350 degrees. Combine sugars in a bowl with wet ingredients and beat until smooth and creamy. Combine flour and other dry ingredients in a separate bowl and mix well. Next, slowly incorporate flour mixture into the wet ingredients by adding a little at a time until combined. Finally, mix in chocolate chunks. Chill dough for at least 30 minutes and don't skip this step. (Chilling your dough is the secret to getting any chocolate chip cookie to bake perfectly. They'll cook more evenly without too much spreading, they'll develop a beautiful browned look and the flavors will be more pronounced. The extra 30 minutes is so well worth it!) Use a small ice cream scoop or tablespoon to scoop a generous amount of dough onto a baking sheet. Bake for 10-12 minutes, until edges turn golden brown. Enjoy!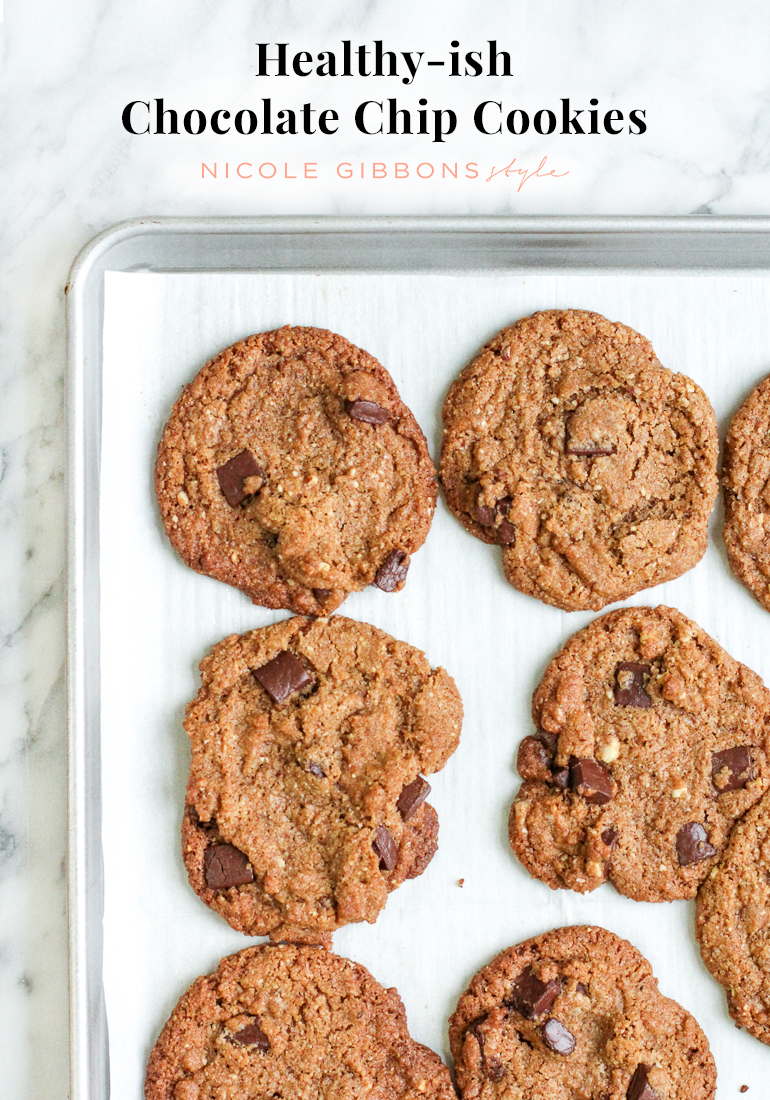 SHOP THE POST