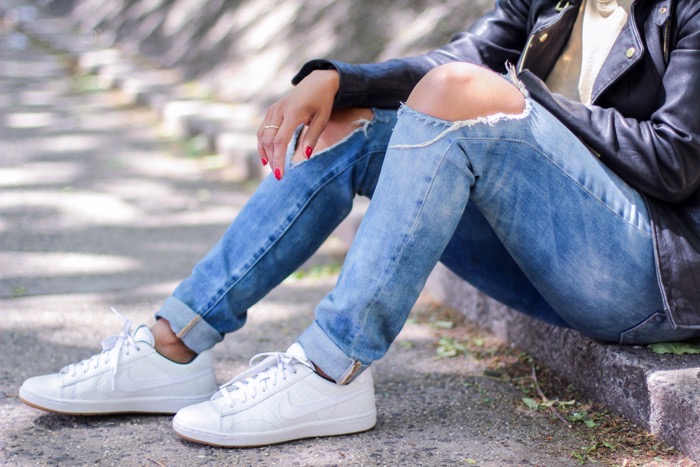 Lately I've been living in white sneakers! They're so easy to just slip on and they work well with any outfit. Whether its ripped denim or a flirty dress, I'm obsessed with pairing my looks with white sneakers! Wearing white sneakers with everything is totally on-trend right now and no one can doubt they look amazing but the downside is that they get so dirty way too quickly! In order to keep them looking clean and fresh you have to maintain your white sneakers regularly which requires effort. To make the process easier, I'm sharing few of my top tips and hacks for keeping your white sneakers looking crisp and clean, plus a roundup of my favorite white sneakers that I'm loving at the moment!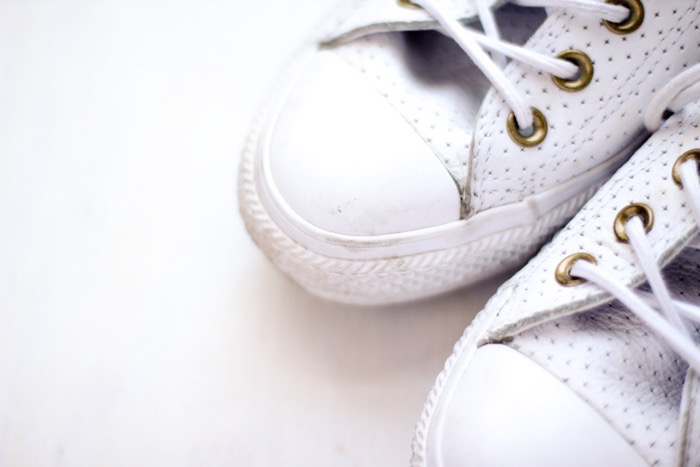 No. 1 – Prevention: First things first, you'll want to prevent smudges and stains before they even become and issue. Start with basic common sense – don't wear your white sneakers in inclement weather or to your nephew's little league game where they're certain to get dirty. Also – use a product that prevents and repels stains. For your laces and canvas sneakers, good old scotch guard will do the trick to help repel the materials from stains or water. For leather sneakers, my sneakerhead friends swear by Jason Markk products. They're marketed for men but they work for any sneakers and the line's Repel spray helps to prevent stains and smudges on leather plus a variety of other materials.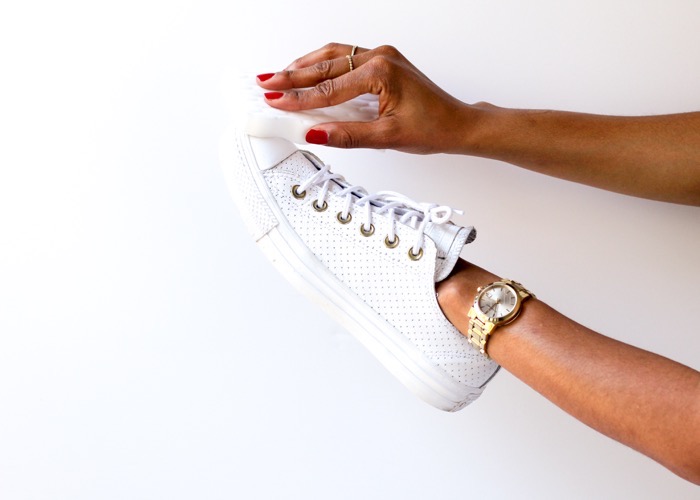 No. 2 – Spot clean smudges as soon as they appear. My secret weapon for spot treating my shoes is a Mr. Clean Magic Eraser! Whether its the rubber toe, sole or leather body of the shoe, Magic Erasers work wonders and will help keep your sneakers looking shiny and white, like magic! You can also try warm water on a rag with a bit of vinegar for a more natural remedy but trust me, nothing works as good as a Magic Eraser! Simply wet the sponge and wipe away at the stains until they disappear!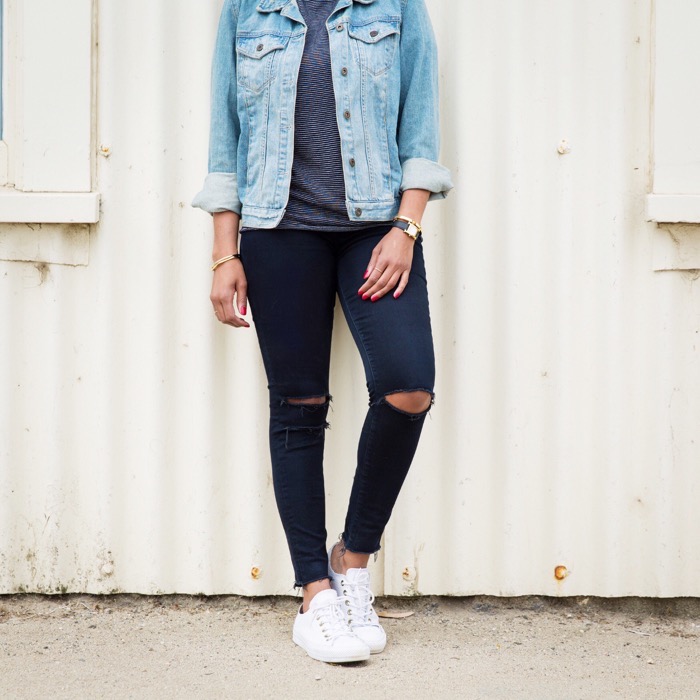 No. 3 – Never put your canvas sneakers in the washing machine! Contrary to popular belief, you should never put sneakers in the wash. The heat and the rough spin cycle can cause the threads in your shoes to unravel and can also create discoloration. It's always better to hand clean them! Since canvas is a fabric which absorbs stains much more quickly than leather, it's important to clean them the second they get stained. Dry brush stains out first and then using a stain cleaner, brush out the stain but also clean the entire shoe so they dry evenly. Rinse and repeat if needed.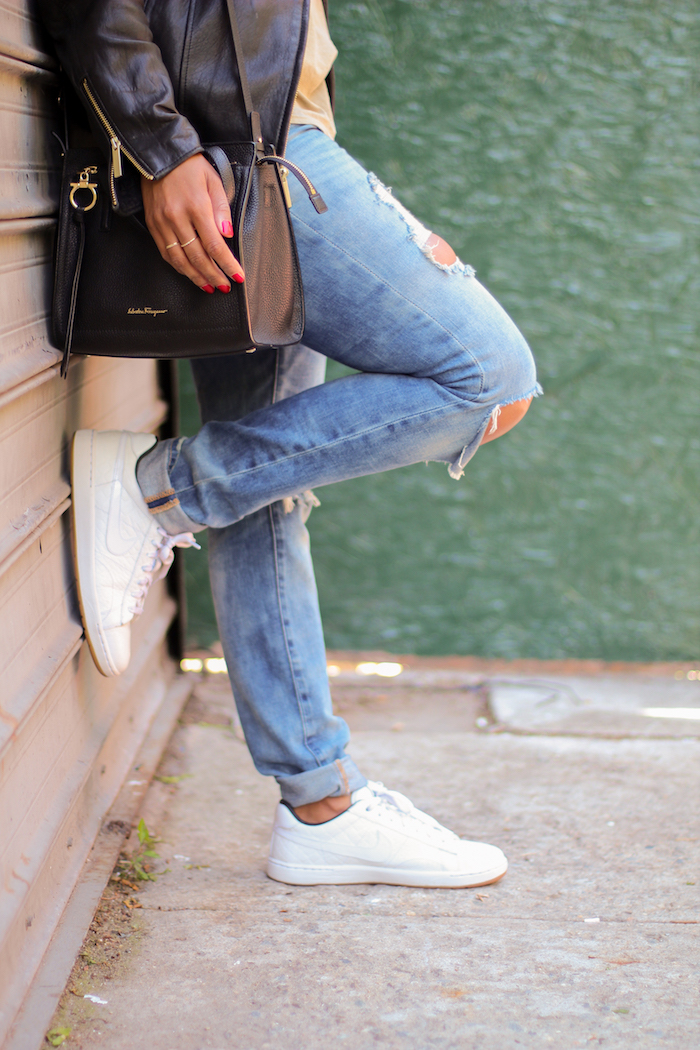 No. 4 For deeply lodged dirt us a soft bristled brush. If your shoes have lots or crevices on the body or soles, you may need to use a soft bristled brush to dislodge the dirt. Try a mixture of warm water and a dollop of dish soap and scrub away. I like using a good old fashioned toothbrush to clean the outer rubber soles when they get super dirty.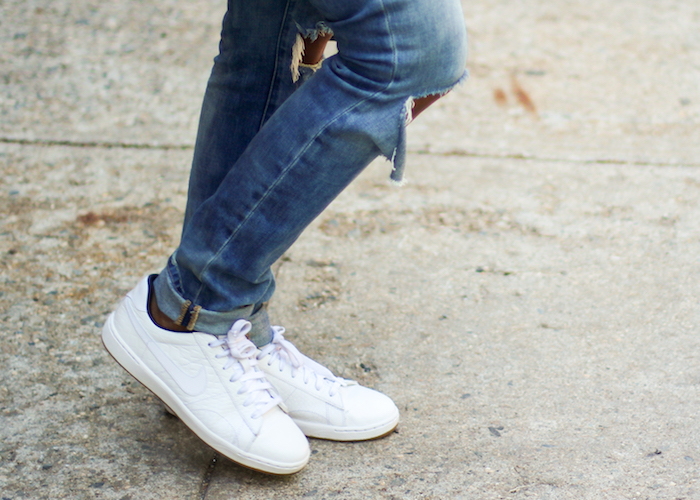 No. 5 – Replace your laces. Nothing makes your white sneakers look dingier than dirty laces! A new pair of new laces are pretty inexpensive so if your shoes get a bit too worn and torn, try all of the cleaning tips above and just replace the laces which will give them a brand new look. If you want to clean your old laces, soak them in a solution of OxyClean and laundry detergent rinse and let them air dry. Never use bleach as this can turn them a bit yellow.
White Sneaker Cleaning Essentials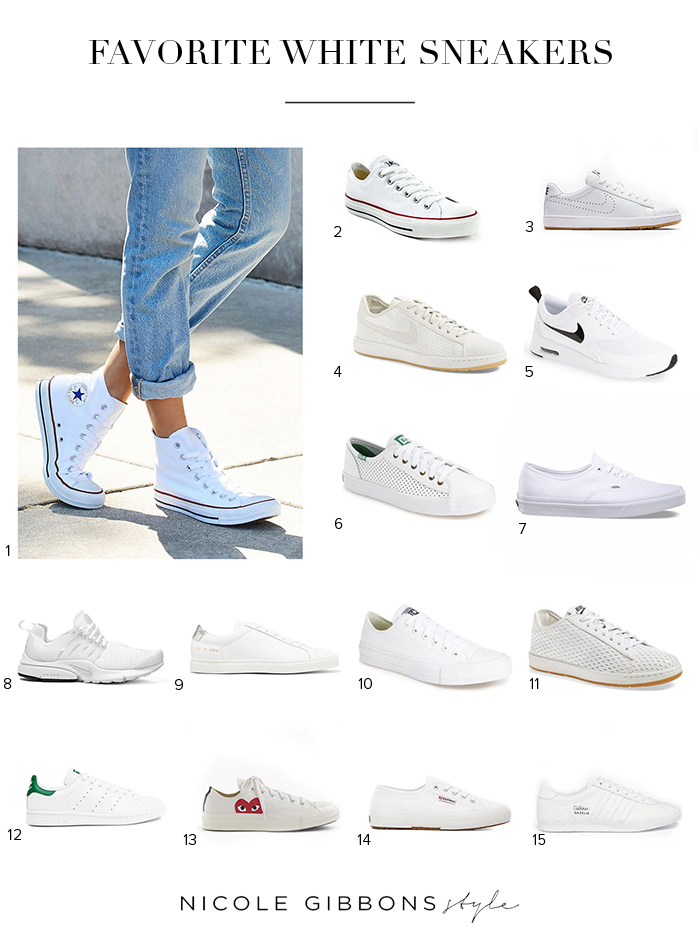 1 / 2 / 3 / 4 / 5 / 6 / 7 / 8 / 9 / 10 / 11 / 12 / 13 / 14 / 15
In the photos above I'm wearing my favorite perforated Converse Chuck Taylors (on sale here + here + here!) and Nike Tennis Classic Ultra Premium (similar)