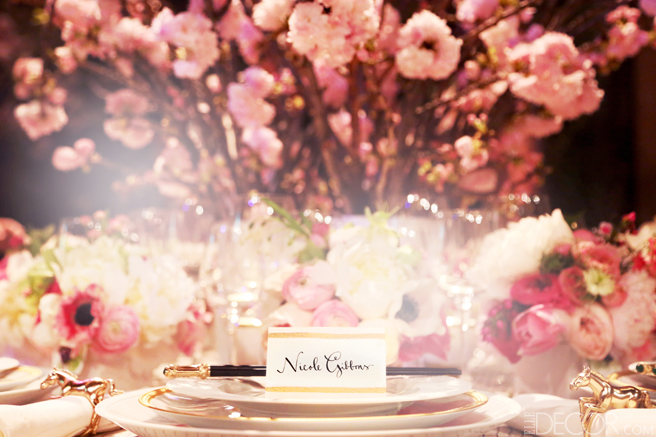 I am incredibly honored to have been selected for the second year in a row to design a table for the annual Lenox Hill Neighborhood House Spring Gala. This time around I partnered up with Stark to design their sponsored table featuring beautiful fabrics available through Stark showrooms. The event just took  last week and I'm excited to share pictures of my table as well as a bit about the inspiration behind my design!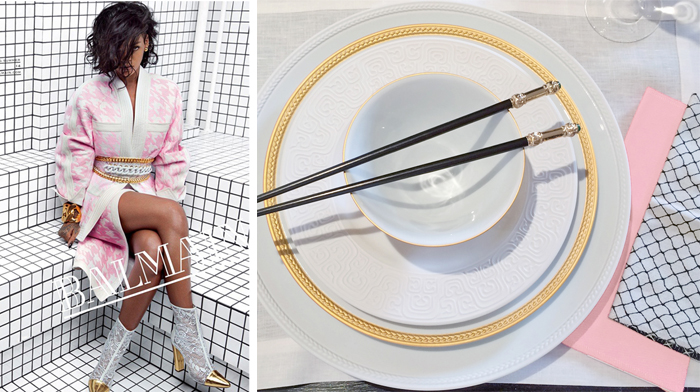 Always inspired by fashion and pop culture, I based my color story around an image from Balmain's Spring '14 ad campaign starring Rihanna. Above is a look at the campaign image with a fierce looking Rihanna alongside a shot of my tabletop in progress. I chose a fabulous fabric from the Jean Paul Gaultier collection for Lelievre called Cabaret that has a graphic black fishnet like pattern over a white background which reminded me of the backdrop in the Balmain ad. To bring in a hint of pink inspired by Rihanna's dress, I chose a solid fabric called Fidji, also from Lelievre through Stark, to use as accents on my tablecloth and seat covers.  The dinerware is all from L'Objet. I just loved the chic white matte finish and pattern of the Han & Soie Tresse dinner plates and I incorporated a single plate with a gold braided accent into the place setting for a touch of added glamour. Rather than feature typical flatware, I thought chopsticks would be a stylish and unexpected touch for such a formal table setting. (But if you are wonderng , during the actual dinner guest used regular flatware) For the napkins I chose whimsical napkin jewels with a horse motif which you can see in the pictures below.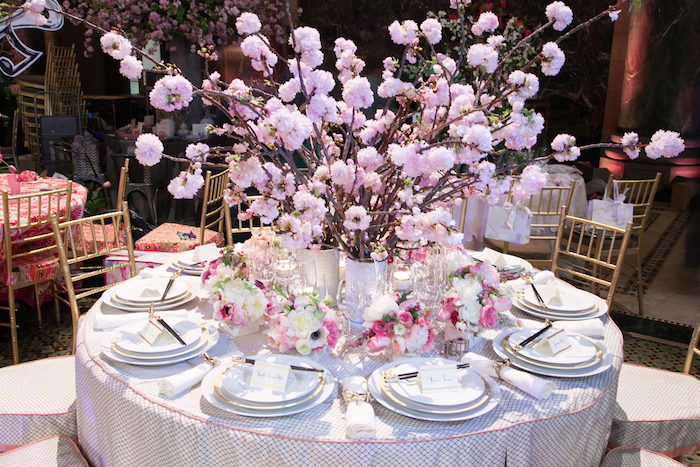 Photo: Roberto Ricca
Obviously flowers are a big part of any formal table setting and this year I had the pleasure of collaborating with Taylor Tomasi Hill and her newly established event florals company @TTHBlooms. I knew of Taylor from her fashion editor days back when I worked in PR and was so excited to learn of her new venture via Instagram. As soon as I saw her stunning mini bloom arrangements I knew I wanted to work with her on the on the flowers for my table and was thrilled when she said yes! We landed on doing 10 mini bloom arrangements in shades of pink which also doubled as take home gifts for the dinner guests and in the spirit of the event's "Spring Affair" theme, decided that a simple arrangement of cherry blossoms clustered in three white matte Perlee vases from L'Objet would be the perfect centerpiece.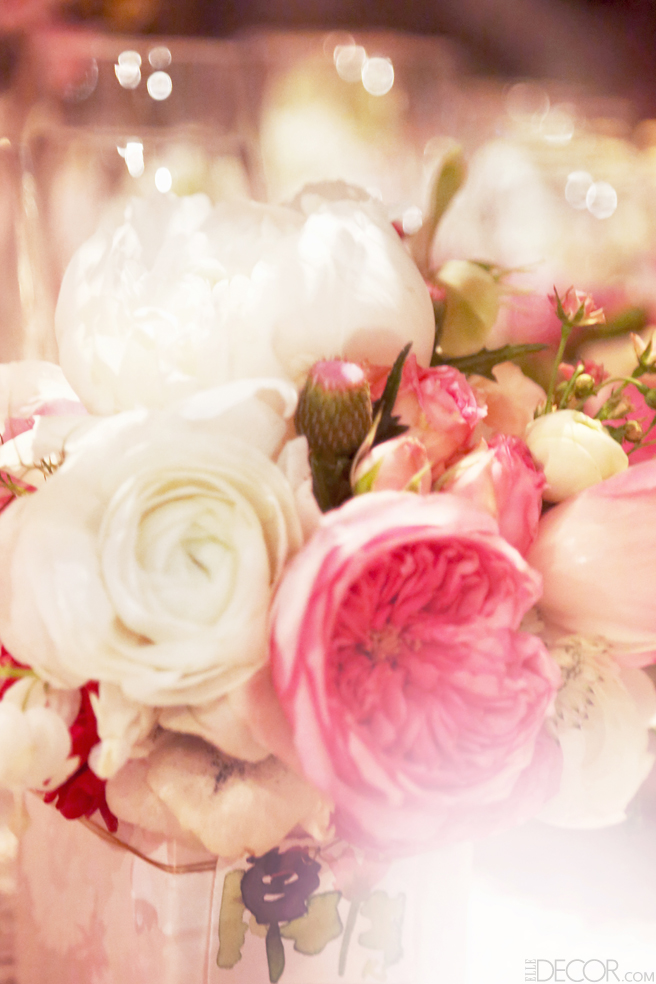 Here is a  detail shot of the flowers captured by Kelly Stuart for a feature on my that appeared on ElleDecor.com! (You can read the story here) Aren't the flowers gorgeous? They really helped bring the tablescape to life. The sweet hand drawn watercolors tied to each photo were done by the talented Kate Schelter.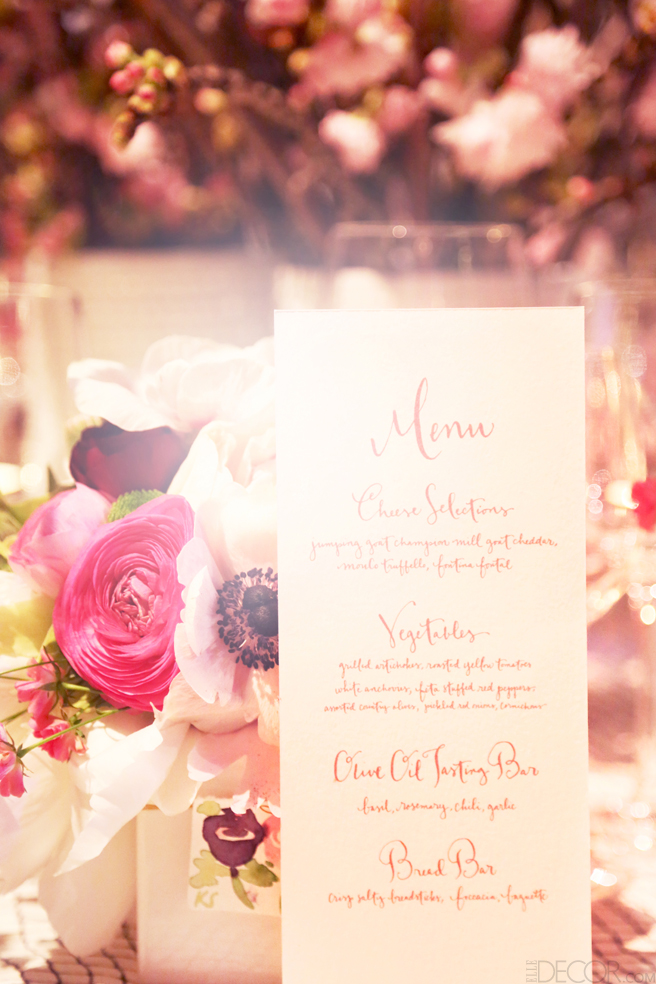 Photo: Kelly Stuart for Hearst Digital
I've been a huge fan of Kathryn Murray's calligraphy for years. Back when I worked in PR I would always hire hire to do calligraphy for events that I would plan. Her hand lettering is stunning and I'm so grateful she was able to lend her talent to pen the most perfect menus and placecards for my Lenox Hill table! Above is another detail shot from ElleDecor.com. Below are a few more images of the table from my iPhone. It was such an honor to be a part of such an incredible event that helped raise more than $1.5 million to help people in need. A huge thank you goes to the Lenox Hill Neighbhorhood House for hosting such a special evening and for the Stark family for the incredible honor of designing your table this year! Thanks also to Michael McGraw, Mondie Nikc and Claudia Leung for all of your support and to L'Objet, @TTH Blooms, Kathryn Murray and Kate Schelter for lending your products, time and talent to help make my table design come to life!