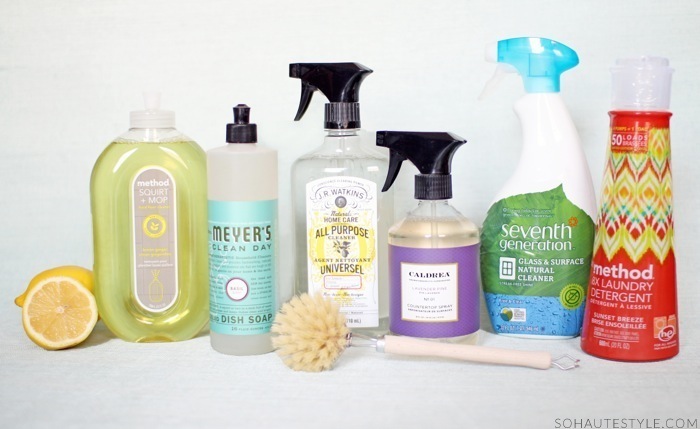 At home I try to live a mostly all-natural lifestyle which applies to everything from the foods I eat to the products I use to clean my home. So many conventional cleaning products are filled with toxic chemicals that can be harmful to your health and the environment, so I feel that using products that are more earth friendly is just one tiny way I can make a more positive impact. Of course, there are always the clean-up jobs where nothing but good old bleach will do the trick, but 90% of the time I go natural. I've been planning this post for a while and I couldn't think of a better day than Earth Day to share this roundup of the best eco friendly cleaning products that I use at home on a daily basis and swear by.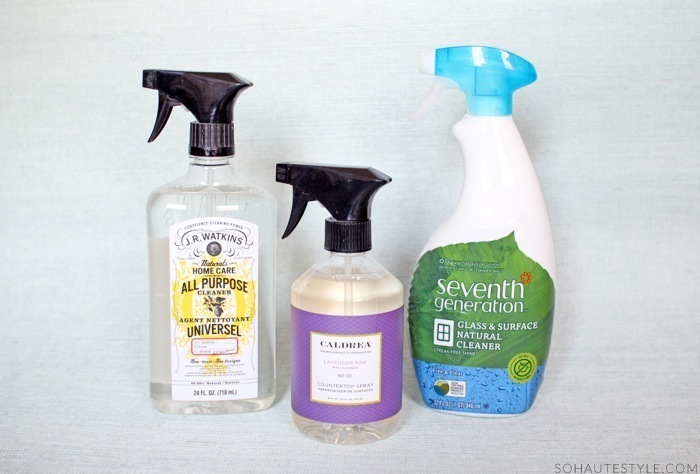 Countertop and All-Purpose Cleaners
One thing I always look for are cleaning products that not only work well but that also have pretty packaging that I wouldn't mind sitting out on my countertop. I'm always in my kitchen and spray the countertops down several times a day so I always have my counter spray sitting out. I love the JR Watkins All-Purpose Cleaner which I usually find at Target.  I use it to clean a lot of the tabletop surfaces in my home. The lemon scent is lovely and cuts grease pretty well in the kitchen too. Another line I love is Caldrea which you can find online at Drugstore.com and the Lavender Pine scent is one of my favorites. These products have such lovely packaging with labels in bright colors and prints. And the scents are all made from essential oils so they smell divine! Finally, for my mirrors and glass top surfaces I use Seventh Generation's glass cleaner which keeps my glass and mirrors streak free and doesn't have that harsh ammonia smell that most other glass cleaners have. The packaging is pretty basic, but I don't use this every day so I generally keep this one tucked under the kitchen cabinet:-)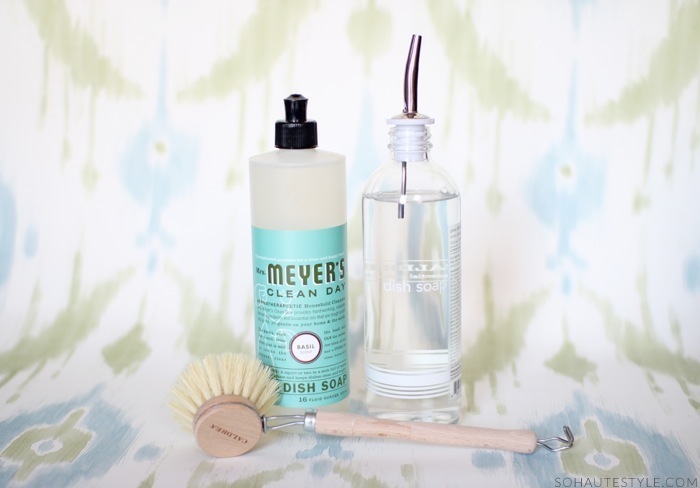 Dish Soaps
I've tried and tested a number of different natural dish soaps and most of them smell great but aren't really as effective when it comes to cutting grease. I swear by Mrs. Meyers dish soap. It's the only one I've found that truly cuts the grease and gets my dishes squeaky clean. I love the basil scent because it's very light and because I don't have a dishwasher (the perils of NYC rental living!) I wash dishes by hand ALL the time and don't like anything too fragrant. I also want to give an honorable mention to the new Caldrea Essential dish soap. Caldrea Essential is a spinoff line from Caldrea that is available exclusively at Target. I featured this in a TV segment recently and admittedly, I have not tried this one yet but love the glass bottle that it comes in. This definitely wins the award for prettiest dish soap packaging ever! It's so new it's not up on the Target site yet, but you can find it in Target stores nationwide!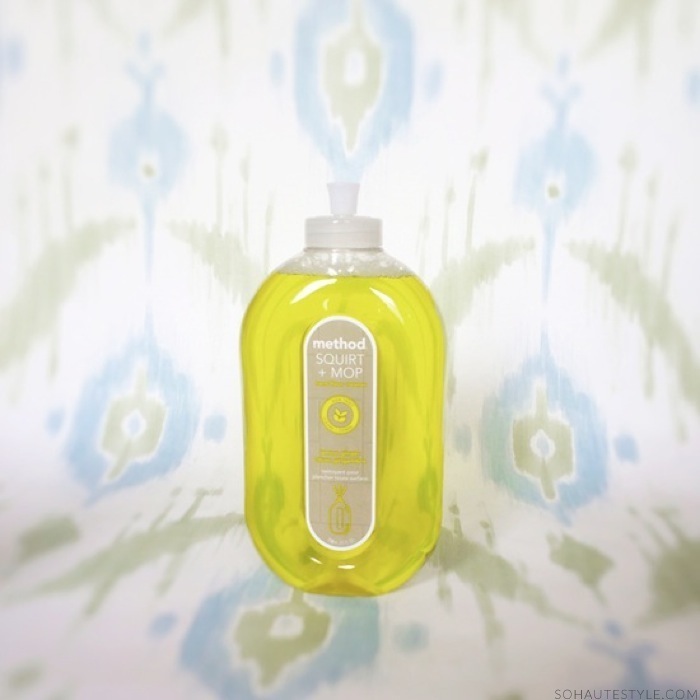 Floor Care
When it comes to cleaning, I like simple and easy and for floor care, I prefer Method's Squirt & Mop because you don't have to deal with lugging around a messy bucket full of dirty water that has to be constantly swapped out. As the name suggests, you start with a damp mop then you literally just squirt and mop. Super easy! Just a note – Method makes a special Squirt & Mop just for wood floors which is great too but I live in a rental with those super glossy wood floors so this works great on them and it's easier for me to just use one product for all of my floors vs buying separate products for the kitchen/bath and living areas.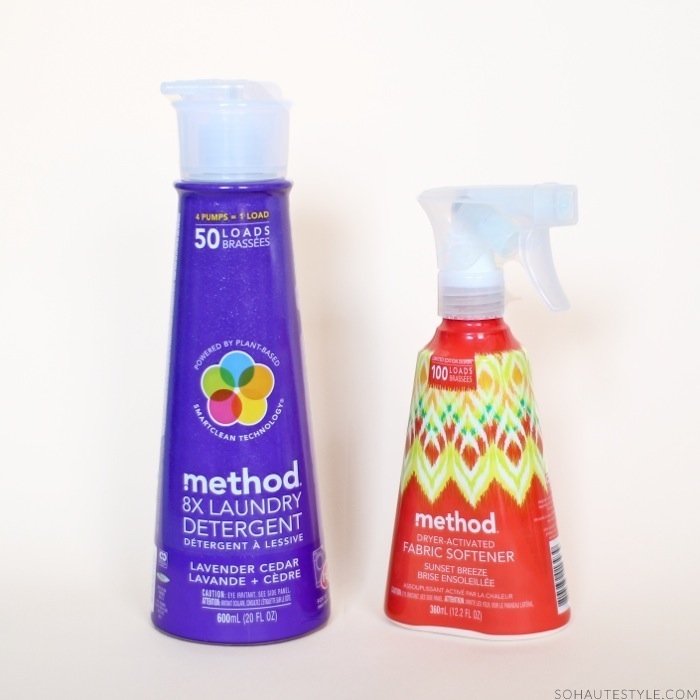 Laundry
I have a confession. For the past 11 years since I've lived in NYC, I have very rarely done my own laundry. 95% of the time I send my laundry out for wash and fold service which can be done same day at most places in the city. It's amazing. But still, there are a few things I always wash myself, like my best white sheets or some of the nicer shirts I own that I'm afraid the laundry place might mess up. I'm not super loyal when it comes to laundry detergent since I use it so infrequently (a bottle typically lasts me a year!) BUT – I do love the Method Laundry Detergents more than most others for 2 main reasons. One is it's compact size because the smaller footprint takes up less space under my counter and it's much easier to carry when I do have to tote my laundry around. The other reason is because it is ultra-concentrated so you're using a lot less detergent for each load. Their spray on fabric softener is great too. You just spray it on your wet laundry before you put it in the dryer and the heat activates the product. So there you have it! Of course there are many other products I use, but these are ones I use most frequently so if you're thinking of greening your cleaning routine, I hope you find these recommendations helpful. Happy Earth Day!!