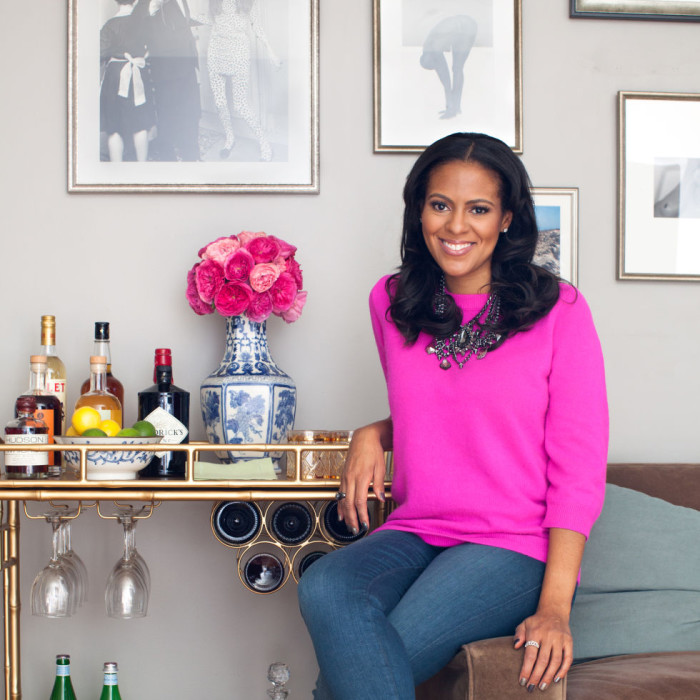 When it comes to entertaining, it's great to have a well-stocked bar so you can be ready to entertain at a moment's notice. Every grown-up home should have a proper bar and if you don't, setting up the perfect home bar is way easier than you think! Read on for my tips on creating the ultimate home bar including how to style it, the essential spirits to stock it with and the most stylish tools and accessories to help you mix up the perfect cocktail!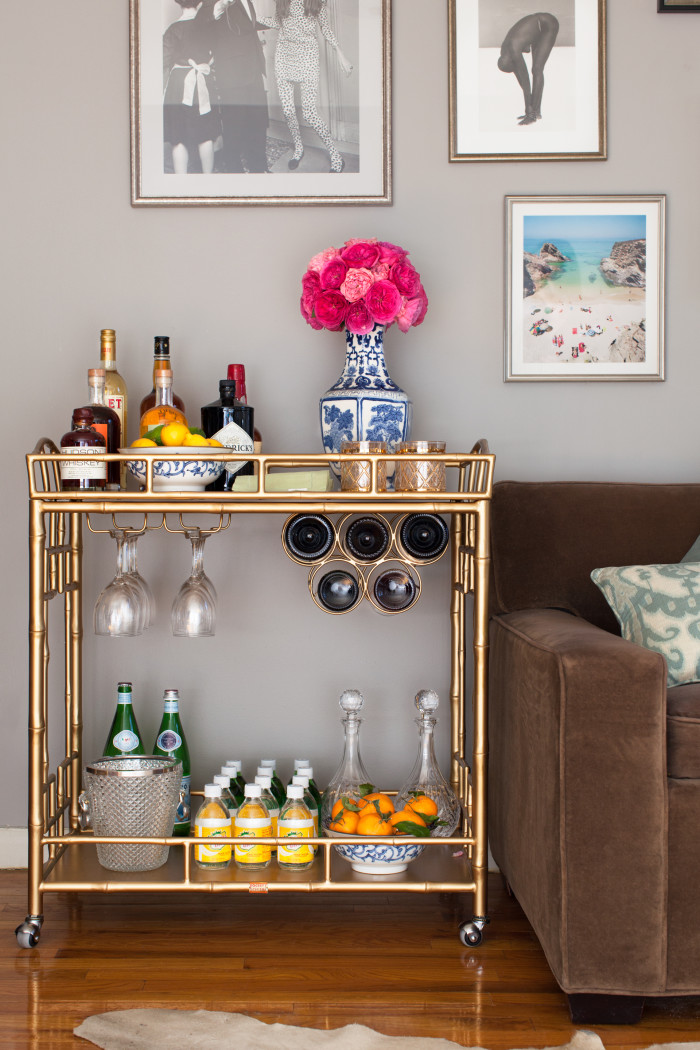 I love a good bar cart because of its versatility. You can style them up a million different ways to create a chic little moment in your home and it's the perfect throwback piece for the modern day hostess who's always ready for cocktail hour! It really is one of the most useful furniture pieces for serving drinks. Here is a bar cart I styled in my home for a Redbook feature. Even in this compact set-up, I have all of the essentials…A great assortment of spirits and mixers, a chic ice bucket, fresh fruit for garnishes, wine, decanters, plus wine and cocktail glasses. This bar cart is the Sedgewick from Society Social and below, I've rounded up 10 more of the best bar carts around!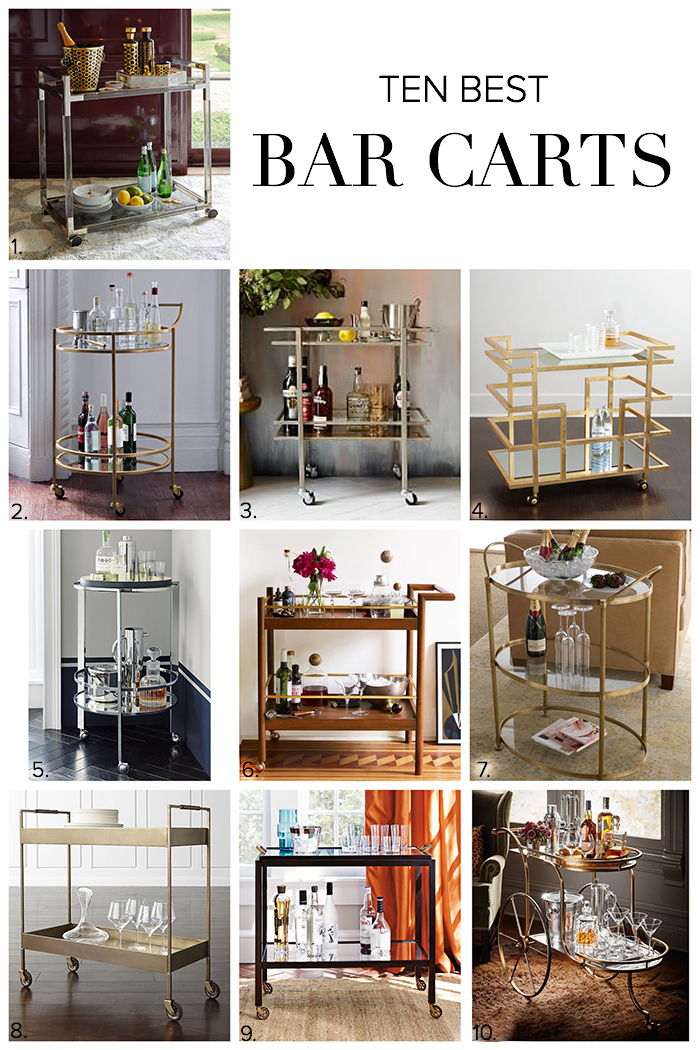 1.  Jacques Bar Cart / 2. Valet Bar Cart / 3.  Terrace Bar Cart / 4. Azalea Bar Cart / 5. Ernest Chrome Bar Cart / 6. Mid Century Bar Cart  / 7. Emory Bar Cart / 8. Libations Bar Cart 9. Parisian Bar Cart / 10. Admiral Bar Cart + BONUS – check out one more super affordable one from Target here!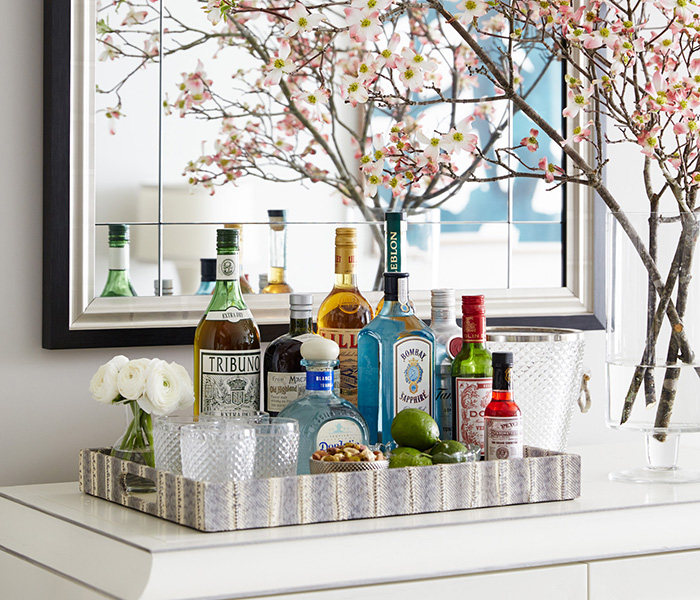 If you don't have a bar cart you can turn practically any tabletop surface such as a buffet, a console or a credenza into an instant bar with the addition of a stylish decorative tray like I did here in an apartment I designed for clients of mine. This is a more of a condensed bar set up but it still has all the basics for mixing and serving up drinks.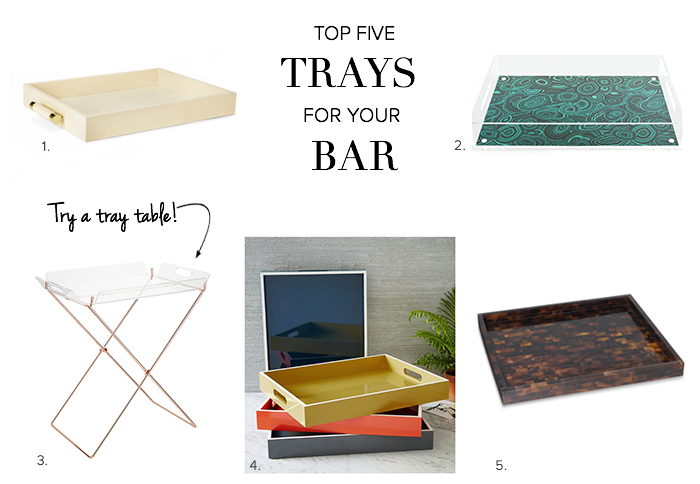 Here are 5 trays I've rounded up to help you create this look: 1. Ivory Shagreen Tray / 2. Malachite Acrylic Tray / 4. Acrylic Tray table / 4. Lacquer Tray / 5. Pen Shell Tray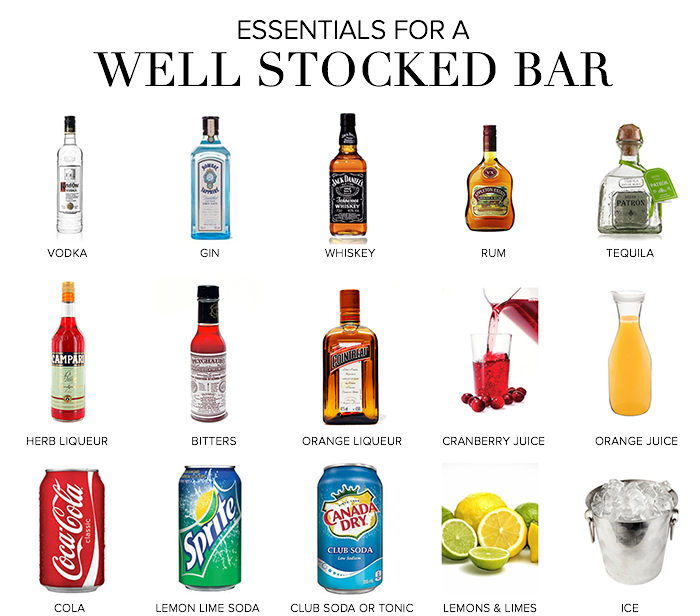 Stocking your bar can be expensive but these are the basics that should enable you to mix up just about any commonly requested drink. Keep in mind, these essentials aren't set in stone. If you don't love whiskey but you like cognac, by all means buy cognac. You should stock your bar with spirits you'll actually enjoy but the goal is to have a mix of different spirits that your guests will like too. Also keep a variety of liqueurs and drink mixers on hand and always use fresh garnishes. Another great hostess tip? Have at least one signature cocktail recipe  that you make really well by memory. For me, it's a mojito but no matter what, mastering one killer recipe is all you need to impress your guests!

If you need some inspiration for creating the perfect signature cocktail, here are some recommended reads to help you channel your inner mixologist. From L-R: Vintage Cocktails, Craft Cocktails. Death & Co Recipe Book, Craft Cocktail Party. The Best Craft Cocktails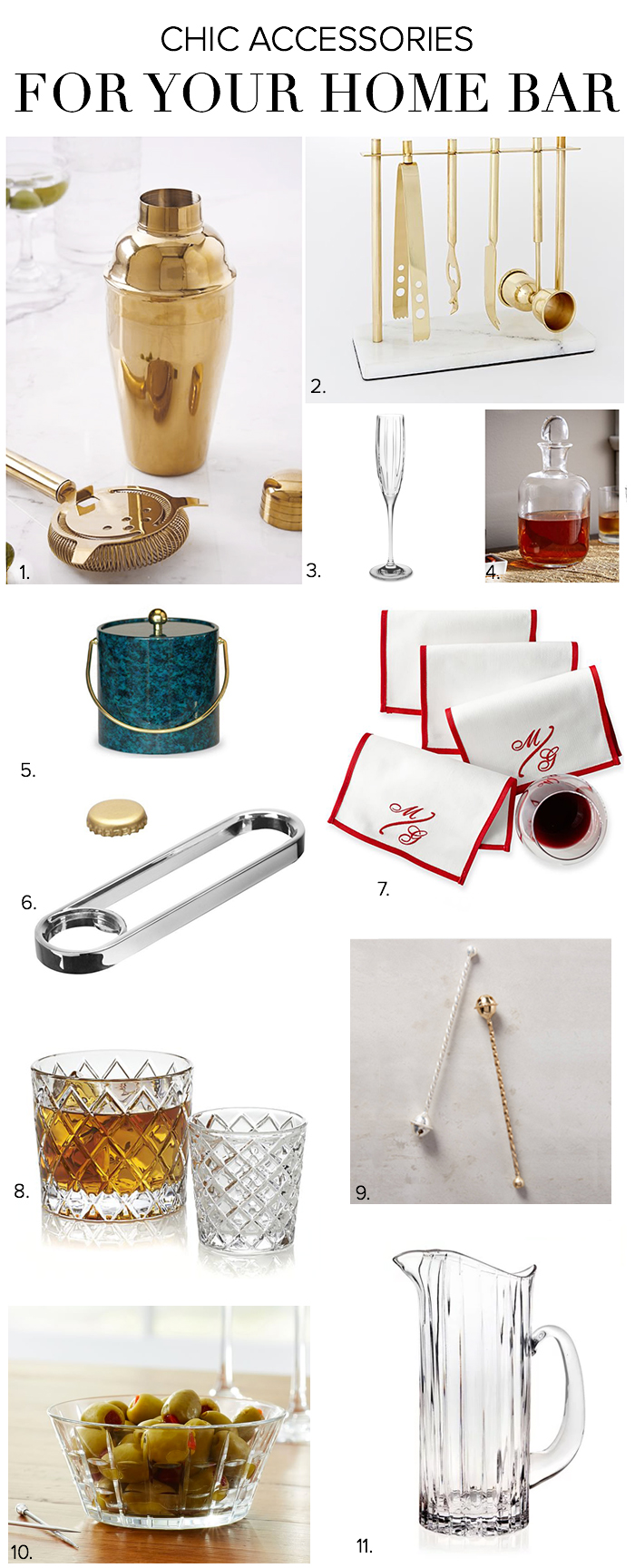 Finally, to create a chic bar you're going to need some chic bar tools and accessories. These are a few that I'm loving. Cheers!
1. Gold Cocktail Shaker / 2. / Gold & Marble Bar Tools Set / 3. Champagne Flute / 4. Decanter / 5. Ice Bucket / 6. Bottle Opener / 7. Monogram Cocktail Napkins / 8. Hatch Glasses / 9. Drink Stirrer / 10. Snack Bowl / 11. PItcher
Top two photos: Stephania Stanley, Client project photo: David A. Land