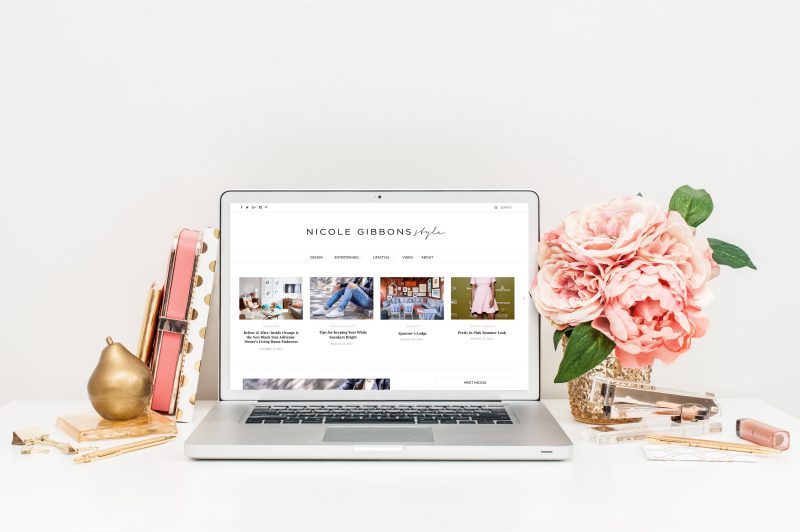 Welcome to Nicole Gibbons Style! Those of you who have been following my journey since the beginning know that when I first launched my blog back in the OG days of 2008, I was working in fashion PR by day while blogging and running an itsy bitsy design biz as a side hustle by night. Since that time, my career and life have undergone a complete 180° transformation. I'm now running a successful interior design firm full-time, I've established myself as a trusted design expert on TV shows and in the media and I get to collaborate with some pretty awesome brands to create content that inspires you add more style into your every day life. I'm also the happiest and healthiest I've ever been. Since my career and lifestyle have evolved so much over the years, it was a natural progression for this blog to evolve too. Along with giving the blog a new look and feel, I've also completely rebranded the site so that it is a much better reflection of where I am today. Goodbye So Haute, hello Nicole Gibbons Style!
In terms of content, I'll continue bringing you stylish design ideas and inspiration for your home but I also plan to start sharing more of my daily life with you. From my personal style and wellness tips to the beautiful destinations I'm traveling to and even the tools and hacks I use to help me be more productive … plus so much more!
As for the redesign, the new look still has a clean and simple interface but it's now so much easier to navigate. Robust menus help you quickly find what you're looking for and there are more tools to help you explore and discover all of the amazing older posts you may have missed. At the bottom of the homepage you'll find a new featured products widget where you can shop some of my favorite curated picks for your home. I'll be curating new themes of products and updating this regularly. (Some great holiday entertaining essentials are up now!) Finally – the site is now responsive and mobile friendly which allows for a more consistent experience across your devices. So whether you're browsing this on your desktop, your laptop or on your mobile phone while sitting at the hair salon, the site will look just as good and be just as easy to navigate! I really hope you enjoy the new site and what's to come!
As with any new launch, there are bound to be a few kinks here and there and we still have a few tweaks to be made but I live by the "done is better than perfect" motto so please bear with me as my team works to finalize the last few changes.
I hope you enjoy exploring the new the site and please let me know your thoughts! If you have ideas for stories you'd like to see covered or new features that you'd like to see added  to the site please share in the comments. I promise I'll take your feedback to heart so that I can share more of the stories you really want to read and so that you'll keep coming back over and over again:)
Finally, I just want to say THANK YOU for reading this blog!  The love, support and patience you've shown me over the years means the world to me and it's so rewarding to have this body of work online that you're all using as a resource to help make your homes more beautiful! Stay tuned for lots of great things to come from Nicole Gibbons Style!