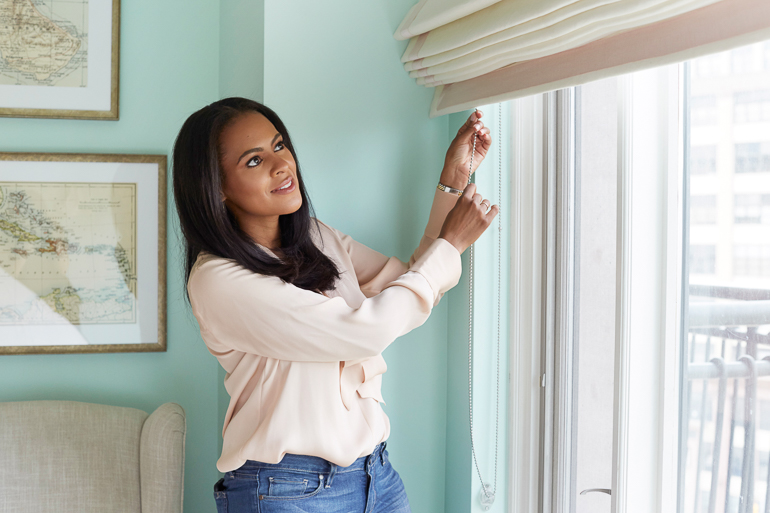 An important element in a room that often gets overlooked are window treatments. Like choosing the right shoes or accessories to complete an outfit, perfectly chosen window treatments are the final touch that gives a well-designed room a polished and pulled together look.  When I was working on Naturi Naughton's nursery, I collaborated with The Shade Store to create a beautiful, custom roman shade for the space and I'm excited to share a peek inside the process plus a few tips and tricks for getting the look just right.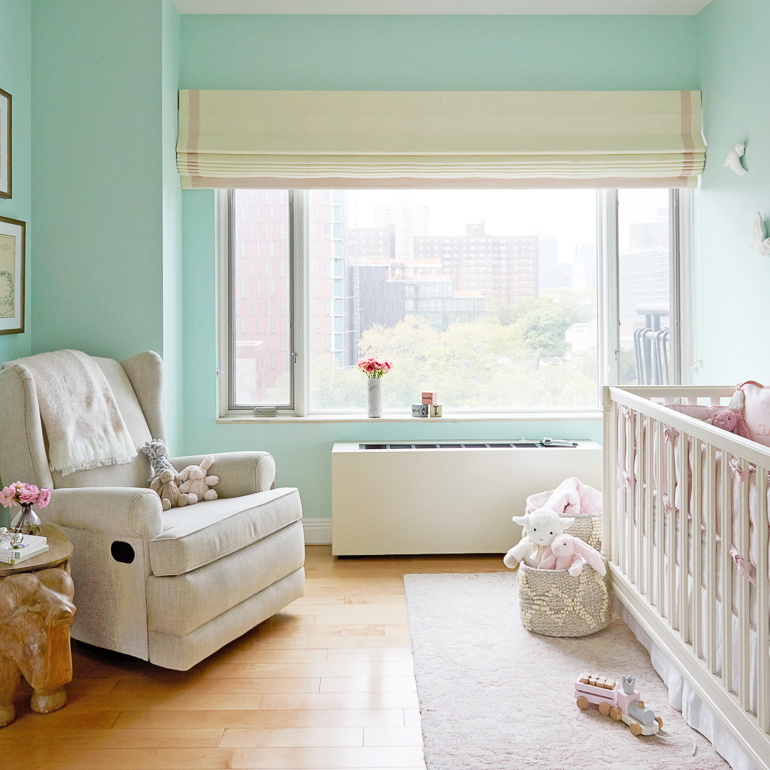 Sometimes curtains just won't cut it. Case in point: this tricky window that cornered into the wall on the right and on had very little room on the left for curtain panels to stack. This meant we couldn't use curtains without obstructing the glass, part of the view and a lot of precious natural light. Plus there was a windowsill and an AC unit just beneath the window so Roman shades were the truly the best option for a clean, modern look. I love using Roman shades in bedrooms but the're also a great choice for kitchens, baths or really any space.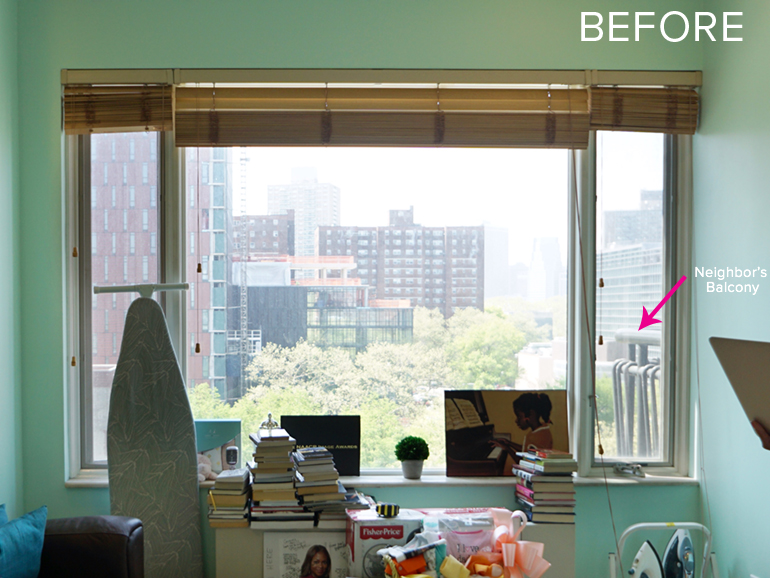 Here's a look at what the window in Naturi's nursery looked like before. There were three separate wood blind panels which had definitely been put to good use but lacked style and warmth. I wanted to bring in a shade that felt a bit more refined and that would also be more functional for a baby's nursery. The neighbor's balcony has a partial view into the room, so maintaining privacy was also important.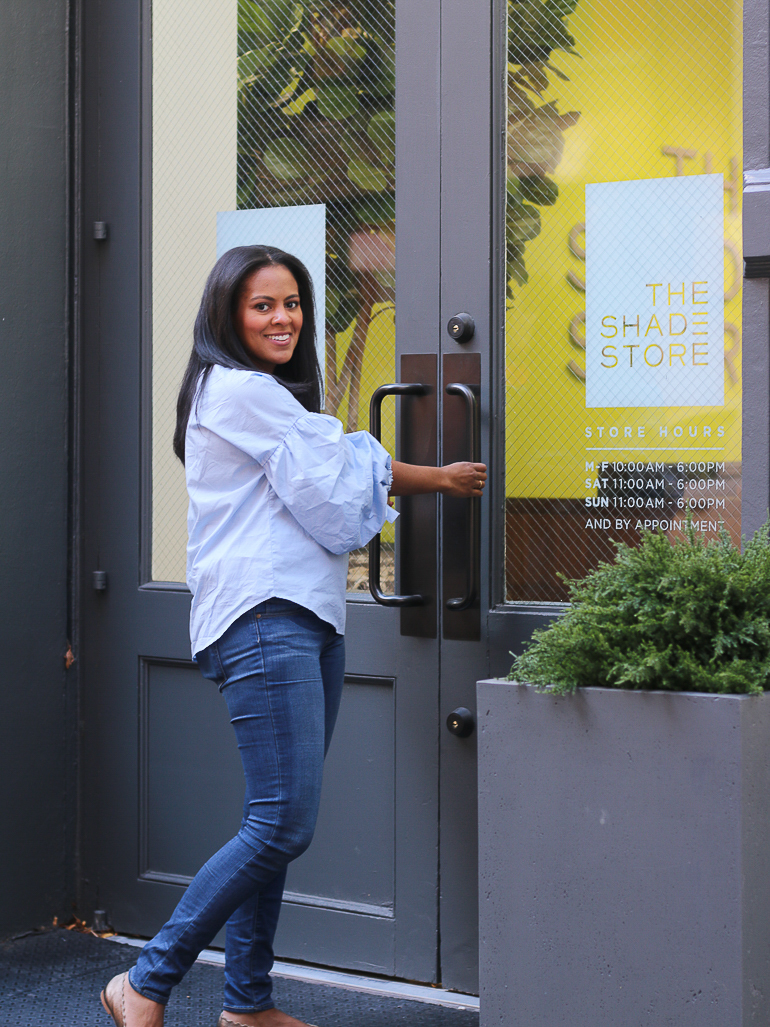 When it comes to window treatments I believe custom is always best if you can afford it. Every window is sized differently so going custom means you can ensure the perfect fit. Plus, there's a huge difference in the level of detail and quality of custom window treatments vs store bought. The Shade Store is such a great resource that lets anyone create beautiful custom window treatments. They have experts to guide you if you don't know where to start and they also have a trade program for designers with generous discounts and dedicated sales reps. The Shade Store is often a go-to resource for many of my client projects, particularly because of their super fast lead times. Orders are turned around in 10 days or less which is unheard of for anything custom.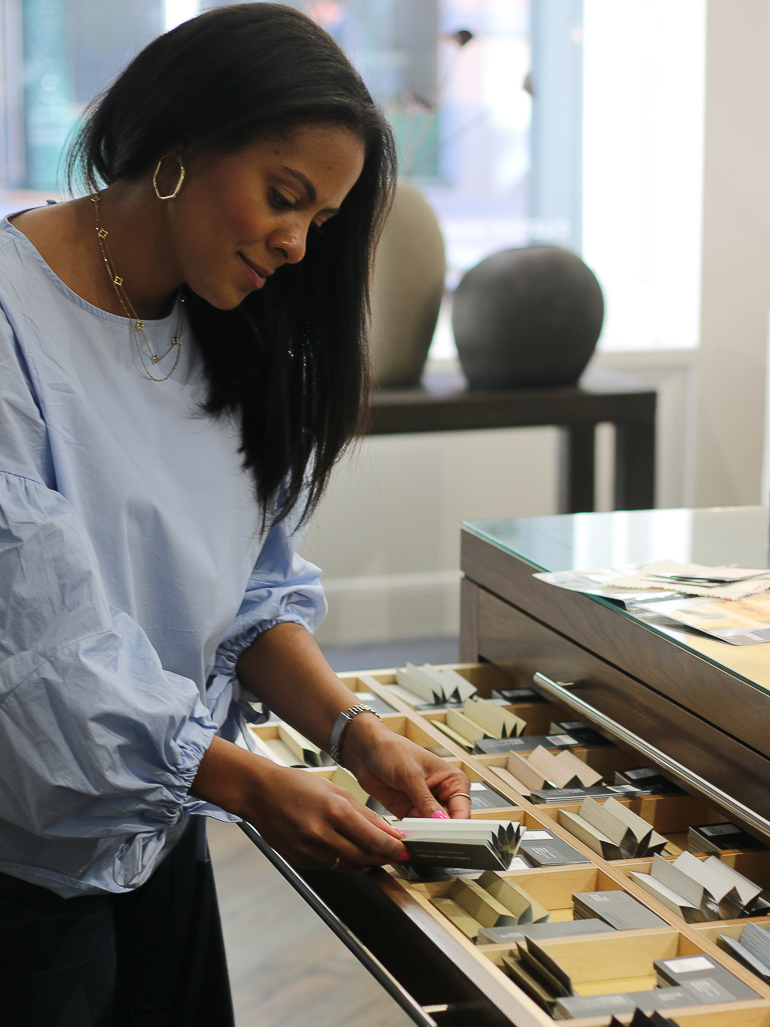 Before finalizing the Roman shades for Naturi's nursery, I stopped by The Shade Store to find the perfect fabrics and finishes. When choosing Roman shades there are some key details you'll need to specify before you can finalize your order.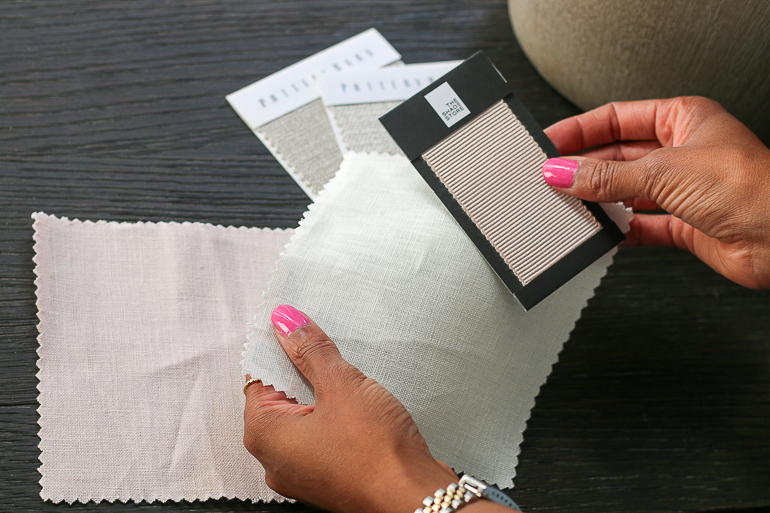 Step one is to choose your fabrics and trims. I wanted a soft, feminine look for Naturi's nursery so I chose a lovely ivory linen with a pale pink grosgrain ribbon detail from a new collection of trims that are launching soon.  Next you'll need to determine whether your shades will be inside mounted or outside mounted. Inside mount means the window shades are mounted within the width of the window frame. Outside mean the shades are mounted above and outside the window frame.  You'll also need to specify details such as the shade style, the type of lining you want, trim placement and what type of cord controls you prefer. Providing exact measurements is also critical and  TSS offers a free measuring and installation service.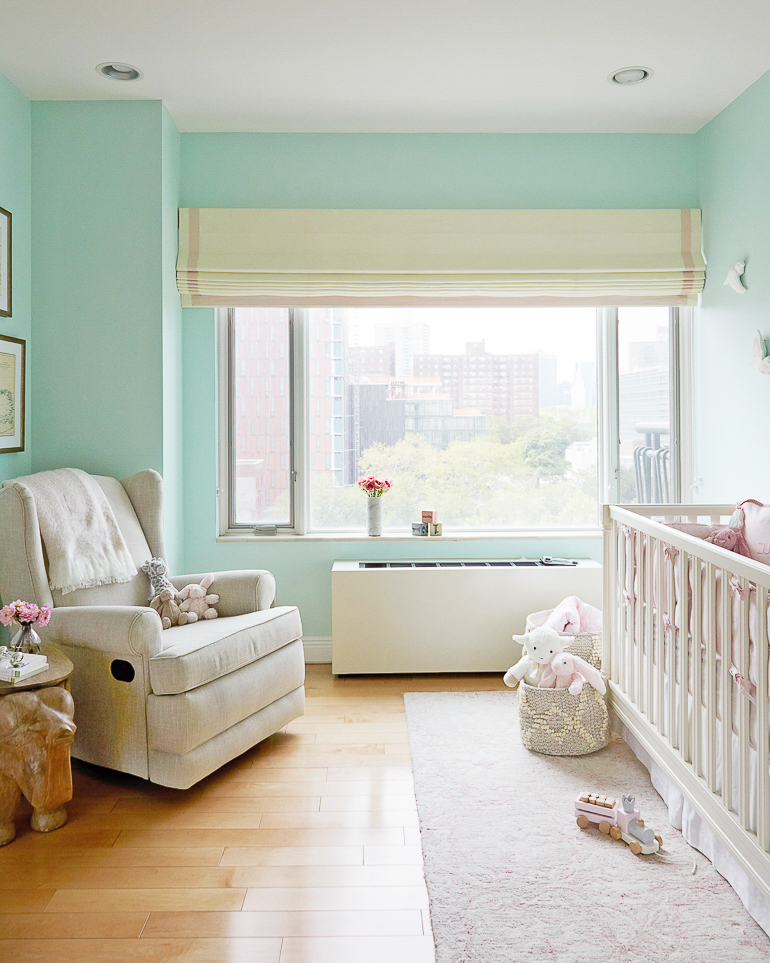 I chose a flat roman shade style for Naturi's nusery which has a clean, seamless look and because of the tricky window layout, outside mounting was the best option. The pink trim was offset 2 inches from the edge and is the perfect finishing touch that offers some color contrast for interest.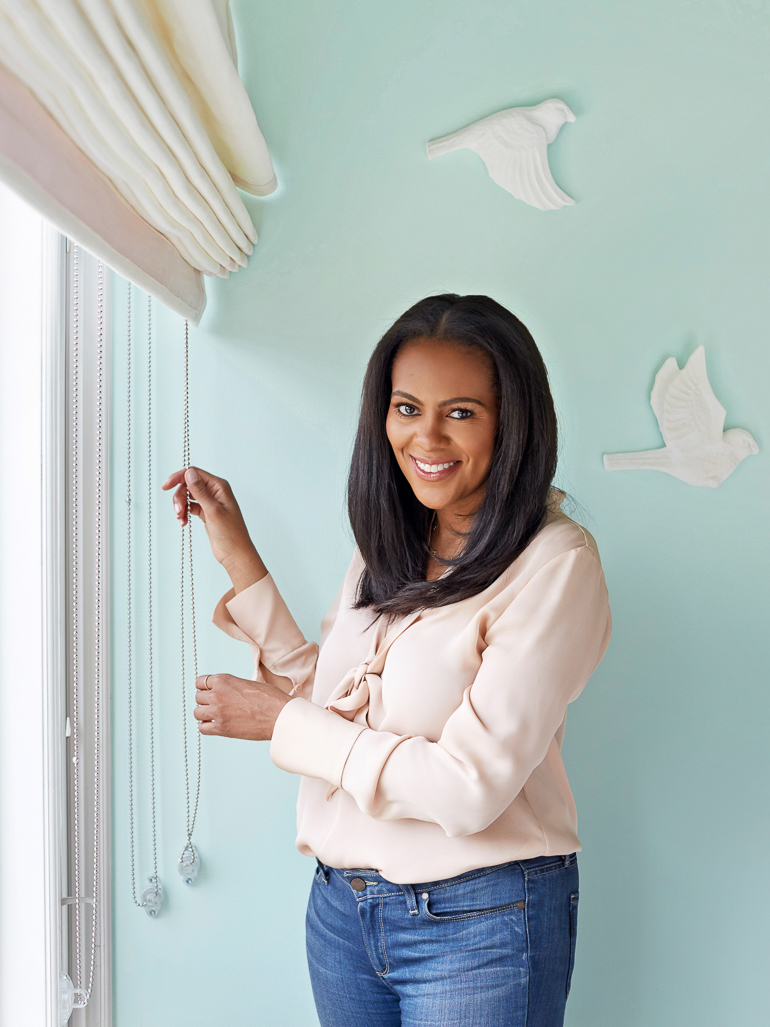 If you're installing window treatment's in a child's room, safety is very important. Long, stringy cords that typically come with blinds and shades can be hazardous for children. Fortunately, The Shade Store's options all meet the highest standards for child safety. I recommend selecting options with a cordless control. In this case, cordless was not an option due to the extra-wide window width so I specified a continuous loop control which has a metal chain that comes with a safety tension mechanism. The chain simply goes around and around, never getting longer where it could become accessible to a small child. We also had the chains permanently fixed to the wall with safety anchors for extra precaution.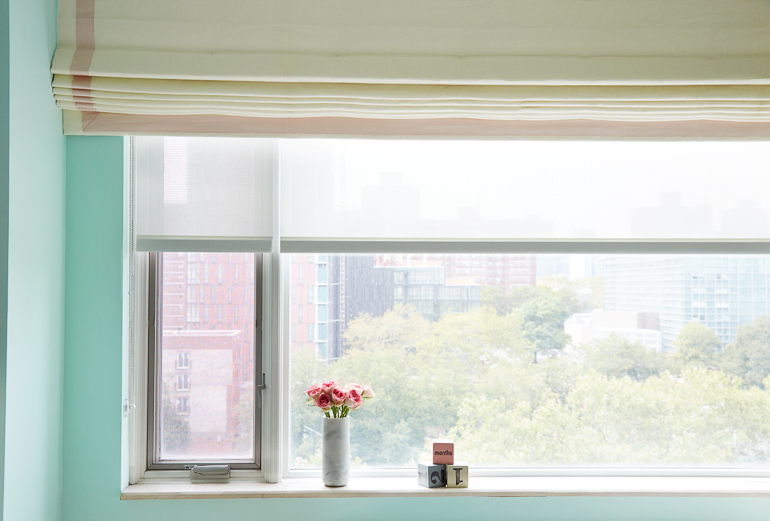 Since this is a nursery a blackout liner was a must but we wanted the option to still let light in yet allow for privacy. I solved this by layering light filtering solar shades underneath the roman, inside mounted, to give Naturi a lot more flexibility. She can lower the roman shade to make the room completely dark when the baby is asleep and during the day, the solar shades can come down for privacy while still allowing the light and a bit of the view to shine through.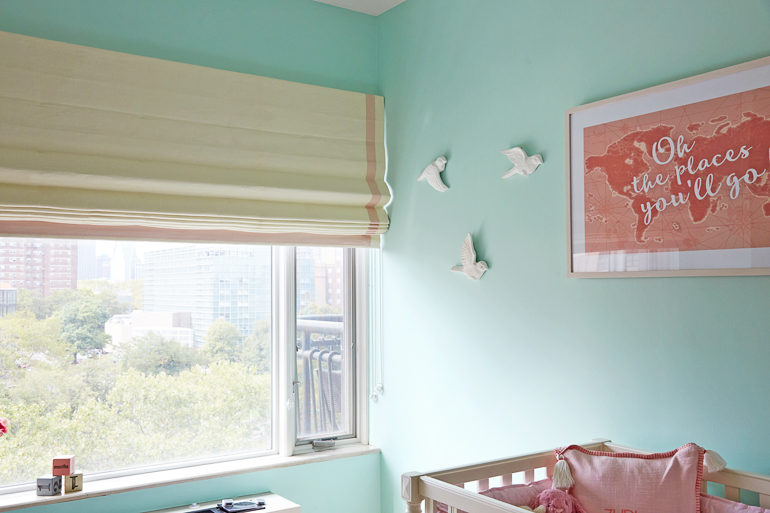 I  couldn't be happier with how Naturi's roman shades turned out! Whether you're considering a store bought or custom option for your own space, I hope you fond these tips and tricks helpful. Big thanks to The Shade Store for collaborating on Naturi's nursery and for partnering on this post!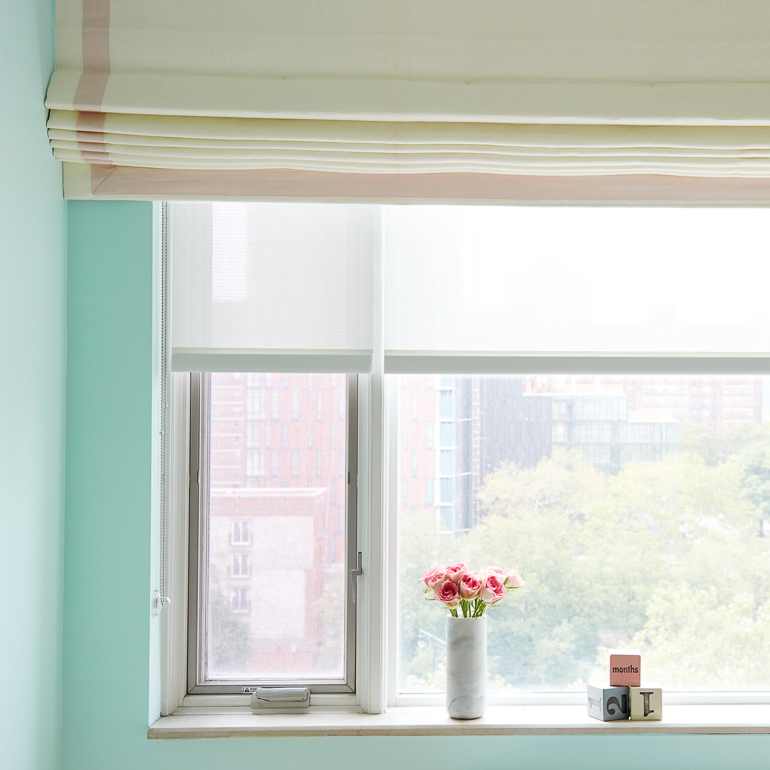 PS – See Naturi Naughton's entire nursery reveal here.
Shop the Post