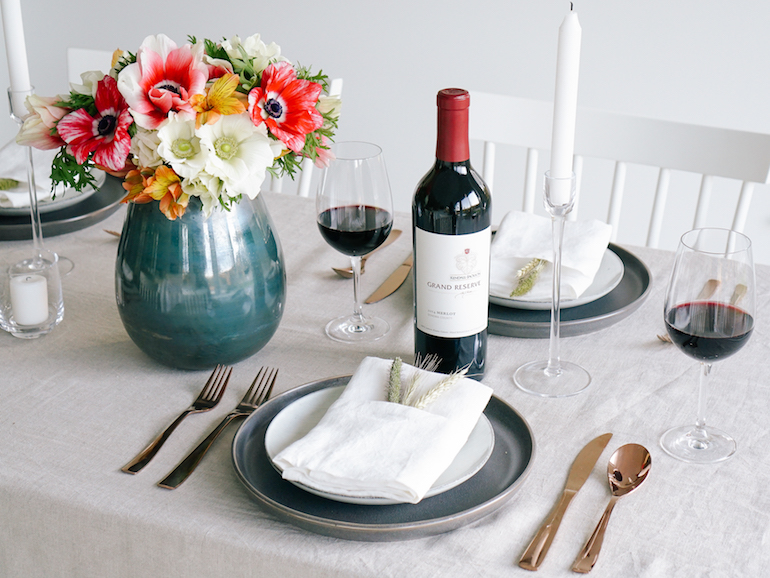 Friends, food and wine. Three things that make me incredibly happy which is why Friendsgiving is a holiday celebration I can totally get behind. Unlike Thanksgiving which usually comes with too much pressure and often an unwelcome dose of family drama, Friendsgiving is typically low-key. It's really just about celebrating friendship over a delicious meal. If you're hosting Friendsgiving this year, you're in luck because I've teamed up with Kendall-Jackson to share some inspiration for creating a beautiful tablescape to welcome your guests. I believe that whatever you do you should make it beautiful but I also believe in keeping things simple. One of the things I love most about this tablescape is that it's unfussy and features elements that are super affordable and easy to find. Keep reading for all my best tips on creating a stunning, modern tablescape to celebrate the season with your besties!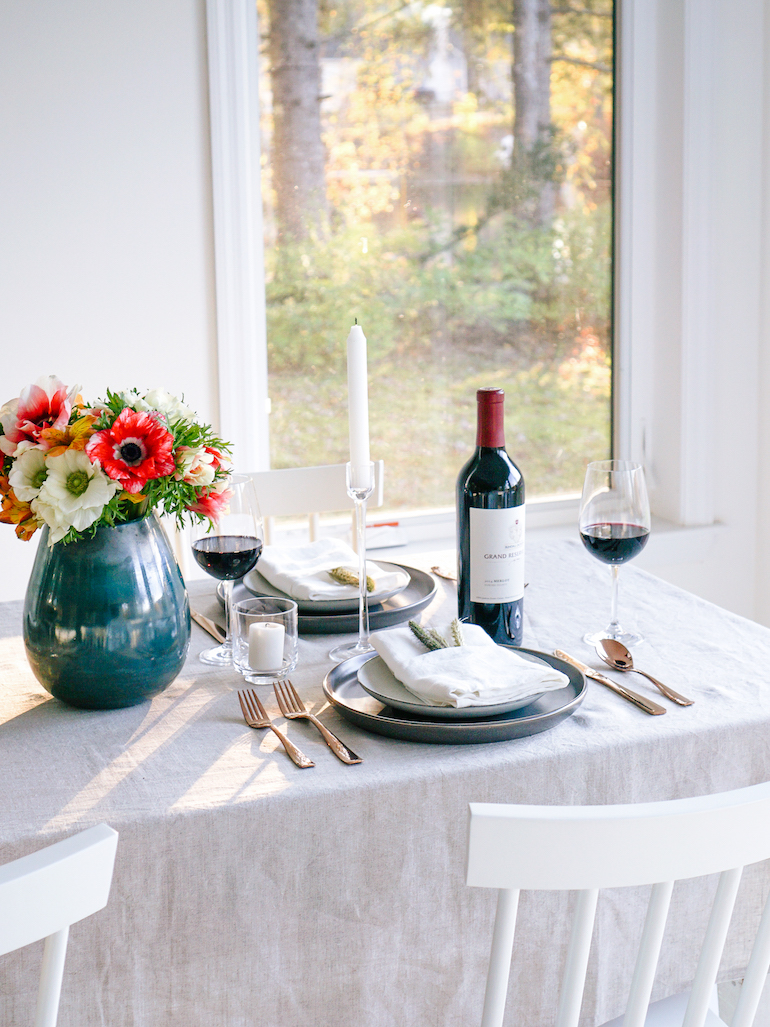 Linens 
While tablecloths can sometimes feel too formal, I love using natural linen which has a more relaxed feel yet helps elevate your table for a special occasion. Plus, cleanup is easy as you just throw it in the wash and the table surface underneath stays pristine.  I always like using a simple white linen napkin. It looks clean and modern and will instantly make your tabletop feel more sophisticated. I created a pocket fold in the napkin and inserted a few sheafs of wheat for an autumnal vibe.

Flatware
Fall is s all about getting cozy so I love incorporating warmer hues into a fall tablescape. I used rose gold flatware here which really brings in that feeling of warmth.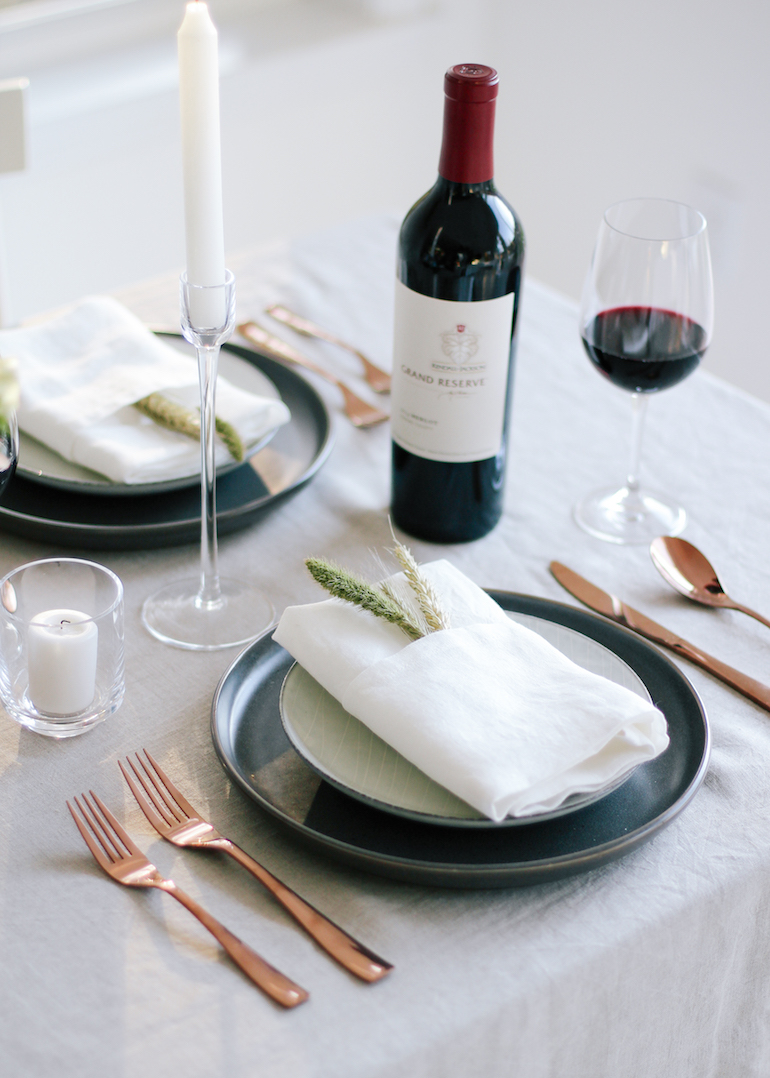 Dinnerware
I love to mix and match dinnerware when setting a table. I used a darker dinner plate with a salad plate that's lighter in color and also some texture to it. Mixing things up and incorporating contrasting colors and textures is always more interesting than keeping things uniform.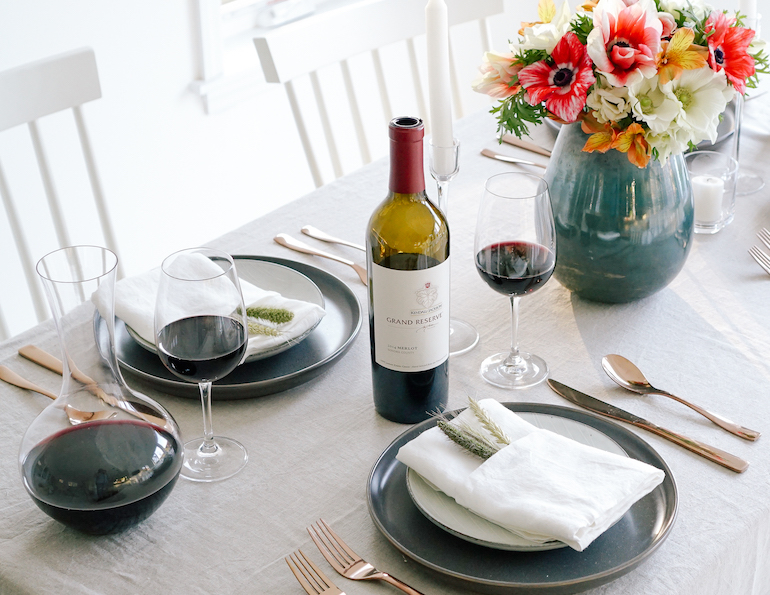 Glassware
Choosing the right glassware for the wine you're serving is more important than you think. The right size, shape, and even the type of glass can impact how we experience wine and its flavors. I'm serving Kendall-Jackson's Grand Reserve Merlot in a Bordeaux glass. Merlot is the primary grape used in Bordeaux so this style glass with its taller, narrower shape is best for enjoying a heavy bodied wine like Merlot. The shape is designed to help guide the wine directly to the back of your mouth to maximize the flavor. Check out this handy guide from the Kendall Jackson Blog on choosing the right type of glass for your wine.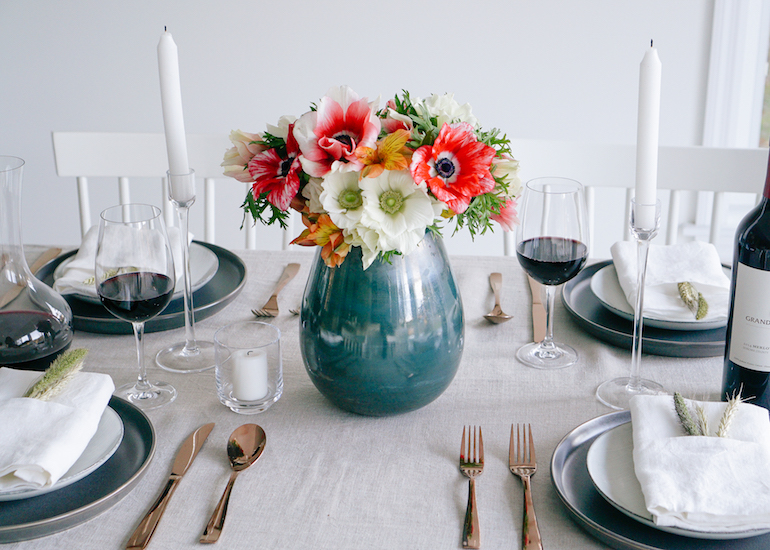 Centerpiece
A bouquet of fresh flowers not only looks beautiful but it's the simplest, least fussy centerpiece option you can go with. I used a mix of flowers from the farmer's market to create this arrangement and put them in a stunning vase. The florals feature punchy autumnal shades that feel both warm and bright. I also added clear glass votives and candlesticks to the table because the flickering glow of candlelight always makes a tablescape feel more inviting!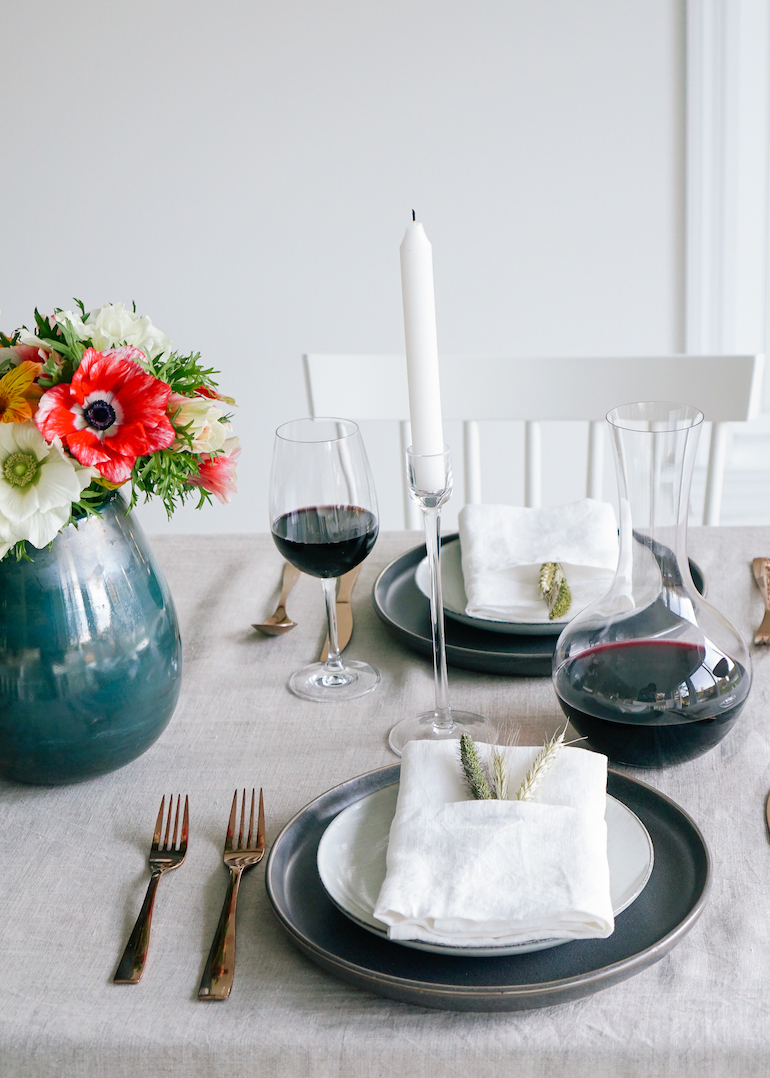 Using a Decanter
When serving a fuller bodied red wine that's heavy in tannins like Merlot, I always like to decant it before serving. A decanter helps to open up the wine and soften the flavor so it has a smoother taste. For a typical young wine, you want to let it decant for about 2 hours. Aside from aerating your wine to enhance the flavor, a decanter also looks quite beautiful sitting on a table! Decanters can be notoriously hard to clean because of the small necks but I found a great tip on the Kendall-Jackson blog that suggests using a denture cleaning tablet to get the inside of your decanter sparkling clean. I tried it and it's genius!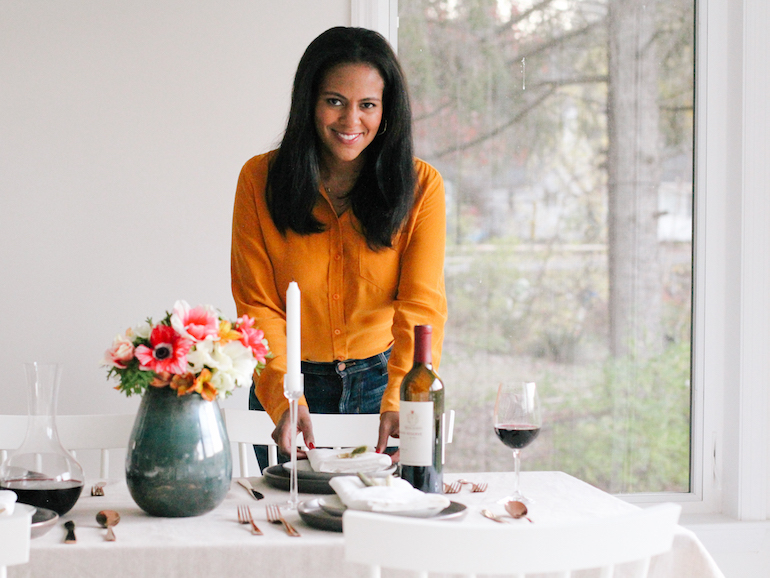 I hope this inspires you to set a beautiful tablescape for your Friendsgiving celebration. Scroll down for more inspiration plus how to get the look below. Have fun celebrating the season with good friends, great food and lots of wine! And be sure to check out Kendall-Jackson's entertaining page for more ideas and inspiration!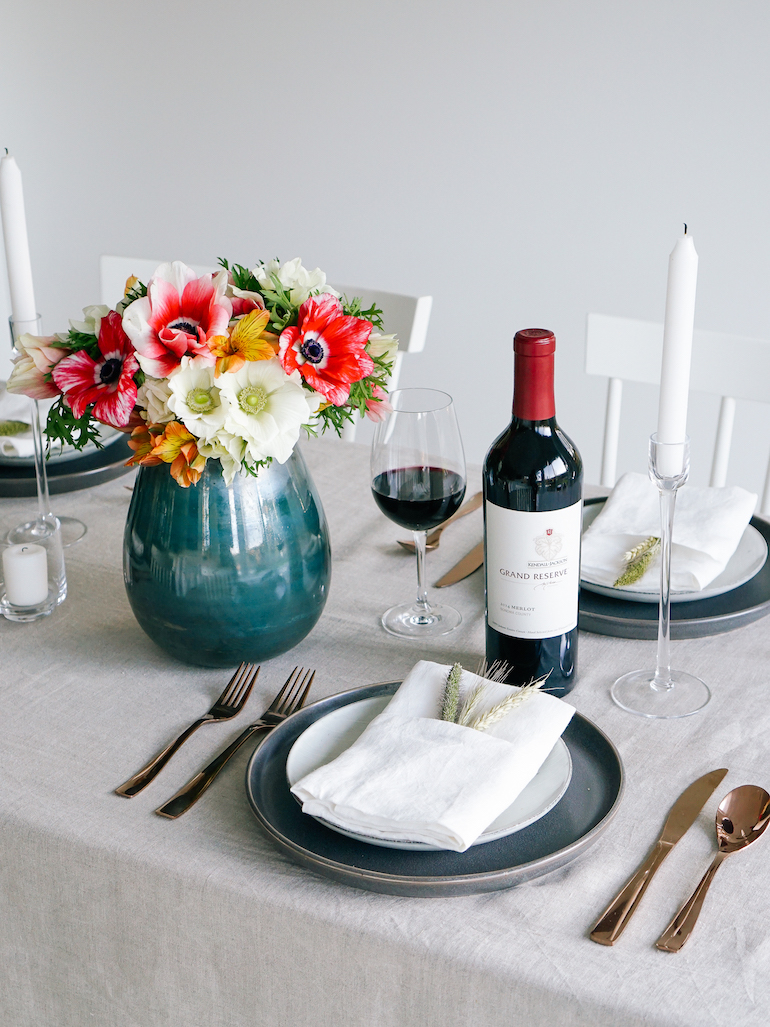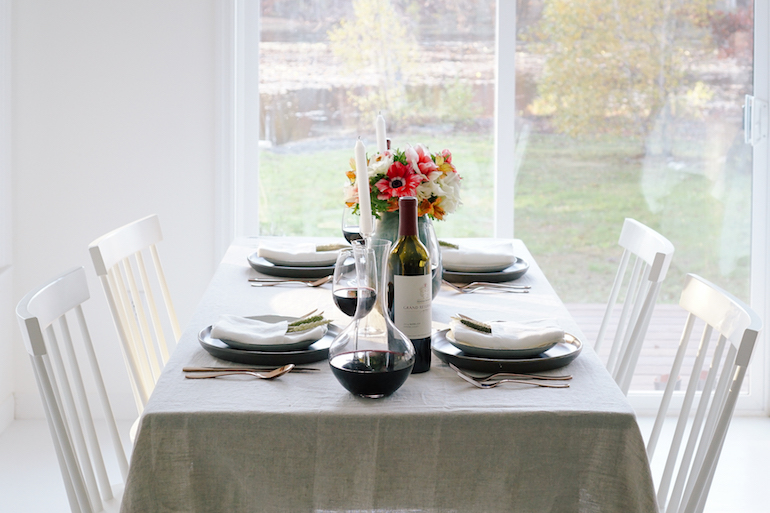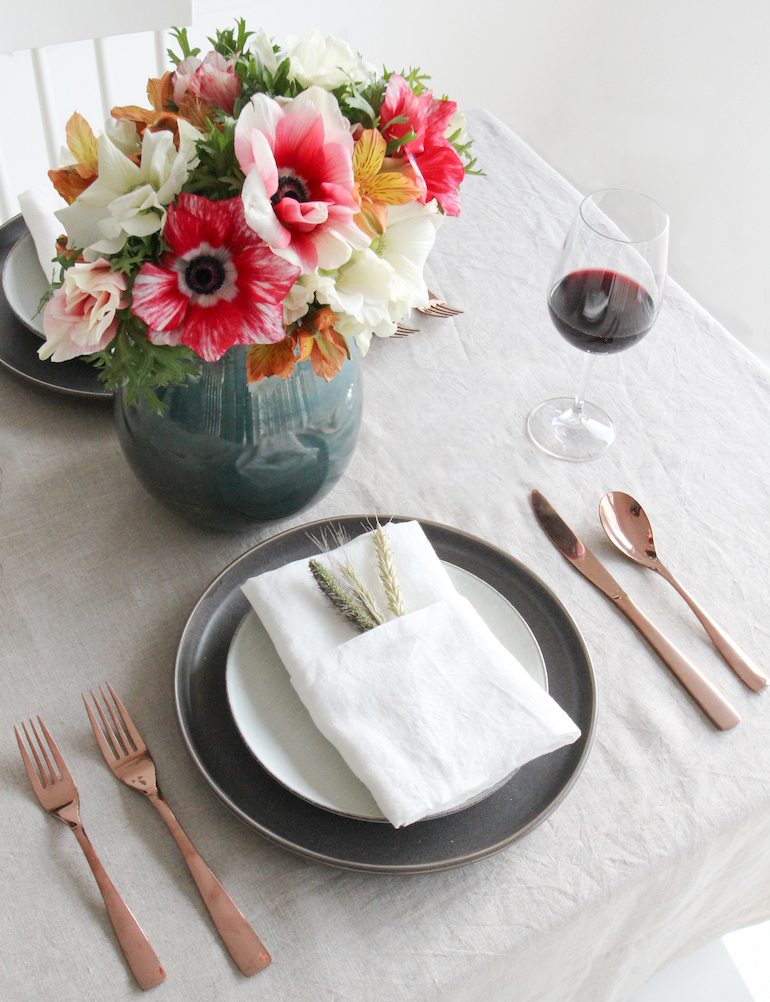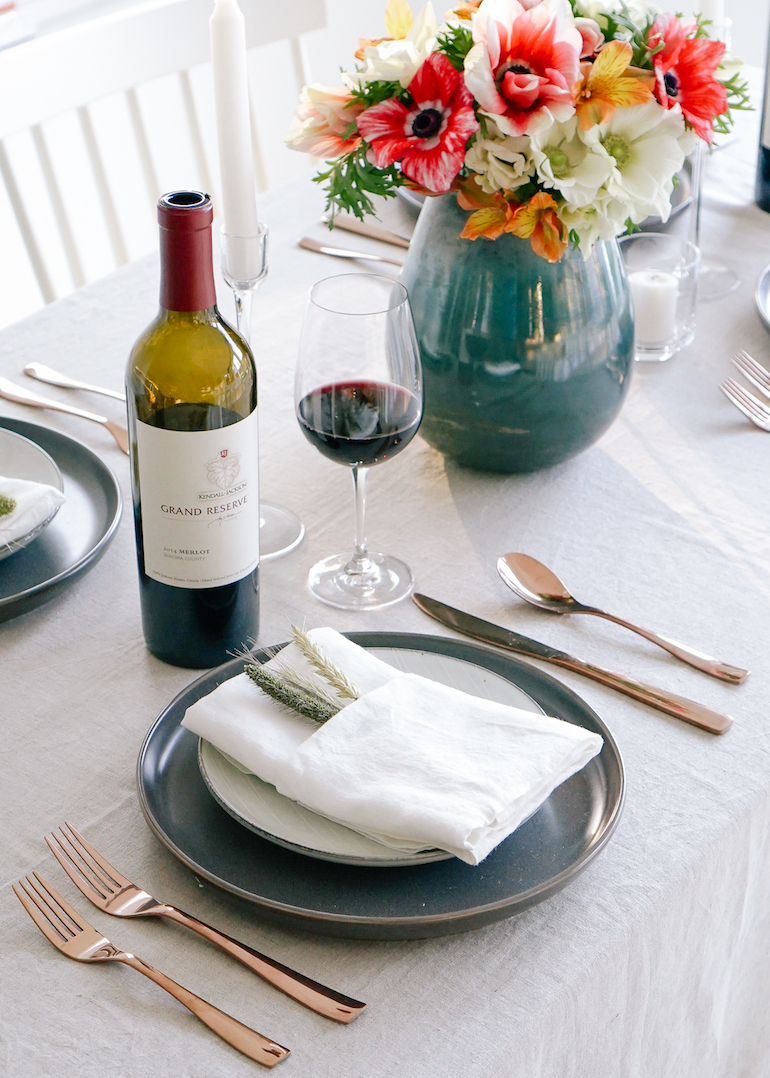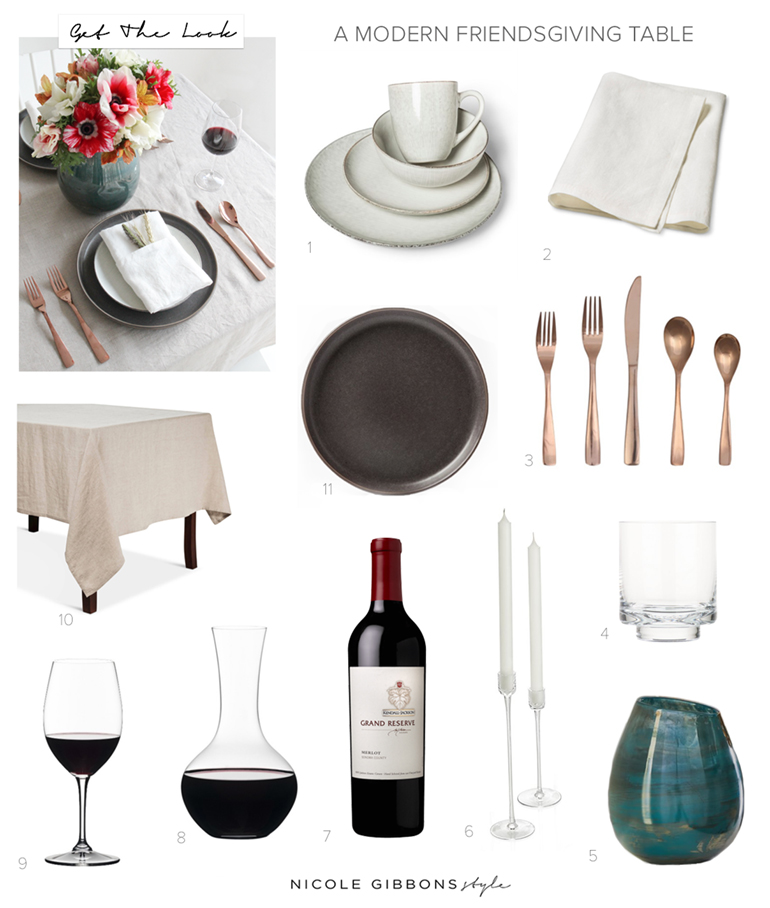 1. Dinnerware set / 2. Napkin / 3. Flatware / 4. Votive Holder / 5. Vase / 6. Candlesticks / 7. Kendall-Jackson Grand Reserve Merlot / 8. Decanter / 9. Bordeaux Glass / 10. Tablecloth / 11. Dinner Plate
This post was produced in partnership with Kendall-Jackson. All opinions are my own. Thanks for supporting great brands that enable us to create inspiring content!