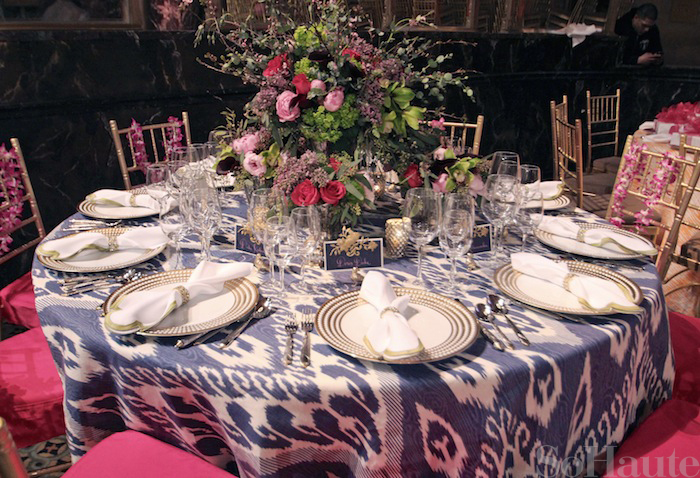 I'm so excited to finally share photos of my completed Lenox Hill Neighborhood House Gala table! When I learned that the theme of this year's event was "High Society" I decided I would choose a "high society" muse to inspire my table design and I immediately thought of the iconic American heiress Doris Duke and her magical Hawaiian retreat which she called Shangri La. The daughter of a wildly successful tobacco and energy magnate, Duke was known as the richest girl in the world even earning the nickname "Million Dollar Baby." She loved exotic travels which included journeys to far flung places like Morocco, India, Iran, Syria, Turkey and other regions of the Middle and Far East. It was through these travels that Duke fell in love with the beauty and exoticism of Islamic art, textiles, architecture and culture. She was drawn to all things rare and ornamental and became one of the largest collectors of artifacts and decorative objects from the Islamic regions. In the 1930s, Duke built Shangri La, which was her homage to the art and cultures that she loved so much. I wanted my table for the gala is to evoke the feeling of how Doris would have set her table when entertaining friends at Shangri La. Doris Duke was beautiful, eclectic, adventurous and a little bit irreverent and I sought to capture these qualities in my tabletop design. Let's take  a look at of the details!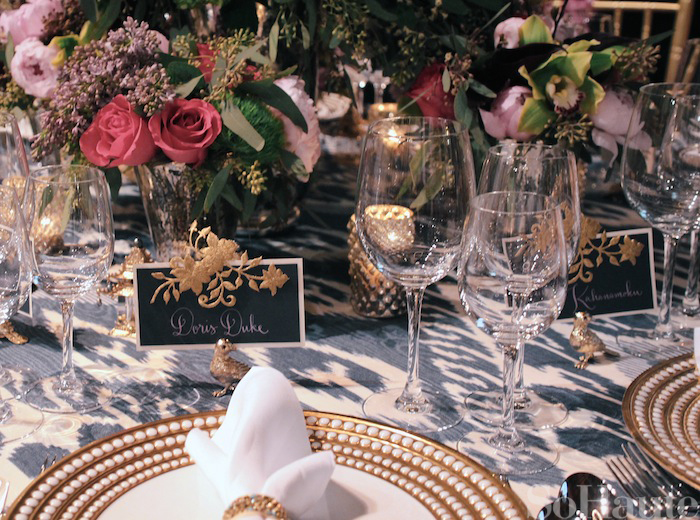 To bring a bit of the spirit of Shangri La to the table, I had my uber talented calligrapher friend Kathryn Murray create place cards that bore the names of Doris Duke and her actual friends who were frequent guests at Shangri La. So many people commented on how beautiful the place cards are! In addition to the hand lettering, Kathryn also made the actual place cards herself!! She found the embroidered floral appliqués, spray painted them gold and then mounted them to the cards… They turned out stunning! If you're ever in need of calligraphy services, Kathryn should be your go-to choice!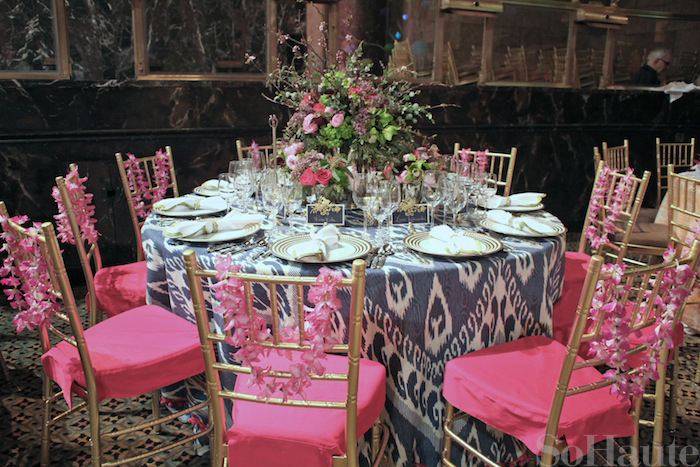 Here's a full view of the table. I chose a blue ikat linen fabric from Calico Corners for the tablecloth taking inspiration from the blue color in Duke's dining room at Shangri La as well as her love of ethnic textiles. The eclectic pattern is so beautiful and provided the perfect backdrop for the table settings! The tablecloth was fabricated by my mom's company, Posh Window Fashions (thanks Mom!).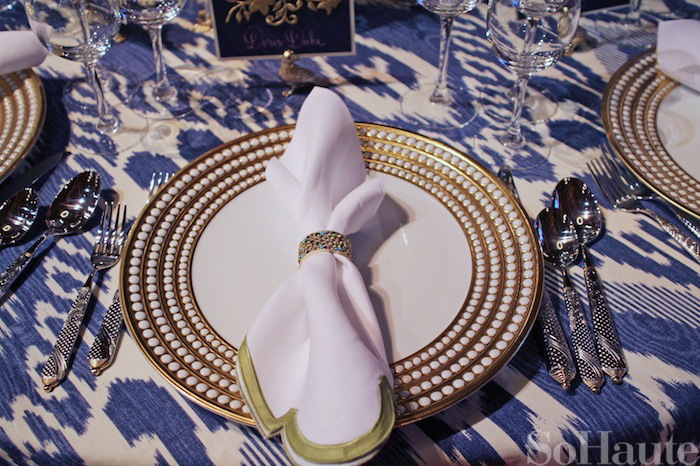 Here is a close-up of the tableware. L'OBJET donated several pieces including the beautiful Perlee chargers, Pave Swarovski crystal napkin rings and Bird Place Card Holders that you see here. L'OBJET's pieces truly are exquisite – they are like jewelry for your table! The napkins are from Matouk who makes luxurious fine linens for the home. I loved the whimsical feel of the leaf green scallop detail on the napkins which contrasted so beautifully with the blue and pink hues in the table design. The flatware settings are from Yamazaki which is a company that began in Japan in 1918 and makes elegant flatware and serving pieces that "celebrate the art of dining". The pattern is called Byzantine and feature stainless steel with rich gold accents. Everyone just loved them!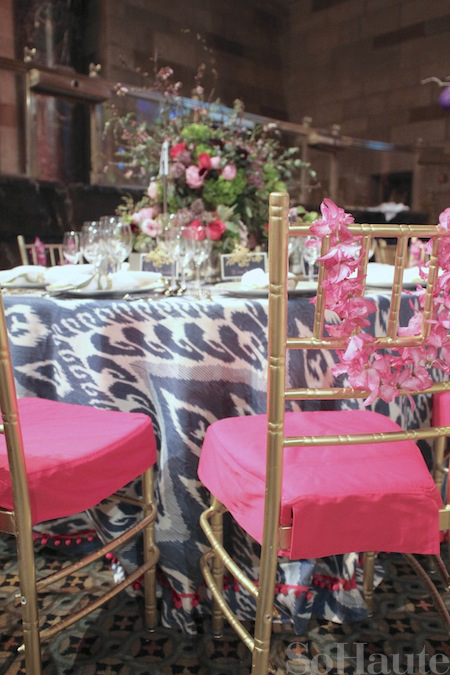 Doris Duke's dining room at Shangri La featured bright pink trim accents so I wanted to infuse a bit of pink into the mix for my table. (And pink, after all is my favorite color – I'm such a girlie girl!)  I had my amazing upholsterer Oswaldo of Astudillo Design fabricate the chair slipcovers for me and he was able to make them in less than a week's time! They turned out perfectly! The pom pom trim is from M&J Trimmings and provided a fun little detail for added intrest to the bottom of the tablecloth. I also added a fun little orchid lei to the back of each chair which is the traditional token of welcome in Hawaii!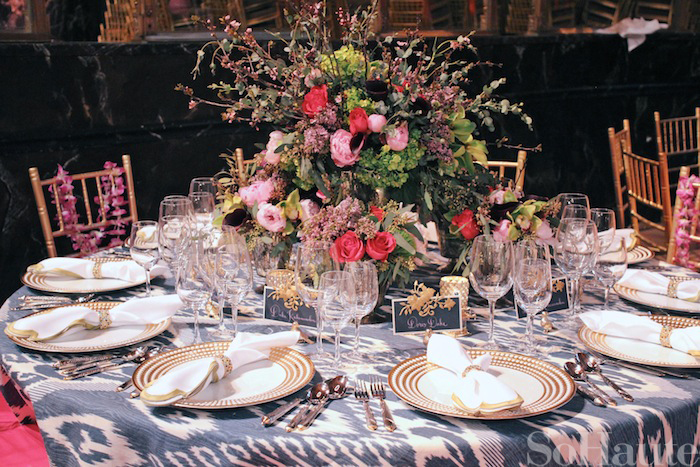 The floral centerpiece was created by In Bloom New York who makes stunning floral arrangements for events. I provided them with an inspiration board and suggestions on flowers and they came up with this lovely arrangement that featured a larger centerpiece surrounded by 5 smaller arrangements. I just loved the deep pink color of the roses and soft pink peonies which happen to be my favorite flower!
I was so pleased to have the opportunity to support the Lenox Hill Neighborhood House by designing a table for the organization's Spring gala!  The event, which was sponsored by VERANDA, raised an astounding $1,350,000 which will go a long way towards helping many New Yorkers in need. I was also in awe of the creativity of all of my fellow designers. Stay tuned next week for a full slideshow of all of the fabulous tables that were on display at the event! You'll also be able to see more photos from the evening in an upcoming issus of VERANDA. And if you're interested in learning how you can support the Lenox Hill Neighborhood House, click here to learn more.
Photos by Nicole Gibbons for So Haute