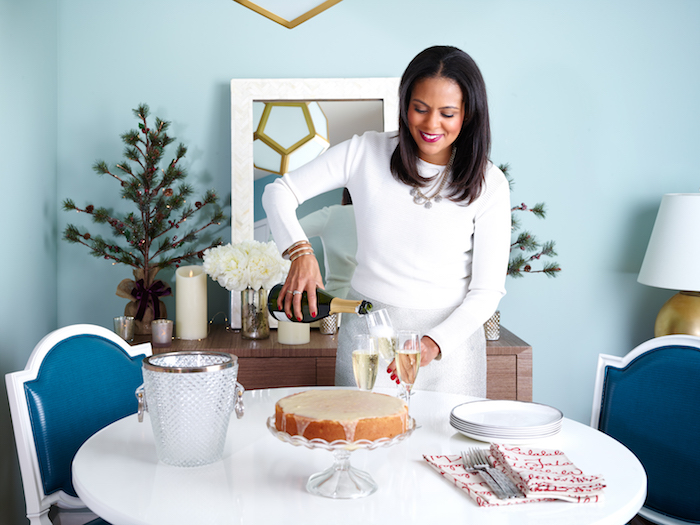 If you're hosting for the holidays and in a panic about pulling it all together, here are a seven helpful last-minute entertaining tips to help make the task of playing hostess as stress free as possible!
Serve Your Food Buffet Style
Create a food buffet to encourage you guests to help themselves. This will free you up to spend more time socializing with your guests.
Presentation is a Must
Be sure to have a selection of pretty serving pieces on hand. White porcelain, crystal or silver serveware are always classic. No matter what you are serving, make it beautiful! A chic presentation will make even the simplest food selections appear extra fancy!
Serve a Killer Signature Cocktail
Instead of fussing over setting up a full bar, serve a good all-around red and white whine which are surefire crowd pleasers then add one killer signature cocktail, served in a punch bowl that you can prepare in advance.   Be sure to offer your guest a drink as soon as they arrive….you can almost guarantee a great time when drinks are free flowing! (Here are two punch ideas from Martha!)
Keep your Decor Simple
Incorporate a few simple yet stylish accents to create a warm, holiday ambiance. Items like candles in mercury glass votives, fresh flowers and ornaments placed in a bowl are sure to add a bit of festive holiday flair to your decor.
Set the Mood with Music
Curate a fun playlist of holiday tunes to help set the mood. If you don't have time to create a playlist, try the Soul Christmas station on Pandora. It's one of my faves!
Have Extra Seating on Hand
Because you never know if extra guests may show up, always keep a few stylish fold out chairs on hand for extra seating so that everyone will have a place at the table.
Enlist Help
Assign a trusted friend with the role of assisting you with your hostess duties so you don't get overwhelmed and miss out on all the fun. You can also find a bartender or server through a service such as Task Rabbit who can help with serving drinks, replenishing snacks and clean-up. It's an added expense but having the freedom to just relax and enjoy your own party is so worth it!