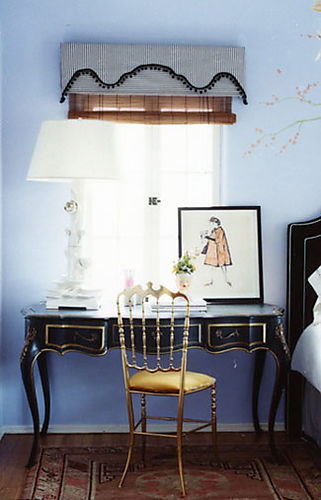 Photo via kristaewart.com
There's something so chic and refined about a writing desk in the bedroom. Here's a collection of some of my favorite bedrooms, complete with well dressed desks! Above is one of my favorites– the guest bedroom of designer Krista Ewart's Santa Monica cottage which features a stylish ebony Italianate desk by the bedside. I love all of the ultra feminine details like the porcelain lady head, ceramic lamp with water lilies and the vintage fashion illustration.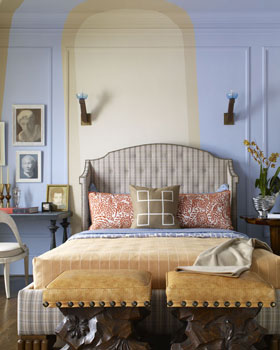 Jay Jeffers for the '07 San Francisco Decorators Showcase…a well dressed room with a stylish bedside desk…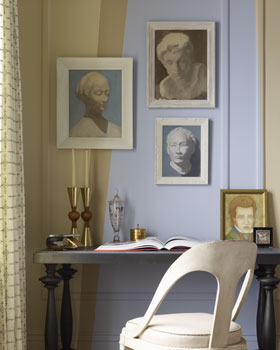 Photos via jeffersdesigngroup.com
A close-up view…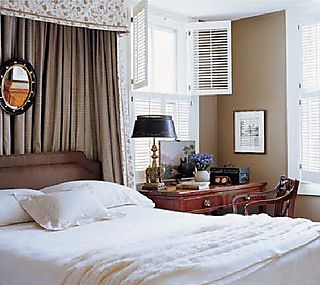 Photo by William Waldron for Elle Decor
This handsome bedroom and its cozy little writing nook is from the Connecticut home of designer Matthew Patrick Smyth as featured in the October '06 issue of Elle Decor. I love the brass elephant lamp…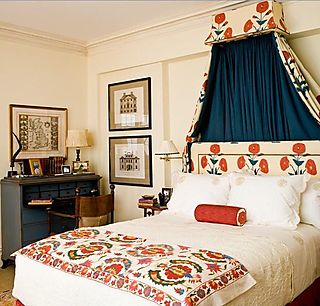 Photo via saragilbaneinteriors.com
I absolutely love the colors and the textiles used in this bedroom by Sara Gilbane. And the blue antique secretary is such a chic addition.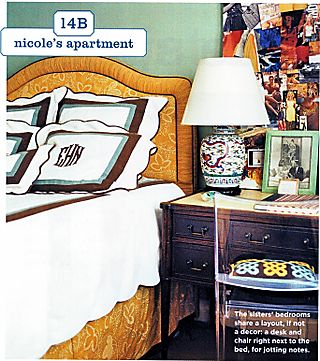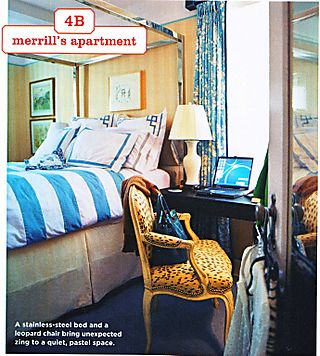 Photos by Paul Costello.
The two rooms above belong to sisters Nicole and Merrill Hanley who have identical apartments in the same Manhattan building. This was such a fun story to read in the October '07 issue of Domino. It was interesting to see how each sister approached the design of her space. Nicole's has much more traditional taste and you can see this reflected in the antique desk that she chose for her bedroom. I love how she juxtaposed such a classic desk with the very modern Lucite chair. Her sister Merril's style is obviously more modern and she dresses up her streamlined desk with a traditional Louis style chair that was spiced up with leopard printed upholstery.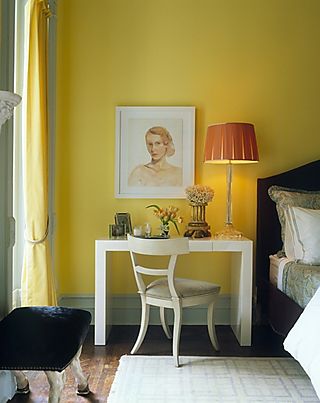 Photo via robertpassal.com
This citrus yellow colored bedroom designed by Robert Passal features a modern yet timeless white lacquered parsons desk. I think a writing desk that doubles as a bedside table is such a great idea, especially in small spaces, because it maximizes the functionality of the piece while also saving you space.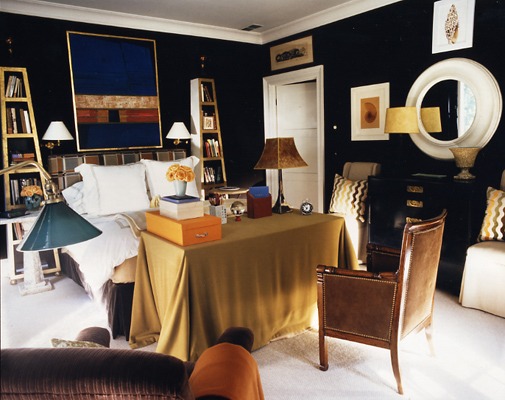 Photo via milesredd.com
This Miles Redd designed bedroom is full of drama so I thought I'd save it for last. The placement of the desk here is so unexpected and I love it! The casually draped olive colored slipcover adds to the room's drama as does the suede bamboo chair positioned in front of it. All of the details here are so sophisticated, well-tailored and well-edited. This room is Miles Redd at his finest!