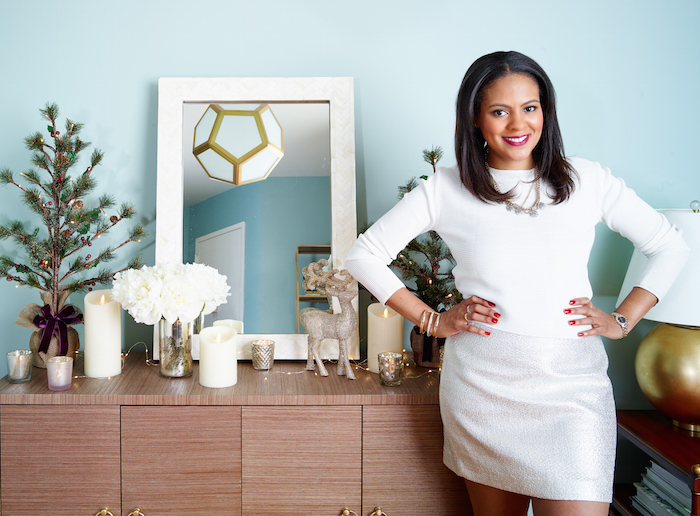 During the holidays when I was growing up both my mom and grandma went over-the-top with their Christmas decorations. We're talking little Christmas villages, santa figurines, garlands up the staircase, twinkling lights indoors and out, and of course, the most beautiful Christmas tree ever. Having grown up with an appreciation for creating a beautiful and festive holiday atmosphere, decorating my own home for Christmas is something that I look forward to each year. Living in New York, however, the process of getting a tree and decorating can be a huge hassle. Once you buy the tree, you have to figure out how to get it home and finding taxi that is happy to pick up you and a Christmas tree is a challenge. Once you get the tree to your doorstep, you have to figure out how to get it up to your apartment. Then once Christmas is over you then have to figure out how to get it outside without leaving a messy trail of dried up needles in your path… Just thinking about it all stresses me out. So when my friends at Balsam Hill reached offered to let me test drive some of their stunning artificial trees and christmas decorations I was super excited! I don't know why I'd thought of ordering my holiday decor online before!  I buy everything online. This year, not having to schlep a single thing and have everything delivered right to my front door was the best thing that ever happened to Christmas! Below, is a little peek at how I decorated my home for the holidays. (Links to all products are at the bottom)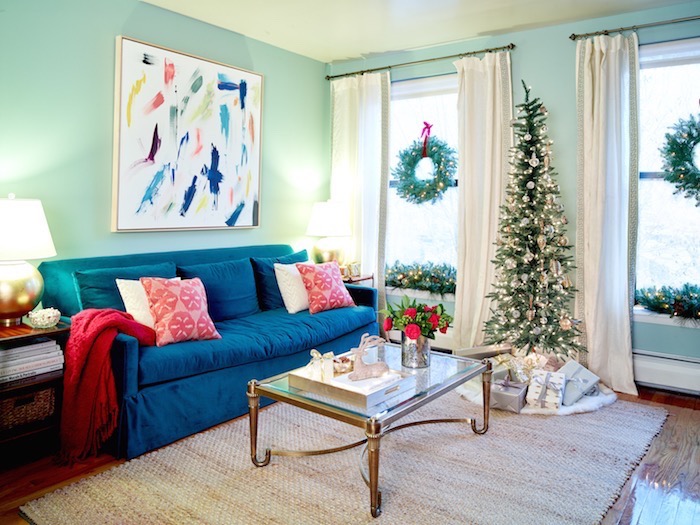 After years of having trees that were 4 foot or less because that's all I could fit in my small apartment, I wanted a taller, more substantial looking tree this year. I picked out this super slim tree which is 7 feet tall but only 26 inches in diameter at the largest point. It feels quite large but it actually takes up a very small overall footprint and it fits perfectly in between my two windows, creating stunning focal point.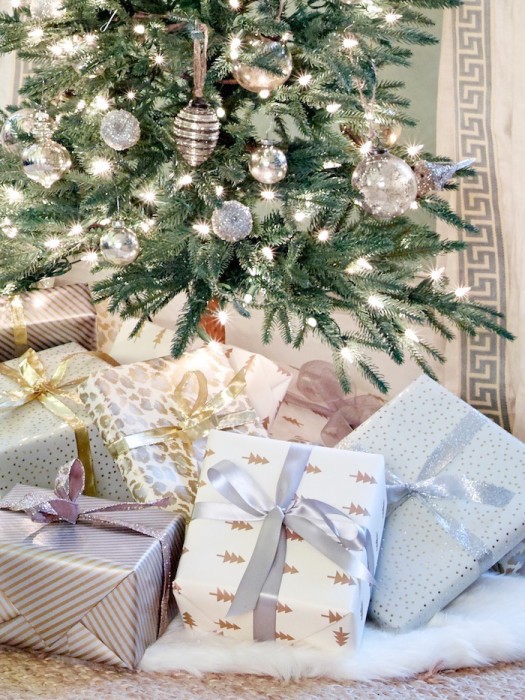 I love lots of sparkle at Christmas time so I went with a color palette of silver, soft gold and mercury glass accents on the tree and throughout my home. I mixed in some new ornaments from Balsam Hill with pieces from my own collection. They reflect the light so beautifully and give the tree such a beautiful glow!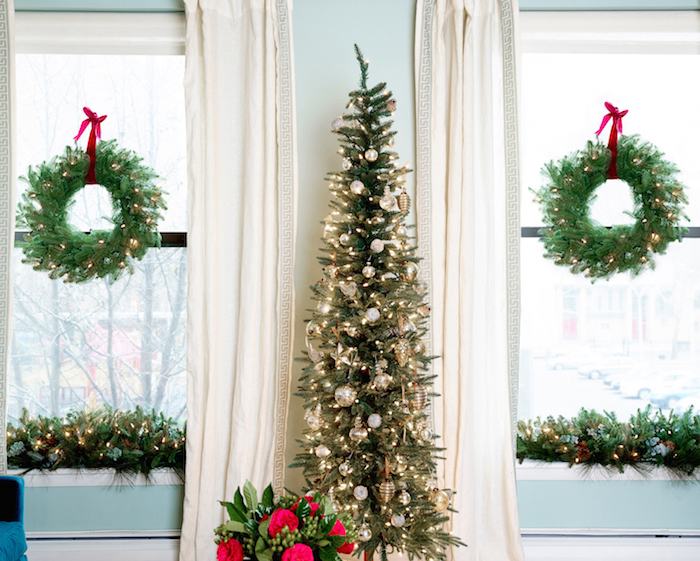 I also added wreaths and swags to the windows which created a very wintry wonderland feeling inside.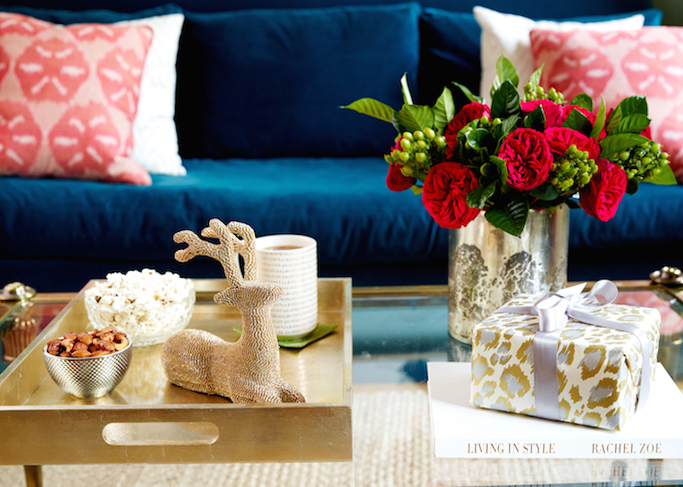 I even styled my coffee table with a festive silver tray, fresh flowers in a mercury glass vase and my favorite holiday accessory – a fabulous crystal-studded reindeer! He is my favorite! I want to keep him out even after Christmas is over;-)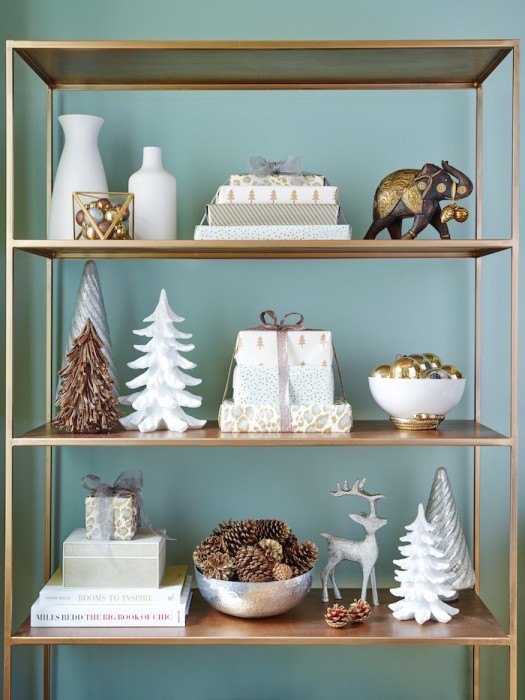 I also styled my bookshelves for the holidays complete with a selection of glittery tabletop trees, wrapped presents, holiday ornaments and other festive touches.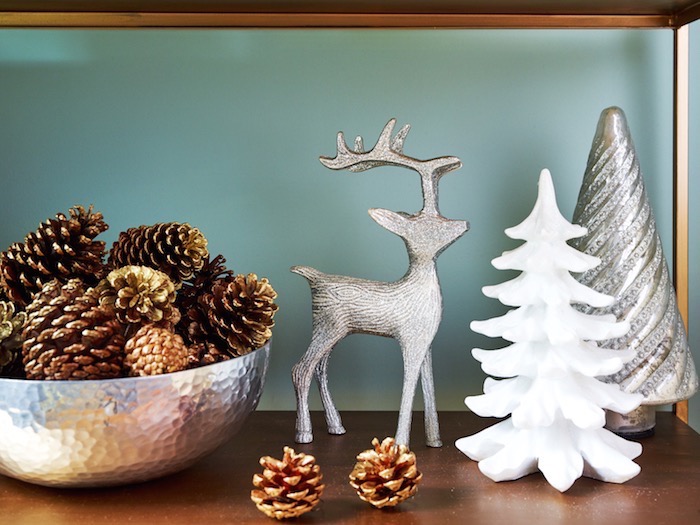 At my mom's house we have a huge evergreen tree in our backyard that produced plentiful pinecones so I've always loved incorporating pinecones into my holiday decor. I gave these pinecones a light dusting of gold spray paint to give them a little holiday shimmer and placed them inside a hammered metal bowl.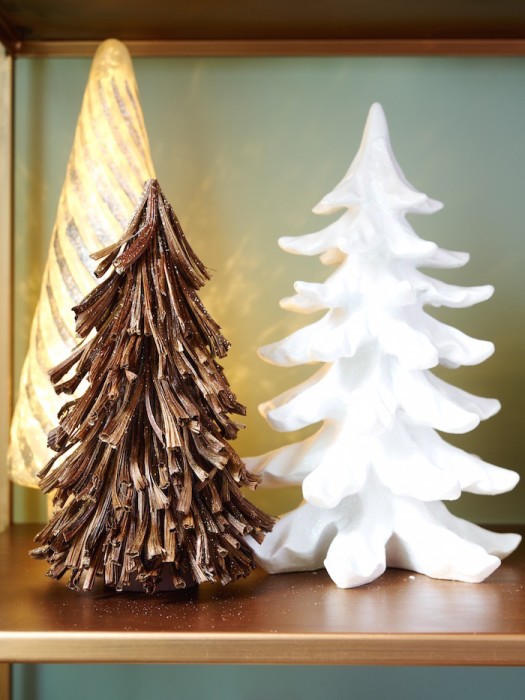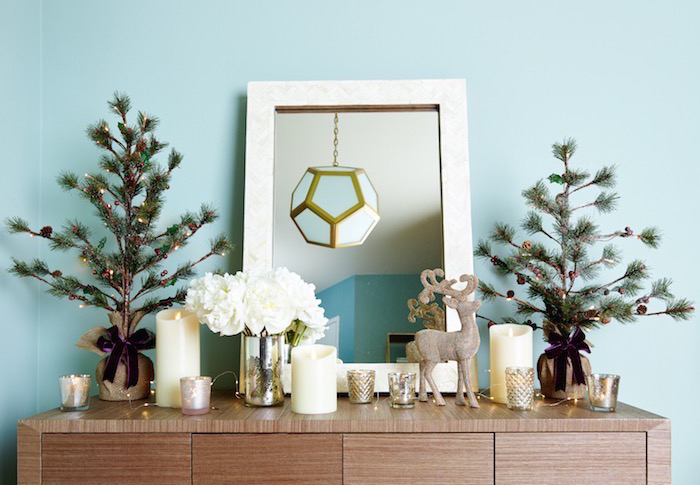 On my dining console, I peppered the surface with an assemblage of mercury glass votives, tabletop trees and a bouquet of white peonies. I love using white florals for the holidays – the natural shades of white and green feel like winter.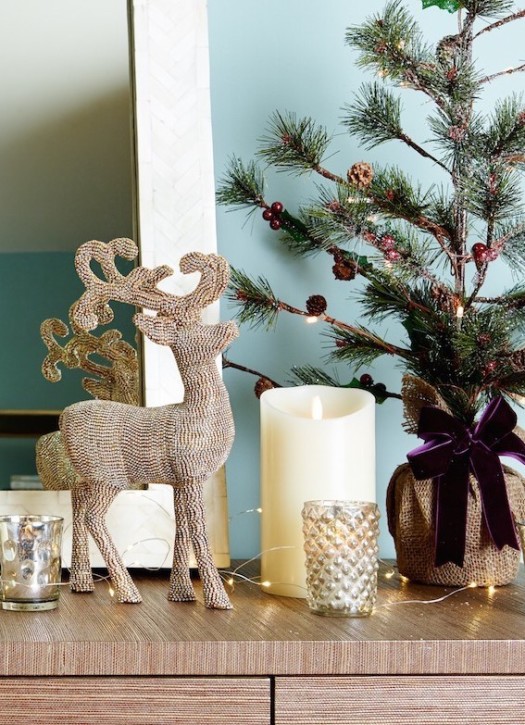 And…another crystal reindeer! It's hard to tell from this photo but it glimmers so beautifully in the light.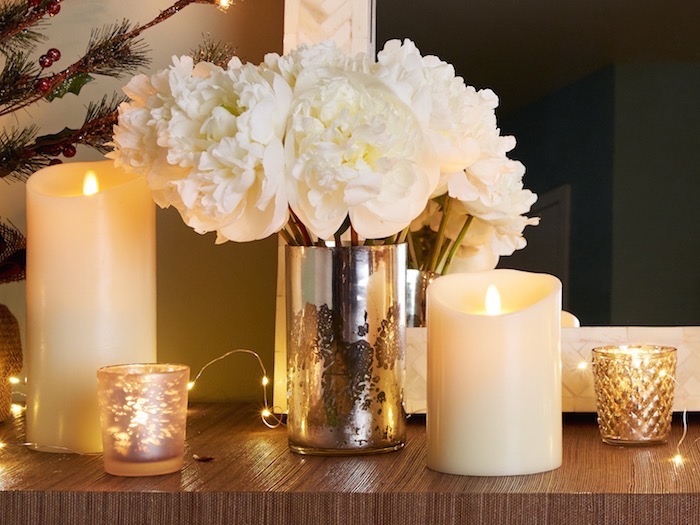 Here is a tight shot so you can see some of the details close-up. Another favorite element here are the pillar candles. I'll bet you'd never guess that they aren't actually real candles! They're battery-operated flameless candles with a flame that actually flickers. The outer body is made of real wax so it looks like a true candle except it's totally safe and you can use them forever. The best part is that they come with a remote control that you can use to turn them on an off…this makes my inner tech nerd persona very happy! I also love the little fairy string lights which I've peppered throughout my home for more of that glowing ambiance.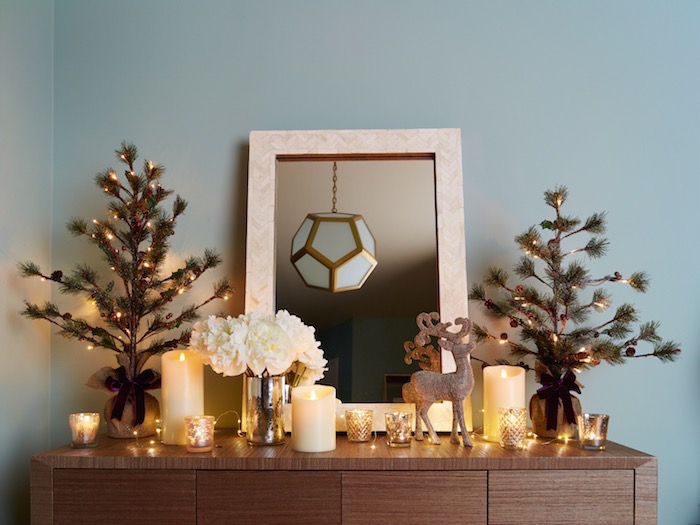 Usually I complain about the fact that it gets dark at 4PM this time of year but now that my home is all decked out for the holidays I can't wait for it to  get dark so I can see all the lights glow!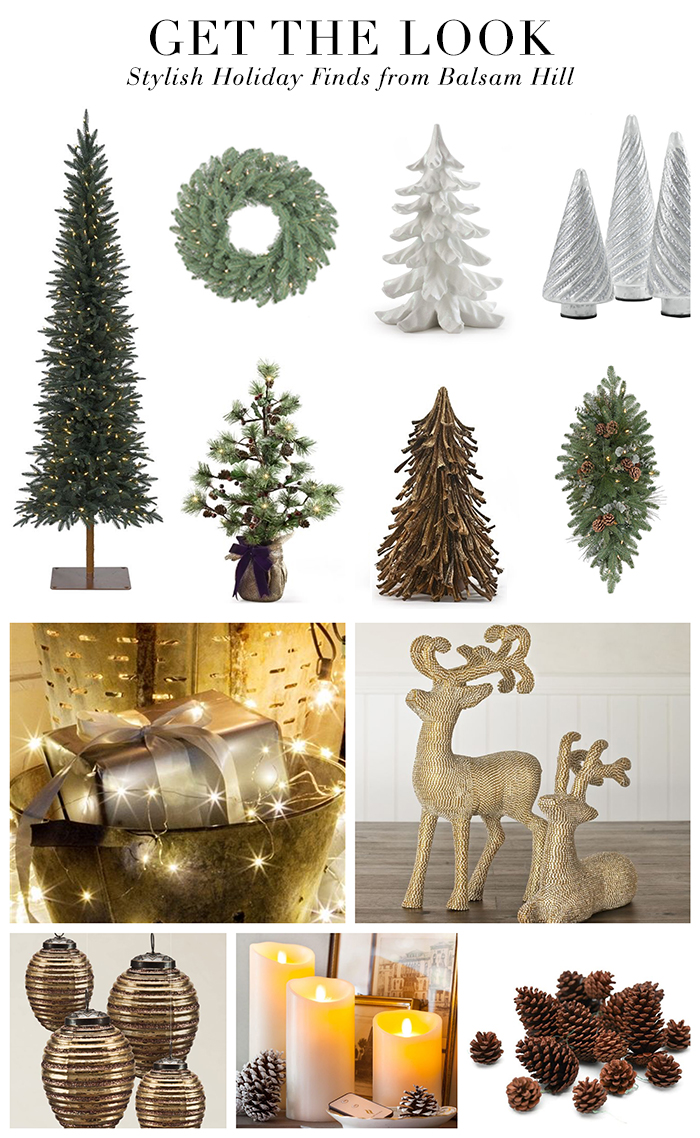 Revelstoke Fir Tree / Balsam Fir Wreath / White Glitter Tabletop Tree / Mercury Glass Tabletop Tree / First Snow Tabletop Tree / Sunflower Glitter Tree / Wintry Woodlands Swag / Fairy String Lights / Crystal Reindeer / Mercury Glass Ornaments / Candles / Pinecones
Photos by John Dolan
This post was produced in partnership with Balsam Hill. All opinions are my own. 
PS – Check out my previous post:  Three Ways to Decorate a Glamorous Holiday Tree