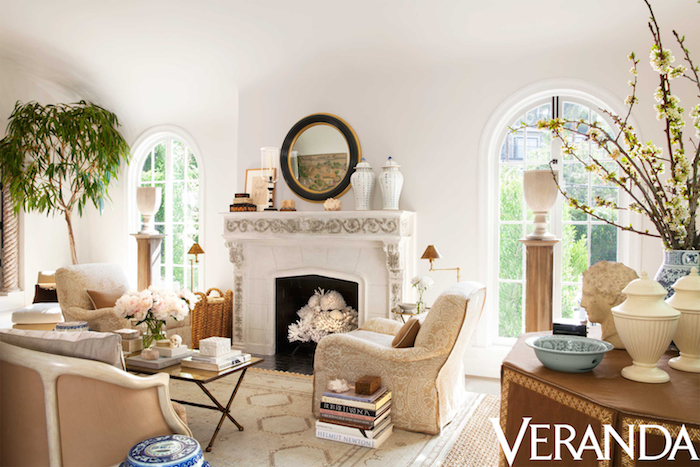 In just two short years, interior designer Mark D. Sikes has experienced the kind of lightning speed career trajectory that most designers can only dream of. After more than two decades working in visual merchandising and store design for fashion retailers, Mark launched his eponymous design and lifestyle blog in the Fall of 2011 which gave him an opportunity to showcase his impeccable sense of style and became a critical platform to help catapult his brand. It was an instant hit and soon after launching the blog he landed a cover story in House Beautiful featuring the fabulous Hollywood Hills home that he shares with his partner Michael Griffin and their adorable French Bulldog Lily. By January of 2012 Mark's interior design firm was officially open for business and the rest, as they say, is history. This month marks another career highlight for Mark as his second major cover story in the July/August issue of Veranda just hit newsstands and I'm so excited to share these stunning photos of his newly redesigned home from the magazine.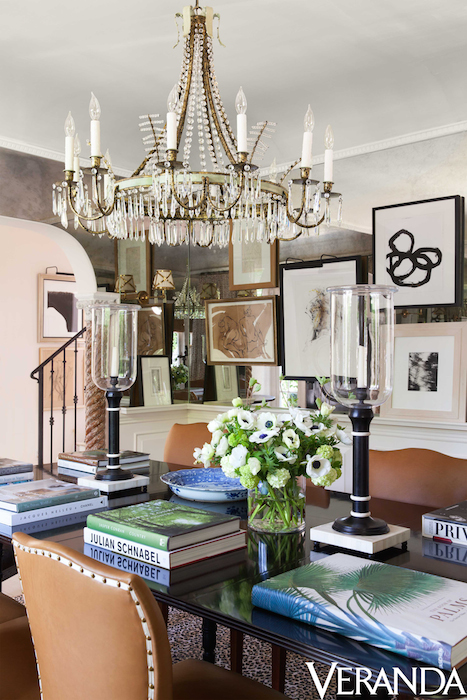 Mark's consistent aesthetic is classic and all-american. You'll always find him in crisp chinos and a relaxed blue shirt or white jeans paired with stripes. The timeless quality of his personal style also translates to his designs which evoke an elegant yet surprisingly laid-back sensibility that is especially evident in his own home. The recent renovation took about 8 months to complete and among the many changes, I especially love the way he incorporated mirror paneling in his dining room to reflect the garden just outside and the addition of French doors for easier indoor/outdoor access.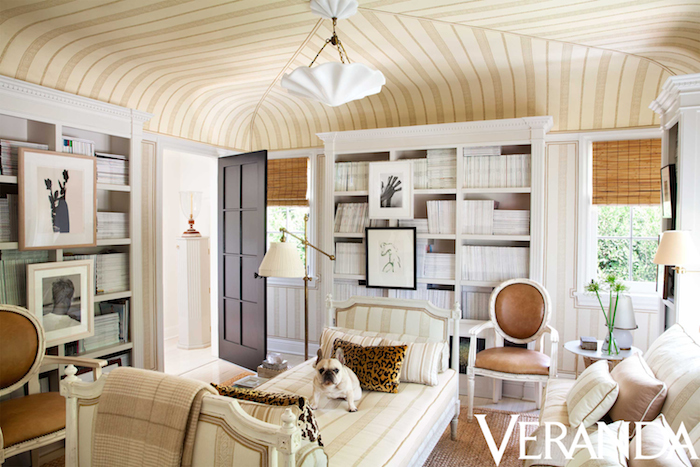 The home also reflects Mark's passion for collecting and among his many collections is a massive assortment of blue and white porcelain which appears in just about every room in the home (search the hashtag #blueandwhiteforever on Instagram and you'll see many photos from Mark reflecting his passion for blue & white!) along with a large collection of books that are perfectly placed. The photo above shows his converted guest room turned library which is tented and clad in a Carolina Irving striped linen. Mark says this is now his favorite room in the house because loves to spend time pouring through all of the books and magazines for inspiration.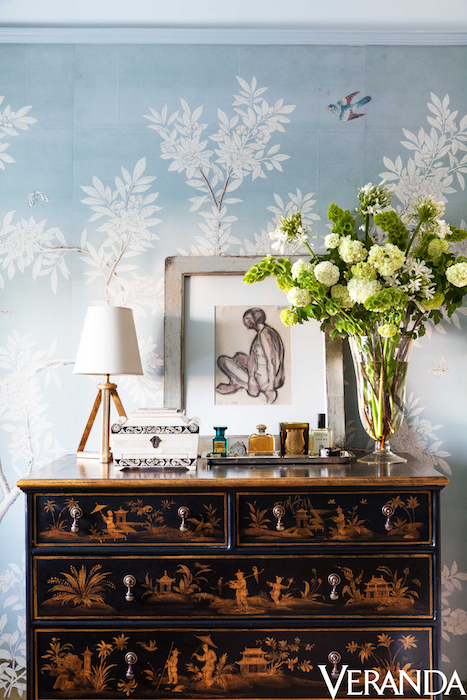 Another one of Mark's favorite things is Gracie wallpaper and as he was redecorating his master bedroom he knew that he wanted to sleep surrounded by Gracie – how fabulous, right? Above is a vignette from the room with the baby blue Gracie paper in the background and a beautiful chinoiserie chest from John Rosselli in the foreground.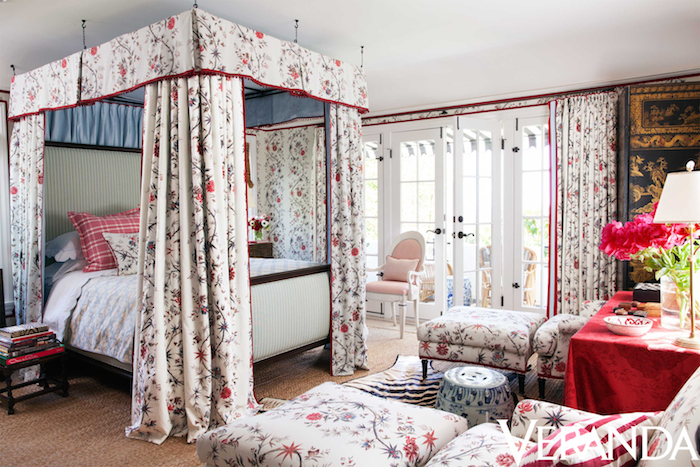 In the guest room, Mark used the same Braquenié tree of life pattern all over that Hubert de Givenchy used to cover the guest room of his Paraisian château. I'm so inspired by the beauty and attention to detail in Mark's home but as I've gotten to know him personally, I'm even more impressed by how incredibly humble he is about his successes. You'll never hear him boast about all of the exciting projects he has in the works so I'll do a little bragging for him! Aside from landing his second prominent cover feature, Mark is also working on several luxury residences across the country including a large scale design project for a major hollywood director, he also recently landed a book deal, is opening up a new office and soon to follow are lines of furniture, fabrics, apparel and even a retail store. There's no doubt we'll all be seeing a lot more from Mark D. Sikes in the very near future and I can't wait to see what he has in store for us! To see more of his beautiful home, check out the latest issue of Veranda on newsstands now as well as this video tour on Veranda.com. You can also keep up with Mark on Instagram as well as Pinterest. And if you're just as obsessed with Mark's home as I am, I've broken down the steps to achieving his easy and elegant signature style below!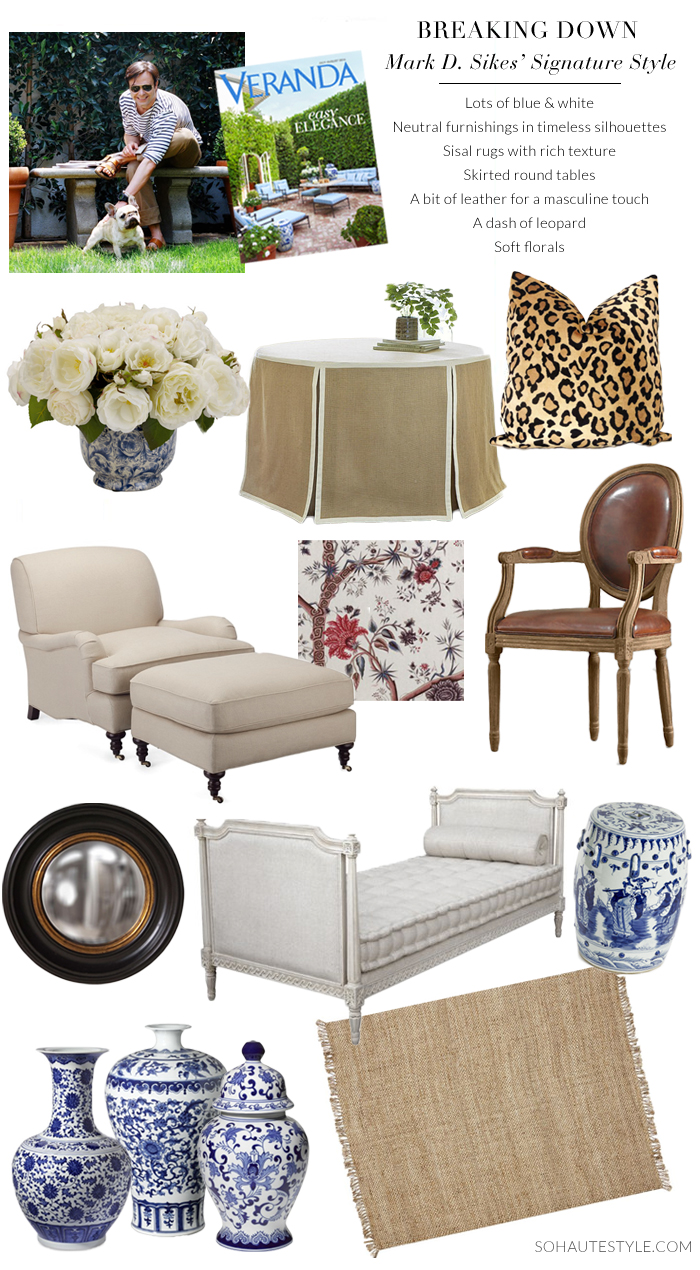 Flowers / Pillow / Skirted Table / Mirror / Daybed / Fabric (trade only) / Slipcovered chair & ottoman / French Leather Armchair / Garden Stool / Blue & White Vases / Jute Rug / Veranda