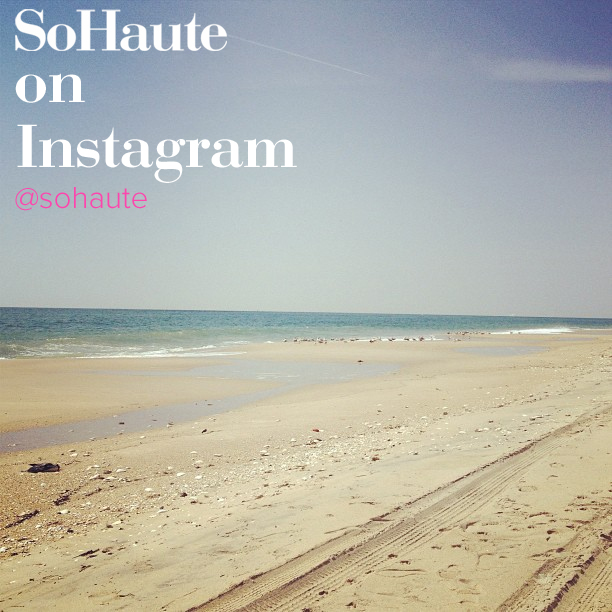 The beach in Southampton
I am utterly obsessed with Instagram and since I've been away from the blog for a bit, here's a look at what I've been up to over the past month, as seen through the lens of my iPhone and Instagram. And I'm always out and about checking out the latest in design and capturing everything that inspires me here in NYC and throughout my travels so be sure to follow me on Instagram to stay current on my latest design adventures!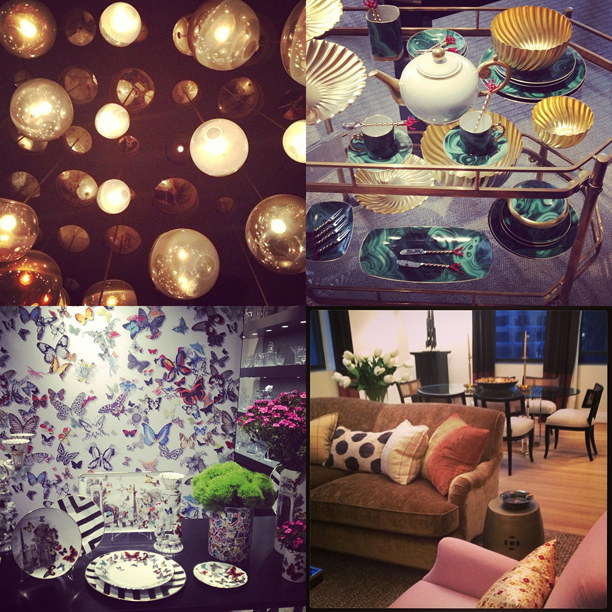 Loved these  pendant lights inside the restaurant of one of the city's coolest hotels (top left). A sneak peek from my visit to the L'Objet showroom where I went to check out their upcoming Fall collection – these malachite tabletop pieces are so fab (top right). I always love when fashion meets design and this is a snap of the new Christian Lacroix tabletop line for Vista Alegre. I want it all! (bottom left) I am always checking out real estate here in NYC and recently visited the model residences at the Printing House West Village – this chic space was designed by one of my favorite design duos, Carrier & Company. (bottom right)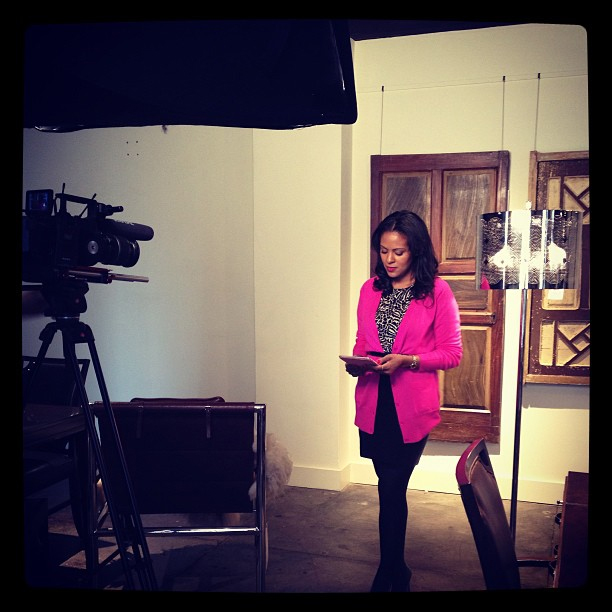 I've been branching out and working on more television and digital media projects which has been quite exciting! Here's a snap of me behind the scenes filming a segment for the NYDC on the ABC's of design!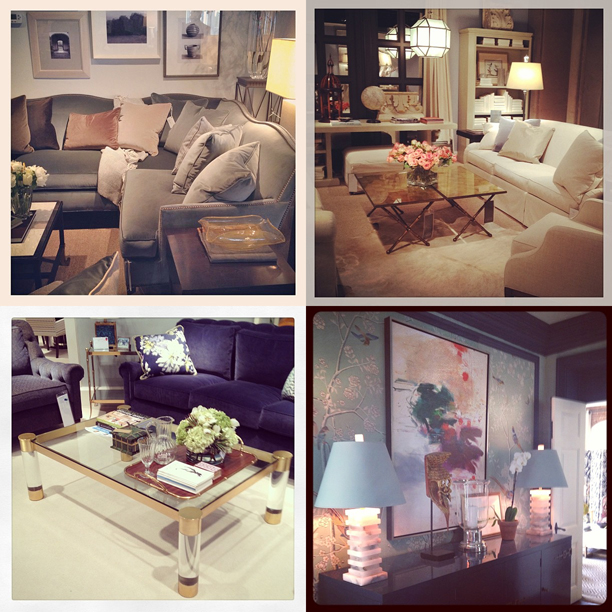 Right after I wrapped up Design on a Dime I headed to High Point Market in North Carolina (thanks to my friends from Hickory Chair!) to check out the latest introductions in the world of home furnishings. I saw so much good design and can't wait to share all of the amazing products, trends and design inspiration that I discovered on the trip. The top two photos are from Hickory Chair's gorgeous  25,000 square foot showroom which I had the pleasure of touring on my first day in High Point- stay tuned for more photos. Bottom left is a stunning lucite and brass coffee table from Celerie Kemble's new furniture collection for Henredon which is SO GOOD! And bottom left is a snap from a Miles Redd designed room inside the Traditional Home x Junior League of Greensboro showhouse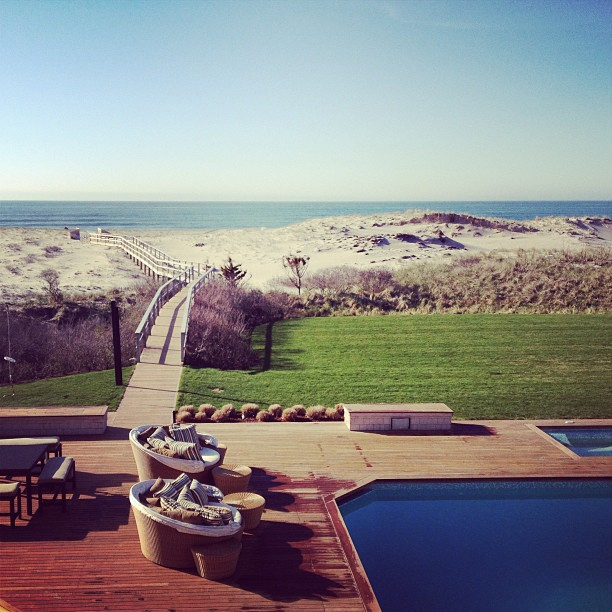 As soon as I got back from High Point I snuck away to the Hamptons for a super fun girls weekend. We stayed at the most beautiful estate in Southampton. Here's a snap from the balcony of my bedroom. I would kill to have this gorgeous view every day!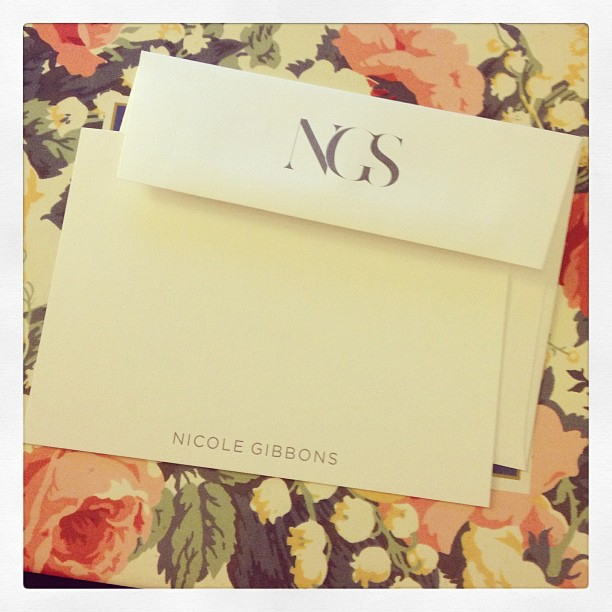 I'm obsessed with my new custom designed stationery. There's nothing more sophisticated than a handwritten note on beautiful paper!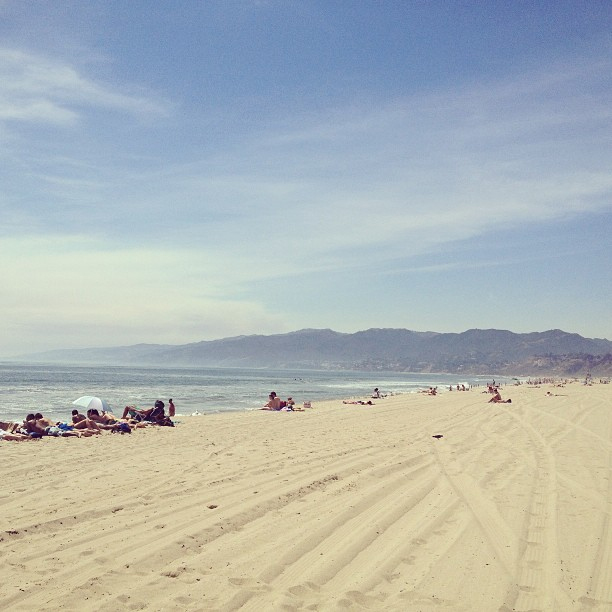 Earlier this month I headed to LA for 10 days where the weather was just perfect. I even got to enjoy a day at the beach with my two besties! This snap was from Santa Monica Beach. So beautiful, right?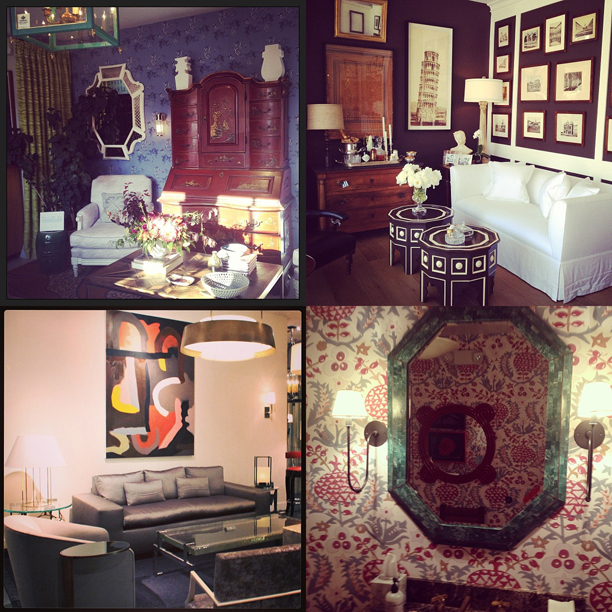 My trip to LA happened to coincide with the LaCienega Design Quarter's annual Legends of LaCienega event which was a blast. Above left is a pic from Harbinger – one of my favorite design shops in LA. Next, the stunning window display of Nathan Turner's shop which was designed by Eric Hughes for the LCDQ festivities (top right). Below, a view of the uber chic bathroom at Harbinger…I fell in love with the wallpaper which is from here. I also popped into Thomas Lavin's showroom at the PDC which is divine!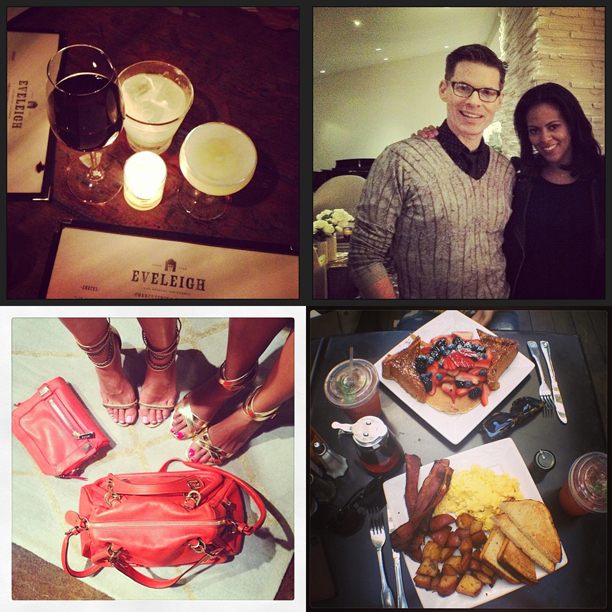 While in LA I also enjoyed a yummy dinner with my girls Sydne Summer and Kristen Turner at Eveleigh (top left) Loved seeing Thomas Lavin who was so generous to throw a little party at his fab Hollywood Hills home in my honor (top right).  I met up with the always chic Aimee Song and we both showed up wearing bright orange bags and gold sandals – ha! PS- My sandals are these from Rebecca Minkoff and bag is this one from Chloe.  (bottom left) I also caught up with my girl Jules from Sincerely Jules for a delicious breakfast at Larchmont Bungalow. Always love seeing my LA peeps!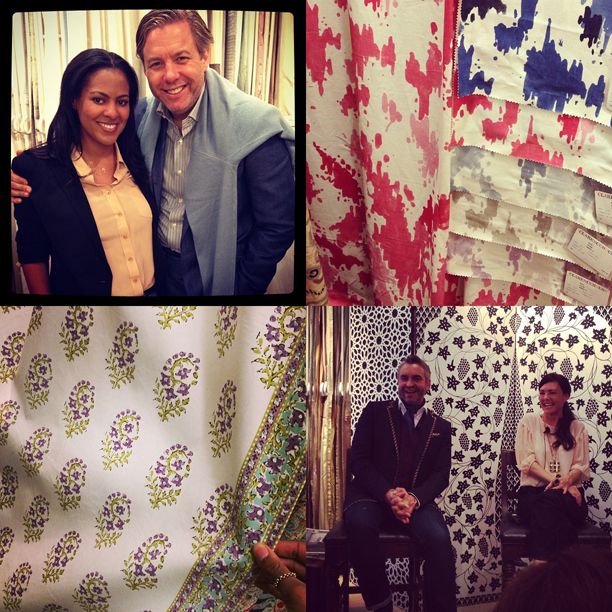 The week I got back to New York I hit up the D&D building for Spring market to see what's new in all of the showrooms. Highlights included meeting Michael Smith who just released a beautiful new book (top left), and hearing a talk by the hilarious Martyn Lawrence Bullard and Mary McDonald at Schumacher. During the talk Martyn shared that he's working on a mens clothing line and is designing Nicki Minaj's new home (!) and Mary revealed she'll be starring in a new Bravo show called Property Envy. (bottom left). I was also super impressed with some of the newest fabrics available through Clarence House. The top right is a new print from Clarence House called Kiki that I'm obsessed with and below left is a pretty Indian paisley from a new division of Clarence House called Hill Brown.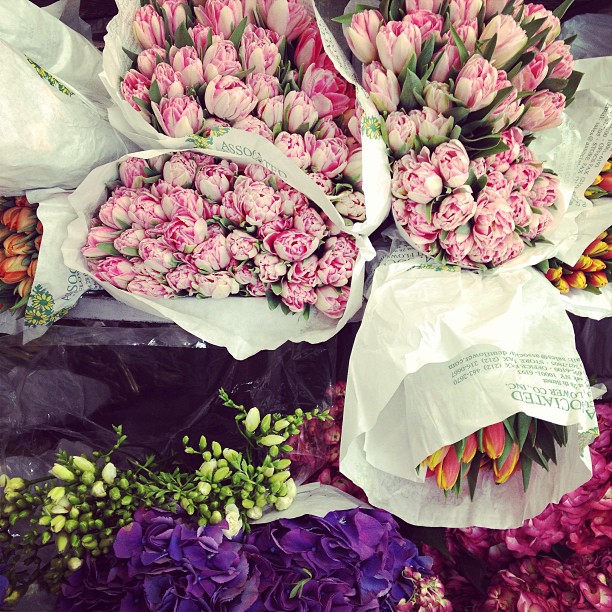 I can never get enough of the flower market – the beautiful sights and scents are so captivating!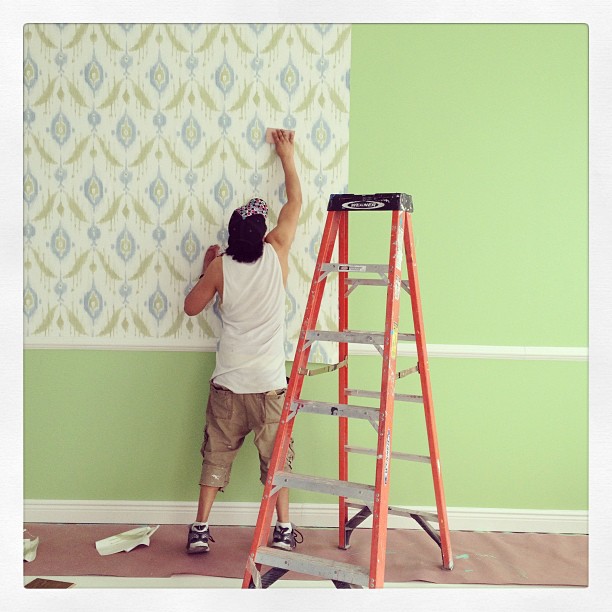 I mentioned I'm working on more media projects and here's an in-progress snap of a set design installation I completed for an upcoming (and very exciting) project. The wallcovering is from Thibaut's Avalon collection and I just love it!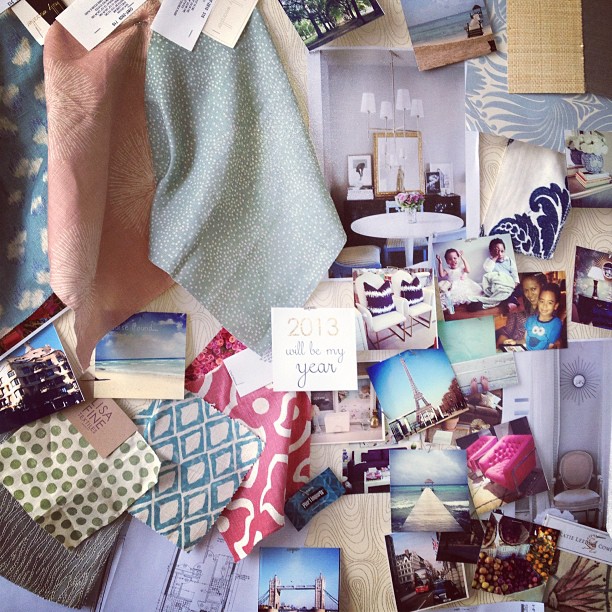 Here's a snap of a moodboard I assembled for the same project. It's filled with so many of the people, places and things that inspire me!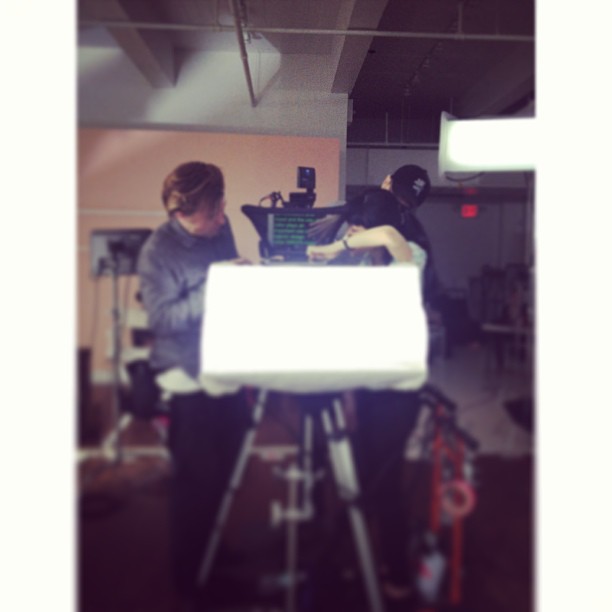 And here's another snap from the same project… my view from in front of the camera. Can't wait to share details soon!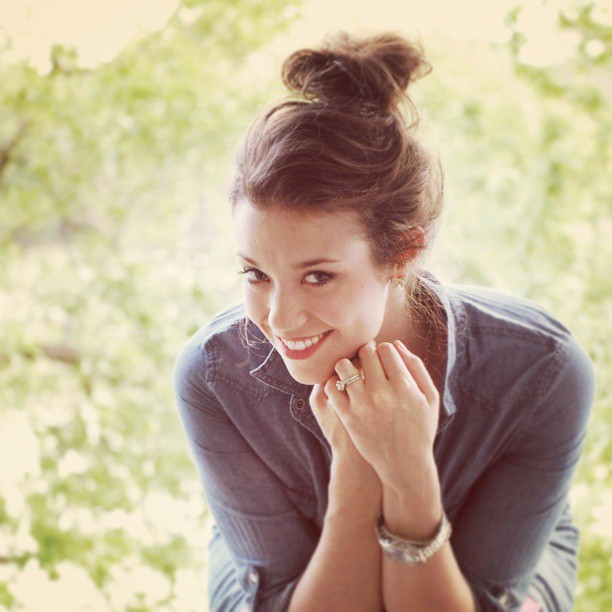 And – last but not least, I am sharing an Instagram snap from our newest contributor (!) who I am so excited to introduce! Meet Mary Katherine Leslie Van Hook (I call her MK for short!). MK will be contributing content to the site weekly and her first post will go live next week! You can learn more about MK here on our meet the team page!