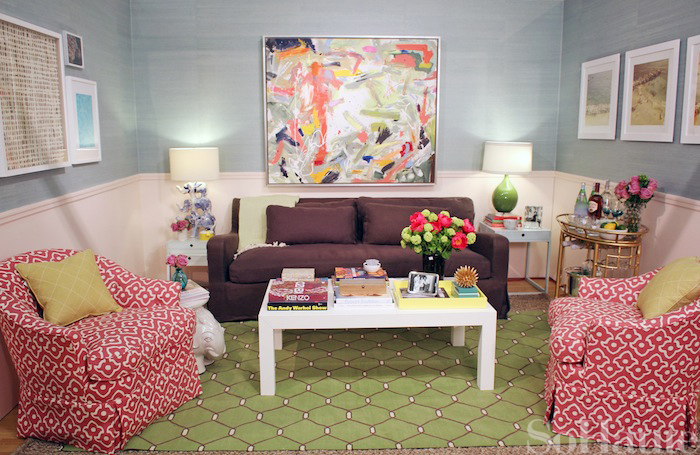 After weeks of sneak peeks and teases on Instagram and Twitter, I am so excited to finally share photos of the room vignette I designed for Housing Works' Ninth annual Design on a Dime benefit! I was so proud to have the opportunity to donate my time and energy for such a wonderful cause and the event was a tremendous success, raising a record breaking $1.1 millon to help support thousands of New Yorkers living with HIV/AIDS in New York City. I could not have done it without the help of some very generous partners who donated products and services to help furnish my room vignette! Let's take a closer look inside the room and we'll start with a before photo showing what the space looked like before I worked my magic: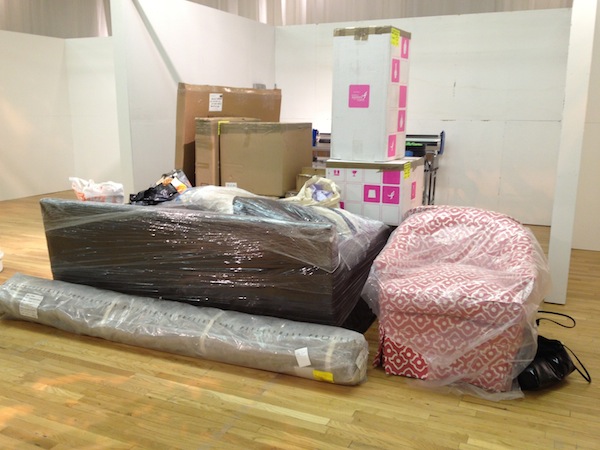 The rooms are really just a 10'x12′ white box with temporary walls and zero character. Us designers had less then two days to set up our spaces and work down to the wire until we had every detail perfect. It's almost like our own little HGTV Design Star challenge!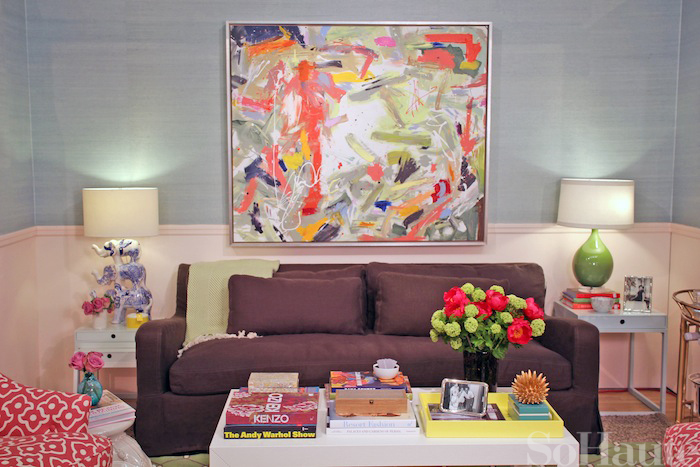 Seeing this photo it's hard to believe it's the same white box in the picture above! I knew I wanted to add elements to the room that would give those boring temporary walls some dimension and architecture so I added added chair rail moulding along the lower third of the walls which were painted in Valspar's Rose Buff and I covered the top 2/3 of the wall in a Phillip Jeffries grasscloth which added a lot of texture.  Those choices really made a huge impact in this tiny little space. The wallpaper and chair rail was installed by my generous contractor Martin who graciously donated his services for the event. He is an expert in wallpaper installation and his company, Martin Construction handles a multitude of other services from plumbing and electrical to tile and millwork.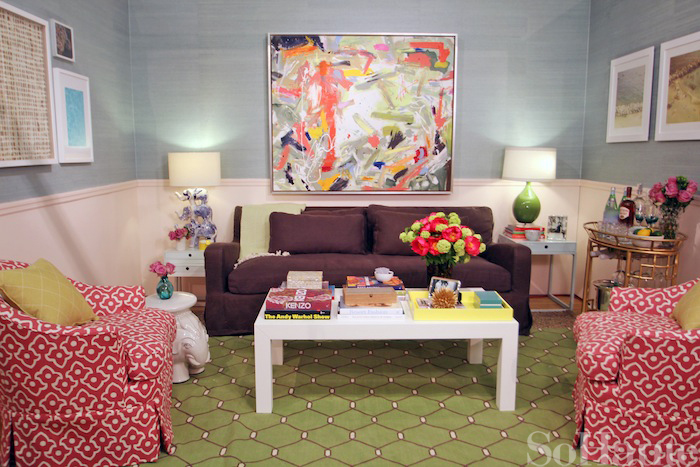 Now for the furnishings. The sofa was generously donated by Restoration Hardware and is a very deep and plush down filled, belgian linen slipcovered sofa with a sophisticated slope arm silhouette. The color is called charcoal but it was had a rich chocolate-y brown color. It really popped against all of the lighter colors in the room. Another major piece is the large abstract artwork by my talented friend Nicole Cohen of Sketch 42 blog. (Here are some great photos of us in Nicole's studio collaborating as she was working on the piece!) Nicole created this piece specifically for my Design on a Dime room and it couldn't have turned out more perfectly. If you're interested in seeing more of Nicole's works for sale, here's the link to her fine art site. The framing was done by J. Pocker, a custom framing company that prides itself on offering high level of artisanship and personal service. They are one of the best in the city and a go-to resource for all of my decorator friends.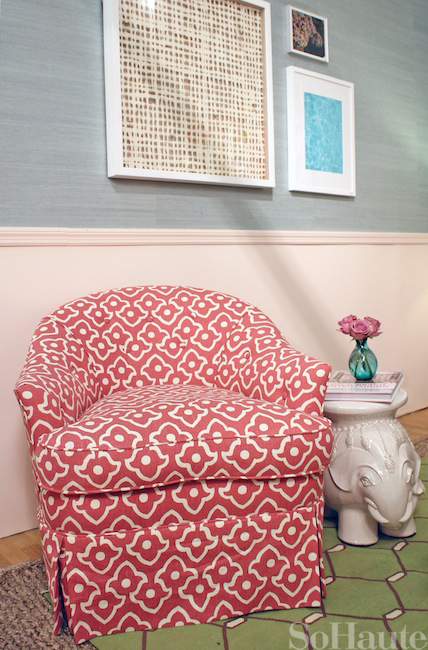 This pair of vintage 60s club chairs were down-filled and in perfect condition so for Design I recovered them in a colorful pink ethnic printed fabric called Fez that was generously donated by Lee Jofa. My wonderful upholsterer Oswaldo Astudilo reupholstered them for me. These were a highly coveted item and before\ the sale started at 6:30pm there were several people interested in purchasing the chairs who kept coming back to check them out. Lara Spencer from Good Morning America ended up snagging them and I was so happy to see them in such good hands! Another decorative trick I used to help bring texture into the space is layering of the rugs shown here in the photos. On the bottom is a braided jute rug from Pottery Barn and on top is a cotton dhurrie carpet from Madeline Weinrib in a lively green print. Either of these alone would have felt a bit bare in this room but layered together is much more interesting! The cute little ceramic elephant is the Ellie side table from Serena and Lily.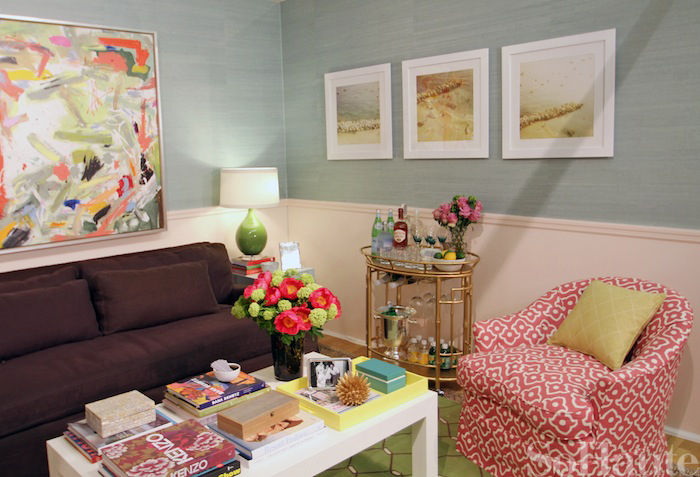 On the end table is a peridot green "Capri" lamp from Mottega which is one of my favorite sources for customizable lighting. You can choose your silhouette, your base, finial and shade and mix and match options to create your own custom lamp. Each lamp is hand crafted by artisans and the lead time is approximately 2 weeks. Such a great resource!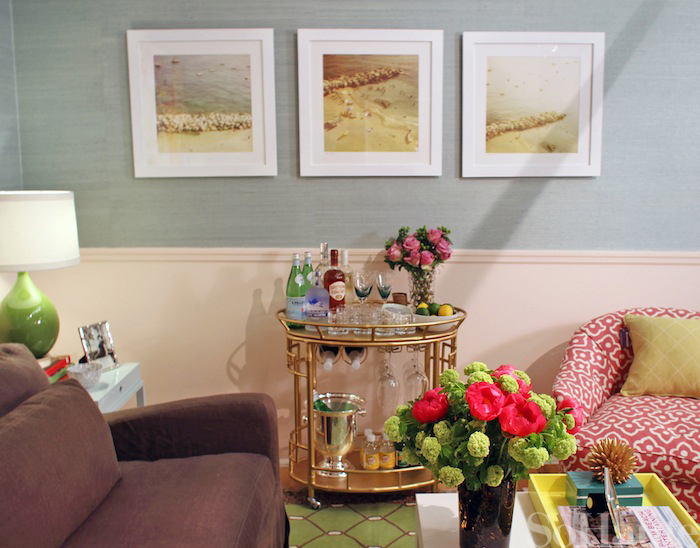 Another coveted item in my room were these "Capri Beach" series of prints by the talented Patrick Cline who co-founded Lonny magazine and is now working on a cool new photography app called Uplo which is a print and framing service that enables you to organize and share your photos as well as buy or sell your photography as printed art. The prints were originally taken with a Polaroid camera in Capri and are signed and numbered as part of a limited edition run of only 20 in this size. You can contact Patrick directly if you're interested in purchasing a set from the series for yourself!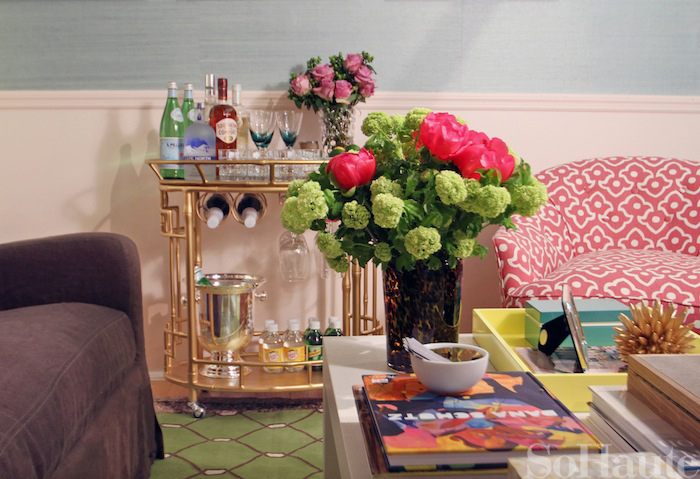 The bar cart in this space was also a huge hit. It was generously donated by Society Social who makes fabulous furniture, accessories and, of course, bar carts! I received a ton of comments and inquiries about this item via social media. This is the Hayworth bar cart which you can purchase here.  I styled up Ms. Hayworth using stylish glassware and a champagne bucket from Pottery barn, ombre wine glasses and bowls from West Elm, a decorative bowl and vase from Canvas which I filled with pink roses and of course, plenty of liquor, mixers and garnishes for the perfect cocktail!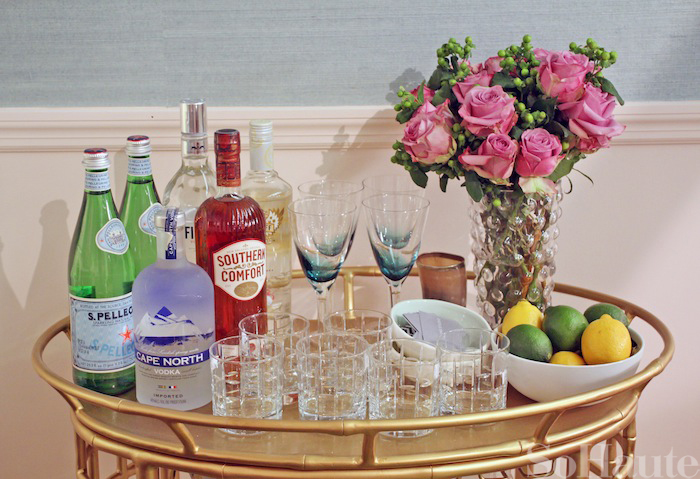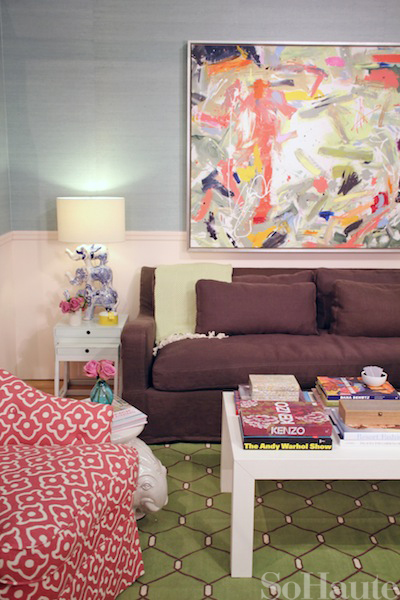 The end tables on either side of the sofa are actually a set of three from Serena and Lily. The lamp shown here is the Shirley Fintz table lamp from West Elm which is hand painted and features three stacked elephants. (Can you tell I have a thing for elephants?!) I loved this lamp and it added such a fun touch of whimsy to the room. The green herringbone throw draped over the sofa is also from Serena & Lily. In the foreground is a lacquered grasscloth covered Parsons coffee table from Bungalow 5 which is another favorite resource for stylish furniture and accessories.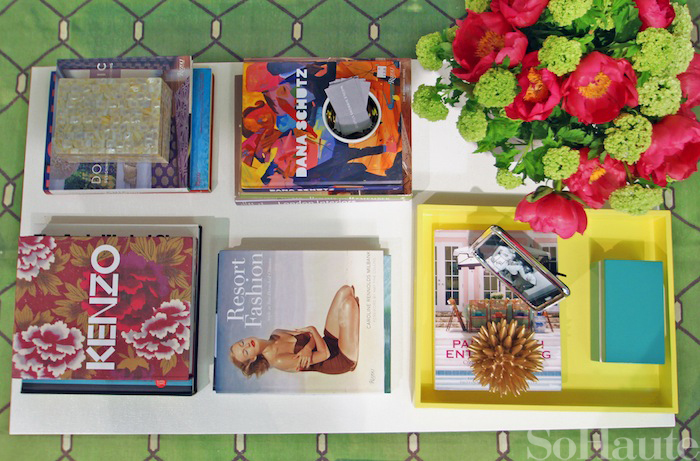 Here's a look at how I styled the coffee table. Books are one of my favorite styling accessories and I used an chic selection of fashion and art books with beautiful covers that were generously donated by Rizzoli to add  layers to the coffee table surface. A couple of decorative boxes from West Elm combined with a gold sea urchin from the Nate Berkus for Target collection, a framed family photo, a gold glazed bowl from Canvas and a tortoise vase filled with my favorite flowers help complete the look.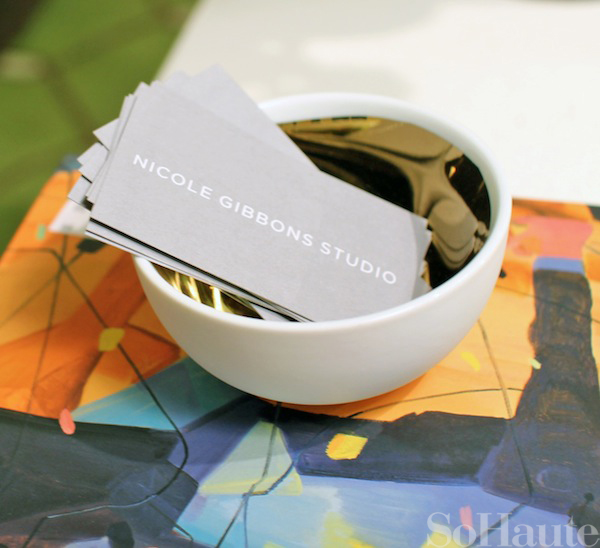 Another vital service that was donated to help my space come to life was moving and storage services from Celebrity Moving. They are the go-to movers for some of the top interior designers in New York. They are so wonderful to work with, offering exceptional customer service and a very elevated level of attention to detail. I also want to give a special thanks to Isaiah and Nicole who both gave their time and energy to help set up my space.  I am so appreciative to each of the partners who worked with me on this project and please know your efforts helped a wonderful cause! Stay tuned for another post with photos from some of the other designers' rooms along with pictures from the opening night party!
FULL LIST OF SOURCES:
{Furnishings} Sofa: RESTORATION HARDWARE, Chairs: VINTAGE(REUPHOLSTERED), Chair Fabric: LEE JOFA "FEZ", Set of Three Nesting Tables: SERENA & LILY, Ceramic Elephant: SERENA & LILY, Coffee Table: BUNGALOW 5, Braided Jute Rug: POTTERY BARN, Cotton Dhurrie Rug: MADELINE WEINRIB, "Hayworth" Bar Cart: SOCIETY SOCIAL, Green Ceramic Lamp: MOTTEGA, Elephant Lamp: WEST ELM, Wallcovering: PHILLIP JEFFRIES, Paint: VALSPAR "ROSE BUFF", Acrylic Painting: NICOLE COHEN, Handmade Paper Wall Art: WEST ELM, Capri Beach Photo Series (Limited Edition): PATRICK CLINE/ UPLO, "Motukakaho Island" Photography Print (Limited Edition): DEREK HENDERSON / 20X200, The London Hotel West Hollywood Pool Reflection Photography Print : NICOLE GIBBONS Pillows: CUSTOM MADE WITH LULU DK FABRIC {Accessories} WEST ELM (Lacquer Tray, Aqua Lacquer Box, Mother of Pearl Box, Ceramic Vase, Colored Glazed Bowls, Ikat Bowl, Ombre Wine Glasses), CANVAS (Gold Glazed Bowls, Napoule Vase) POTTERY BARN (Champagne Bucket, Double Old Fashioned Glasses) HOME GOODS (Tortoise Vase & 4×6 Silver Frame), NATE BERKUS FOR TARGET (Faux Shagreen Box & Gold Sea Urchin), RIZZOLI (Assorted coffee table Books) {Services} Moving & Storage: CELEBRITY MOVING , Wallpaper: MARTIN CONSTRUCTION / WALLPAPERNY.ORG Framing: J. POCKER, Logistics: RESERV CONCIERGE, Upholstery: ASTUDILLO DESIGN