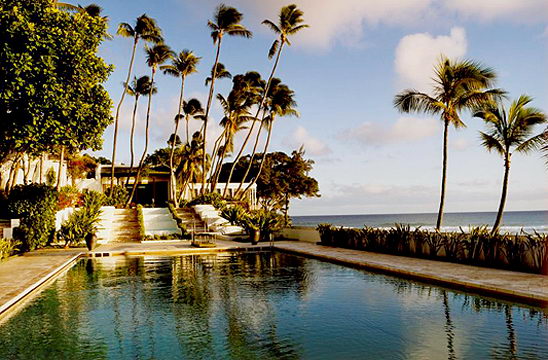 An exterior shot of Shangri La. Photographed by Luca Trovato for the July '07 issue of Town & Country
Back in October I went to Hawaii for a few days and the #1 thing on my to-do list while there was visit Shangri La, the legendary estate of Doris Duke.
A 1930's portrait of Doris Duke by Cecil Beaton. Photo via shangrilaahawaii.org
Doris Duke was an American heiress and the only daughter of James Buchanan Duke who was the magnate behind a wildly successful tobacco and energy empire. (The Duke Energy Company which he founded in 1904 still provides power to a majority of the southern states here in the US and he's also the "Duke" after which Duke University was named.) James Buchanan Duke died in 1925 leaving a $50 million fortune (the equivalent of $620 million in today's currency!) to his then 12 year old daughter, making her the richest girl in the world at the time and earning her the nickname "Million Dollar Baby."
Duke and Cromwell outside Shangri La. The couple divorced in 1940. Photo via shangrilaahawaii.org
At 22, Doris Duke married politician James Cromwell and embarked on a year long honeymoon around the world. They traveled to such far flung places as Morocco, India, China, Syria, Turkey and Indonesia. It was through these travels that Duke fell in love with the beauty and exoticism of Islamic art, architecture and culture.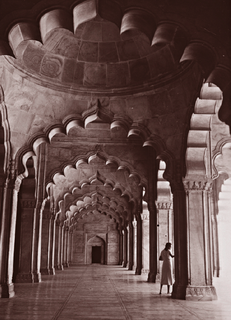 Duke during her honeymoon at the Moti mosque in Agria, India. Photo via shangrilaahawaii.org
The last stop on their honeymoon was Honolulu. They were supposed to stay only a couple of weeks but Duke loved Hawaii so much she extended their trip to four months. She was captivated by the beauty, the weather and the the privacy Hawaii offered her from the public eye and the New York social scene so she decided to build a home there.
Shangri La under construction circa 1937. Photo via shangrilaahawaii.org
Duke purchased 5 acres of oceanfront property overlooking the Pacific at the base of Diamond Head, an extinct volcano. She commissioned architect Marion Sims Wyeth to help her envision her home which she called Shangri La after the fictitious place in James Hilton's novel Lost Horizon, which depicted paradise on earth. Duke began building her home in 1935 and spent $1.4 million on the project which at the time made it the most expensive home built from the ground up in Hawaii and is the equivalent of about $22 million in today's currency.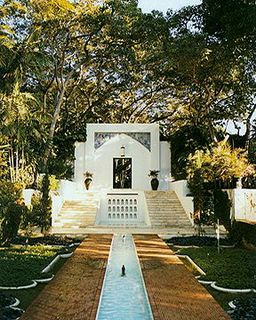 Duke's beloved Mohhul garden at Shangri La. Photographed by Luca Trovato for the July '07 issue of Town & Country.
Wyeth set out to build an estate that married eastern influenced architecture and Islamic references with Hawaii's lush tropical landscape and ocean views.
An arch and basin in Duke's bathroom which was designed with motifs replicated from the Taj Mahal. Photo via shangrilaahawaii.org
The home featured stunning architectural details, many of which were inspired by places she visited on her honeymoon such as the Taj Mahal. The home took two years to complete.
Duke shops for bureaus in Damascus. Photo via shangrilaahawaii.org
Being a young woman of extreme wealth and privilege, Duke embarked on trips accross the world searching for perfect pieces to outfit her home and comissioning custom work from artisans in places like Syria, Morocco and Iran, having pieces freighted by sea and then
painstakingly rebuilt inside her home.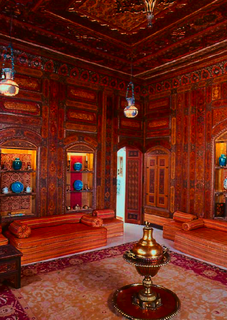 An 18th century Syrian interior was disassembled and rebuilt inside Shangri La in this room which she called the Damascus Room. Photo via shangrilaahawaii.org
Inside you'll find gilt and painted ceilings from Morocco, ceramics from Iran, furniture from Damascus, metalwork and textiles from Spain and many pieces from Dukes priceless collection of art and objects from the Islamic world.
The dining room at Shangri La.
Over a period of 60 years, Duke amassed a collection of more than 3500 objects from the Islamic world including painted ceilings, doors, marble screens, tile panels, ceramics, textiles, carpets and paintings. In her dining room showed above is a priceless 1840s Baccarat chandelier from India and mosaics from Iran along with Duke family heirloom silver.
A passageway off the courtyard at Shangri La
Shangri La was one of Duke's many estates but it was by far her favorite and most personal. She spent a few months a year there and visited consistently for more than 60 years.
Shangri La's al fresco dining terrace overlooking the Pacific.
Duke's will left her estate to her charitable foundation and instructed that following her death Shangri La was to be opened to the public for the study of Islamic art and culture. She passed away in 1993 and in 2002, the Doris Duke Foundation for Islamic Art in partnership with the Honolulu Academy of the Arts opened Shangri La to the public for guided tours. If you're ever in Honolulu I'd highly recommend visiting and if you're a design and architecture buff like me, it's worth taking a trip to Hawaii just to see this incredible estate. For more information on Shangri La including details on its guided tours, visit Shangrilahawaii.org. You can also take a virtual tour of the property on the website!
Doris Duke at Shangri La in 1966. Photo via shangrilaahawaii.org
When you read about Shangri La you'll often hear that visiting the estate is a complete sensory experience. I absolutely agree. When I visited, I was captivated by the beauty of the landscaping, the incredible interiors, the smell of salt water, the sound of the waves crashing against the rocks and the feeling of the gentle breeze in the air. It's a truly breathtaking place! Visitors are not allowed to take photos inside the house so I don't have my own to share but below are my photos taken of Shangri La's exterior areas as well as several photos of the home's interior from the Honolulu Academy of the Arts and Town & Country. As you can see, the estate is truly stunning!
Photo Credits:

Shangri La Hawaii / Doris Duke Charitable Foundation
Lucas Trovato for Town & Country
Nicole Gibbons for So Haute