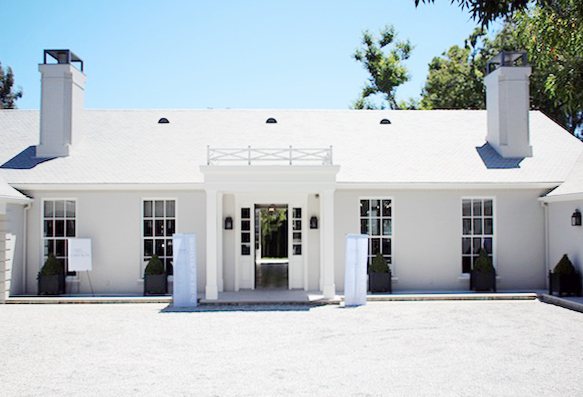 I recently read on Editor at Large that actress Gwyneth Paltrow and her husband Chris Martin recently purchased  "The House of Windsor"  which, was one of the most magnificent show houses I've ever seen! The House of Windsor was built from the ground-up by interior designer and self proclaimed "Lifestyle Architect" Windsor Smith, a designer whose career and work I admire tremendously. Windsor partnered up with Veranda and and enlisted the help of some of her favorite design peers in the industry to help decorate the the 8,000 square foot equestrian inspired estate. Located in Brentwood, the home boasts 6 bedrooms, 6 bathrooms and sits an acre of land that includes a dressage stable and a horse path. Windsor designed concept house as a city home with a country feel that redefines luxury living for today's modern family. I had an opportunity to visit the home last July when it was on view and I took a ton of photos of its stunning indoor and outdoor spaces. I wasn't allowed to publish my images until a few months later in October but after all that time had passed, I never actually got around to posting them! So I'm sharing them here today… Better late than never!  Below is an inside look inside the brilliantly designed House of Windsor, captured through the lens of my Canon. Enjoy!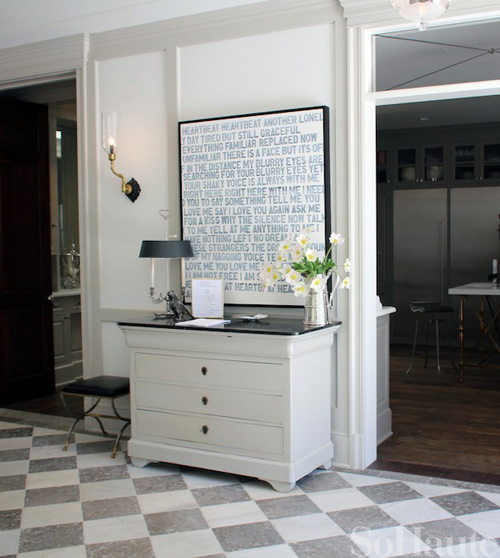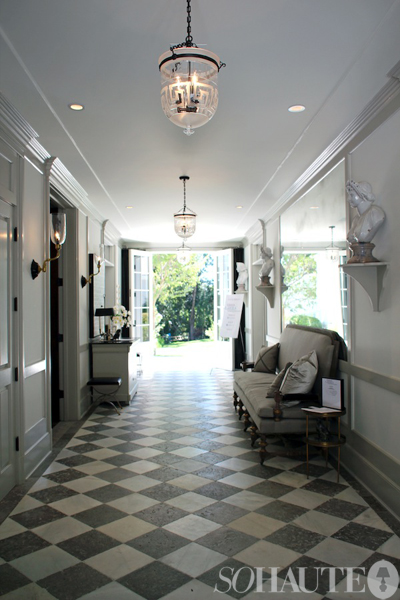 Here is a look at the home's dazzling main hallway, which runs from the front entrance all the way to the back of the house. The photo directly above shows the view from the front door looking toward the back door. The architecture creates a stunning vista with an end view of the beautifully landscaped back yard. Another favorite design element here is the gray and white stone flooring. So classic! Windsor's point of view on design is that spaces should be multi-functional. Her vision for this hallway is that it could easily be transformed into a dining hall for grand dinner party or family holiday celebration.
This next set of photos is of the kitchen, also designed by Windsor Smith. The focal point is a large center island that can be used for food prep, serving or dining. I really love the elegant gray color of the cabinetry (Benjamin Moore's Galveston Gray) and  the glamorous touches like the dramatic black pendant lights, the collection of hotel silver on display, the luxe Calcatta marble surfaces and the eclectic mix of dining chairs which help add character. Windsor believes that "the kitchen is the new living room" and loves the idea of family dinners taking place farmhouse style around a large table in the kitchen vs. in a formal dining room that's only used a handful of times a year. It's no secret that Gwyneth is quite the avid chef so I'm sure she'll enjoy cooking up tasty new recipes in this grand kitchen!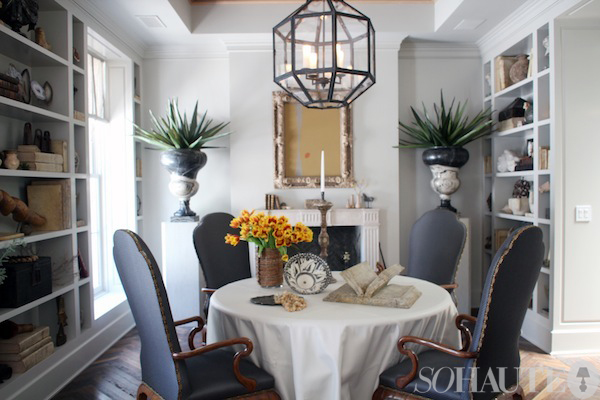 Here is the library, designed by Richard Hallberg, which also doubles as a dining room. The multi-purpose space features a fireplace and is full of antique and objets d' art. A highlight is an original drawing by Picasso, shown here.
Next up is the elegant, wood paneled great room, designed by Richard Shapiro.  I love the open feel of the space and the way that the sunlight pours through the large windows and just bounces off the walls (painted in Benjamin Moore's White Dove). The rich chocolate brown upholstery anchored in this bright, airy space adds a striking and dramatic contrast. There is plenty of seating in this sprawling great room, which features a mix of important antiques, many from Richard's eponymous shop. It's the prefect space for a swanky cocktail party with friends!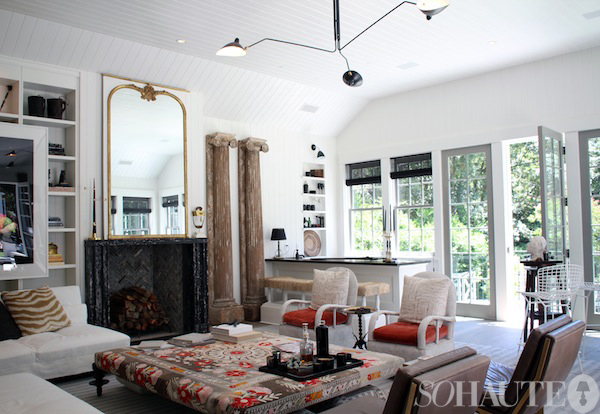 The family room in the House of Windsor is another space and designed by Windsor herself and it hold true to her philosophy on creating multipurpose rooms. It features beautiful oak floors and large windowed doors that open up to the yard. There is a flat-screen TV, floor-to-ceiling bookcases, plenty of seating, a bar and a large work table that's provides the perfect place for the kids to do homework or create art projects. Windsor's vision was that the entire family can enjoy the room and still feel connected while doing very different activities.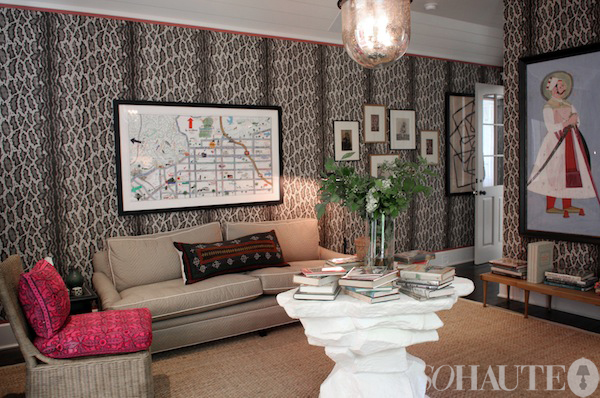 Next up is the guest study designed by another one of my design crushes, Peter Dunham. He filled the space with an eclectic mix of vintage furnishings, many of which came from his shop, Hollywood at Home. The walls, bulletin board, window treatments and desk chair cushion are all upholstered in a leopard print linen fabric from Peter's own textile line. In any other setting, so much of the same bold pattern might feel over-the-top but Peter manages to make it work here, balancing it with mostly neutrals, a few pops of color and lots of textural layering to intrigue the eye.
Adjacent to the guest study is the guest bedroom also designed by Peter Dunham. It features vibrant pink walls in Benjamin Moore's Blushing Brilliance and a beautiful mix of ethic textiles with worldly patterns inspired by far flung places like India and Africa. This room definitely brought a touch of the exotic, global sensibly that Dunham is known for into the House of Windsor.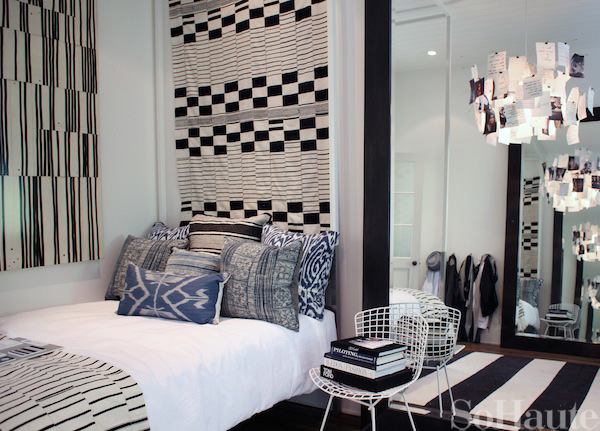 This space is a bedroom designed for a young boy, using Windsor Smith Room in a Box – a fast, affordable e-decorating service from Windsor Smith. It features a mix of to-the-trade goods with items sourced retail like the canopy bed from Room & Board.
Interior designer Candace Barnes designed the House of Windsor's master bedroom when dreaming up the color palette for this serene space, she took inspiration from the sycamore and oak trees just beyond the room's French doors.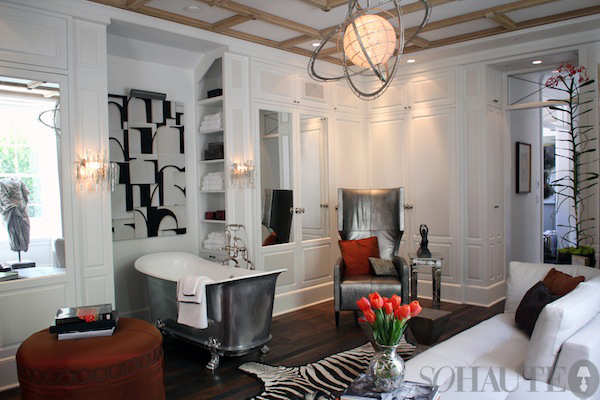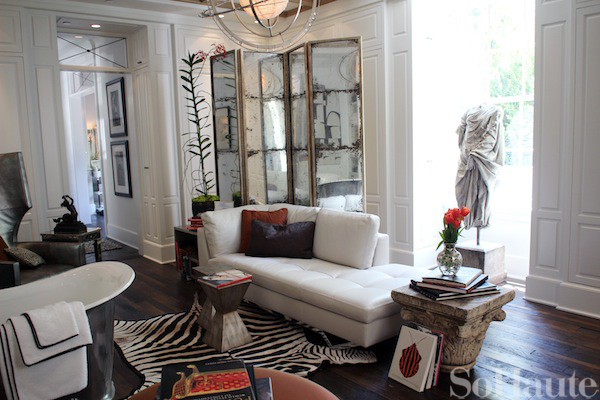 Just off the master bedroom is a luxurious dressing room that Candace designed to compliment the master suite. It features a bathtub, a TV and a chic chaise for lounging as well as paneled cabinetry to hold clothing and accessories. When Windsor Smith was architecting the home, rather than build walk-in closets that take up unnecessary square footage and encourage people to accumulate more stuff, she designed beautiful, built-in cabinetry, like what you see here, all throughout the home.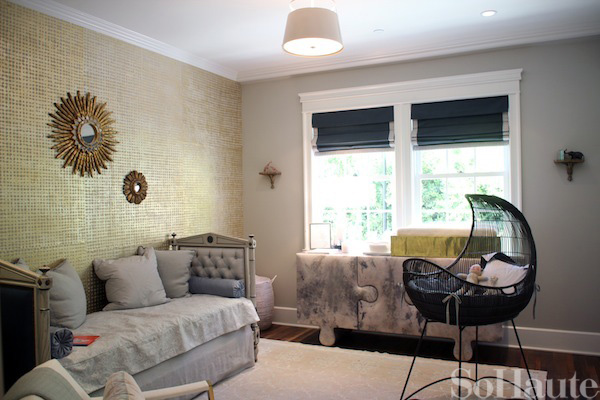 This small but stylish bedroom was designed as a nursery by Theresa Ghevondian who works as a designer for Windsor Smith Home. The choices here are so unexpected and chic for a nursery! I especially love the leather covered 19th century day bed, the sweet rattan bassinet and the marble "puzzle cabinet" complete with a luxe gold tone changing table.
Outside the main home is a media room, situated above the detached garage.
Martyn Lawrence Bullard
designed the sexy, Studio 54-inspired space which features an assemblage of furniture from the 60s and 70s and walls upholstered in a delightfully dizzying fabric from his line.
Here is a view of the back of the home which features landscape design by Paul Robbins. The patio, which you can see in the distance, was decorated by Stephen Block.
A highlight of the outdoor area is a rustic dressage stable, designed by Kathryn Ireland. The space was designed as an an escape for the lady of the house. It's filled with equestrian touches, colorful textiles from Kathryn's own line and cozy furniture that's perfect for relaxing with a good book or a glass of wine. Kathryn definitely infused a bit of her English sensibility into this space which feels more like it belongs on the English countryside rather than Los Angeles!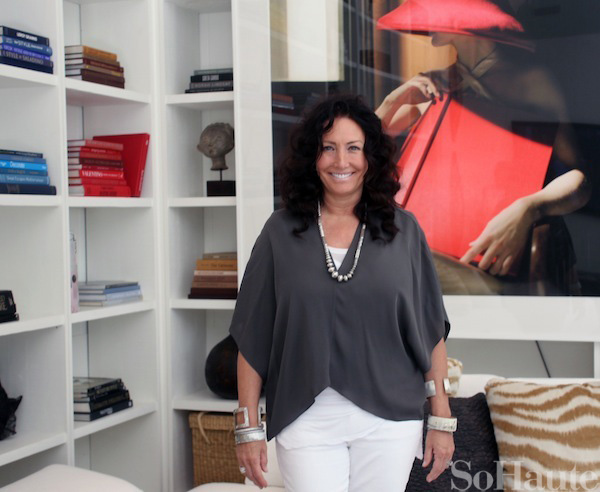 Finally, here is a photo I snapped of the brilliant Windsor Smith who stands proud in the home's family room. She certainly raised the bar in terms of design with The magnificent House of Windsor and I'm sure Gwyneth, Chris and their children will be very happy living there!
Photos by Nicole Gibbons for So Haute