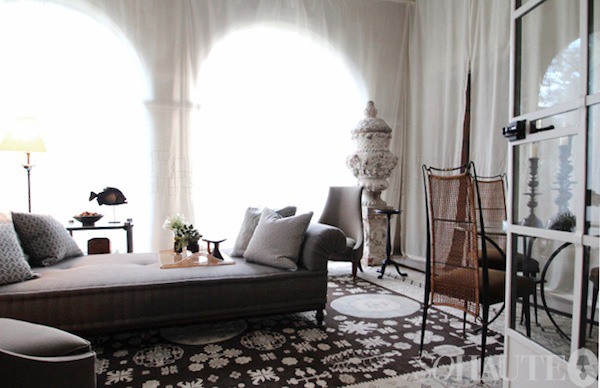 Maison de Luxe brought together so many uber talented designers under one roof and there were so many gorgeous rooms it was difficult to narrow down the spaces to feature here on the blog. Below are more of my favorites from the show house including rooms by Philip Gorrivan, Nathan Turner, Kathryn Ireland, Ron Woodson & Jaime Rummerfield, Suzanne Rheinstein and Oliver Furth.

Breakfast Room & Solarium – Philip Gorrivan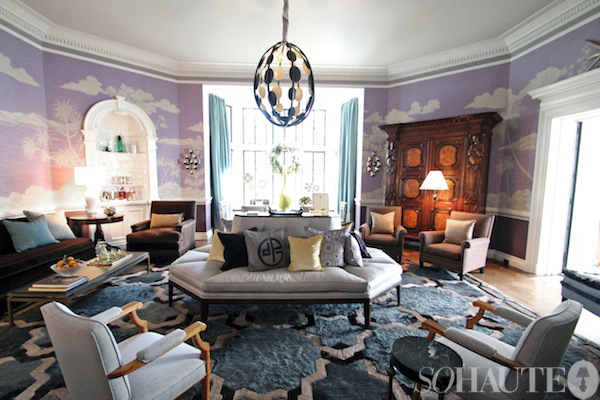 Philip Gorrivan's room for Maison de Luxe was originally the home's breakfast room with an adjacent solarium. Philip created a chic salon style space that evokes a sense of glamour and luxury. The color palette of soft hues was a nice counter balance to the tailored furnishings which were mostly custom designs. The upholstery is from Philip's fabric collection for Highland Court and artful wall covering was a custom design from Gracie Studio. Other highlights include the 17th Century Italian armoire and the the Herve van der Straten ceiling pendant which is one of only two in the world.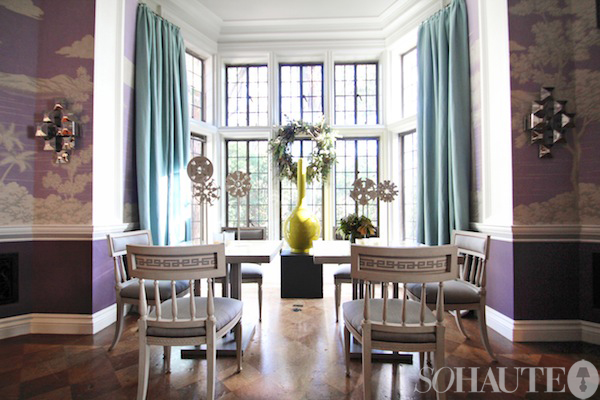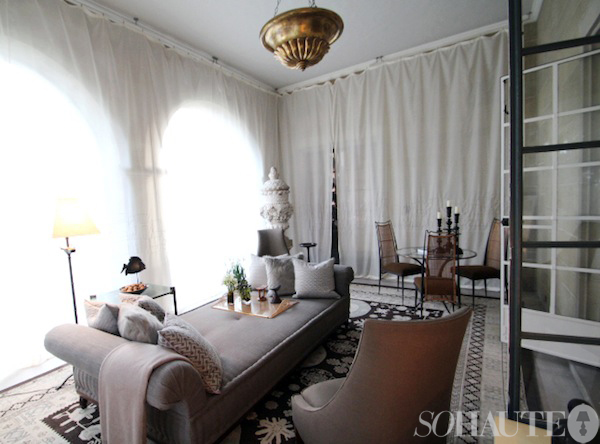 The solarium featured a neutral pallete with gold accents and more beautiful custom furnishings including a daybed that Philip designed and additional vintage pics from LA's Blackman Cruz. The embroidered sheers which reveal a view of the homes beautiful gardens were one of Philip's favorite elements of this space.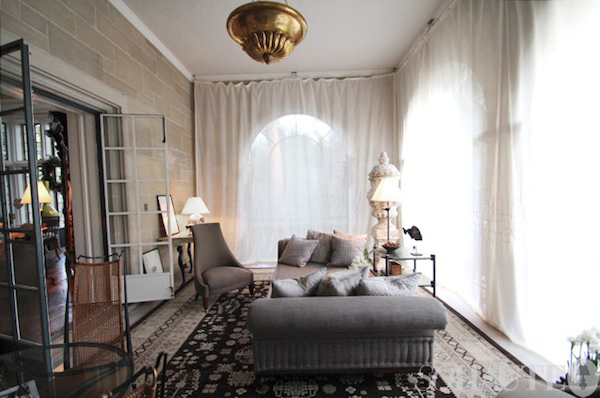 Recreation Room – Nathan Turner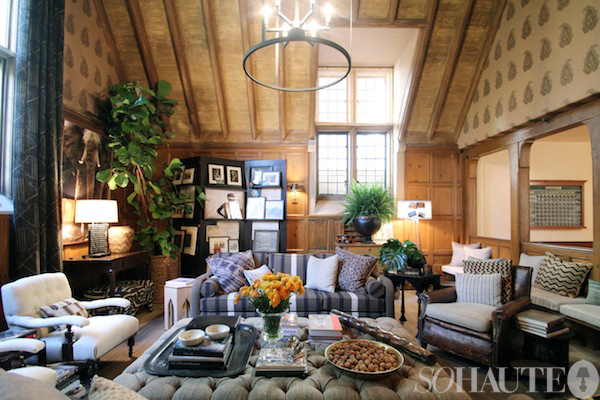 Inspired by his grandfather who was an avid game hunter, Nathan Turner designed an elegant gentleman's lounge with a worldly, 'back to Africa' vibe. Many of the furnishings are from his furniture collection for Elite Leather, the fabrics were from Ralph Lauren and many of the accessories seen here were from Pottery Barn. Gotta love a high-low mix! The giant pendant light is from Ames Ingham. To tie back to his original inspiration of big game hunting, he hung contemporary photography of safari animals throughout the space.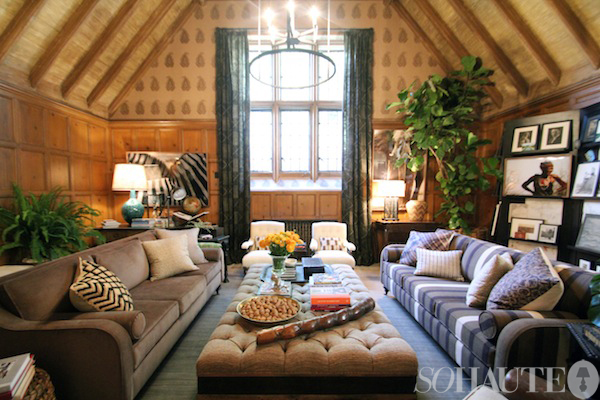 The room already had such beautiful architecture so the elements of Nathan's design – like the block printed Indian paisley wall covering – were carefully chosen to compliment the intricate wood paneling and  other architectural details.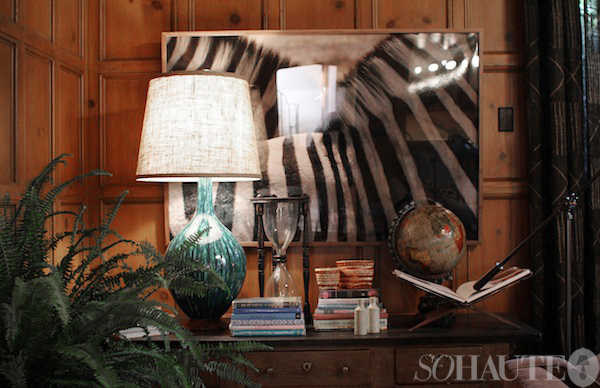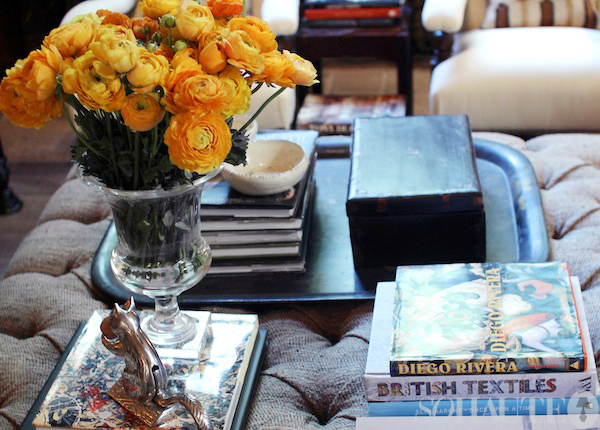 Mrs. Doheny's Bedroom – Ron Woodson & Jaime Rummerfield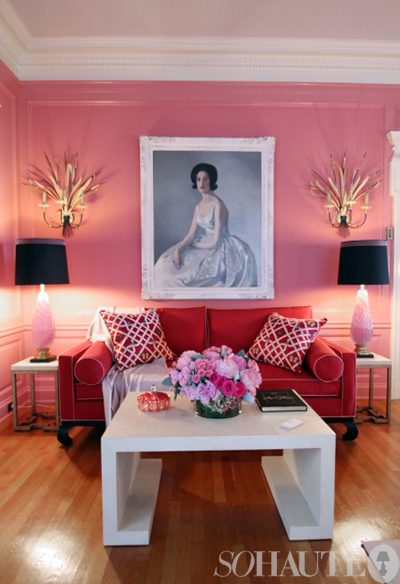 Ron Woodson & Jaime Rummerfield did double duty for Maison deluxe designing the upstairs bedroom that once belonged to Mrs. Doheny and serving as co-chairs of the opening gala.  Their opulent design paid homage to old hollywood glamour and the jewel box of a room featured vibrant shades of pink which was ultra-feminine and perfectly fit for the lady of the house.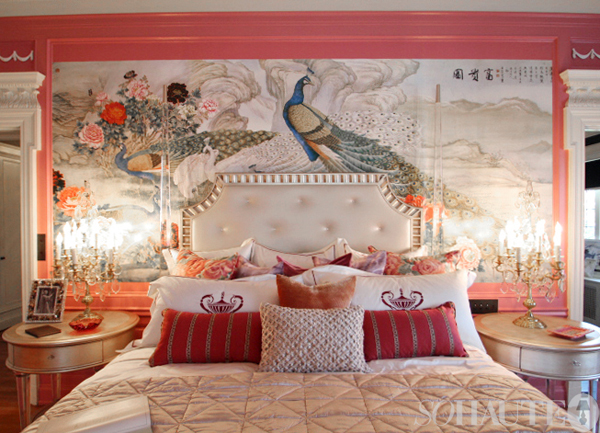 I also really loved the standout Chinoiserie mural behind the bed which featured a peacock motif and served as a focal point in the space.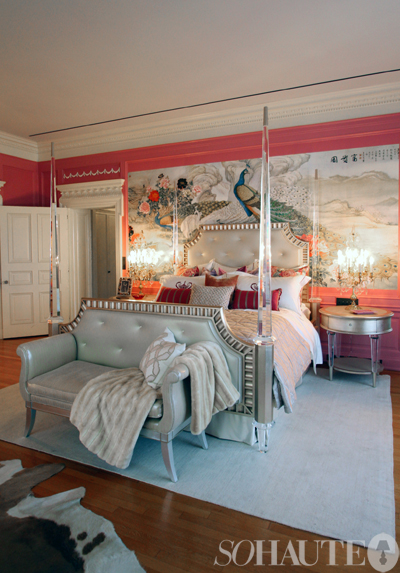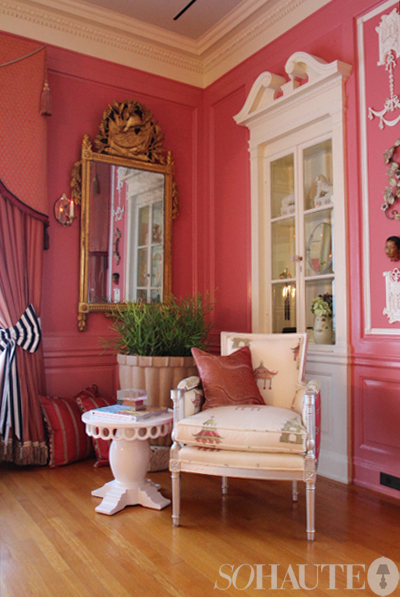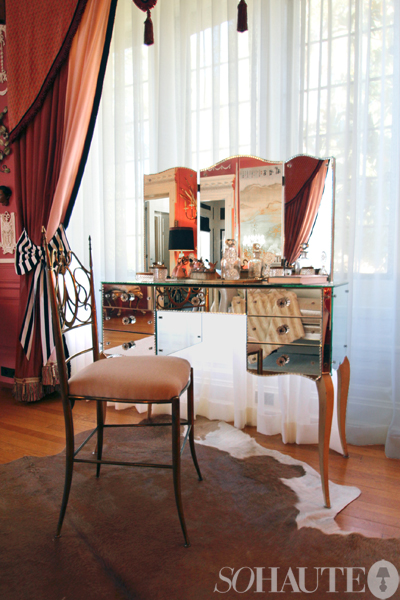 Guest Suite – Suzanne Rheinstein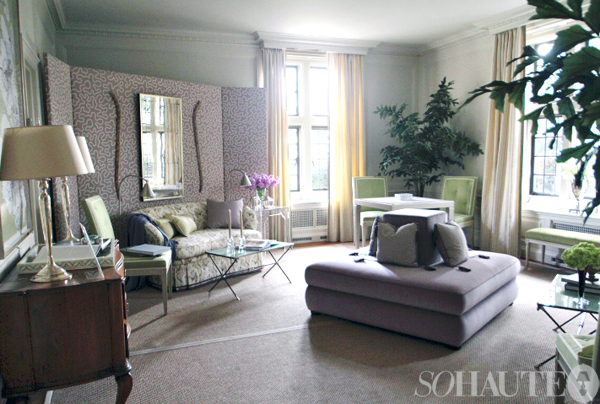 Rumor has it that the Greystone mansion has been haunted since 1929 when a scandalous murder-suicide took place…a story that only adds to the intrigue of this historic estate. Designer Suzanne Rheinstein designed the infamous 'murder room' which she transformed into an elegant guest suite. The furnishings are from her popular LA Shop Hollyhock and the fabrics from her Lee Jofa collection.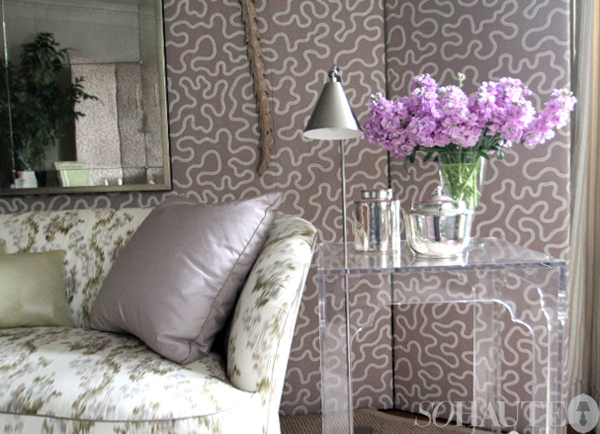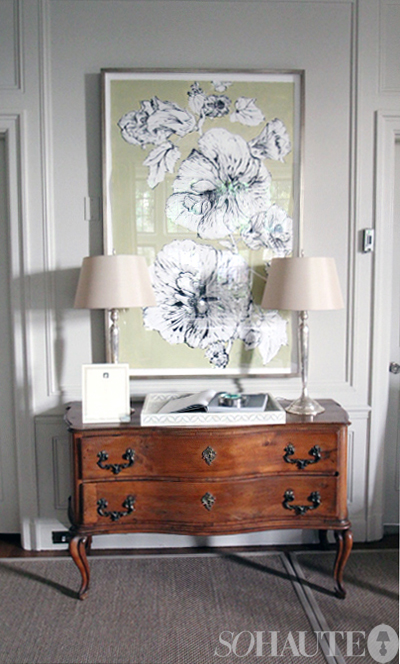 Social Secretary's Room & Upstairs Kitchen – Kathryn Ireland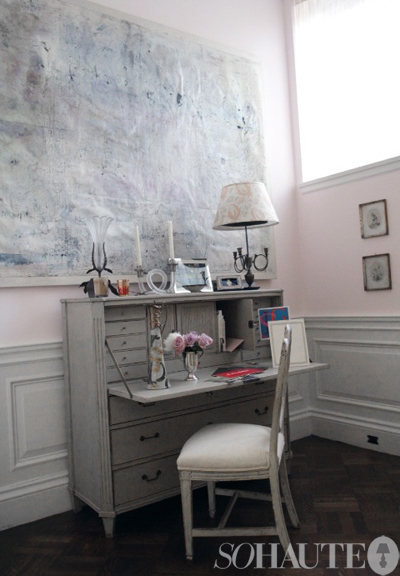 Million Dollar Decorator Kathryn Ireland decorated two small but chic spaces at Greystone which included a secretary's nook and the upstairs kitchen. The secretary's nook was another one of my favorite spaces in the house and although small on space, it was definitely big on style. This beautiful Swedish secretary my favorite piece and I love how it was impeccably styled with family photos and objets. The modern abstract artwork above it provided the perfect old and new juxtaposition.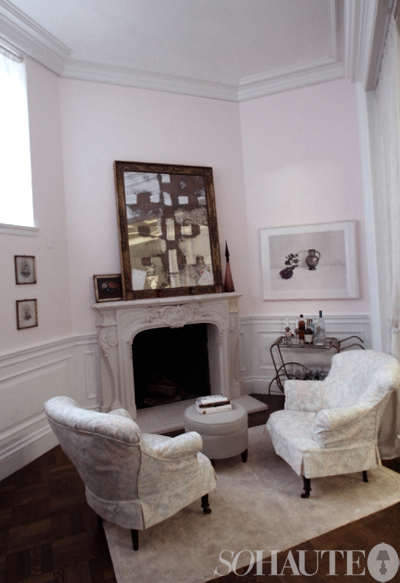 Opposite the desk is this cozy seating area that's perfect for a relaxing drink by the fire. The English armchairs slipcovered in Kathryn's fabric are from her shop on Almont Drive.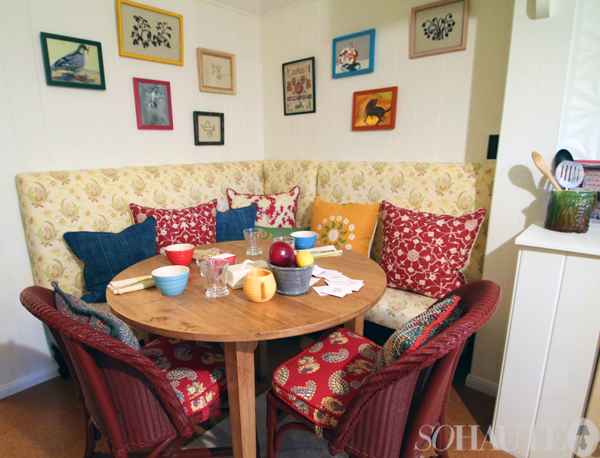 I had a chance to interview Kathryn for a fun project that I'll be posting about in the new year and during our chat she gave me the full scoop on her kitchen design for Greystone. Kathryn's design for the home's upstairs kitchen was modeled after grand old English estates that would traditionally have a separate kitchen for the nanny to fix her meals own meals and also serve the children breakfast. The space is perfectly reflective of Kathryn's signature bohemian style and her colorful fabrics used throughout added such a vibrancy to a space that was previously rather dull.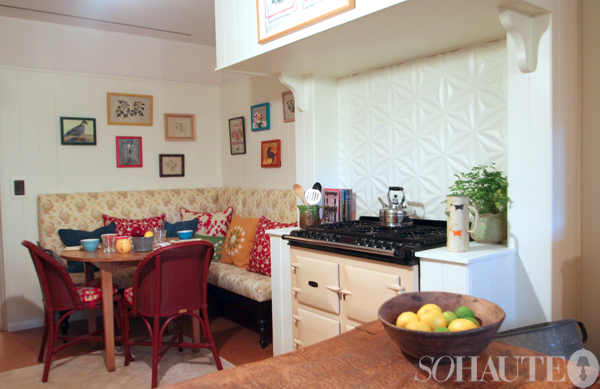 Because the home is a historic landmark much of its original architecture, including the kitchen cabinetry and counter tops, must remain preserved so Kathryn had to work around numerous limitations. She used a checkered fabric to create a skirt for the lower cabinetry and a matching inner curtain for the upper cabinets.  Here popular Marrakech fabric was used to create a roman shade over the kitchen's windows. The space was effortlessly styled with family friendly touches like bowls of cereal on the table and even some of the pottery that her kids had made in school over the years.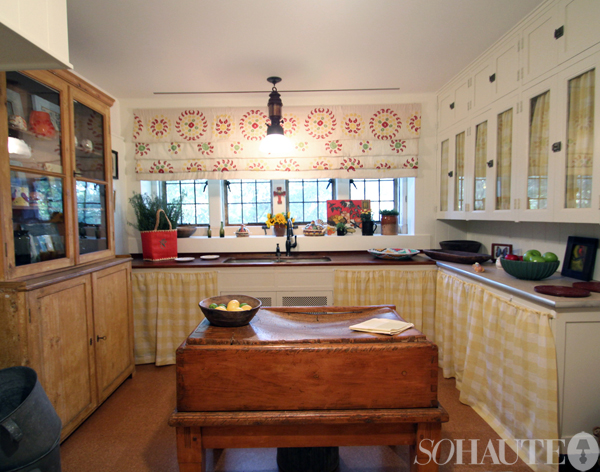 West Grand Hall – Wendy Schwartz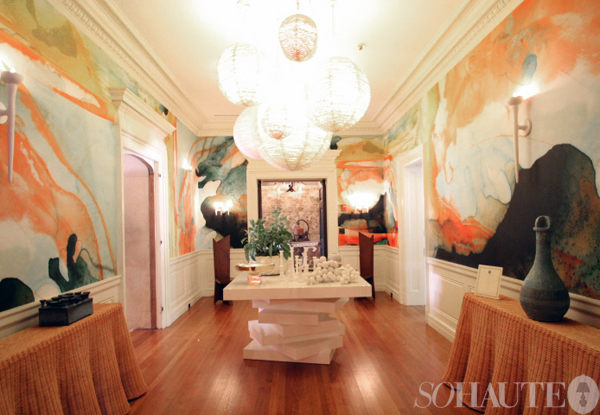 Wendy Schwartz and her design partner Kristi Bender were newcomers to Greystone and designed a spectacular upstairs grand hall for the home's west wing. I was obsessed with colorful abstract watercolor wall covering from Black Crow Studios which provides a modern contrast to the homes original mouldings. And the wall covering is actually removable! Many of the other pieces in this space were from CuffHome a – newly launched line of custom furnishings, accessories and curated vintage from Wendy Schwartz Design. One of the standout cuffhome pices was this sulptural rope covered chandelier above the console table which is available in the CuffHome shop.

Girl's Room – Oliver Furth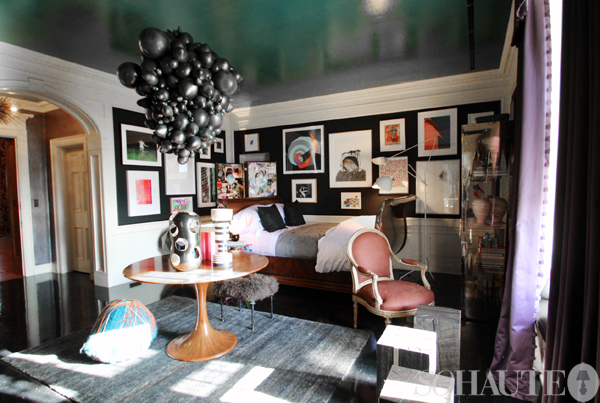 Oliver Furth designed a teen girl's bedroom which was such a fun space! I loved the salon style art wall and the whimsical pendant sculpture above the console by Elyse Graham which is made with balloons.  I also thought the high gloss ceiling was quite fabulous as well as the graphite wool upholstered walls. I wish I had a room like this when I was a teenager!

The Twilight Room – Kendall Wilkinson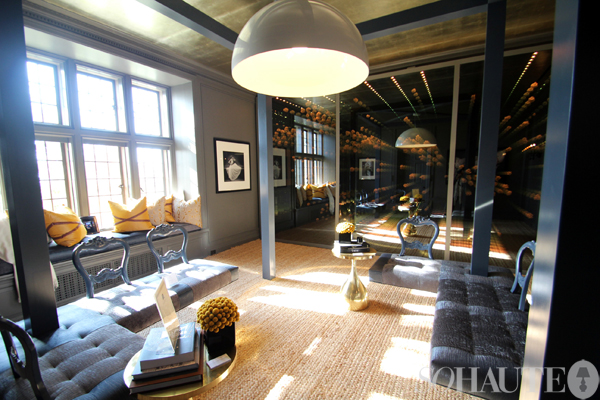 Last but not least, here is the "twilight room" designed by San Francisco interior designer Kendall Wilkinson. Quite conceptual in its design, the twilight room's highlight is an infinity mirror installation filled with flowers. I'd never seen anything like it before.
Maison de Luxe is in its final week so be sure to check it out before its close on December 22nd. 22nd. Click here for a link to purchase tickets.