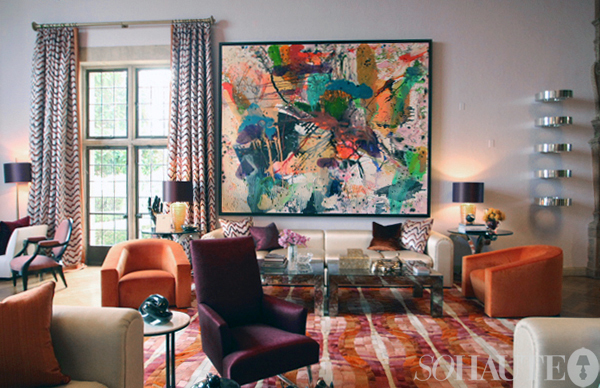 The first floor living room at Maison de Luxe designed by Jamie Drake
I just returned from LA where I was invited by Luxe Interiors + Design to attend the opening of the Maison de Luxe show house at the storied Greystone Mansion in Beverly Hills. Luxe editor-in-chief Pamela Jaccarino tapped 26 of the country's top interior designers to re-imagine the living spaces of this 46,000 square foot landmark and each room was completely captivating! It was truly one of the best lineups of design talent and one of the most stunning show houses I've ever seen. I took a ton of pictures…so many in fact that I'm going to split them up into three posts highlighting my favorite rooms and I'm so excited to share them with you. Let's take a peek inside Maison de Luxe starting with the exquisite first floor living room designed by Jamie Drake!

First Floor Living Room – Jamie Drake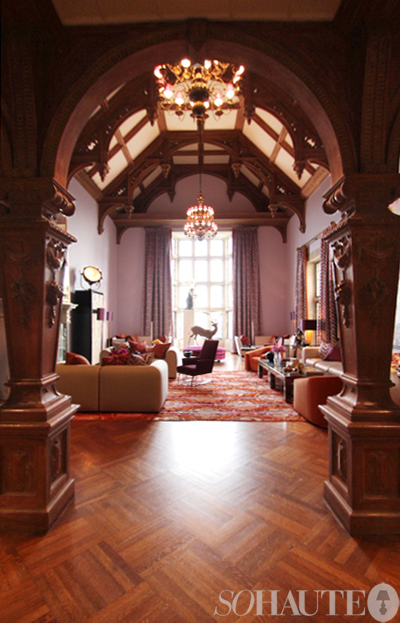 This is the spectacular entry to the room. The house itself was beautifully architected with intricate moldings, ceiling beams and many stunning details.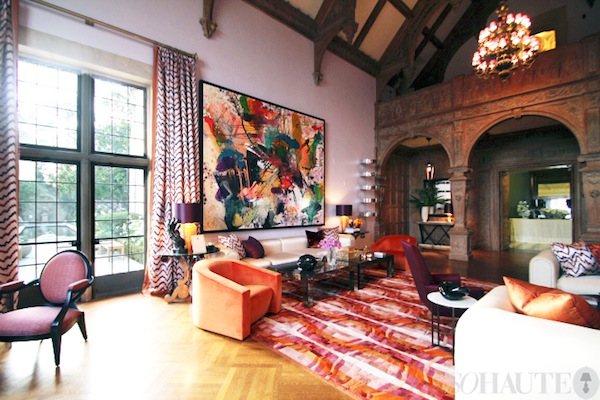 Jamie's room is one of the crowning jewels of Maison de Luxe. Known for his bold use of color, Jamie created a vibrant space with stunning visual details.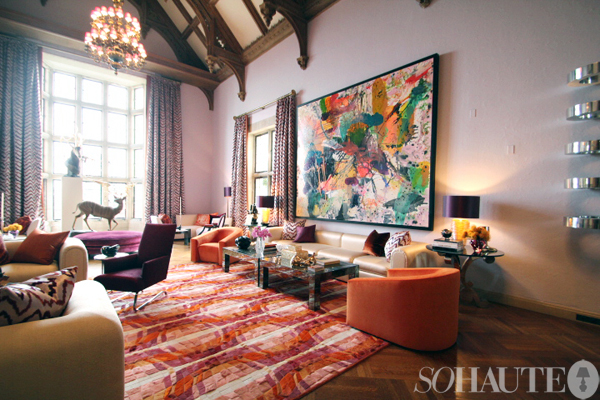 Jamie's room showcased a sick assemblage of artwork including the insane, oversized painting by Lana Gomez above the sofa and the Peter Gronquist scupltures in the window which feature taxidermied deer with 24K gold plated machine guns as antlers.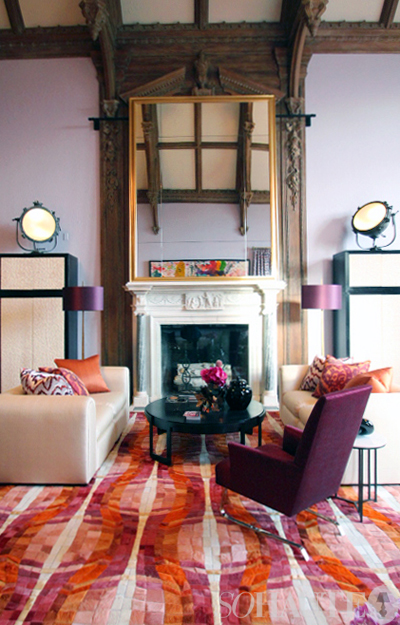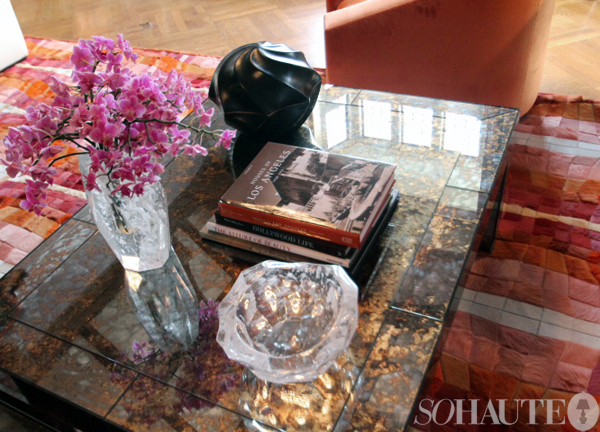 Card Room & Grand Hall – Michelle Nussbaumer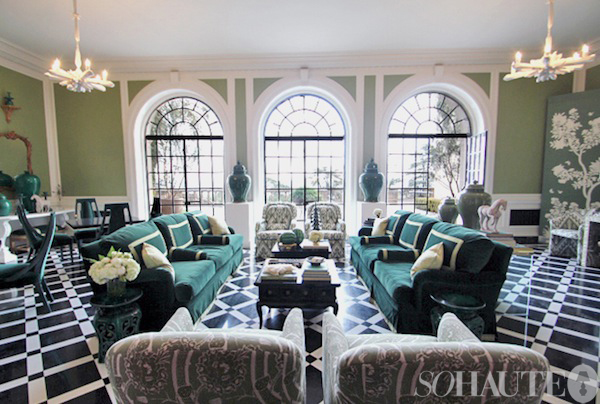 Dallas interior designer Michelle Nussbaumer designed the grand hall/card room which is front and center when you walk through the doors of Greystone so she pulled out all the stops to create a truly captivating space.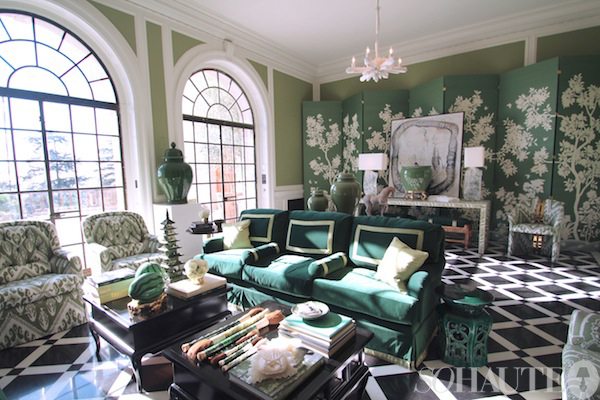 Michelle's room featured furniture from her must-visit shop Celyon et Cie as well as fabrics from Duralee and her own collection. The textiles are what really makes this room standout. The wall covering is from Gracie Studio.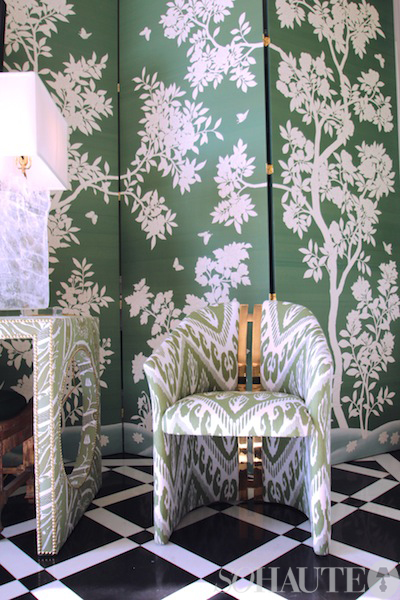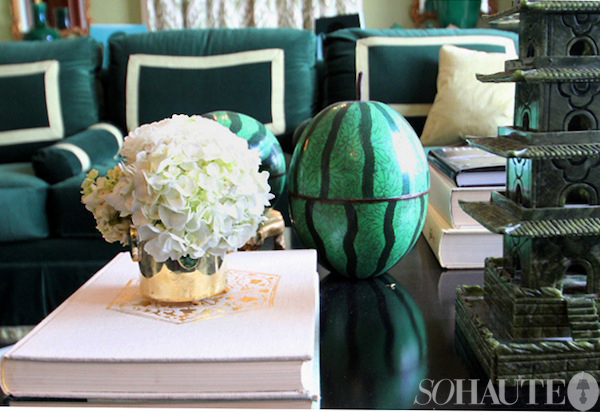 Mr. Doheny's Bedroom & Massage Room – Martyn Lawrence Bullard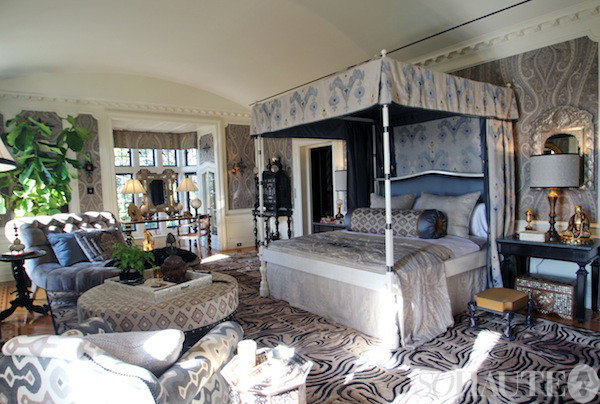 If you're as much of a fan of Martyn Lawrence Bullard as I am you'll know there's only one phrase that seems appropriate to describe this space: "totally delicious!"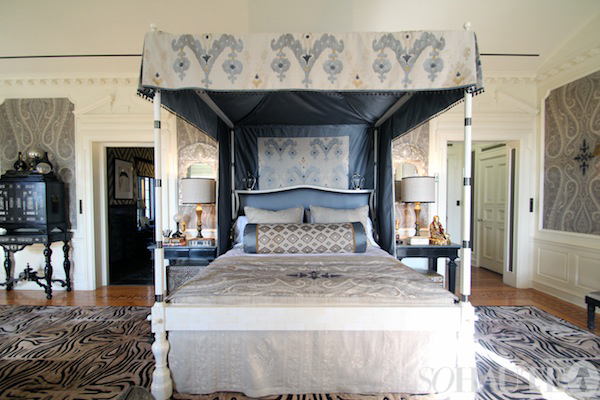 The star of Martyn's bedroom for Maison de Luxe was most certainly the textiles which are from his recently launched collection for Schumacher. I love the way he mixed so many interesting patterns which all work well together thanks to a unified palette of neutral tones. I also loved the faux ivory "Jaipur" bed from Martyn's furniture collection which is covered in a canopy made from his Schumacher fabrics.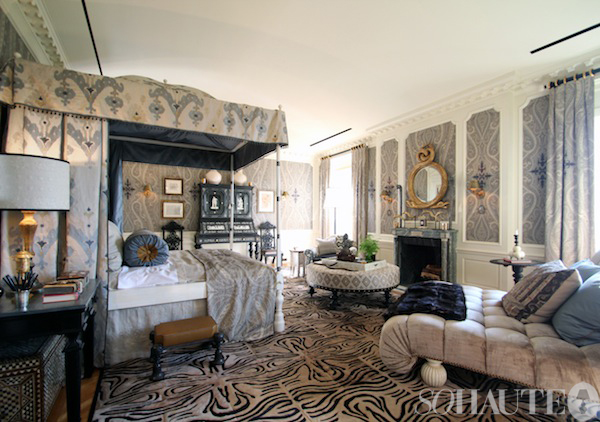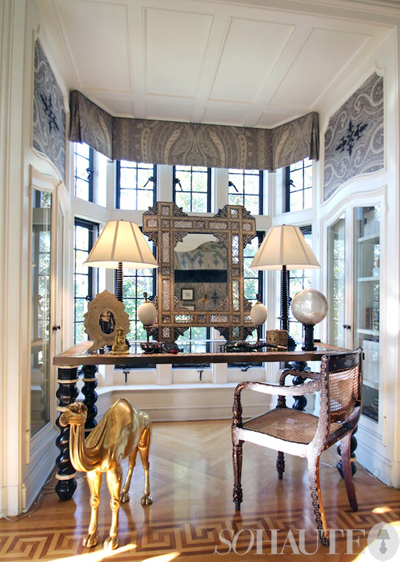 One of the things I love so much about Martyn's signature style is how he infuses a sense of global style into his rooms. Here, there are many exotic accents such as intricate inlaid mirror and chair and perfectly chosen desk and accessories which lend an eclectic feeling to this bedroom. This was definitely one of my favorite rooms in the showhouse.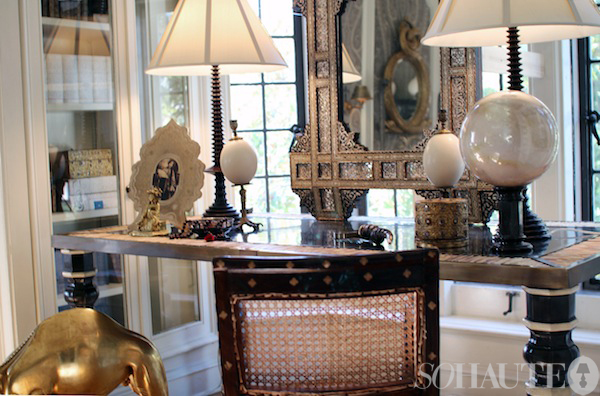 I'm sure you know that Martyn stars in the hit Bravo series Million Dollar Decorators and at the opening gala for Maison de Luxe Martyn and the rest of the cast were being followed around by camera crews filming season two of the series which was quite fun to watch.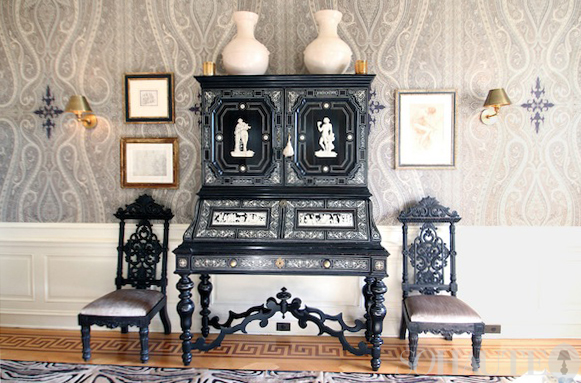 And of course no decadent master suite is complete without a personal massage room…draped in Hermes no less! (They don't call Martyn a Million Dollar Decorator for nothing – ha!) Stay tuned for upcoming posts highlighting more of the Maison de Luxe showhouse including rooms by Nathan Turner, Woodson & Rummerfield, Kathryn Ireland, Phillip Gorrivan and more. And if you're in LA be sure to check out the showhouse which is on view December 2nd-22nd. Admission is $35 and proceeds benefit the Friends of Greystone which manage the preservation of this historic mansion. For more details on the show house including the full list of participating designers and link to purchase tickets click here.
All photos by Nicole Gibbons for So Haute