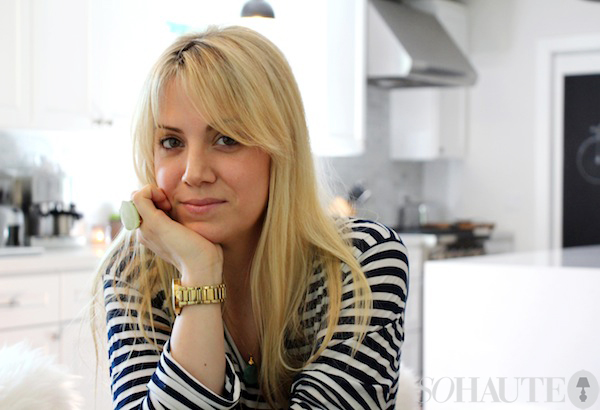 Meet Amber Lewis – LA based interior designer, wife, mother and blogger. After discovering Amber's blog earlier this year, it quickly became one of my favorites. I loved reading about all of the uber creative DIY projects she's tackled in her home and I instantly connected with her eclectic sense of style and her witty sense of humor. She seemed like a ton of fun so during a recent visit to LA I sent her an email telling her how much I loved her blog and the next morning I found myself at her super cute house in the Valley chatting it up in her kitchen and learning all about her journey in design.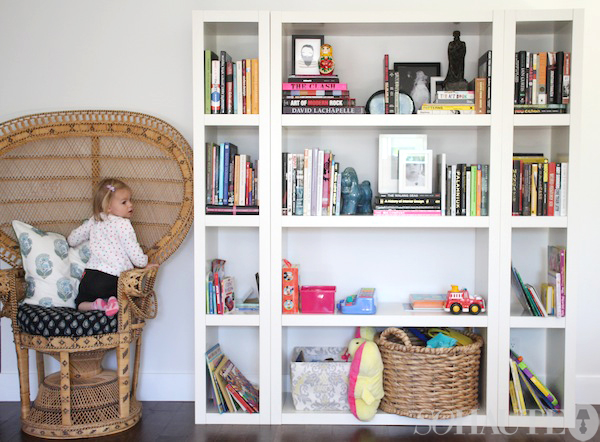 Amber always knew she wanted to pursue a career in design so after high school she went off to study interior design at UCLA where she attended until life intervened and brought her straight out of the college bubble and into the real world."I went to school got pregnant and never finished" she told me. Still, that didn't deter her from pursuing her career so rather than go back to school she decided to start working right away and got a job working with Malibu based designer Kirsten Marie. She says she received a far better education working hands on in the design world than she ever could have in four years of design school and believes that true talent cannot be learned. As she put it, "sometimes you either have it or you don't." After working for Kirsten for nearly six years, Amber left this April to run her own design business full-time.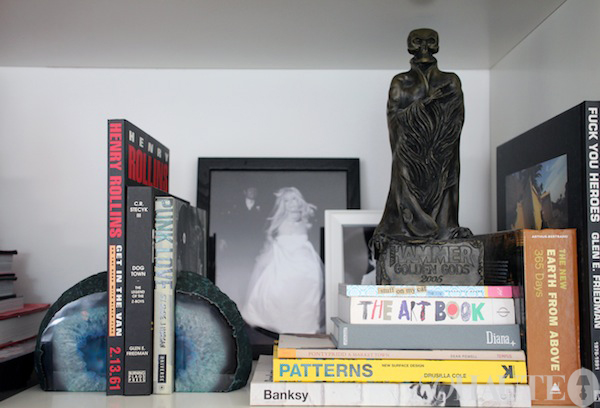 Nowadays, Amber has a seemingly perfect life. She's the quintessential pretty girl with a handsome British rocker husband, an adorable baby daughter named Gwyneth and a growing career that she says has really begun to blossom thanks to the exposure she's gained through her blog. Amber works from home which is a sunny and eclectic space that is layerd with lots of texture, pattern and colorful textiles and is full of affordable finds. She was kind enough to open up her home and I'm excited to share her fabulous house tour. It's chock full of great DIY and budget decorating ideas!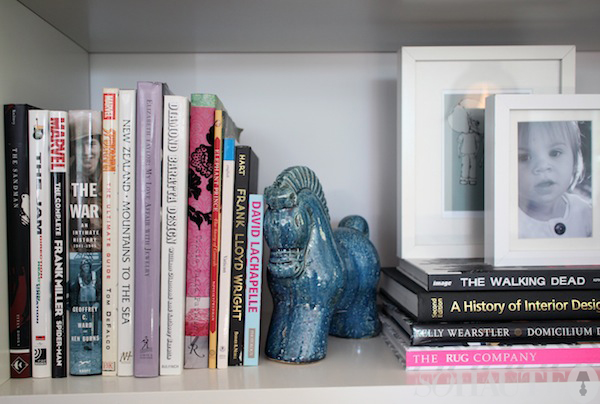 Amber and her husband Mike puchased their home in September 2010 and before that the couple lived in a Santa Monica rental for 6 years before deciding they wanted buy and gain more space for their growing family. They chose the Valley where they could a better value than they could in the heart of Los Angeles.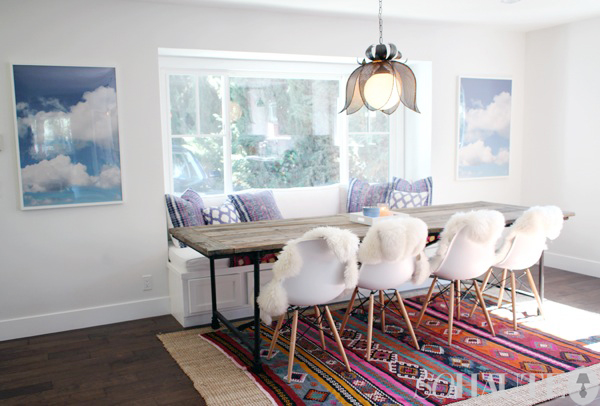 Amber says her house had a dated 1960s interior when they first moved in so she decided to gut the space and start fresh. Here is a shot of her dining area which showcases two of her proud DIY projects. On either side of the table hangs her simple but brilliant "cloud art"made with photos of clouds that she took herself. She snapped the pictures out the window of her car while out on a drive with her hubby and had them blown up as large scale prints which she placed in inexpensive frames from Ikea. Another fab DIY project is the banquette which Amber and Mike built  (see the DIY here) using inexpensive prefabricated kitchen cabinetry from Lowe's and had a custom cushion made to fit on top.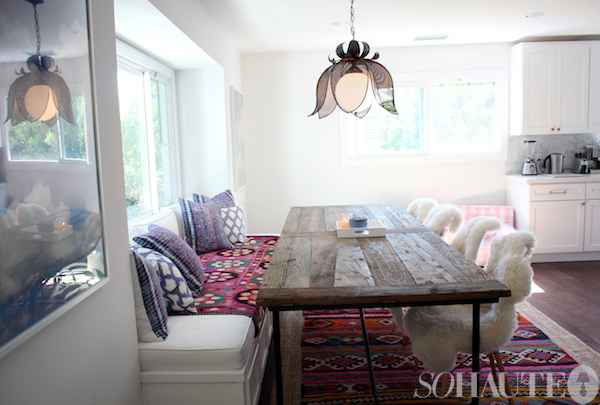 Her dining table, she says, was a splurge from Restoration Hardware and the mid-century inspired dining chairs were a stylish steal from K Mart! She topped each chair with sheepskin rugs from Ikea and layered a suzani over the banquette cushion for a pop of color. She also incorporated custom throw pillows made from ikat and vintage Asian textiles she found at the  the Long Beach flea market. On the floor, a vintage Turkish kilim rug purchased on eBay is layered on top of a natural fiber rug. (Haute tip: Layering rugs is a great decorators trick for adding depth and texture!) The lotus flower pendant over the table was a score from a vintage shop in Pasadena. It was originally a tacky gold color so she painted it bronze and now it suits the space perfectly.
.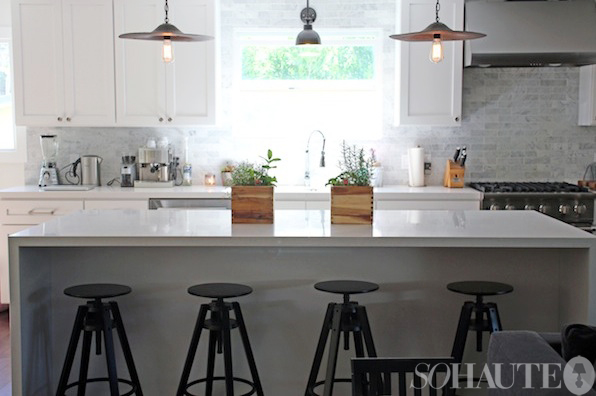 Amber knocked down a wall that once divided the kitchen from the dining and living areas and created an open floor plan with an 8-foot caeserstone island at the center. White cabinetry and carrerra marble subway tiles lend a classic feel to this pristine kitchen. The stools are from Ikea and the pendant above the island was made out of old tire parts purchased at an antique store. The light fixture above the sink was made from a task lamp.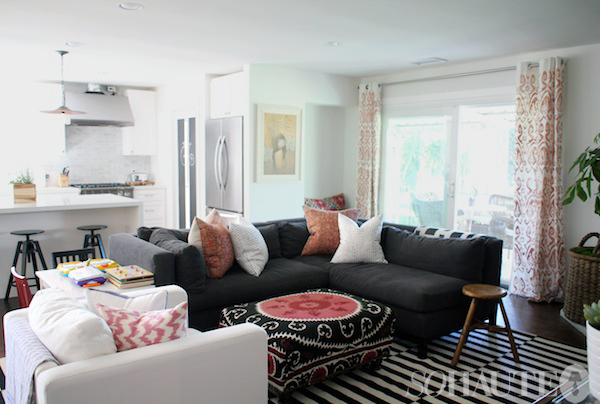 In the living room a sectional sofa provides a cozy place for the family to lounge. The dhurrie rug is from Ikea and the suzani covered ottoman was the result of a DIY makeover on a thrift store find. The white chair is from Ikea and the assemblage of throw pillows help brighten up the space.  In the background Ikea curtains with a hand stenciled pattern frame the windows. (DIY here)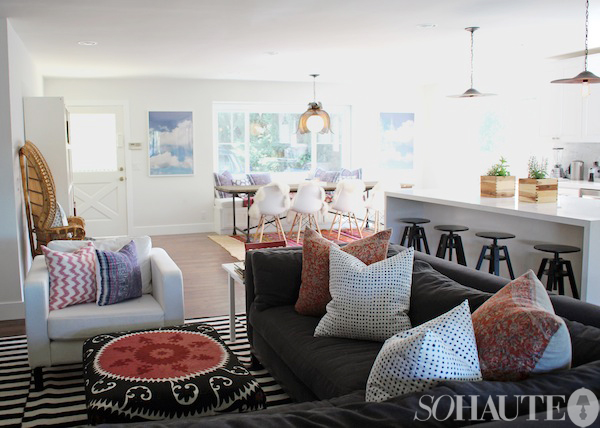 Here's an opposite view of the living area so you can get a better sense of the layout…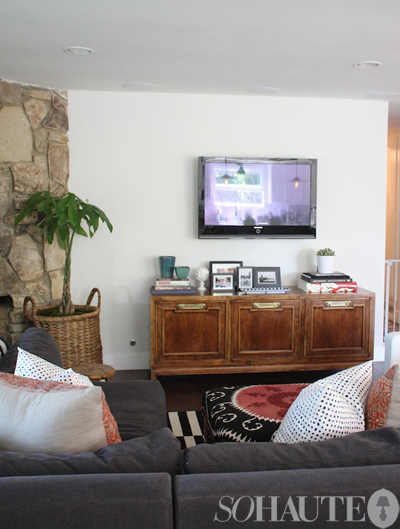 Opposite the sofa is a vintage credenza which serves as a media stand.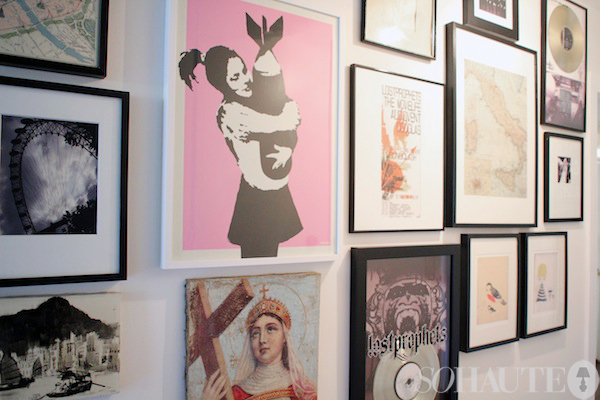 The hallway leading to the bedrooms is features a collected assortment of artwork and other memorabilia that Amber and Mike have collected over the years. "The girl holding the bomb is a "Banksy" signed and everything.  My Husband bought it in London at a place called Santa's Ghetto in 2003. We also have some Ashley G prints from 2005 that I still love. Then we have some of my husbands gold records and plaques up as well as some of his touring posters from over the years."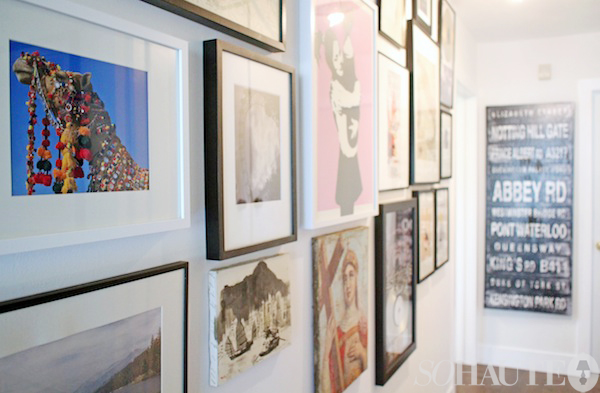 "I love old photography and have a couple of creepy old photos of other people..the one on the top center is of an old bald guy playing the piano. It's creepy but romantic. Some wedding photos are up there as well."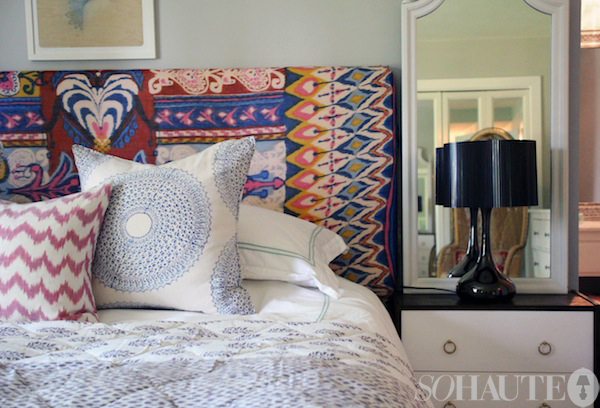 In the master bedroom more beautiful textiles take center stage. Amber draped a brightly colored ikat scarf from H&M over  a simple canvas upholstered headboard from Nate Berkus for HSN. The pillows and the quilt are from John Robshaw and she paired them with an Indian Paisley duvet from West Elm and classic embroidered stripe bedding from Sferra. Her nightstand is a simple Ikea chest which she freshened up with new hardware and black paint. The lamps are from CB2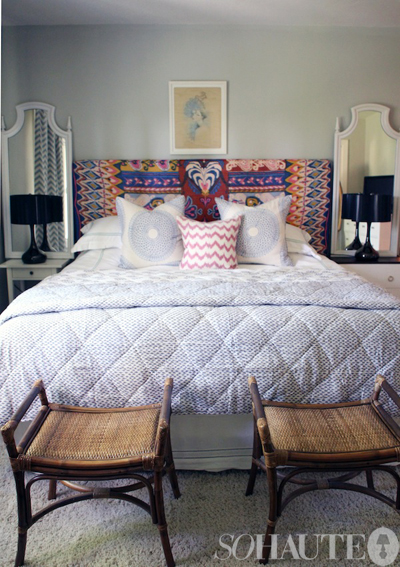 The pair of benches at the foot of her bead were finds from HomeGoods and the artwork above the bed is from one of Amber's favorite artists named Audrey Kawasaki. The mirrors on either side of the bed were from a thrift store and she paid just $25 for the pair. "They were in bad shape so we sanded them and painted them white. (Haute Tip: painting wood furniture white is a great way to hide distress and make something old and scuffed look fresh again.)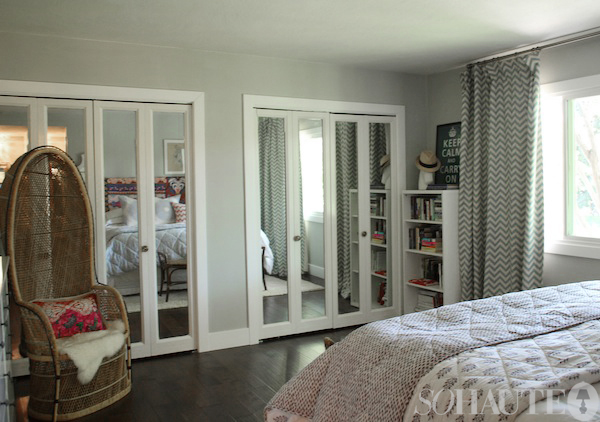 Across the room is a chic rattan canopy chair that Amber found at the Salvation Army. The Chevron fabric on her curtains is from Premiere Prints. The horse head sculpture is from Jonathan Adler.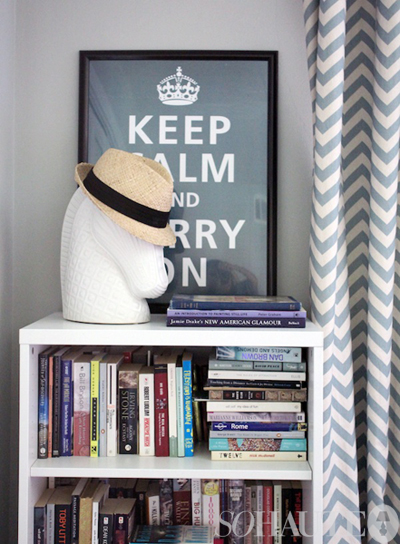 Thanks so much Amer for sharing a tour of your home with So Haute! To see more stylish DIY ideas from Amber visit her blog here!