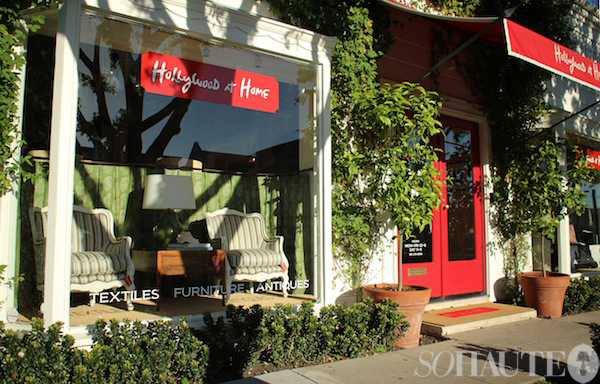 People always ask me who my favorite interior designers are and one person that's always on my list is British born, LA based designer Peter Dunham. I just love the global influences he brings into his work, the way he mixes patterns and texture, and the fact that his spaces exude refinement yet feel totally un-stuffy. I'm also a big fan of his textile line which is heavily influenced by Islamic and Indian culture. Peter has an amazing shop called Hollywood at Home, located in the heart of LA's design district, where he sells his own fabrics and furniture lines along with antiques, art, accessories and textiles from several other amazing brands that share his worldly point of view. Hollywood at Home is a must-visit LA design destination so I always make time to stop by and see what's new when I'm in town. Earlier this spring I popped into the shop unannounced, just before it was closing for the day and found Peter barefoot, wearing a white tee and jeans, huddled around a giant table working with his team on details for a client project. His presence was a true personification of the way he approaches his designs – casually elegant, relaxed and completely approachable. Peter was kind enough give me a tour of what's new and let me snap a few photos of his impeccably decorated shop. Have a look at the photos along with a few tips for how you can incorporate some of his styling ideas into your own home!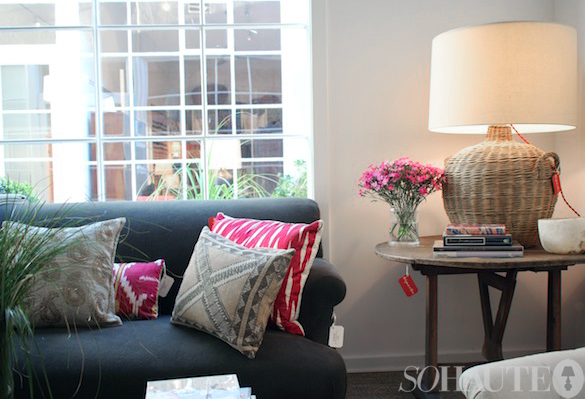 Hollywood at Home actually occupies two storefronts at 724 and 750 N. La Cienega Blvd. This is his 750 space which is newer and mainly houses his furniture offerings.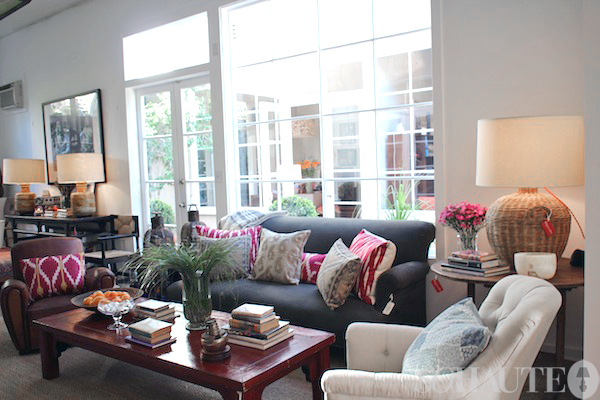 I love this sitting area. One way to add a punch to a neutral space is to bring in accessories, like these brightly colored throw pillows for a pop of color.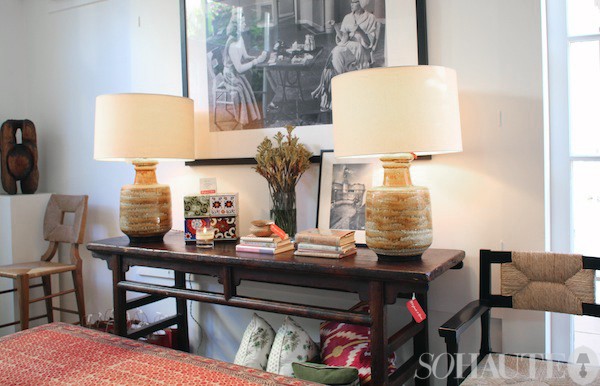 In the foreground of this photo you can see a peek of Peter's new Lexington Ottoman and on the right is the NYAC armchair, a reproduction of a rush chair once found at the Downtown New York Athletic Club.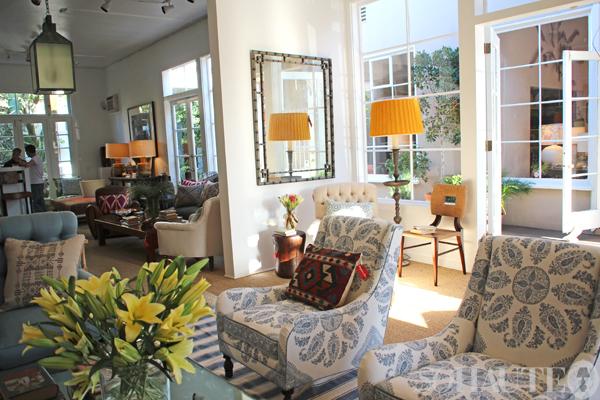 Here are a pair of Dunham's Cole chair upholstered in his Samarkand fabric.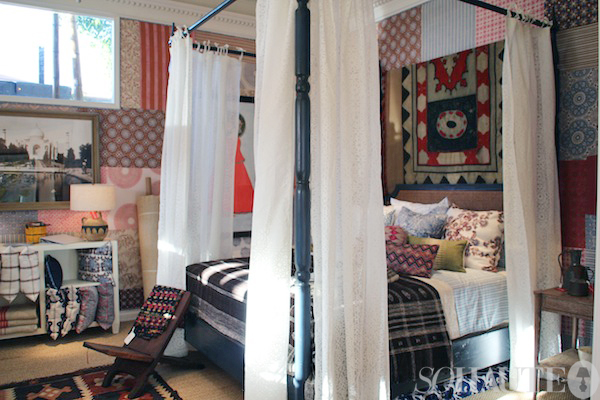 This is the space located at 724 N. La Cienega which houses mostly textiles and accessories. I absolutely loved this bedroom vignette. A common decorating myth is that you can't mix up too many patterns and here this myth is completely dispelled as  an array of mismatched John Robshaw fabrics patched together somehow all works together quite nicely. It evokes the feeling of a handmade patchwork quilt. The key is to mixing and matching such detailed pattern is using fabrics in the same color palettes like Peter has done here.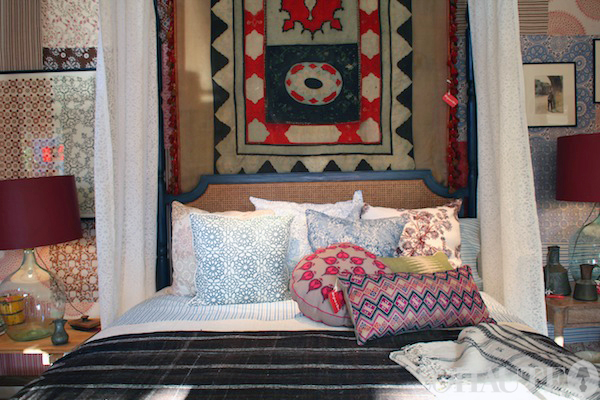 I also love the look of a well-dressed bed full of cozy throw pillows. It makes a bed look so much more inviting.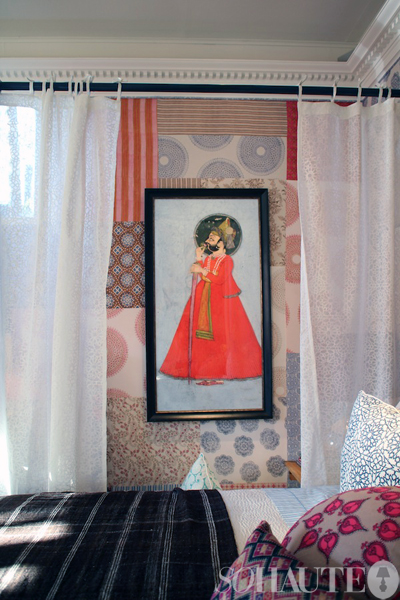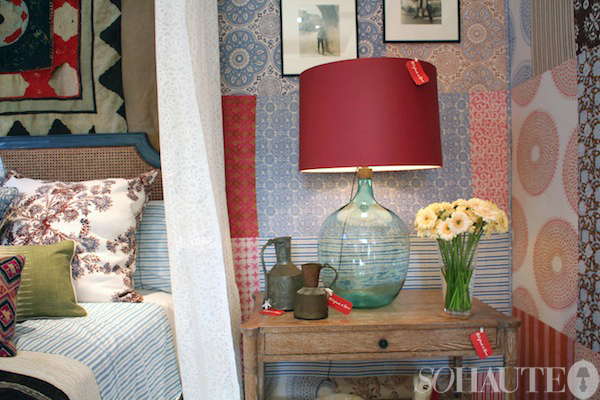 I often say that good design is in the details. Here a vase of daises brightens up a rustic bedside table.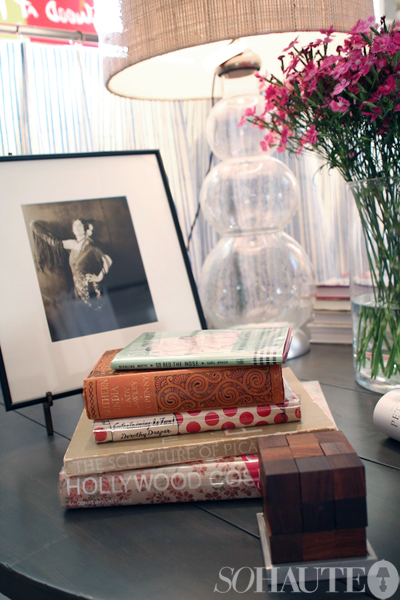 Accessorizing with books is another great styling tip. Here vintage hardcover books add a pop of color and pattern, and added detail to this tablescape…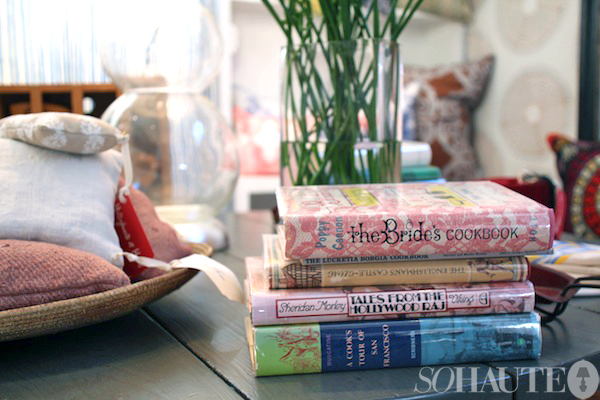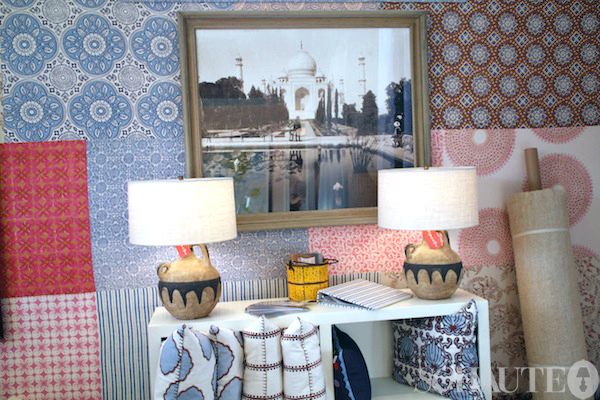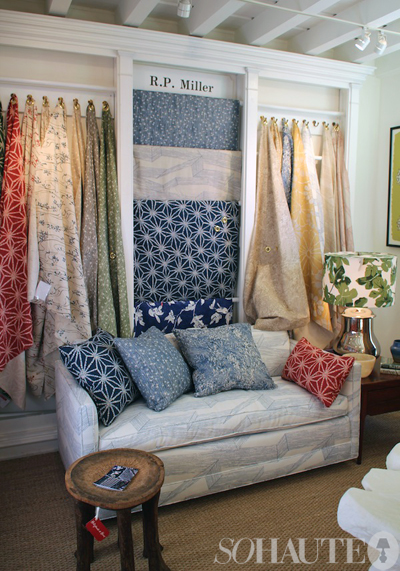 R.P. Miller is one of the newest fabric lines offered at Hollywood at Home. The line incorporates Japanese inspired patterns hand printed on Belgian linen.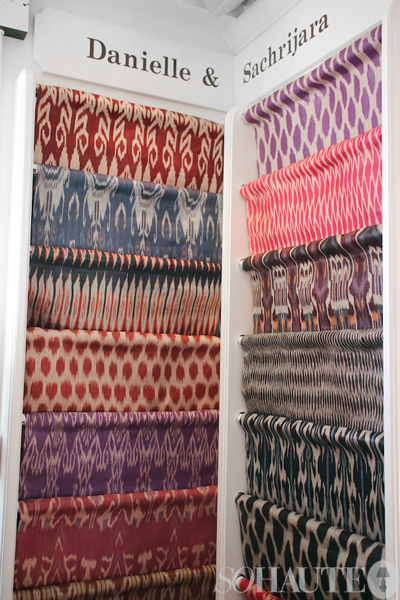 I was also drawn to these vibrant ikats from Danielle & Sachrijara…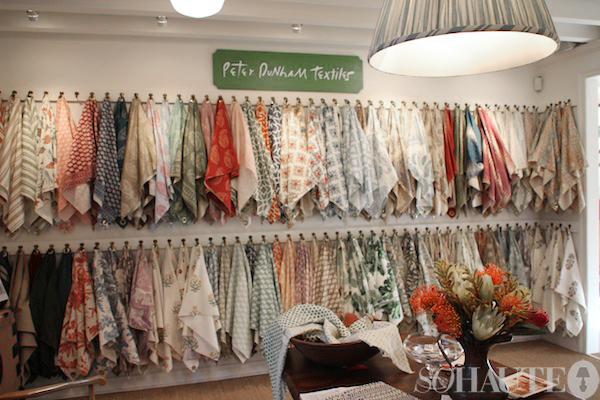 Browsing the wall of Peter's gorgeous fabric designs is like taking a walk through textile heaven!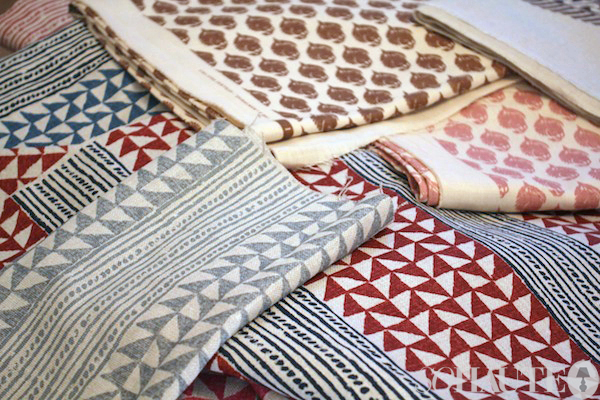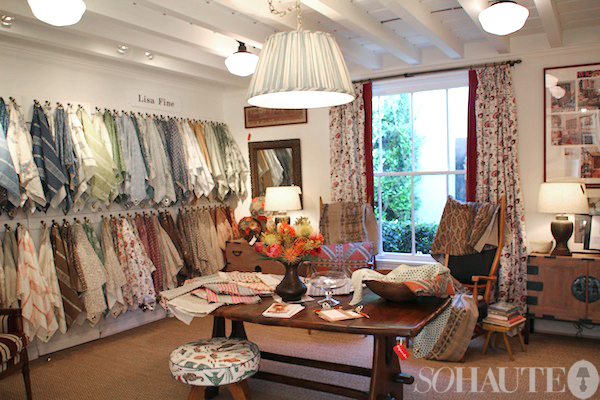 For more info on Hollywood at Home visit the website here.
All photos are by Nicole Gibbons