Very recently I spent 11 days in LA, doing a little work, having a bit of fun and meeting some pretty amazing people including my design idol Windsor Smith whom I'm pictured with above. Right before I headed to the airport to jet back to New York I was able to spend some time with Windsor for a long chat about her design work and career as well as her newest venture, Room in a Box. I was also lucky enough to get a grand tour of her AMAZING home that we all saw and loved in House Beautiful. I almost had to pinch myself! I've spent a ton of time in LA since I was a young girl and this was truly one of the best trips I've had. During my days off from working I totally immersed myself in LA's design scene and packed my schedule with a slew of meetings and visits to some of LA's best design shops…all of which I can't wait to share with you! Here are a few highlights from my trip…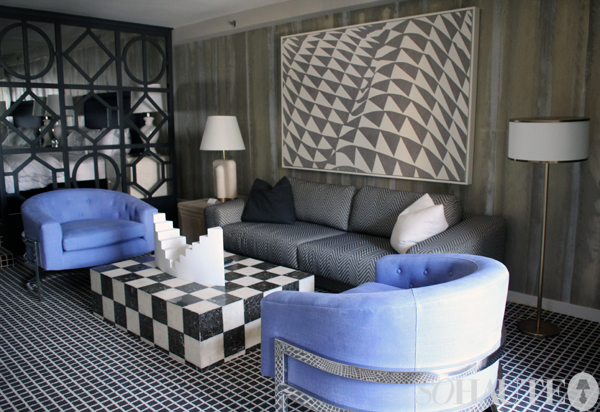 My room at the Chamberlain West Hollywood
I stayed at my favorite hotel which is the Chamberlain West Hollywood and since I hadn't stayed there in about a year, I was pleasantly surprised to find that the rooms and bathrooms had been re-decorated.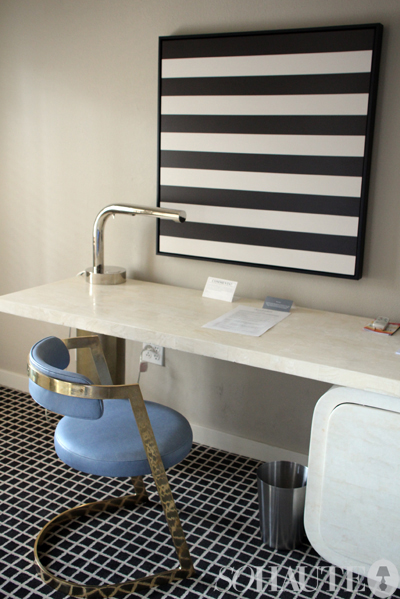 The desk area in my room at the Chamberlain West Hollywood
The rooms still have that mid century modern vibe going on but they're a bit more tailored with more pops of color than before.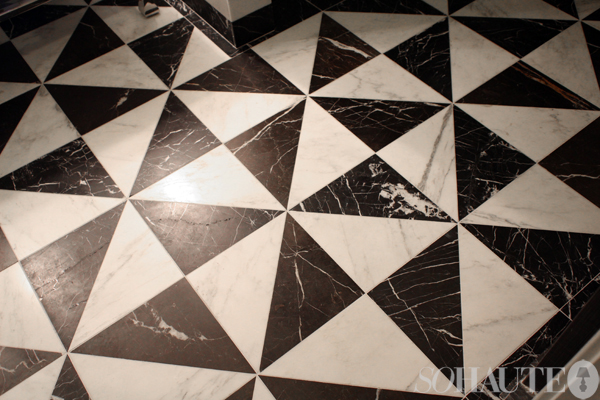 Beautiful bathroom floors at the Chamberlain West Hollywood
I was totally inspired by the pattern of the tiles as well as the veining of the marble on the bathroom floors.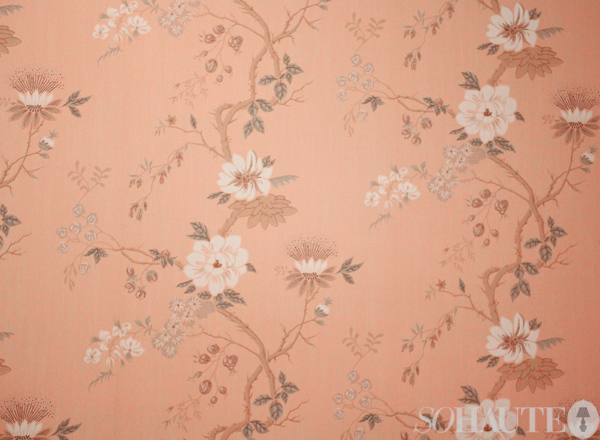 The wallpaper in interior designer Kristen Panitch's Santa Monica office

I also had an opportunity to visit the home and office of Kristen Panitch, who is another one of my favorite designers. Above is a sneak peek at the wallpaper in her office. Can you say STUNNING?! Kristen was such a delight and I really enjoyed getting to know her. I also got a little peek inside her home which you'll soon see in one of your favorite shelter magazines! I'll be sharing a few more peeks of her gorgeous office as well as a recap of our conversation in an upcoming post so stay tuned!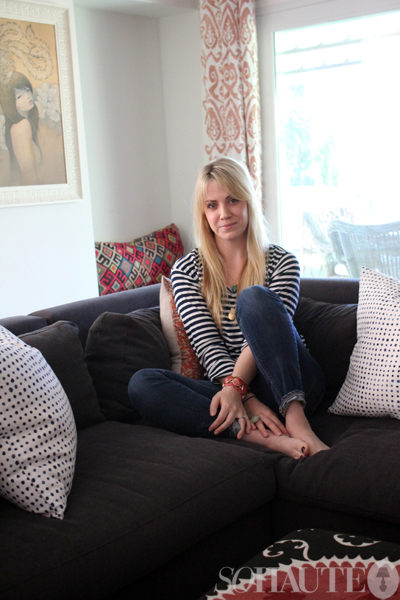 Amber Lewis of Amber Interiors

During my trip I also had the pleasure of meeting a couple of my favorite bloggers whom I've long admired. Above is interior designer Amber Lewis who you may know from her witty and popular blog Amber Interiors. This woman is beautiful,  funny and totally talented. She can DIY like nobody's business and not only does she have an amazing home, she also happens to have the most adorable family ever. Another blogger that I was totally psyched to meet was Michal Spitzer from the blog Style Curator. She and I have been Twitter buddies for like ever so I was beyond excited to meet her in person!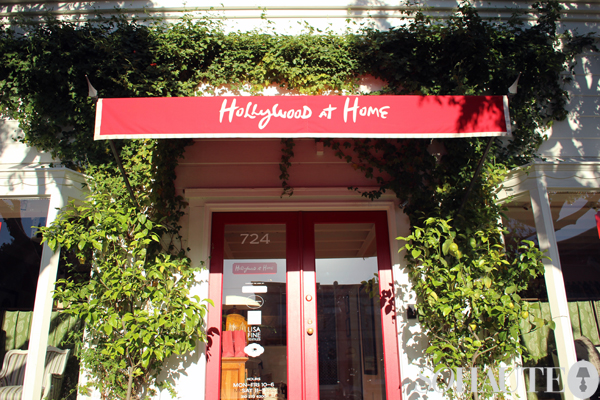 Peter Dunham's Hollywood at Home
In between all of my meetings I checked out a few must-see design shop and art galleries including Hollywood at Home ( one of my favorites!), Hillary Thomas' newly opened Chic Shop, Nickey Kehoe and M+B gallery to name a few.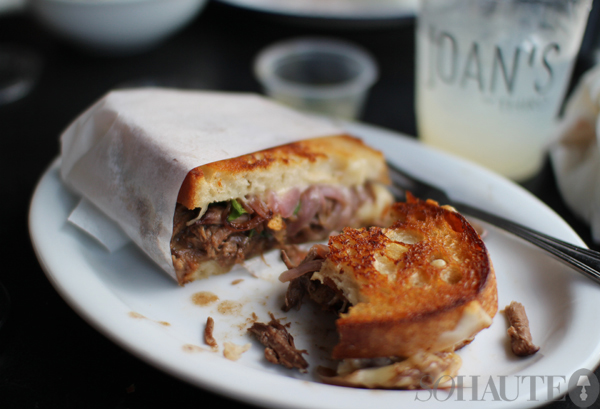 The short rib sandwich at Joan's on Third
And what's a great trip without great food so of course I indulged in a few amazing meals at some of my favorite places to eat in LA! Above is a to-die-for short rib sandwich from Joan's on Third which I've blogged about before. I ate two of these buttery slices of heaven while in town.
I also had an amazing dinner at the newly remodeled il Sole in West Hollywood. (Get the fettuccine with prawns in a light spicy tomato sauce if you go!)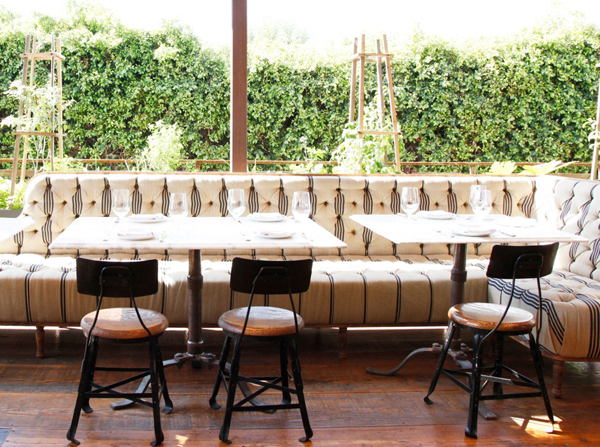 Eveleigh. Photo via Eveleigh
Another place I checked out for dinner is a relatively new restaurant that's been getting a ton of buzz called Eveleigh which has a great atmosphere, amazing drinks and pretty good food. I think I must have hit up all of LA's trendiest and most buzzworthy places because in addition to the above I ate lots of fish tacos, about a half dozen cookies from Milk, exactly three cupcakes from Sprinkles, one Umami Burger (which I found slightly disappointing) and more sugary sweet lemonades from Lemonade than I can count. And after about six days of straight gluttony I bought into another trendy 'to do' and went on a juice cleanse! (As If I couldn't buy anymore into the hype lol!)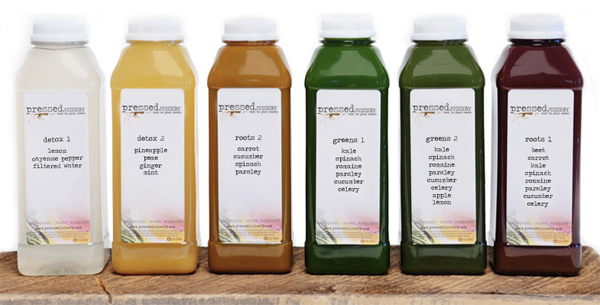 Juices from the Pressed Juicery
I paid a visit to the Pressed Juicery in Brentwood and got 2 days worth of cleansing and detoxifying juices which I consumed at the tail end of my trip and I have to say the juices exceeded my expectations. They were a little on the expensive side but really yummy and refreshing. I didn't feel like I was missing out on food and I felt so much better after just 2 days of a mostly liquid diet. (I cheated a little and had salads for dinner!) I would highly recommend checking out the Pressed Juicery or a similar cleanse available in your area.
Finally, I made it my mission to go see the documentary Bill Cunningham New York while in LA (ironic) since I wasn't able to see it during the film's limited run in New York. The film gave a poignant look at the life and career of the iconic New York Times photographer and I was so inspired by Bill's intense passion for staying true to himself and doing what he loves. Go see it if you can! Also – be sure to check back over the next few weeks as I'll be posting more in depth stories about my design adventures in LA including profiles on some of the incredible people I met and places I saw! Stay tuned!
All watermarked photos above were taken by Nicole Gibbons for So Haute