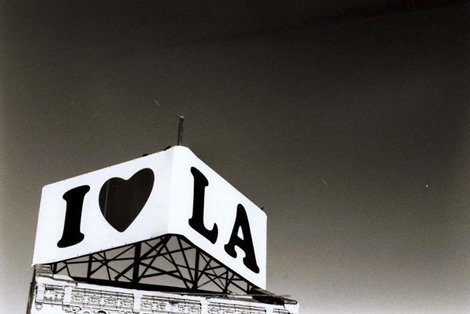 Photo: Mooncici's Etsy Shop
I recently returned from a week long trip to Los Angeles and I'm already wishing I was back there! I LOVE LA! I was in town for work and then extended my trip into a long weekend and had such an awesome time. I've been to LA many times over the years and never gave the city any serious thought but lately the sunshine, palm trees and laid back California lifestyle have begun to seduce me and I find myself daydreaming about living there. Here's a recap of my week long trip. The post is quite long so while you're reading, I'll be away plotting out my master plan to get to LA permanently:)
I usually stay at The Chamberlain whenever I'm in town but this time I decided to try the SLS Beverly Hills which is a relatively new hotel designed by Philipe Starck. The hotel is situated on La Cienega and San Vicente right near the Beverly Center mall and easily accessibly to West Hollywood, the Sunset strip and the La Cienega design district. The hotel's interiors are bold, sleek and modern and rumor has it Philipe Stark was given a $100million budget to design the property. Above is the guest lobby which leads into Tres, one of the hotel's restaurants. There is a separate lobby for visitors dining at The Bazaar, which is a popular restaurant also located within the SLS. One of the only drawbacks of the SLS (and this is totally subjective) is that it turns into a bit of a scene at night with all the people coming in and out of The Bazaar and you feel as though you're walking past a nightclub when you arrive to the hotel at night. Thank goodness for the separate lobbies! Another feature of note is the hotel's gift shop curated by Moss, the unique furnishings and accessories gallery based in Soho.
The guest rooms were minimal and chic although not necessarily practical. My room looked exactly like the the one above. It was actually quite dark and there were smoky gray mirrors on just about every wall surface including in the bathroom. It definitely looked cool but made simple tasks like putting on makeup a challenge! Still, the space was intimate and cozy and the bed comfortable enough to allow for a good night's sleep. And the service at the hotel was outstanding!
Perhaps the best feature of the SLS Beverlyl Hills is its rooftop pool area. On the left is a shallow 18 inch wading pool with cold, refreshing water and on the right is a slightly heated swimming pool.

Cabanas, lounge chairs, huge canopied daybeds and colorful Louis style armchairs by sixinch surround the pool creating a very stylish lounge like atmosphere designed for relaxation. As soon as I finished with all of my work obligations, I spent much of my free time here enjoying the sun! One not of caution is that on the weekends, the pool area gets a bit scene-y with loud music and a younger crowd…fun for people watching but not for relaxing. Overall though, I definitely enjoyed my stay at the SLS.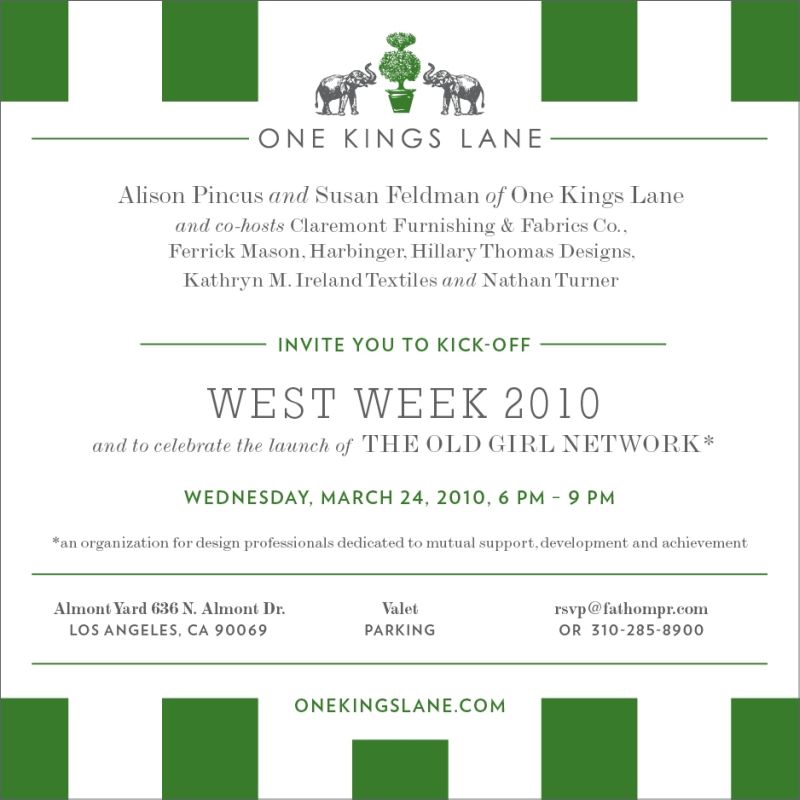 I was really excited that my trip to LA happened to coincide with Westweek which is the market week for the design industry in LA. I wasn't able to attend many of the Westweek events due to work obligations but I did attend a fun cocktail party hosted by One Kings Lane founders Susan Feldman and Alison Pincus. The event was at Almont Yard – a community of design showrooms that includes Nathan Turner, Harbinger & Lucas Studio, Karthryn Ireland Textiles and Claremont Fabrics all which surrounds a quaint little courtyard. The party was swimming with alll the top names in the LA design community who came out to toast the kick off of Westweek. At the event I introduced myself to Peter Dunham who I was beyond excited to meet since he's one of my favorite interior designers. He couldn't have been nicer and invited me to stop by his shop Hollywood at Home which recently moved to a new location on LA Cienega at the end of last year. The old location was actually in Almont Yard in the space that Kathryn Ireland now occupies. Sadly, I didn't have time to drop by but I definitely plan to the next time I'm in town!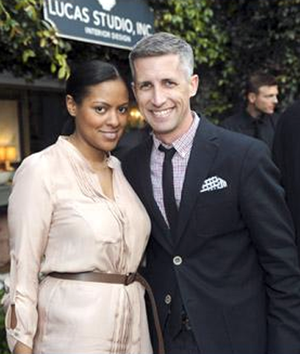 Me pictured with Joe Lucas of Lucas Studio. Photo by Stephanie Keenan.
In addition to Peter Dunham, I was thrilled to meet Joe Lucas and Parrish Chilcoat of the design firm Lucas Studio whose work I absolutely adore. The Lucas Studio design office and their furnishings, fabric and accessories showroom Harbinger are also located in Almont Yard. I blogged about Lucas Studio a while back and Joe sent me the kindest thank you email afterward so it was especially nice get to meet him in person. I was also excited to meet Susan Feldman and Ali Pincus, the evening's hosts since I'm a huge fan of One Kings Lane which they launched last year. I spent some time chatting with another interior designer who introduced herself as Carla and after about 10 minutes of chatting she handed me her business card and I realized I was talking to Carla Lane who I'm a big fan of and have blogged about before! It was quite a serendipitous moment! She too couldn't have been nicer and gave me lots of advice about the design industry in LA. At the party I also bumped into designer Brad Ford who was in own from New York and had spoken earlier that day at a Westweek panel at the Pacific Design Center about the role of blogs and new media in the design industry. He was with LA based decorator Vanessa de Vargas who spoke on the panel as well. I also spotted interior designers Joe Nye and Barclay Butera, textile designer Lulu de Kwiatkowski and Food Network star Giada De Laurentiis. It was definitely the party of the week and I'm glad I was able to attend!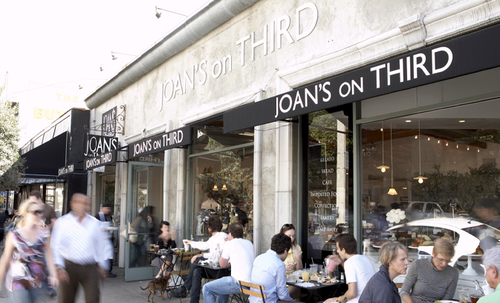 On the Saturday of my trip I met up with designer Kishani Perera for lunch at the trendy LA eatery Joan's on Third. Kishani filled me in on her upcoming feature in the June issue of House Beautiful on stands next month! (Congrats Kishani!) She also just joined twitter and you can follow here. As much time as I've spent in LA, I'd actually never been Joan's before! If you're not familiar, Joan's is a gourmet marketplace and restaurant often seen in paparazzi pictures because of all of its celebrity fans who eat there regularly.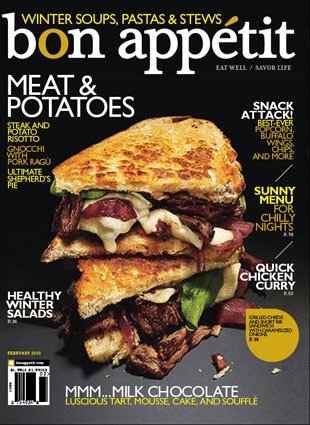 At lunch I ordered this sandwich filled with short rib, melted Monterey Jack cheese, arugula and sweet caramelized onions on buttery grilled country bread. The sandwich was featured on the cover of Bon Appétit's February 2010 issue and I swear it tastes as good as it looks in this photo! I loved it so much I went back 2 days later for another one!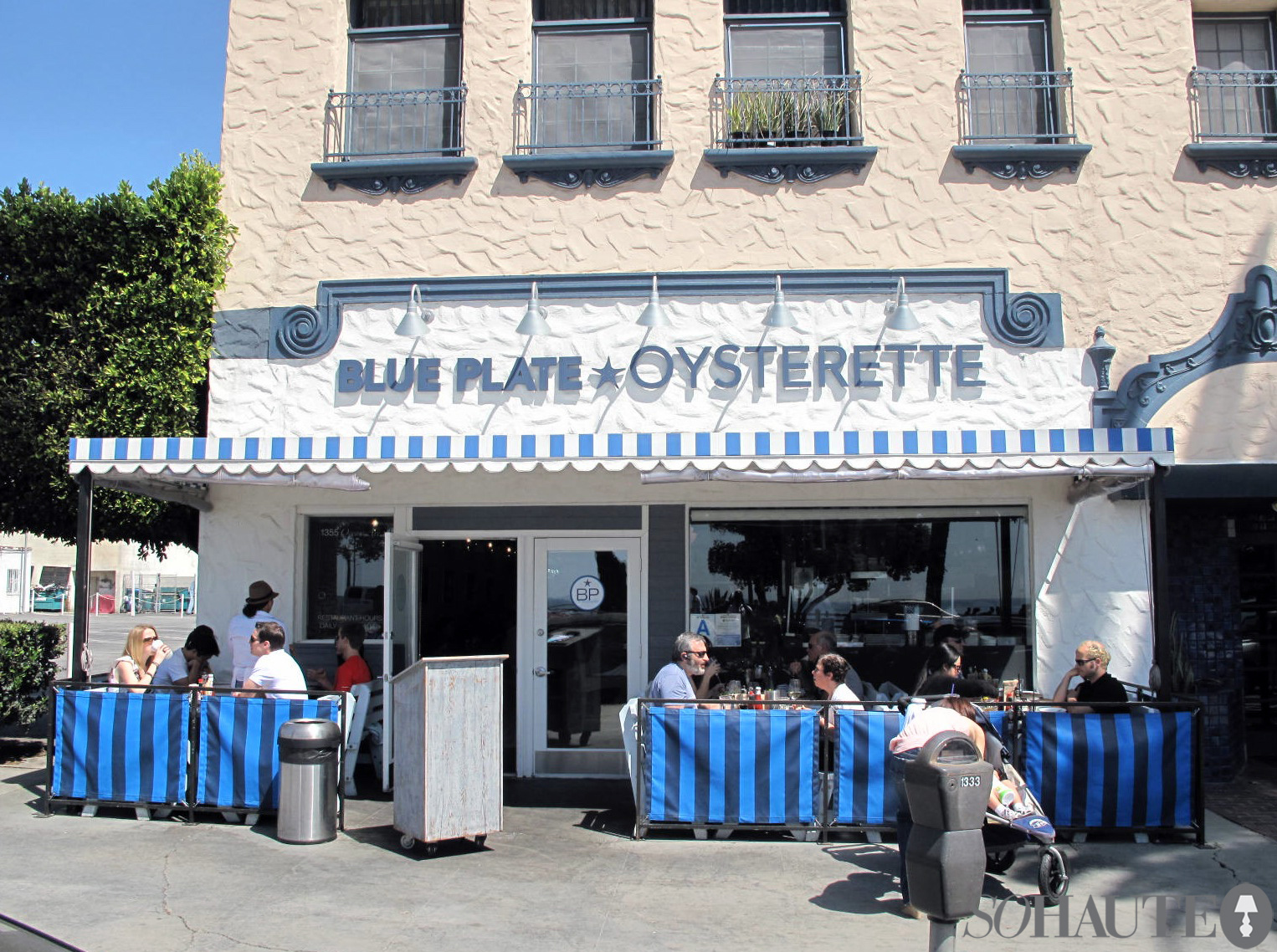 Another restaurant I was dying to check out was Blue Plate Oysterette in Santa Monica. It's a sister restaurant to Blue Plate, also in Santa Monica, but this spin-off specializes in seafood fare. I had heard lots of buzz not just about the food but also about the restaurant's interiors which were designed by Tim Clarke. The food was delicious. I enjoyed a classic lobster roll with sweet potato chips and my boyfriend (who joined me in LA for the weekend) had fish tacos…both equally amazing. We at outside on cute blue wooden picnic tables while looking out at the beach which is located directly across the street.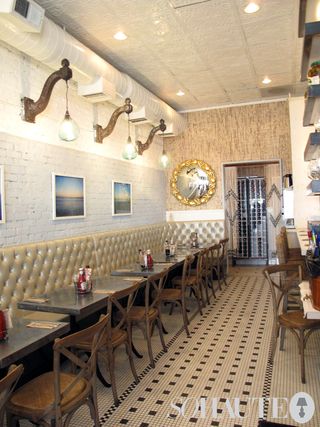 The restaurant's interiors have a beach casual vibe with subtle oceanic references like the pearlized leather banquettes which resemble the inside of an oyster shell, light fixtures made from recycled sea glass jars, sea shell wall sconces, brass mermaid door knockers which hang on the bathroom doors and the soft hues of blue throughout which mimic the colors of the sea. Photographs of beautiful beaches line the walls and there is also a huge octopi motif gilded mirror that serves as a focal point on the restaurant's back wall which is covered in a bark wallpaper that evokes the color and texture of driftwood.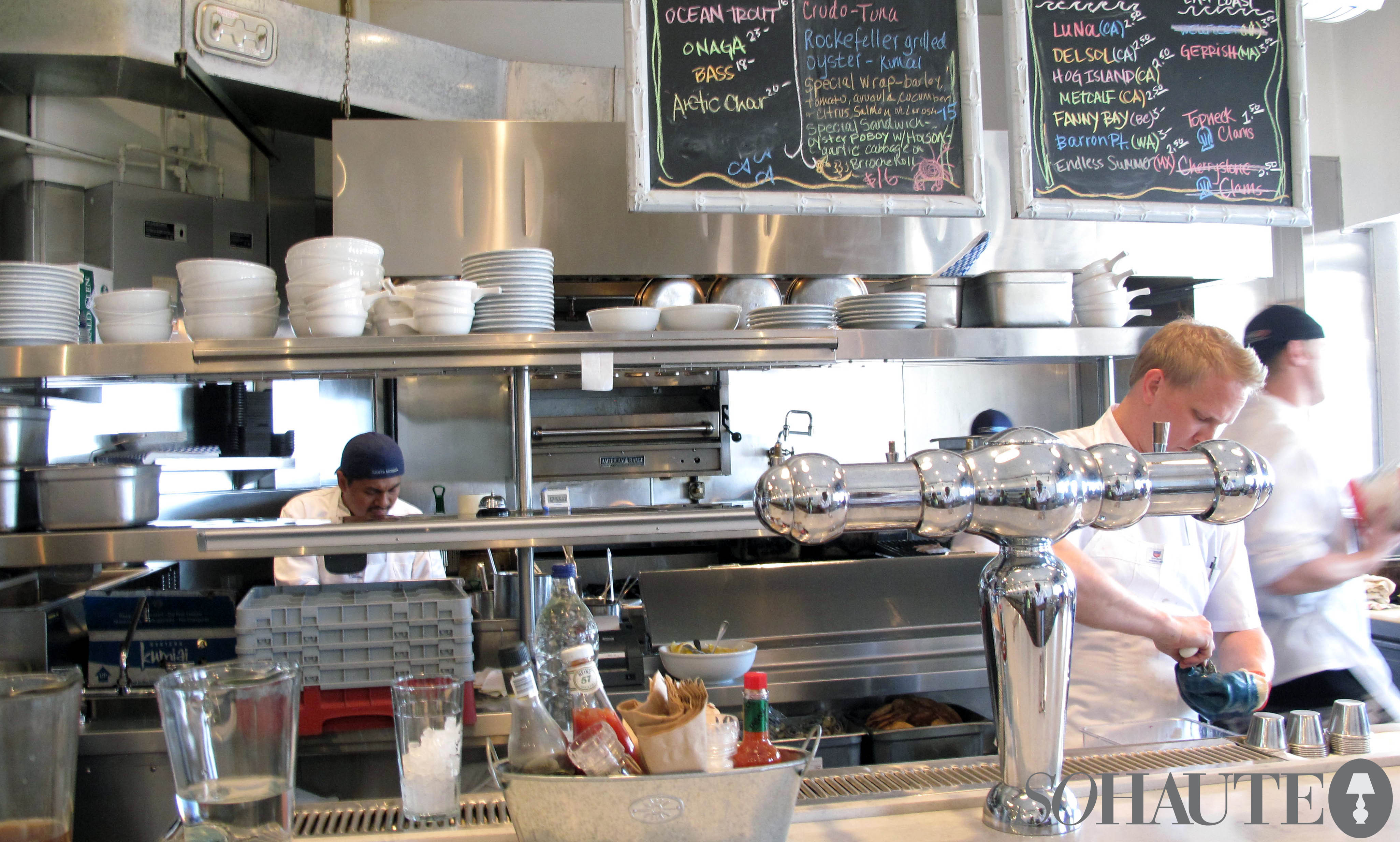 Here's a shot of the restaurant's open kitchen. I would highly recommend checking out Blue Plate Oysterette if you're ever in the area and you can find more info on their website here. Thanks for reading my ridiculously long recap of my trip LA! xoxo