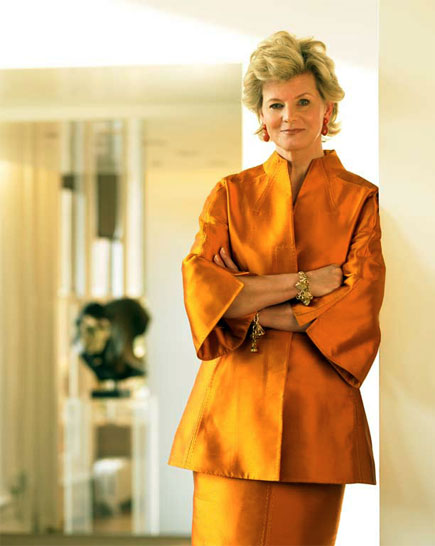 Charlotte Moss is an interior designer whom I have long admired. She is the epitome of style and grace and I am personally drawn to her timeless design aesthetic which embraces a sensibility of comfort, elegance and livability. I also admire the way Moss has transcend the role of interior designer and gone on to design a variety of products and run a successful business. In her career that has spanned more than 20 years, Charlotte Moss' list of brand extensions includes carpets for Stark, fabrics for Brunschwig & Fils, home fragrances for Agraria, China for Pickard, garden planters for Seibert & Rice as well as several books on lifestyle and design including the perennial favorite – A Flair for Living – which was published last year by Assouline. She is also collaborating with Fabricut on a signature fabric line due out next Fall and was recently honored with Elle Decor's 2009 Vision Award which pays tribute to leading women in design each year. She's such a busy woman I can hardly keep up!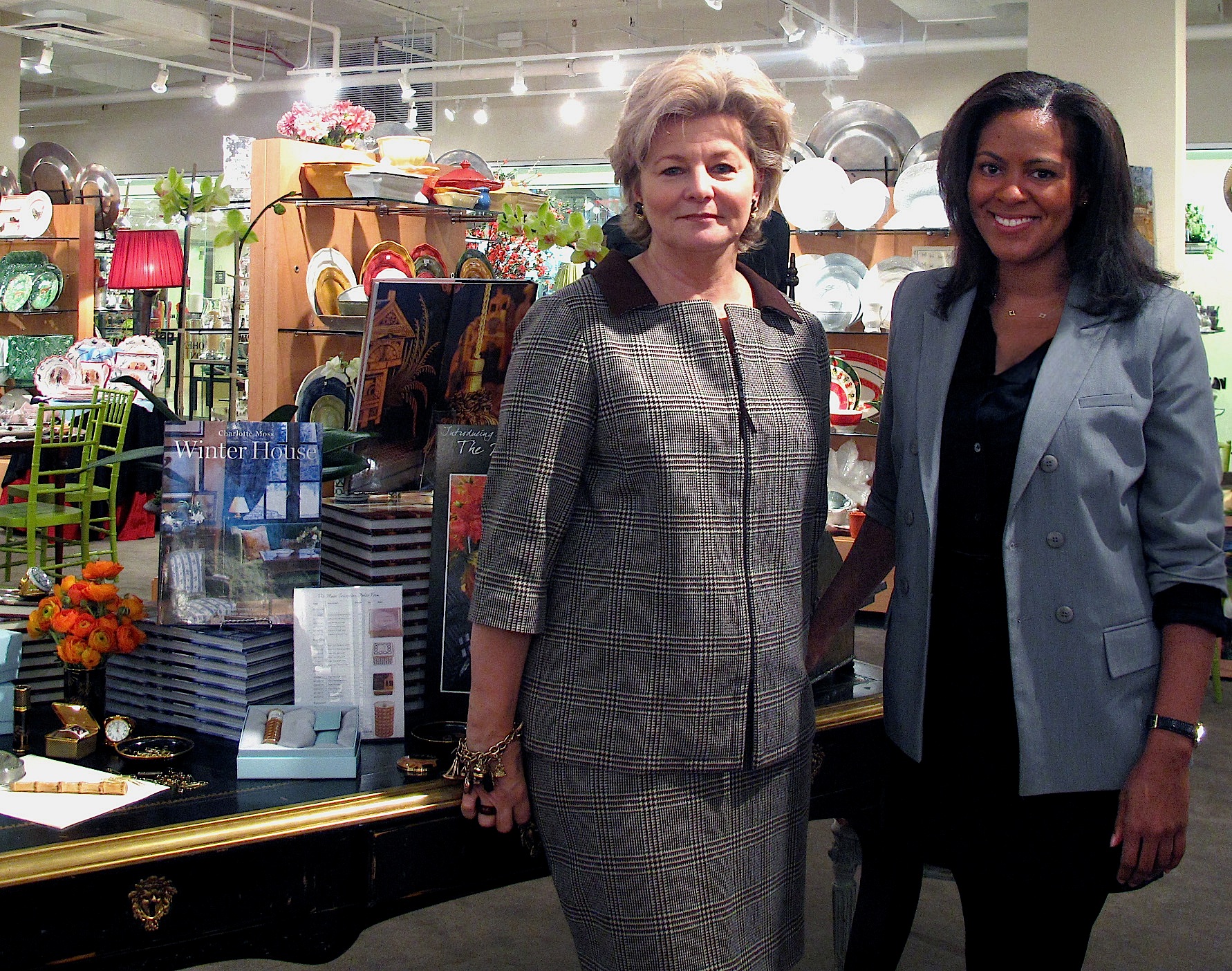 Me & Charlotte Moss at the Richard Cohen Showroom

Moss' most recent venture is an incredibly chic line of collectible gift items for Halcyon Days called The Muse Collection which includes hand painted enamel spill vases, round trays, ring boxes handbag mirrors, atomizers and bedside clocks. The Muse collection is set in four iconic cities and pays homage to Audrey Hepburn, Elsie de Wolfe, Coco Chanel and Jackie Kennedy Onassis – four incredible women who are constant sources of inspiration for Moss. I recently joined Charlotte Moss for a breakfast to preview the new collection and I was excited to have the opportunity to meet her and see the new collection up close. I didn't know what to expect but she was beyond gracious and so incredibly down to earth…and funny! She spoke with a southern drawl that immediately put me at ease and I really enjoyed talking with her about her new collection, design, blogging and more. Here is an excerpt from our chat.
Tell me about your new collection for Halcyon Days in your own words…
It was so great to work with a company that has such a great history of creating beautiful products that people by year after year to create collections. I love history and my references always seem to come from other women from the past who have inspired me in the design world. So I took the influences from these women in my life and the motifs and the things that inspired them and created these products to move history forward. And they really are useful objects. The travel clock, for example, is a great piece that will make any hotel room feel more elegant.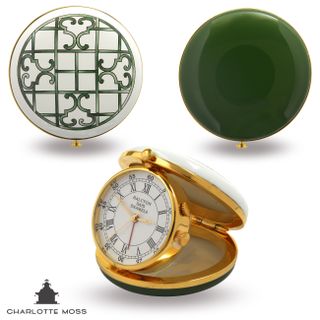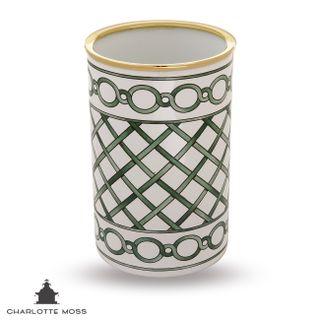 "New York" bedside clock and spill vase, inspired by Elsie de Wolfe
What was it about these these four particular women that inspired you?

These women had such rich, textured lives that I pulled inspiration from. Coco Chanel in her apartment on Rue Cambon in Paris had numerous coromandel screens and she loved Chinoiserie and pagodas as do I. We did a china pattern after Elsie de Wolfes' Trianon palace which we translated into the product for Halcyon. We drew simplicity from Jackie Kennedy. She had a very complex life but a very simple, refined aesthetic, from her shift dresses to her Nantucket baskets and daisies, which are simple flowers but were her favorite. We took the Nantucket basket and the daisies and crafted them together to make something that was very feminine. And lastly was Audrey in the scene from Breakfast at Tiffany's when she's standing in front of the window drinking her coffee with that big string of pearls draped around her back which I always thought was fabulous…so I took those double strands of pearls and crafted them into a product.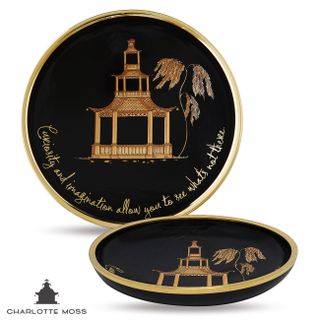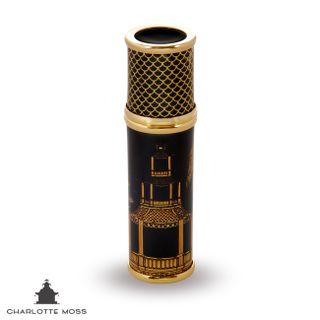 "Paris" round tray and atomizer, inspired by Coco Chanel
What advice would you give to women who are starting out in the design business?
The most important thing is to have confidence in your own aesthetic. It's about understanding who are you and what you
stand for and not trying to adapt your aesthetic to the times or to whats popular at the moment. Know who you are, stick to your core and continue making it better.
So do you
think it's about creating a brand?
You know, I really hate to use the word brand. I think it's simply your point of view. Brand now  is what point of view used to be. We've been able to expand on our point of view through branding because we have the opportunity to do licensing and other partnerships but I really think it's about having a strong point of view. Clients come to us because we have a distinct point of view. The companies we partner with come to us because they like our point of view and the way we interpret things…So if you don't have a point of view people will never know what you stand for. Every fashion designer has a very clear point of view that no one ever disputes and in interior design it should be the same.
"Hollywood" handbag mirror and ring box, inspired by Audrey Hepburn
Do you see similarities in fashion design and interior design?

We have a product that really isn't so fashion driven. It is to an extent but it's not really seasonal like fashion. When you're designing homes its not about what's new this season and what's going to be new next season. Yes there are new things, but you don't throw your sofa and your curtains out every season. What you buy for your home really has to have value.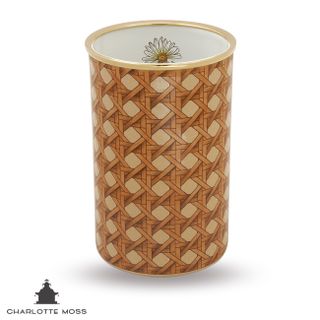 "Nantucket" spill vase, inspired by Jackie Kennedy-Onassis
I've really been enjoying your blog, Tête å Tête. How has blogging impacted you or your business? Do you feel more connected to your fan base?

It adds another layer of quality access. It's a great opportunity to have a voice and in between the books we write and the products we create [the blog] is that continuum that constantly reinforces our point of view.

Be sure to check out Charlotte's blog Tête å Tête and to see more of her chic giftables for Halcyon Days, you can visit Scully & Scully in New York or the Halcyon Days Website.