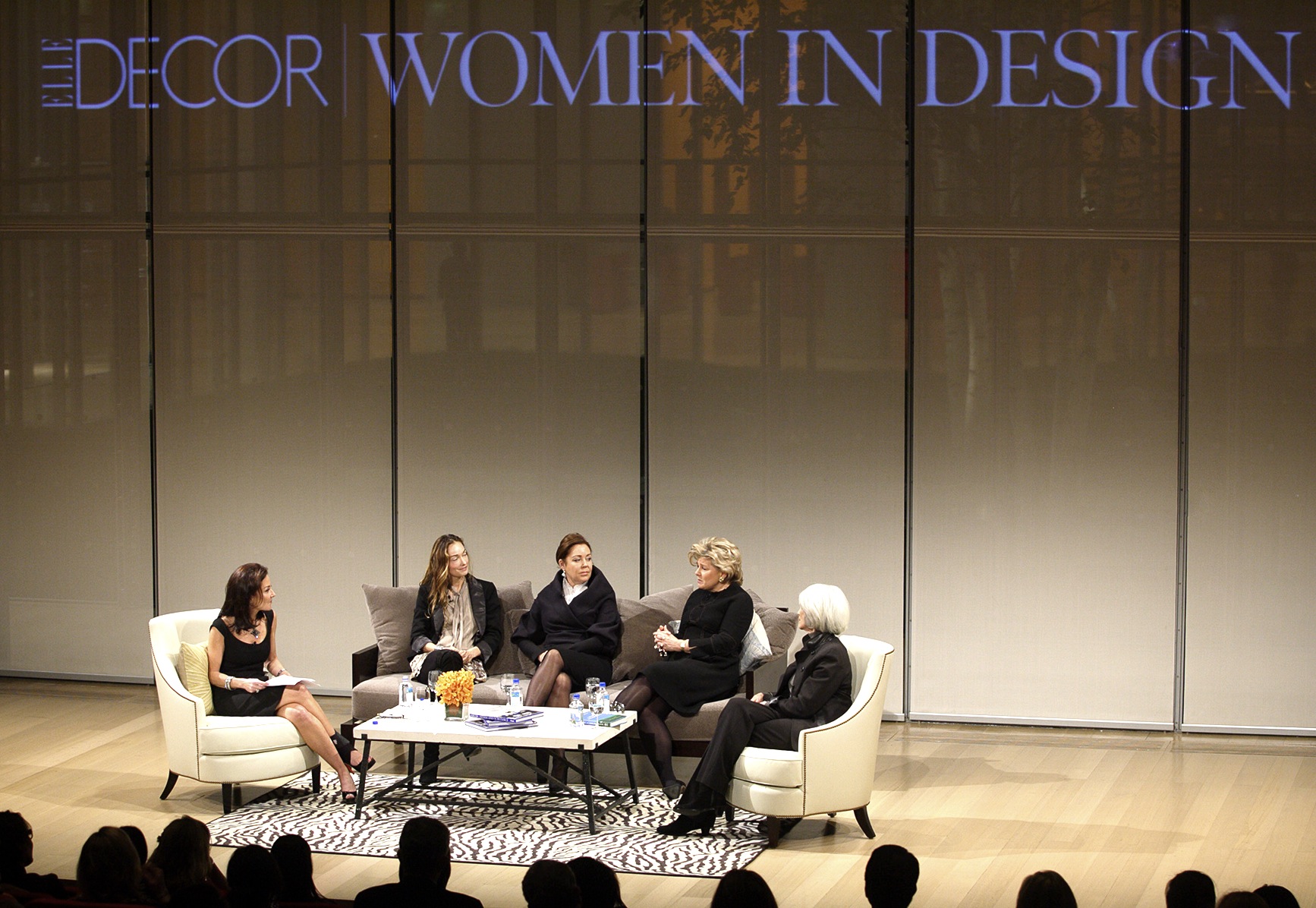 On Monday evening I had the pleasure of attending Elle Decor's second annual Women in Design event which celebrated five leading women in the design industry. The event featured a panel discussion moderated by editor-in-chief Margaret Russell with designers Holly Hunt, Michelle Nussbaumer, Kelly Wearstler and Charlotte Moss, who was honored with a special Vision Award. (Josie Natori was also one of Elle Décor's five chosen women but she was unable to attend.) Charlotte Moss, whom I admire greatly, was the lively one of the bunch and kept the audience laughing. Holly Hunt was very graceful and poised and also extremely open and honest. She spoke frankly about how she became successful and the many mistakes she's made. I truly appreciated her candor and I know the audience did too. I have to admit I wasn't well informed about Michelle Nussbaumer and her work so it was great to have an opportunity to get an introduction to what she's all about in her own words. I admire her creative abilities as well as her ability to run a successful business which requires her to travel all over the world and balance all of that with raising four children and having a fulfilled family life. The fashionable Kelly Wearstler didn't disappoint on the style front, showing up in suede over-the-knee boots with leggings and a silk tunic topped with a black tuxedo jacket and plenty of chic accessories. I was surprised to observe that Kelly, whose designs are known for being bold, colorful, over-the-top and full of
energy, is actually quite soft spoken in person.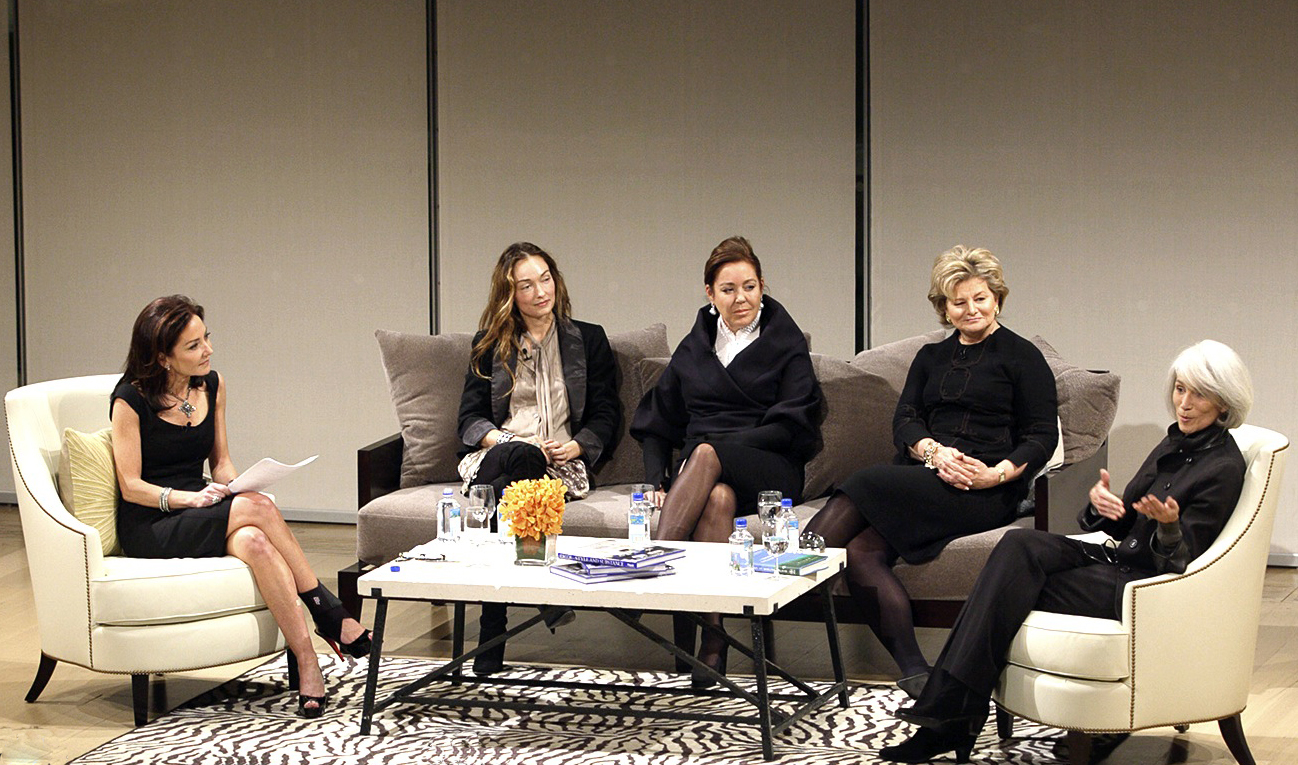 It was so inspiring to hear these women speak and see that they are more than just talented designers but also successful entrepreneurs and innovators in their field. I also liked the fact that each of the women possess a very distinct aesthetic and point of view on design which allowed each of them to bring a unique perspective to the panel. I enjoyed the discussion so much that I thought I'd share a some of the observations and insights from the panel that resonated with me the most. Here are some of my top takeaways from these phenomenal women that I thought you might find interesting.
On being an entrepreneur…
Michelle Nussbaumer said being an entrepreneur in design extends way beyond simply having a good eye. You also have to understand the keys to running a successful business. She also stressed that women in design often struggle with with finding a good work life balance and having the ability to balance family life with with the responsibilities of running a business is extremely important.
Holly Hunt said that in order to be a run a successful business you have to be able to take risks. The largest risks often reap the most reward.
On making mistakes…
Michelle admitted that she once slipcovered a desk and it turned out awful. The client couldn't even open the drawers! It was quite funny but also refreshing to hear that even the top interior designers in the world make mistakes. Each of the panelists shared similar stories but they all agreed that how you learn from your mistakes is what allows you to grow as a designer and a business woman.
On what makes a room timeless…
Charlotte Moss spoke about the fact that it's not a physical element that identifies a timeless room but rather an inviting atmosphere of comfort and livability.
Holly's point of view is that it's all in the energy of the room and that timelessness is not about how the room looks but how it feels.
On staying organized…
Charlotte writes everything down and keeps a separate notebook in every room of her house as well as in her handbag.  I too write everything down and carry a notebook just about everywhere…It definitely helps me keep my thoughts organized.
Holly said she never quite feels organized and that she's sometimes overwhelmed by the mounds of papers on her desk. If you could see my desk right now you'll see that I could use some help in this area too! It's not pretty!
On presenting to clients…
Both Michelle and Charlotte said they use inspiration boards as a starting point for their projects. They both stressed that their design process is much more organic and that they try to avoid what Charlotte described as "design plan fixation." They prefer to use their inspiration boards to set the mood and feeling of the project and go from there.
On re-charging ones creative juices….
Kelly Wearstler believes it's important to constantly fuel your vision and be inspired by new things. She personally loves to travel to re-charge her creative juices and if you don't have the opportunity to travel you can simply visit a museum or flip through some vintage design books. The important thing is that you're always surrounding yourself with new sources of inspiration.
On the term decorator vs designer….
Margaret Russell says her writers at Elle Decor use the terms decorator and designer interchangeably, mostly to avoid word repetition, and that they don't place too much emphasis or importance on one term vs the other.
Charlotte, providing a bit of comic relief to an otherwise serious discussion, replied "I don't care what you call me as long as you pay my bills on time!" Gotta love Charlotte Moss!
On decorating their own homes…
Someone asked the panelists whether it's harder to design for themselves or their clients. For Kelly Wearstler it's easier to design for herself because if she makes a mistake or buys a piece of furniture that ends up not working in her space she can just put it in storage…but with clients there's less room and little tolerance for such mistakes.
The rest of the panelists all agreed that it's harder to design for themselves because there are simply too many choices and the choices and options can get overwhelming. I thought this would be a nice statement to close with because I talk to people all the time who are decorating and feel stuck because they are overwhelmed with choices which can seem quite daunting. My best bit of advice is to trust your gut and buy what you love…and if you can't figure out a way to make it all work, hire a decorator!