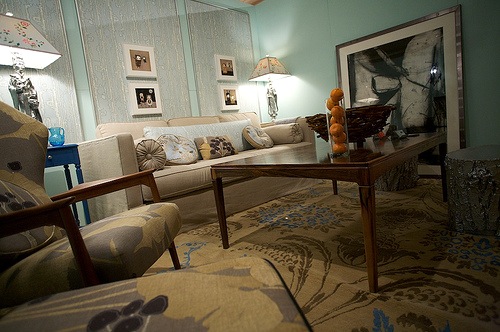 Before last week's
Design on a Dime
benefit I had an opportunity to chat with a few of the designers as they were setting up their vignettes and I also caught up with a few more designers at the opening reception. It was fun hearing about their inspiration, the resources they used in their designs and especially the creative stories they came up with to help guide their design process.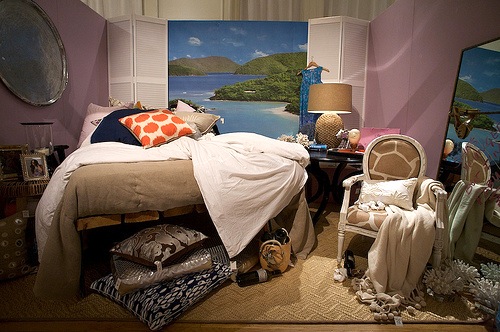 Calypso Home's vignette probably had one of my favorite back stories. This room belongs to a young woman who just had her heart broken by her boyfriend. The space has a youthful aesthetic but it looks very disheveled because its owner has been holed up in her room feeling sorry for herself and mourning the end of her relationship.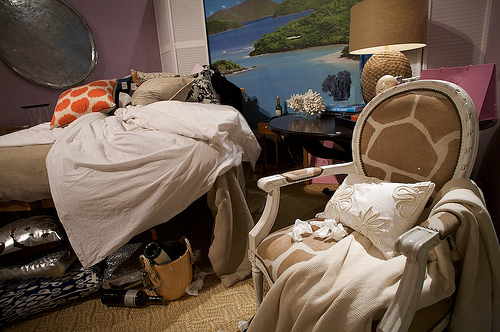 The crumpled up facial tissues strewn about the room are evidence that the young woman has been crying quite a bit. And the empty wine and champagne bottles seen on the floor reveal that she has also been attempting to drink away her sorrows! All of the products seen here are from Calypso Home. Draped over the giraffe printed chair is Calypso's pom pom blanket which I love and have blogged about before.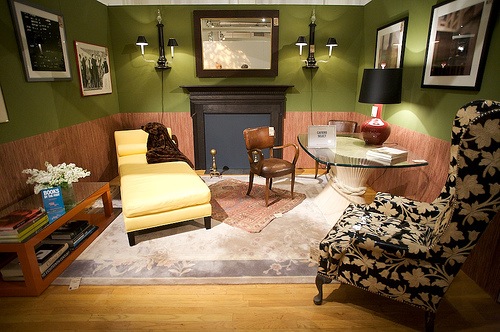 Designer
David Cafiero's
vignette, shown above, was another favorite of mine. His space is actually a psychiatrist's office. When I asked him where he found his inspiration he joked, "I've been watching
In Treatment
a lot!" He then explained that his vignette was actually inspired by his childhood shrink's office which ironically was located in a home once owned by his grandfather. The space had green walls, grasscloths accents and a fireplace which were elements David used as a starting point for his design plan. The key pieces in the room, the Danish Chaise and the two cuban deco chairs came from an acutal psychiatrist's office. He recovered the chaise in a buttery yellow linen and left the chairs as is. The wingback chair was from an estate in Westchester, the lamp was a flea market find, the rug was from a client's house and the fireplace surround was a street find which he painted black. The frame for the mirror above the mantle was a flea market find and the mirror itself was belonged to Chloe Sevigny, one of his most notable clients. It was too large for it's intended purpose so David cut it down to fit the frame and then used the other half as a top for the coffee table that you see in the photo on the far left. I love that David really stayed true to his inpiration, even sourcing peices from an actual shrink's office! I enyoyed chatting with him and have become a fan of his eclectic style. He's definitely on my designer to watch list. Look for a profile on David coming soon!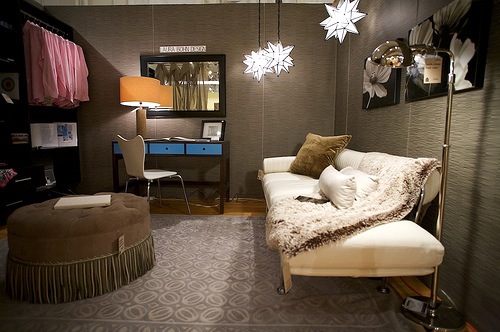 Designer
Laura Bohn
created this stylish men's dressing room. He seems to be a bit of a prepster as evidenced by the pink dress shirts hanging in the closet. He also has a sexy girlfriend who often sleeps over and leaves some of her raciest lingirie hanging in his closet as a reminder of her. You can't see it in the photo but on the end of the closet opposite his shirts hangs an assortment of her hot pink and leopard printed lingirie! The closet in the space is from California Closets, the daybed is from Resource  Furniture, the round ottoman is from Classic Sofa, the lamps are from Holly Hunt and Ralph Lauren Home, the wallpaper from Wolf Gordon, the vanity is from ducduc, and the rug from Patterson Flynn and Martin.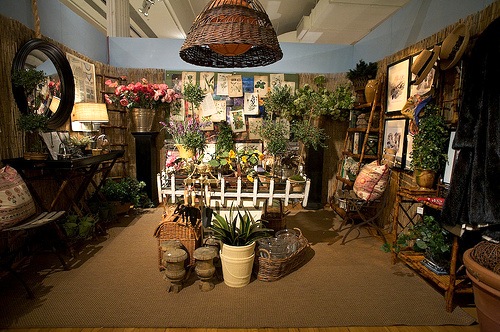 I didn't have an opportunity to talk with
Charlotte Moss
but this is her chic gardening shack, which I thought was amazing. In
an interview for Housing Works
, Moss discusses her inspiration for the space which was a cartoon from a March 1946 edition of the New Yorker.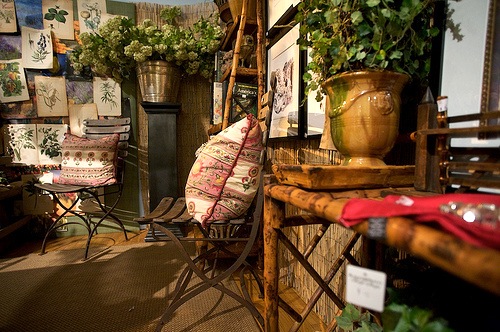 Moss exlains, "It's got a woman standing in her garden in the winter; and she's standing there in a pant suit with her mink coat over her shoulders, and with seed packets in her hand. She's thinking, 'What the hell do I do now?' And I thought, My Design on a Dime room is going to be a chic gardening shack and she's going to be my star."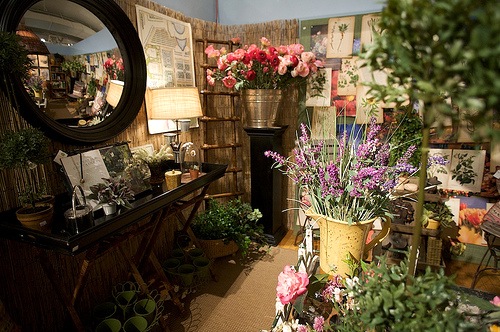 "It's going to have a potting table, a hall tree, gardening books and implements, and hats and pots. And there will be silk panels on the wall with art hung over it—that's the chic part." I absolutely loved this room…there were so many interesting visual elements but my favorite the fur coat that was hanging inside space. You can see it in the top photo on the far right. The coat once belonged to Helen Gurley Brown, the most ifnluential editor-in-chief in Cosmopolitan magazine's history. She was also a major player in the women's feminist movement in the 60s. The coat even had her monogram inside! My friend Samantha tried it on and in the 60 seconds she wore it, at least 5 people came up to her and told her how fabulous it was!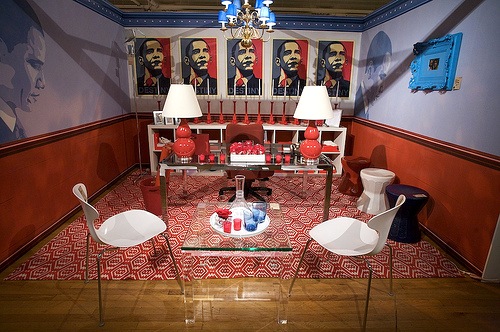 I'm sorry that I can't recall who designed this room….but I absolutely LOVED it! A not-so-subtle nod to our inspirational Commander in Chief!
Photos courtesy of Housing Works