Last week I blogged about my desire for a house in the country but since the possibility of owning a country home is not in my immediate future, I'll just have to live vicariously through the lives of others…like Paul Siskin of the design firm Siskin Valls.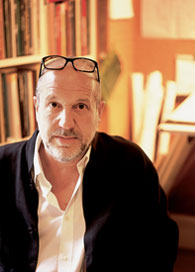 Paul is currently in the midst of building a country home from the ground up and is documenting the process on his blog on Interior Design Magazine's website.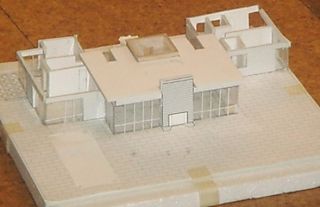 Above is a model of what his dream country retreat will look like when it's finished. This is the view from the back. It's going to be incredible. Each week Paul posts a new blog and it's quite fascinating to read about the process of building and decorating a home through the eyes of such a seasoned designer. The blog is also quite comical at times. In one of his first posts, "Love at First Site," he talks about how his contractor refers to his new neighborhood as Brokeback Mountain (because the hilltop area is populated by several same-sex couples). In another post, he discusses his practical approach to the design of his kitchen:
"I don't cook (the refrigerator in my NYC apartment has been broken for 15 years), so the location of the phone jack is essential. Some of the local restaurants require reservations."
The home is being built in none other than New York's Hudson Valley, which seems to be where all the cool people are buying or building homes these days. In fact, Paul is well aware of this fact and he even warns against the "impending Hamptonization" of the town in a post titled "Package Fill":
"Some might say that a clear indication of this is when New York interior designers start moving there, building homes, and writing blogs about it."
Gotta love a good sense of humor. This week, Paul contemplates some of the little details that will make his house a home. You can read all about it here. I'll definitely be following his blog each week and I can't wait to see how the project progresses. He's such a talented designer (he's also in the Interior Design Hall of Fame!) so I am certain that his new country home will be nothing short of fabulous! Below are some of my favorite photos from Paul Siskin's portfolio. The rooms are all so beautiful, peaceful and serene…perfect inspiration for my future country home. Enjoy!