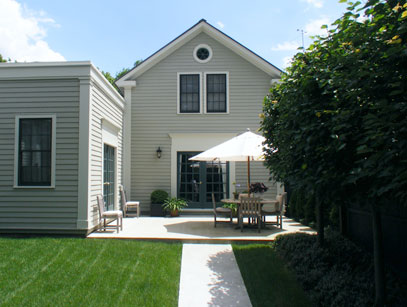 Anyone who has ever lived in New York knows that the city can get overwhelming pretty quickly. This is the exact reason why those New Yorkers who are fortunate enough to maintain dual residences, have a country home where they escape to every weekend in order to preserve their sanity. Some people prefer posh towns like the Hamptons, where they're close to the beach and can still experience the New York social scene. Others, like myself, prefer a more laid back environment…such as the Hudson Valley or the Catskill region where "the scene" is nonexistent and you can just relax and enjoy the beautiful open views and the quiet pace of life. While I don't yet own a country home (one day!), I often peruse the real estate listings to see what's out there and I'll imagine what my weekend retreat would look like. I recently came across the most quaint and charming Greek Revival carriage house on the market in the town of Hudson whose current owner is the renowned designer and artist Frank Faulkner.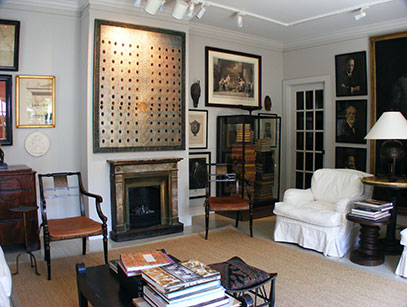 Faulkner has bought and renovated 14 homes in the Hudson Valley since 1982…this one included. Along with the help of Architect Juan Carretero, Faulkner designed his home with a classic a French pavillion in mind.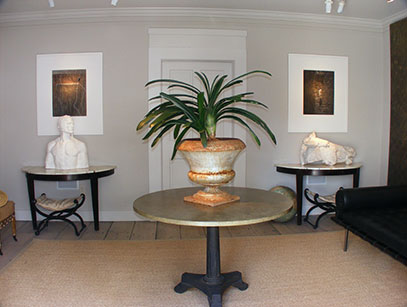 The interiors feature beautiful moldings, a French empire gas fireplace, bleached wide board floors, cedar lined closets and the most lovely French doors that fill the place with plenty of natural light.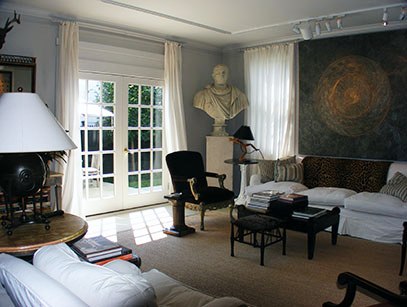 The house is light and airy and there are many white slipcovered sofas and chairs throughout. Faulkner believes that upholstery should be simple…the least eye catching thing in the room in fact…so that artwork, and other decorative elements can take center stage.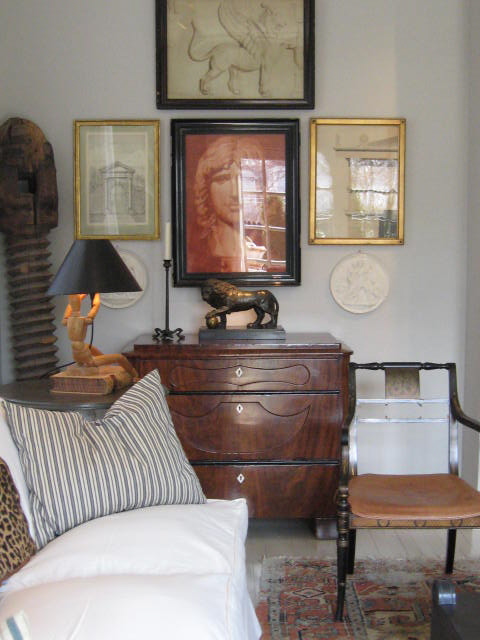 Faulkner has amassed an impressive art collection which includes fine works from artists such as Mark Beard combined with pieces from rather anonymous artists such as the sepia print above which he purchased from the Hudson antiques center. He's also a collector of fine antique furniture such as the Biedermeier chest in the photo above.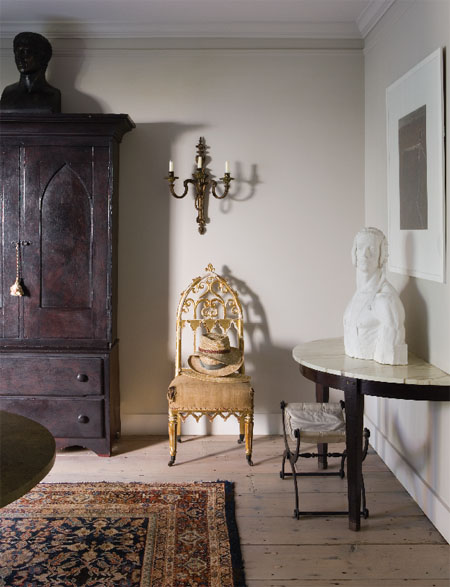 Along with many French and Regency period antiques, the furnishings in Faulkner's home also include many beloved pieces that he found at flea markets such as the Gothic cabinet above which he refinished and stained a dark brown. Faulkner loves the look of worn old oriental rugs and there are lots of them throughout his home. He also has a collection of neoclassical busts which are artfully placed around the home.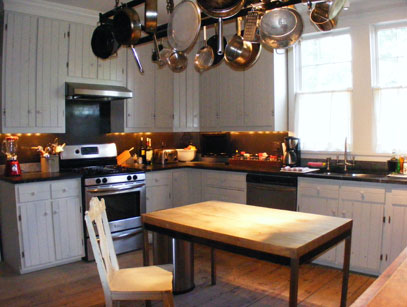 Here is the home's charming kitchen. Faulkner believes kitchens and bathrooms should be "simple and utilitarian."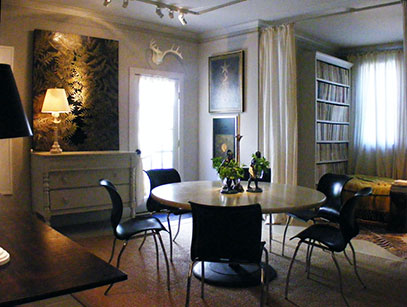 This is the home's dining area which also includes a sleeping/library nook.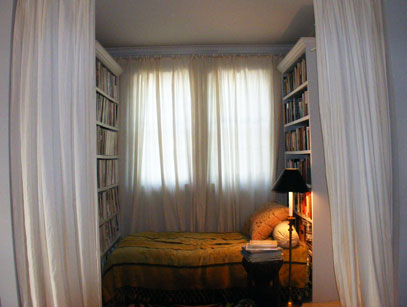 Here's a better view of the nook…Such a great way to utilize a tight space by creating an extra sleeping area for guests in this relatively small home.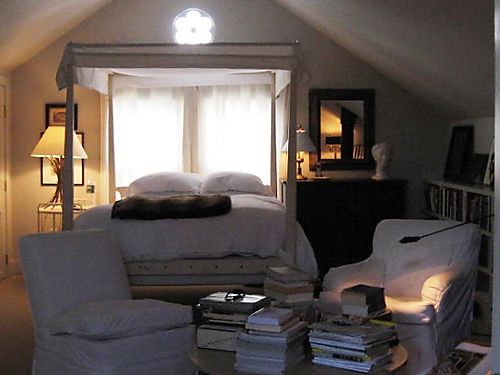 Here is a shot of the master bedroom. It's looks so simple and serene. I love the little rose window above the bed.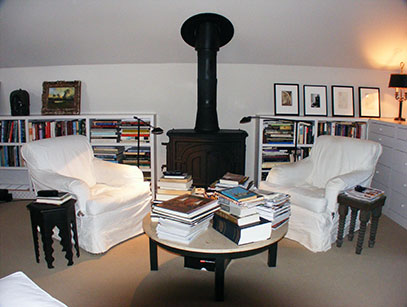 The room also features a sitting area with a cozy Franklin stove to warm the space. As you can see there are also lots of books. I too have lots of books stacked all around my place. No matter how they're displayed, I don't think a home is complete without lots of books!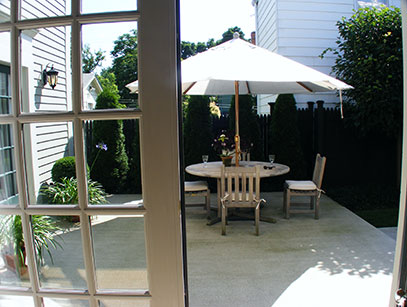 Here's a shot of the home's attractive outdoor patio. Landscape architect Peter Bevacqua designed the outdoor space. I absolutely love this house and I'm obsessed with its current decor…I could move right in as is and be perfectly happy! One of these days I'll have a country home of my own!
Faulkner's home is listed with Gary DiMauro Real Estate which specializes in antique country homes and historic townhouses in New York's Hudson Valley.  The home was featured a great article in the recent issue of New York Spaces as well as on Rural Intelligence, an online news source for he counties of Columbia, Berkshiere, Dutchess and Lichtfield which are spread across New York, Connecticut and Massachusets. Be sure to check out the articles which include many more photos of this amazing home!