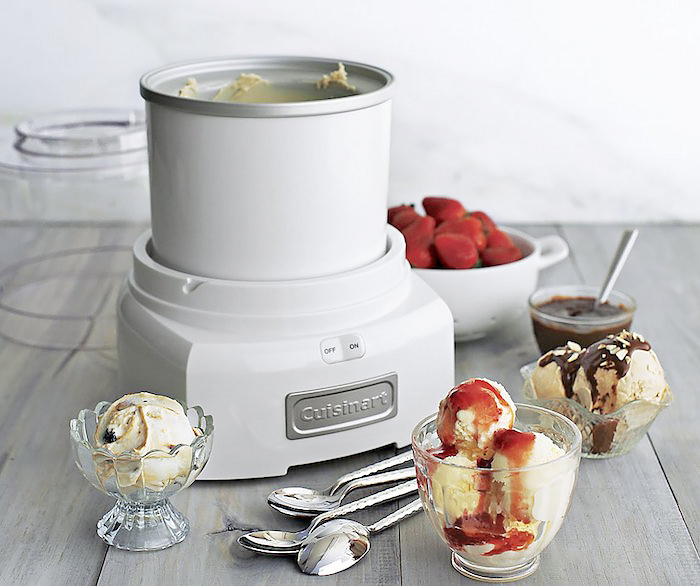 Since we're in the midst of a summer heat wave it only feels right to talk about ice cream … The ultimate cool-down treat for the summer!!! And guess what? I got myself an ice cream maker and it is seriously like the best thing I ever bought! Of course an ice cream isn't necessarily a kitchen essential, but if you love ice cream, it's really so much fun to make your own which makes investing in one well worth it. I've had mine for a couple of months now and am really enjoying experimenting with different flavor combinations plus homemade ice cream tastes soooo much better! When choosing an ice cream maker (I bought this one) I did a ton of research so if you're interested in buying one too, here's a quick primer on the three types of ice cream makers available with the pros and cons of each to help you make the best choice.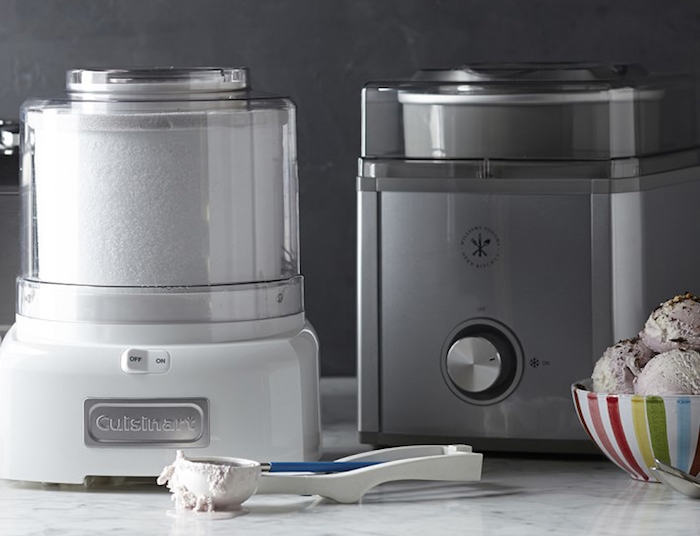 The Frozen Bowl Ice Cream Maker
This is what I have at home. Machines with a frozen bowl take a bit of patience but this is the most common type of ice cream maker sold. It comes with a liquid-filled insert bowl which you typically freeze overnight and then once you have your ice cream base made and your bowl frozen, you churn the mixture in the frozen bowl and the motorized mixer does all of the work. The Pros: There are plenty of options of frozen bowl ice cream makers available at various price points so this is often the best budget friendly option out there and requires little effort other than freezing the bowl in advance. The machine does the rest. The Cons: It takes patience. You can't just get up and make ice cream whenever – you have to freeze the bowl which adds on a layer of extra time. You also can't make back to back batches since the bowl needs to be pre-frozen so you can only make one small batch at a time. (However, buying an extra bowl or selecting an option like this inexpensive model which comes with two bowls can help solve that problem.) Pictured left: Cuisinart Ice Cream Maker with Extra Bowl, right: Williams Sonoma Open Kitchen Ice Cream Maker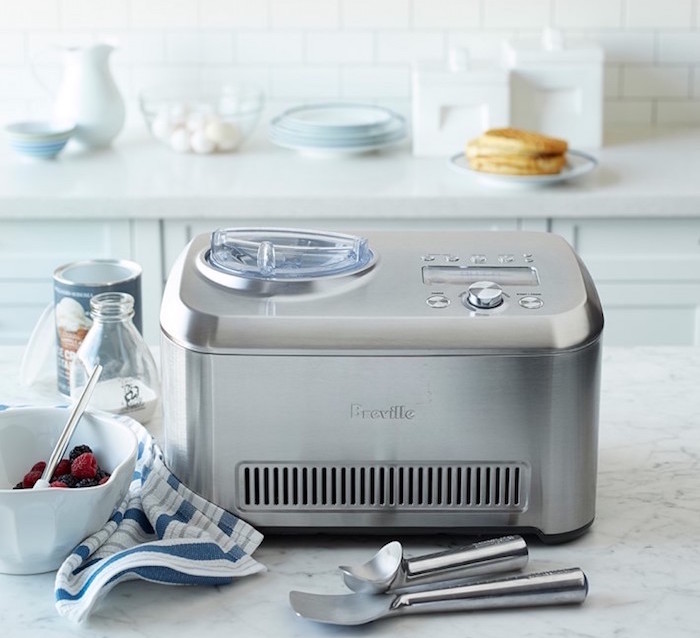 A Compressor Ice Cream Maker
A compressor ice cream maker has a built-in freezer so it cools the bowl to the perfect temperature and freezes the ice cream as it churns in only a matter of minutes. The Pros: This is the easiest type to use, it doesn't require a pre-frozen bowl and you can make batches of ice cream pretty much whenever without having to wait hours. You can make back to back batches easily with little wait time in between. The Cons: These models are expensive! (In hindsight, I wish I would have bought one of these, but I decided to start out with a less expensive freezer-bowl model to make certain that I enjoyed the process of making homemade ice cream. So maybe I'll upgrade to a compressor model in a few years.) Pictured: Breville Smart Scoop Ice Cream Maker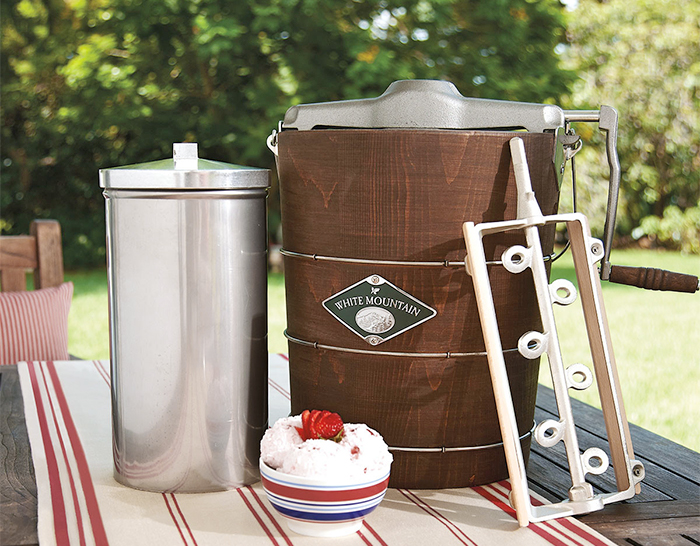 Ice and Rock Salt Ice Cream Maker
This is the old-fashioned type of ice cream maker my grandmother used to use. It requires placing a mixture of rock salt and ice in a large bucket which creates a refrigerant that helps freeze your base as you churn it into ice cream by hand. Yep- hand cranked. The Pros: You get a texture that is super smooth and creamy and the large buckets generally produce much larger batches of ice cream at a time, usually 4 or 6 quarts vs the 1-2 quarts that most other type of ice cream makers produce. The Cons: It gets messy, requires a lot of manual energy and effort. (although now there are a few electric rock salt ice cream makers available now like this one or this one.) Pictured here: White Mountain Appalachian Hand Cranked Ice Cream Maker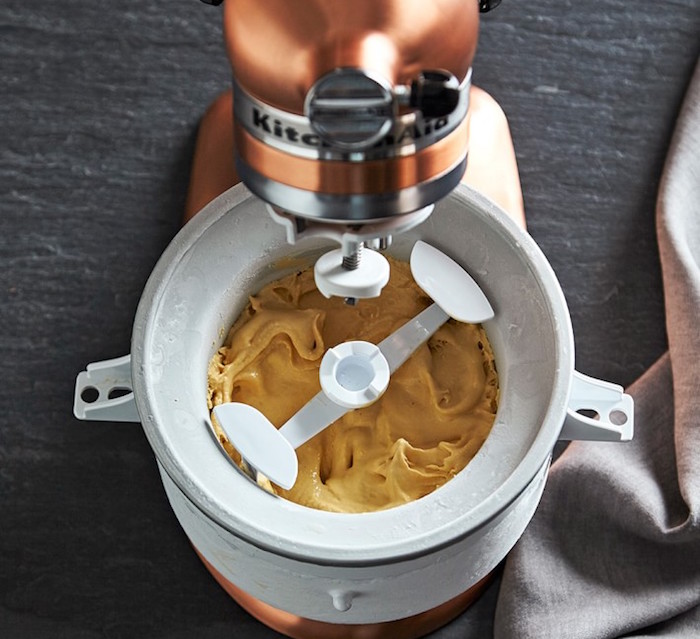 Mixer Attachment Ice Cream Bowl
If you have the ever-popular Kitchen Aid stand mixer a convenient option is to buy the compatible ice cream bowl attachment. This accessory comes with a freezer bowl and paddle that attaches to your mixer instantly transforming it into an ice cream maker! The Pros: It's easy to use and makes 2 quarts of ice cream. The Cons: Reviews commonly state that the bowl is often faulty resulting in the cooling liquid leaking out after several uses. Also, at this price point, you're better off buying an ice cream maker that is specifically made for churning ice cream at all of the optimal settings. Pictured: Kitchen Aid Stand Mixer Ice Cream Maker Attachment
I hope you found this guide informative and have so much fun making your own ice cream at home!! Shop more homemade ice cream essentials below!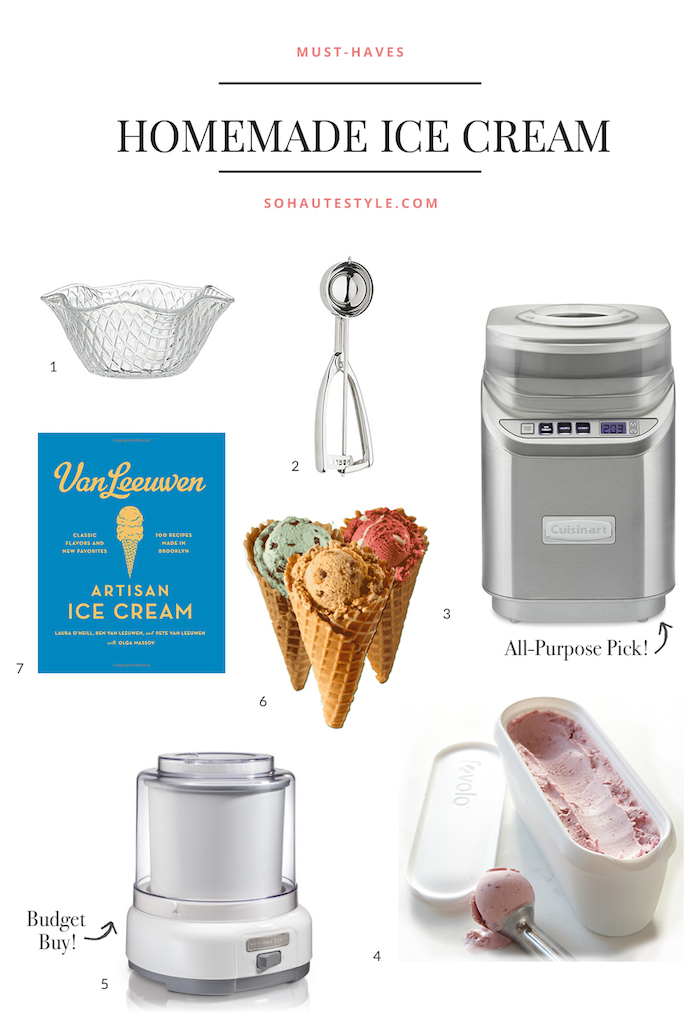 1. Waffle Ice Cream Dish / 2. Ice Cream Scoop / 3. Cuisinart Electric Ice Cream Maker / 4. Ice Cream Storage Tub / 5. Hamilton Beach Ice Cream Maker / 6. Waffle Cones / 7. Van Leeuwen Ice Artisan Ice Cream Recipes
SHOP THE STORY