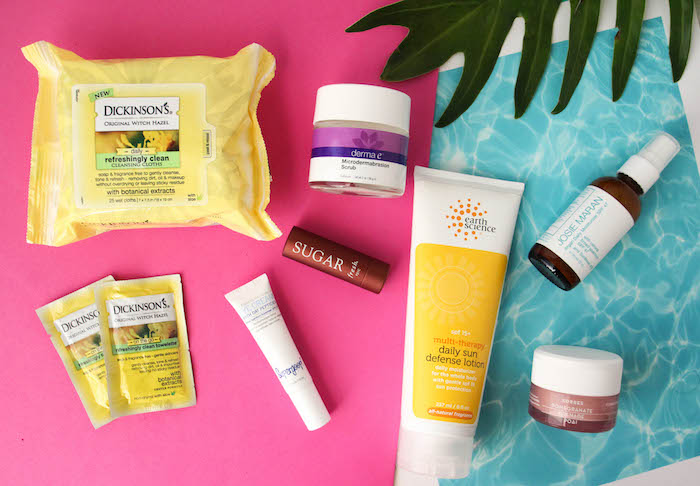 In the heat of the summer, the sun rays are at their peak which can cause UV damage and skin aging plus the heat and humidity makes you sweat more and all of this can do a number on your skin. To help combat oiliness and melted makeup which are common effects of the summer heat, I find myself gravitating towards lighter products, I make sure to protect my skin from the sun and I give my skin a refresh whenever it starts to feel icky and these steps helps keep my skin clean, fresh and shine-free. Here are my 7 go-to skin care products that I swear by for summer!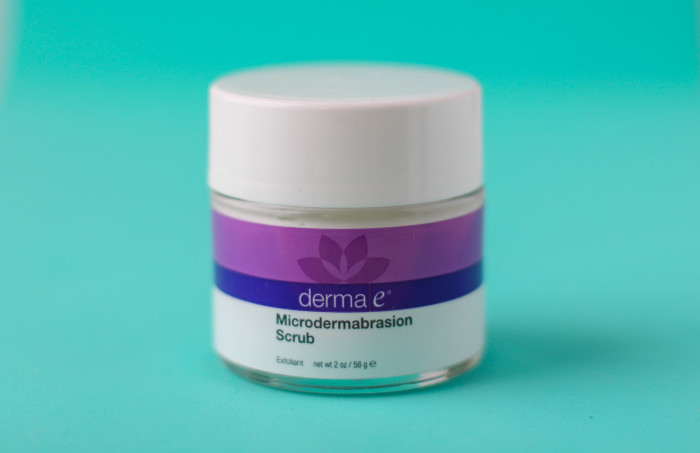 Derma e Microdermabrasion Scrub
This microdermabrasion facial scrub is pretty much like a facial in a jar! It has tiny crystallized micro beads that help to exfoliate and remove dead skin cells, leaving a new and fresh looking skin surface that looks and feels so smooth! It also helps reduce fine lines, wrinkles and acne scars. I use this once a week, and if my skin is looking especially dull, I'll double up on it.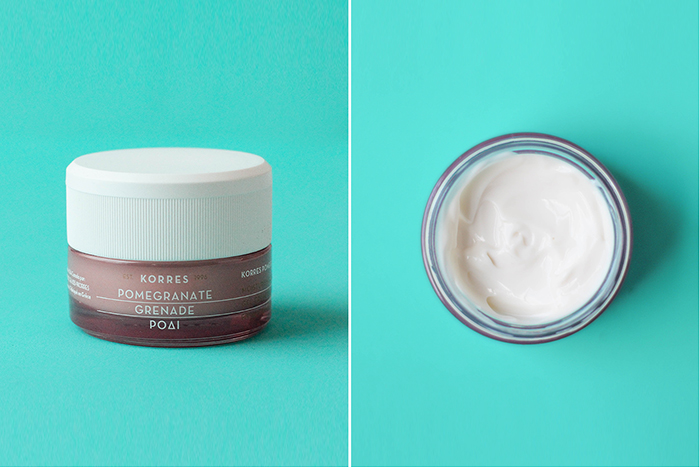 Korres Balancing Cream-Gel Moisturizer
In the summertime, the heat and humidity always leave my skin shiny and greasy which is gross so I look for an oil-free moisturizer that's is gel based and completely non-greasy with mattifying properties to help reduce oil and shine. I started using this one last summer and it works SO well! While the product also claims to help minimize pores, it hasn't really made a difference for me in that area but it definitely helps prevent my skin from getting shiny and leaves it feeling hydrated and balanced which is exactly what I want. This is my everyday go-to and I wear it in combination with my SPF based tinted BB cream.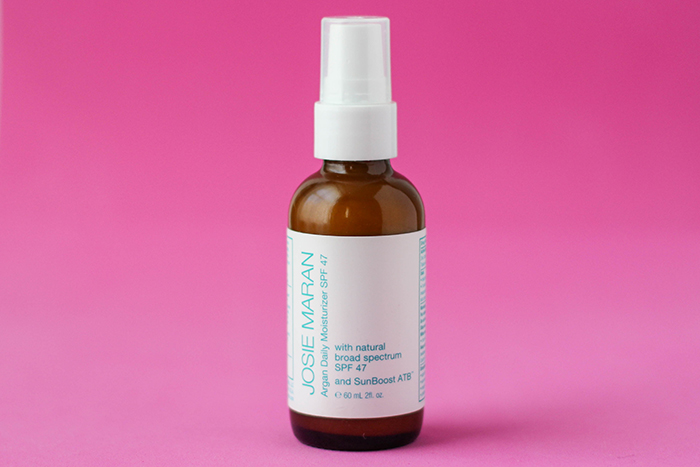 Josie Maran Argan Daily Moisturizer
Every since I turned 30, I've been taking my anti-aging routine seriously and that means making sure I protect my skin from the sun, especially on my face because that's where we show our first signs of aging and who wants a face full of wrinkles?! Did you know that sun rays account for 80% of your skin's aging? Pretty crazy so yeah – I'm on kid level SPF protection! This was the highest SPF chemical-free sunscreen I could find with an SPF of 47. It's argan oil-infused, lightweight and made with titanium dioxide and zinc oxide as the active ingredients which are completely all-natural. So many of the chemicals used in conventional sunscreen have links to cancer so I'm glad I finally found a great, natural alternative with a high SPF. I use this one on days where I know I'll be outside all day and especially when I'm headed to the beach or pool.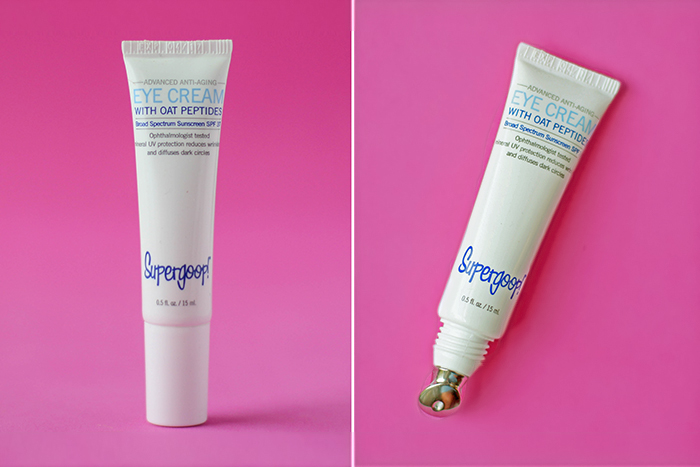 Supergoop Anti-Aging Eye Cream SPF 37
If anti-aging is important to you then you definitely can't forget about your delicate under eye area. I'm using this Supergoop eye cream in the summer months and aside from having SPF 37 sun protection, it also contains an oat peptide complex that claims to help reduce the appearance of under eye puffiness, fine lines, and wrinkles. For me, it keeps my under eye area bright and hydrated plus I love the cool metal tip applicator that provides a smoothing cooling sensation when you put it on. Definitely worth a try!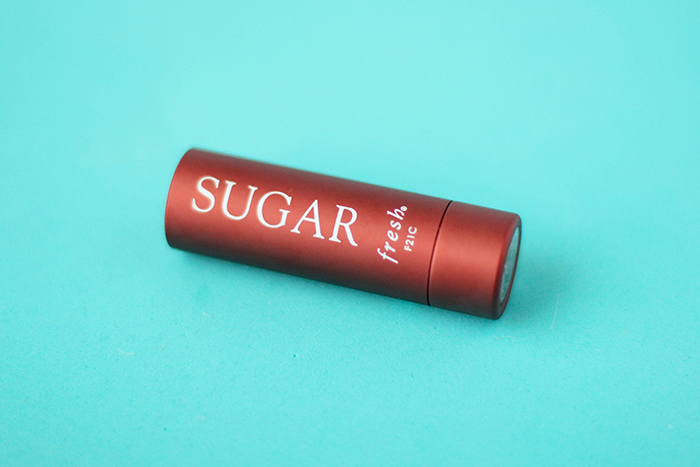 Fresh Sugar Lip Treatment SPF 15
I always carry a lip balm around and in the summer – you guessed it – I'm using a lip balm with SPF.  This one is a cult-favorite that does exactly what it's supposed to do… moisturize, protect and smooth the lips with some added SPF protection for the hot weather months when the sun is at its peak.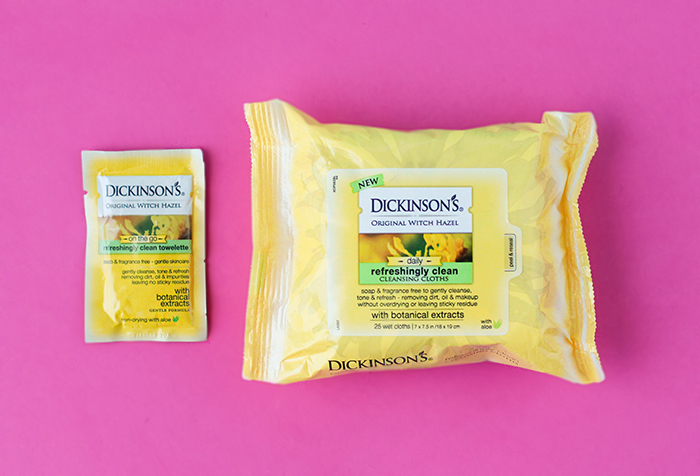 Dickinson's Refreshingly Clean Cleansing Cloths
Whether you need a quick refresh in the midst of a long, hot day or you're just way too tired and lazy to wash your face at night, a good facial cleansing wipe definitely comes in handy! I use cleansing cloths as part of my daily makeup removal routine. I remove my makeup makeup with these wipes first, then I wash with a cleanser. I've tried a ton of different wipes over the years and by far these are my favorite. They remove makeup easily and have witch hazel as a key ingredient which has been proven to tighten pores, fight acne, reduce puffiness and redness. These always leave my skin feeling fresh and toned. I also love that they're are soap and fragrance-free … perfect for my sensitive skin.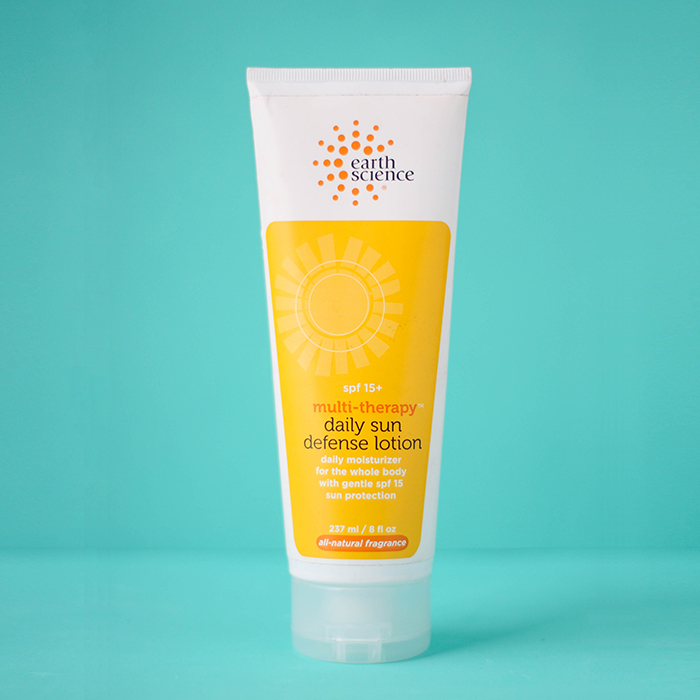 Earth Science Daily Sun Defense Lotion
Unless you're headed to the beach, most of us don't think of using body sunscreen on a daily basis but this is something I started doing in recent years in the summer months when the sun is blazing. It's only SPF 15, but even a little sun protection is better than none and it's great for normal days when I'm just going about my normal day and not necissarily planning to bake in the sun. This is a great replacement for your regular lotion for everyday use in the summer. It provides moisture, gentle sun protection and has some antioxidant benefits which help prevent skin agin. It's also all-natural and fragrance free.
SHOP THE STORY
[show_shopthepost_widget id="1772814″]