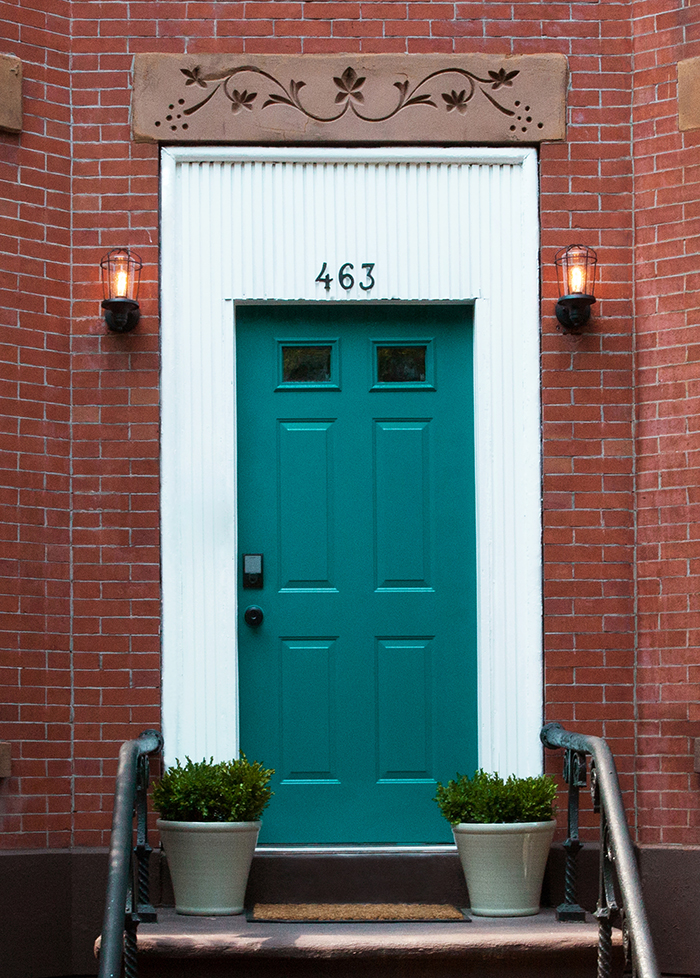 If you're looking for an easy way make your home feel more welcoming, here's some inspiration for a quick and simple front door makeover to give your house more curb appeal. I recently teamed up with Schlage locks as their blogger ambassador for the Elevate Design Collective which you can read all about here. Schlage approached me with the task of incorporating their products into an exterior home makeover which was such a fun challenge because as an interior designer, I rarely have the opportunity to revamp the outside of a home! Enter my friend Nykia who purchased her Brooklyn brownstone in 2004. Initially it served as a rental property but she eventually made it her permanent home in 2007 which she now shares with her husband and toddler son.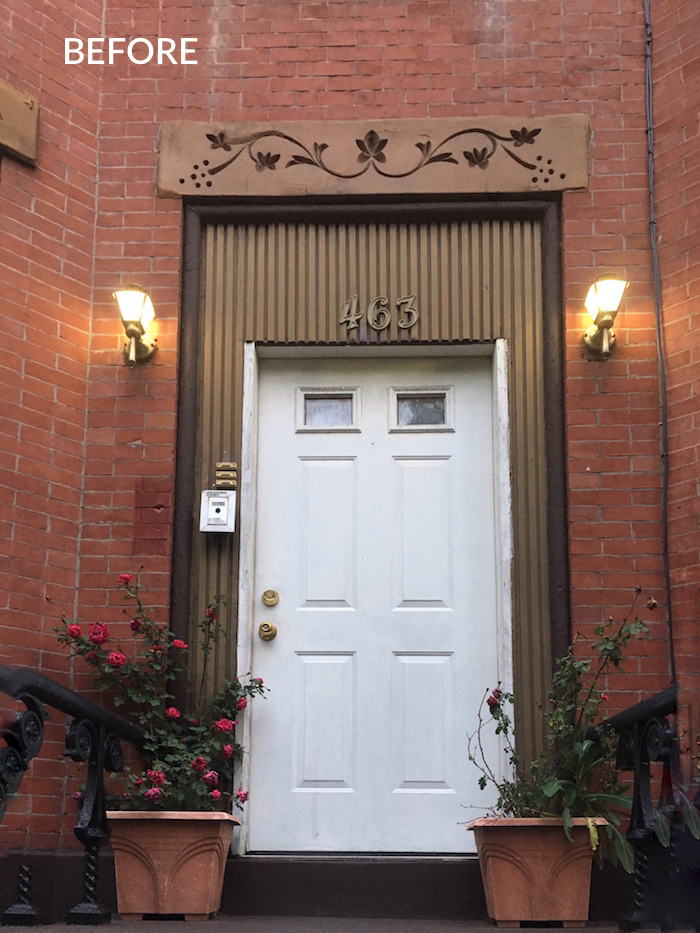 Nykia never got around to updating the home's facade until last summer when she finally had the steps redone. With the stoop looking shiny and new, the untouched front door just didn't match. As you can see from this before picture, it felt dated and didn't look interesting or inviting at all.  Nykia was always envious of a house a few blocks away that had a bright blue door and has been wanting to make over her door to look just as pretty. So with that in mind, I set out to transform her front door and make it much more appealing.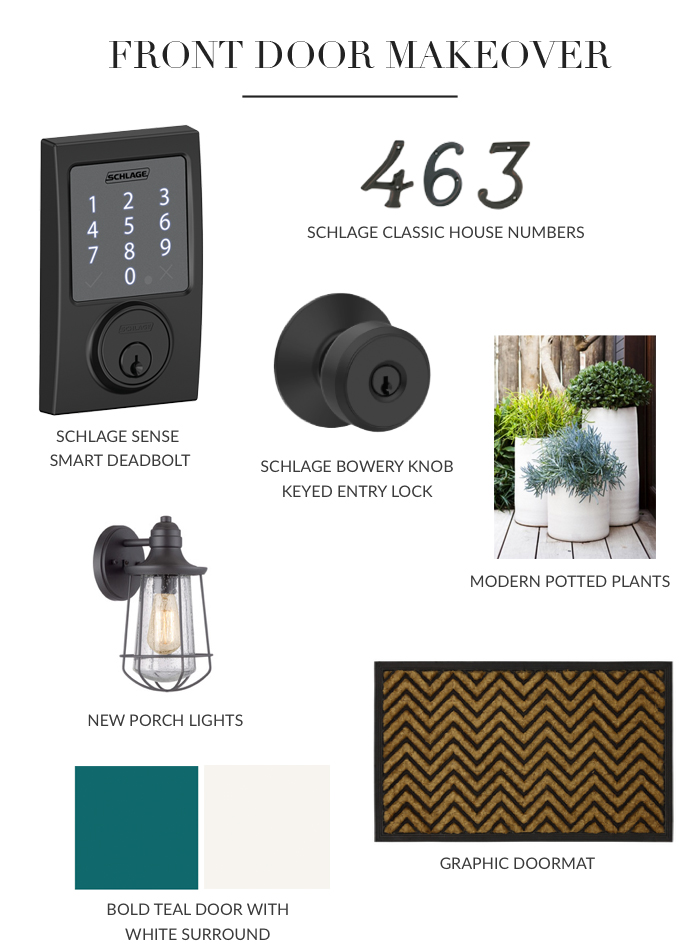 Here's the moodboard that I put together to inspire the design. The starting point was the matte black hardware from Schlage. Matte black always looks sleek and modern and I knew it would coordinate nicely with the iron railing on the stairs. I chose a lively shade of teal for the front door plus a few new accessories and quickly had a makeover plan in place!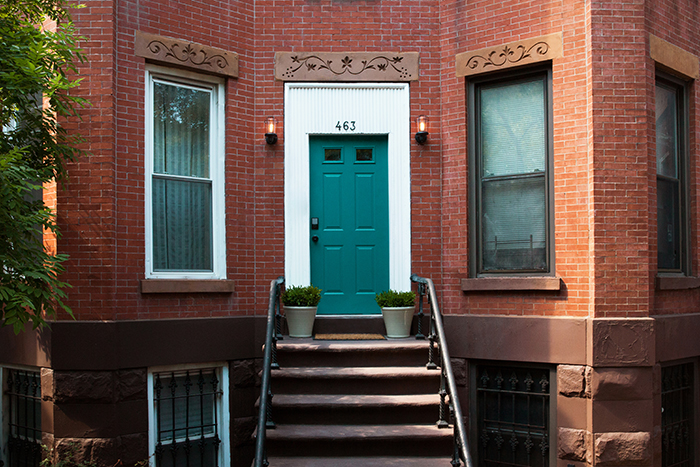 Here is what her front door looks like now! SO much better right?! The bold door and the black hardware really helped bring the facade up to date and gives the front door a totally modern feel. Let's take a closer look at the details…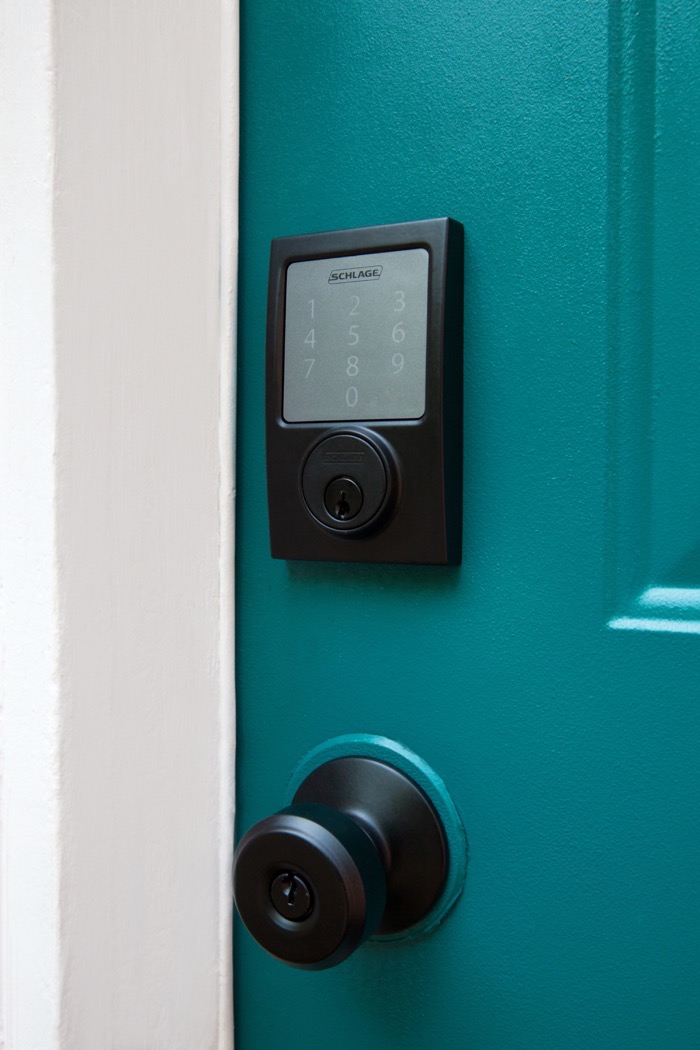 I'm a huge tech nerd so I got so excited when I learned about the Schlage Sense Smart Deadbolt. It works with bluetooth and also pairs with Apple's HomeKit so aside from unlocking the door via the Schlage app, it also responds to Siri so you can just talk to lock or unlock your door! Say what?! Nykia says this has been utterly life changing when she's coming and going with her son's stroller or bags of groceries. Plus, if she ever gets locked out, she can always gain access by unlocking the door with the app. You can also create unique access codes that disable whenever you want – so if you need to have anyone let themselves in such as a family member or housekeeper, you can give them their own code and set when it expires. How cool, right? I paired the deadbolt with Schlage's Bowery knob which has clean, modern lines and extra security features built in that make it resistant to picking.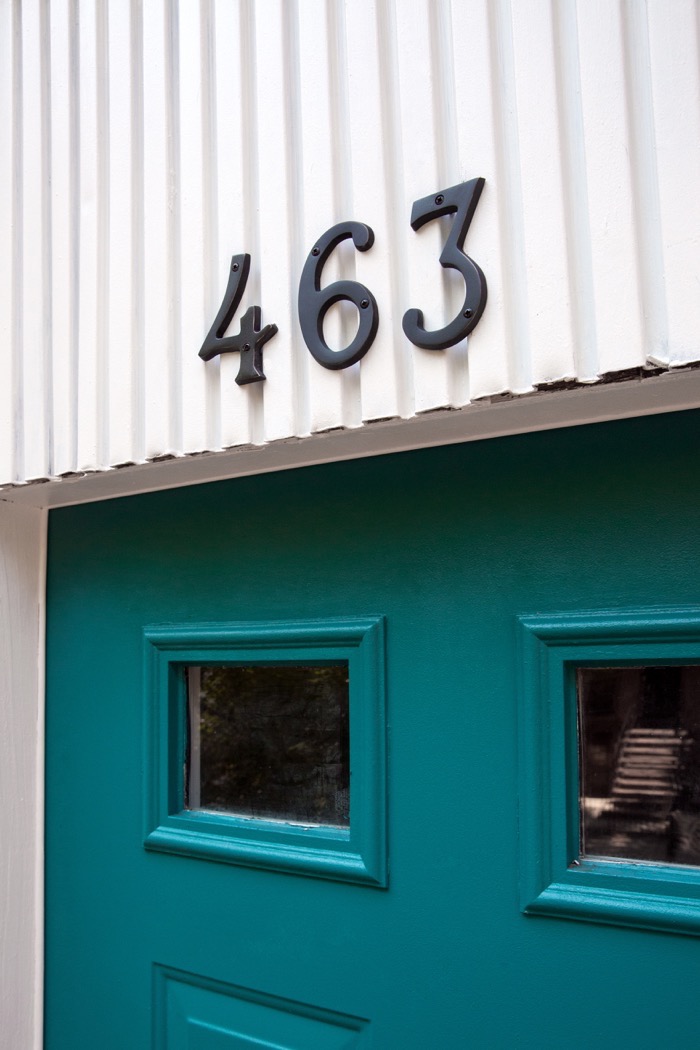 If you recall from the before picture, the old and worn house numbers blended in with the corrugated metal surround making the address pretty hard to spot from a distance. Now, the bold new house numbers create a graphic contrast against the white background so they're much more visible for guests to find.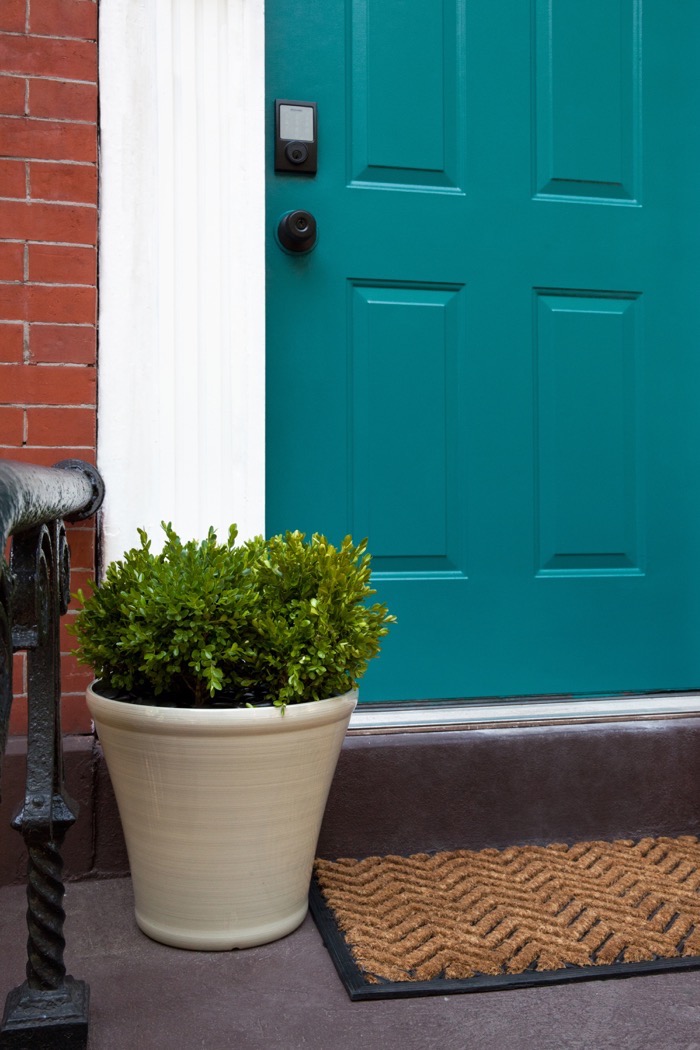 The Schlage products used here are available at Lowe's which is also where I went to pick out the paint colors and other accessories used in the makeover. I used Valspar's Gypsy Teal on the door and HGTV by Sherwin Williams' Bohemian Lace for the door surround. The beige planter brings in that perfectly streamlined aesthetic that I was looking for and I wanted to pick out plants that would be low maintenance for Nykia who has a busy career as a beauty editor on top of her most important job as a mommy! I turned to the plant specialist at Lowe's in Chelsea who helped me pick out this low maintenance variety that doesn't need to be watered daily and can withstand drastic weather changes.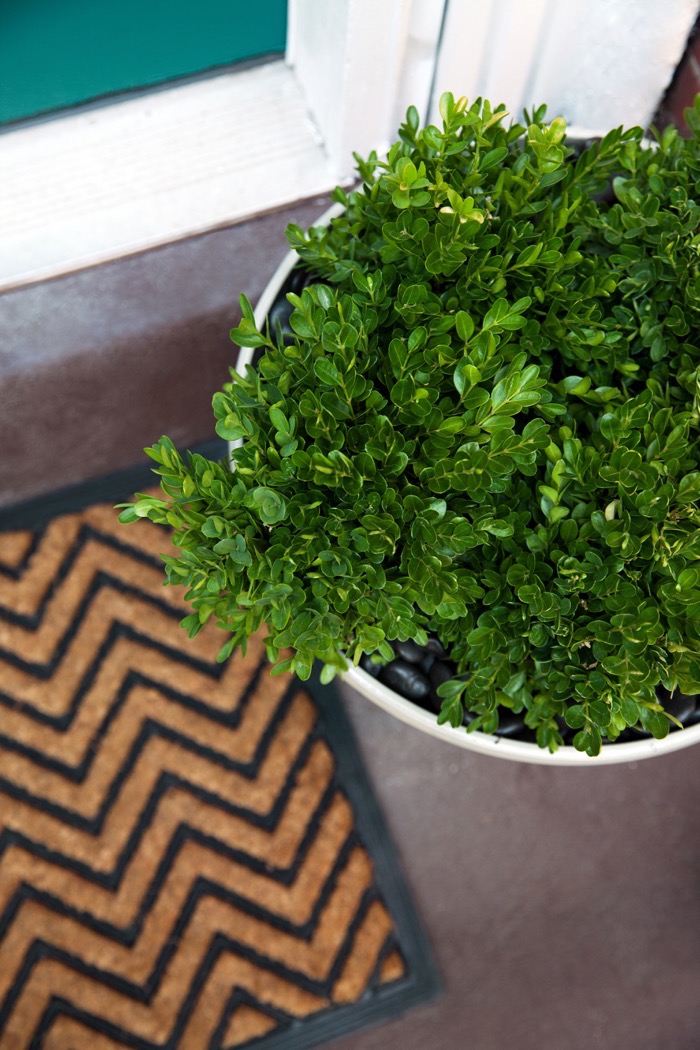 I also love the fun chevron doormat which adds a graphic and eye catching touch.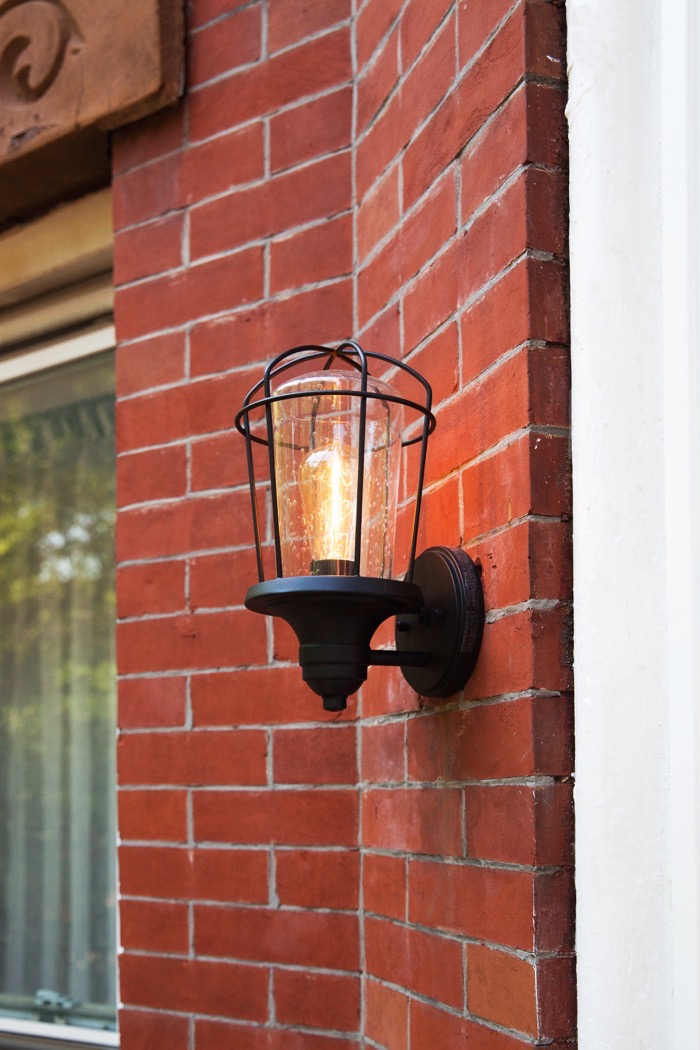 New porch lights to coordinate with the matte black Schlage hardware were the perfect addition to finish off the makeover.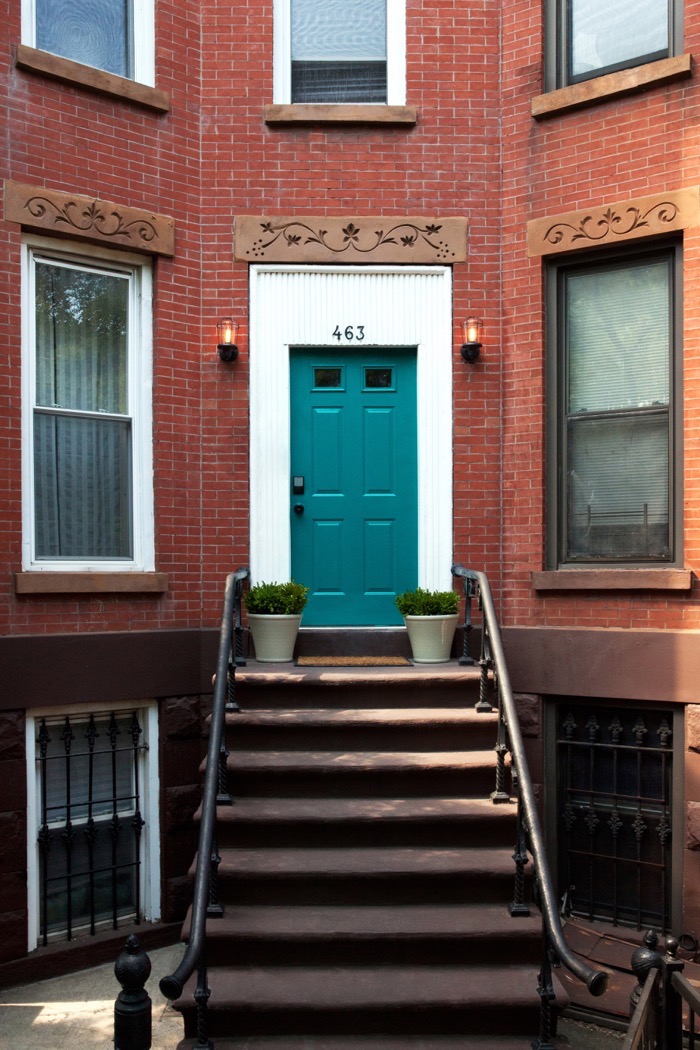 With a few simple updates, Nykia's front door now looks warm, welcoming and cheerful. I'm always amazed at what a huge impact new hardware, a little bit of paint and a few fun accessories can make. What do you think of the before and after? Pretty dramatic right?!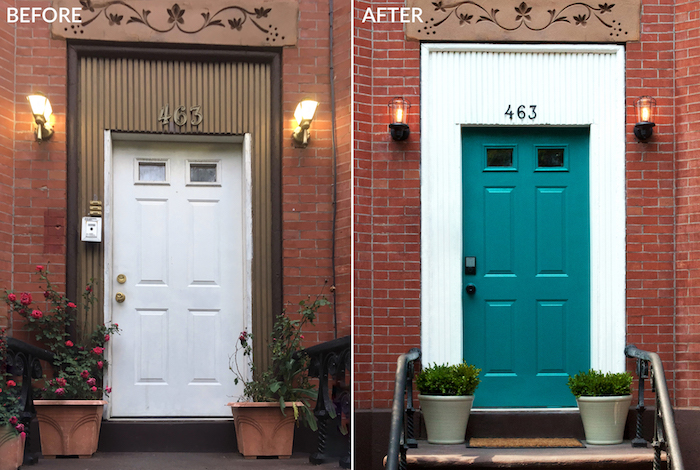 Big thanks to Schlage for sponsoring this makeover and to Lowe's for having the perfect accessories to help tie it all together! For a full list of retailers that sell Schlage products click here.
Photos by Marietta Leung.