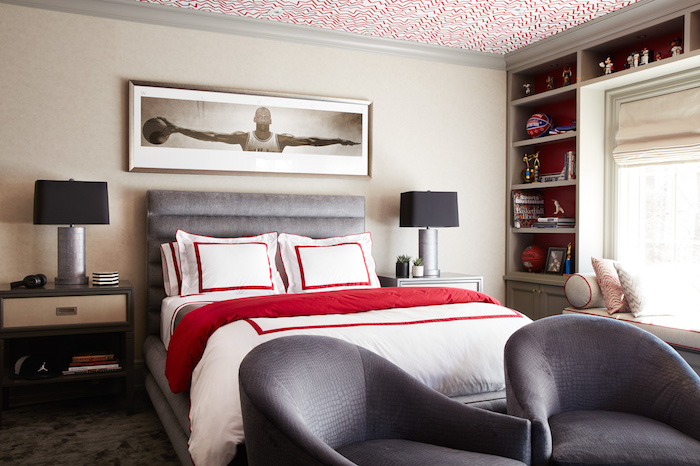 Hi guys! Excited to share a new project I finished up at the beginning of the year that was recently featured on ElleDecor.com! The room was designed for the oldest son of Yankee's Star Pitcher CC Sabathia and his Entrepreneur/Philanthropist wife Amber who was so awesome to work with. Here is a look at what the room looked like before we started…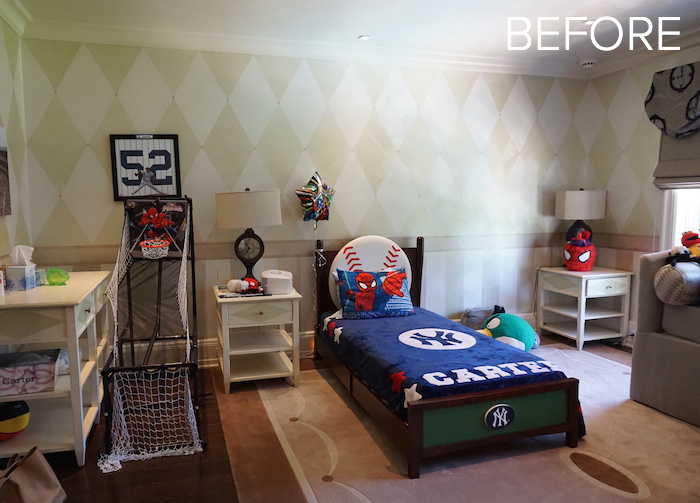 This was actually his younger brother's room and was themed after the hickory hickory dock nursery rhyme. Now 5, his younger brother was ready for a big boy room so he traded rooms with Little C who's old room was perfect for a 5-year-old but a bit too juvenile for Little C now that he's entering his pre-teen years. Which is where I come in! I was charged with remodeling this space into a sophisticated room for a 12 year old that could grow with him…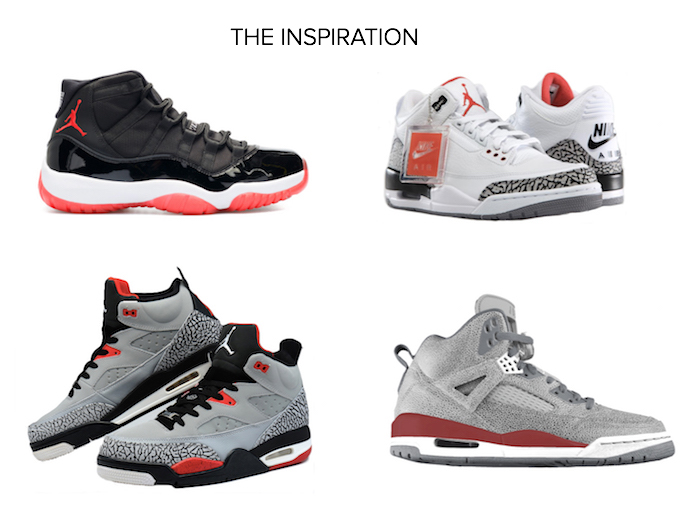 When Amber and I first met and she showed me a couple of pairs of Little C's favorite Air Jordans as inspiration, I knew this was going to be a fun project! Little C is budding star athlete and also a huge sneakerhead who loves Michael Jordan so I pulled the color palette and some pattern inspiration from the sneakers and that's where we started! Above was some of the original inspiration. Here is what the space looks like now!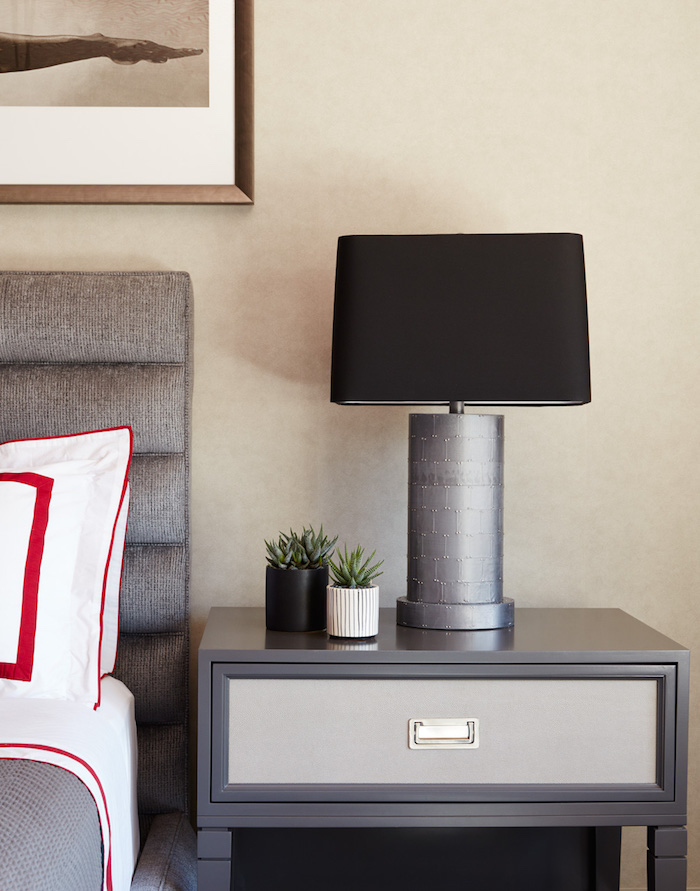 None of the furnishings and materials in the room are kid specific. We chose solid, beautiful pieces that Little C would be proud to have in his room even when he's 18 and the great thing about this space is that if you strip away the art and accessories, you'd never know it was a kids room. The idea is that once he gets older, some of the smaller elements can be swapped for more age appropriate accessories and the room can really grow with him. The materials and finishes in the space are all quite stunning and don't even come across as beautifully in these photos as they do in real life. The wallcovering, for instance, has the most beautiful leather texture. And even the front of these nightstands feature a totally chic pebbled leather. The accents are subtle but really kick up the sophistication level.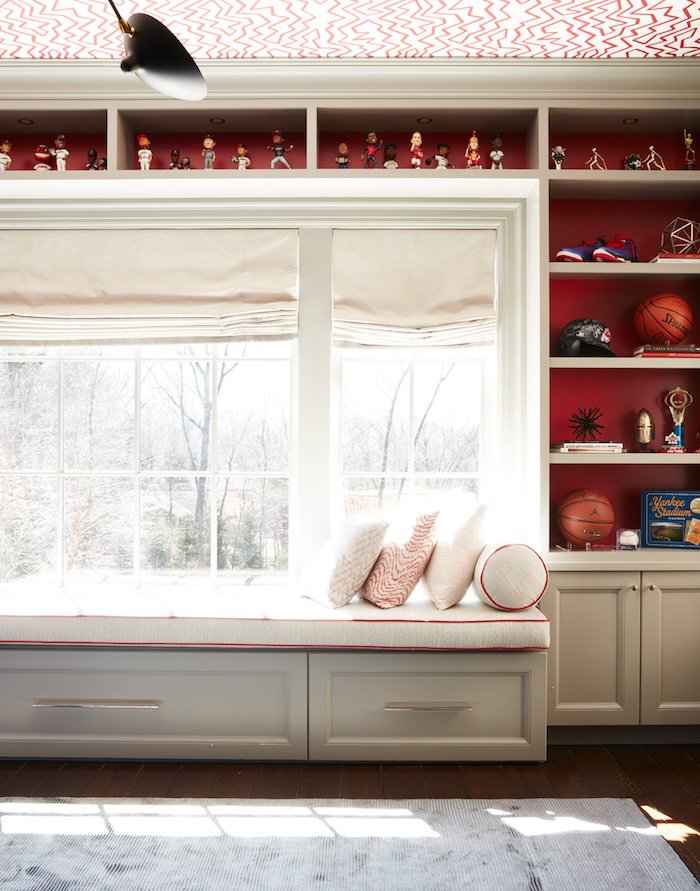 The room has a large window with a beautiful view so I designed a built-in bookcase/storage unit that would be perfect for displaying all of his trophies and sports memorabilia, his bobble head collection plus provide storage for his sports equipment and extra seating for when he has friends over.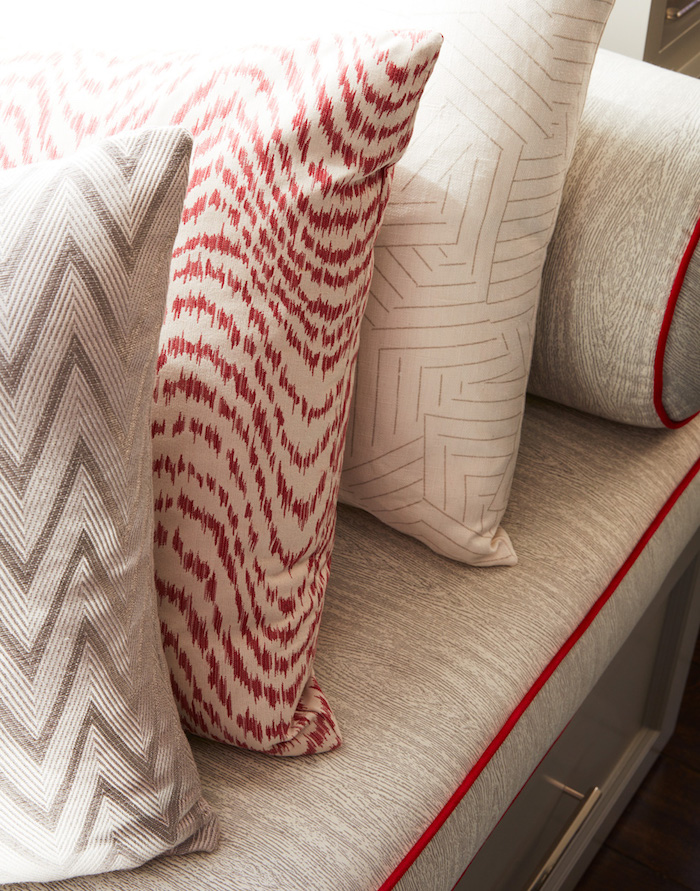 Fun fact – The upholstery on the window seat is a faux bois pattern meant to evoke the woodgrain of a basketball court.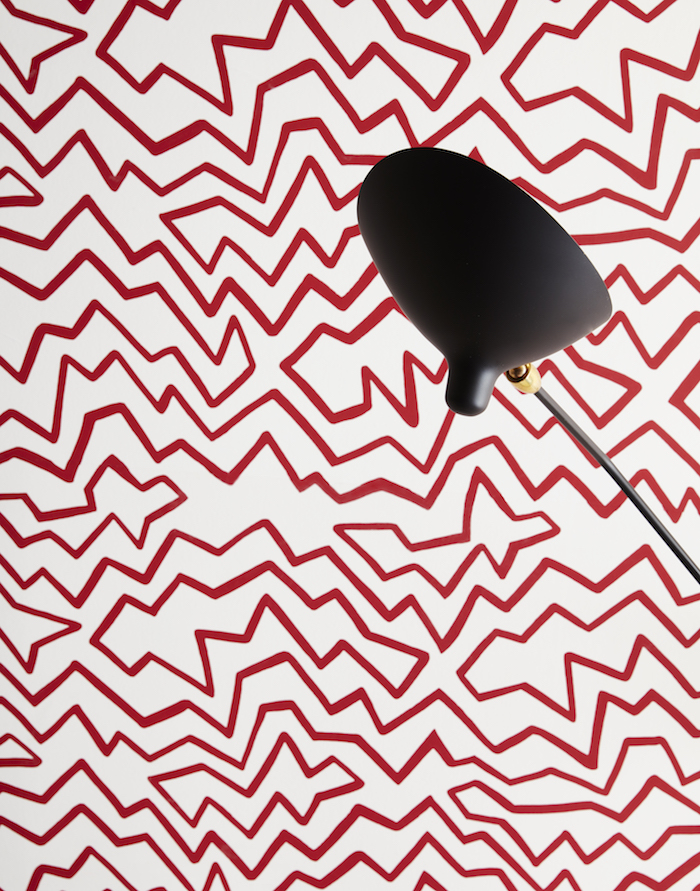 The wallpaper on the ceiling was strong focal point of the room. It added a very graphic element plus a good dose of color and because it was such a statement making element, I kept everything else in the room pretty quiet.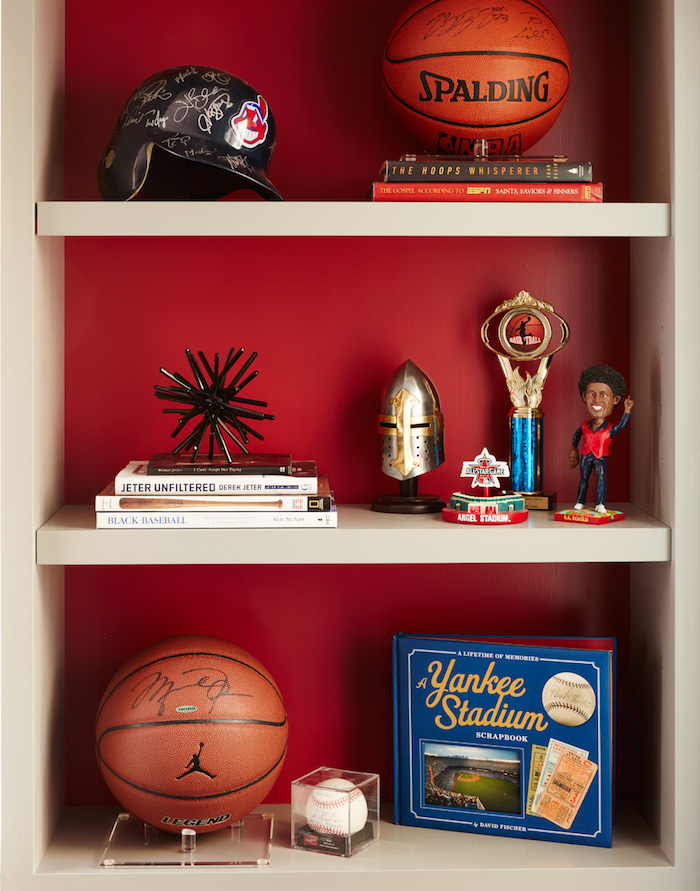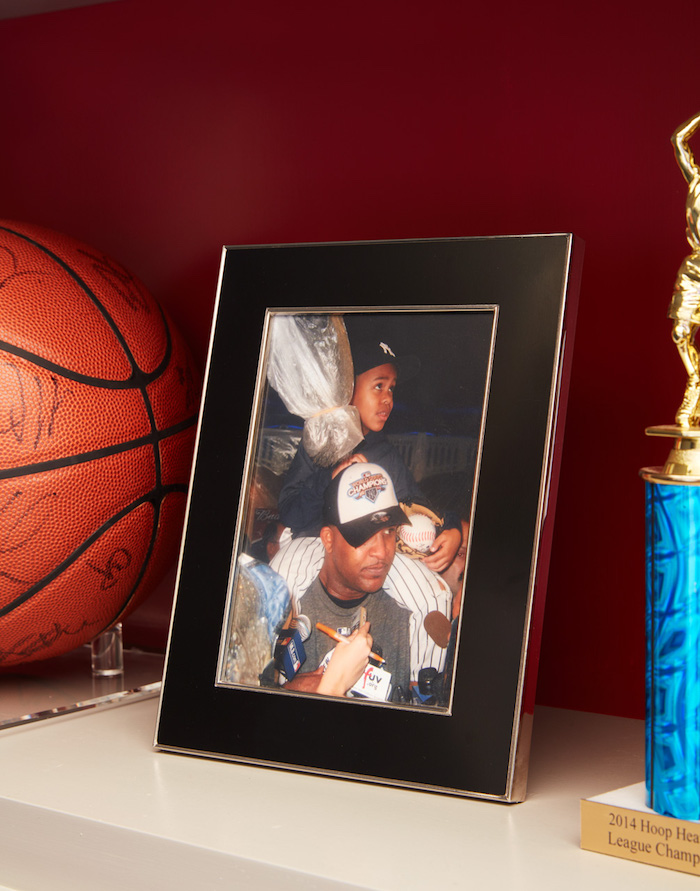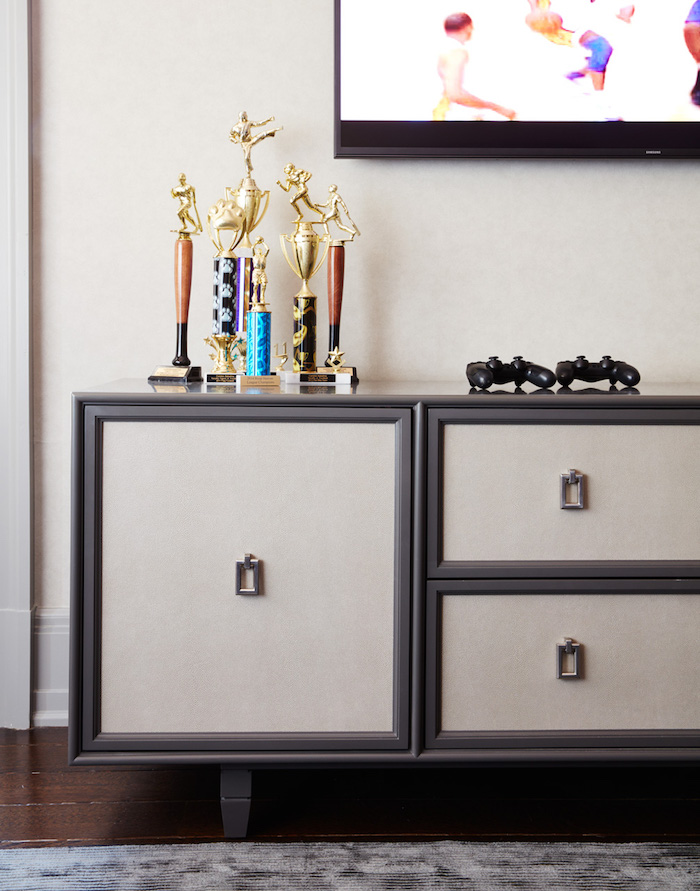 The room is a nice size so there was space to add two swivel chairs as dedicated seating for playing video games.  I also customized a credenza with a center cubby that opens up and retracts in to fit his video game system.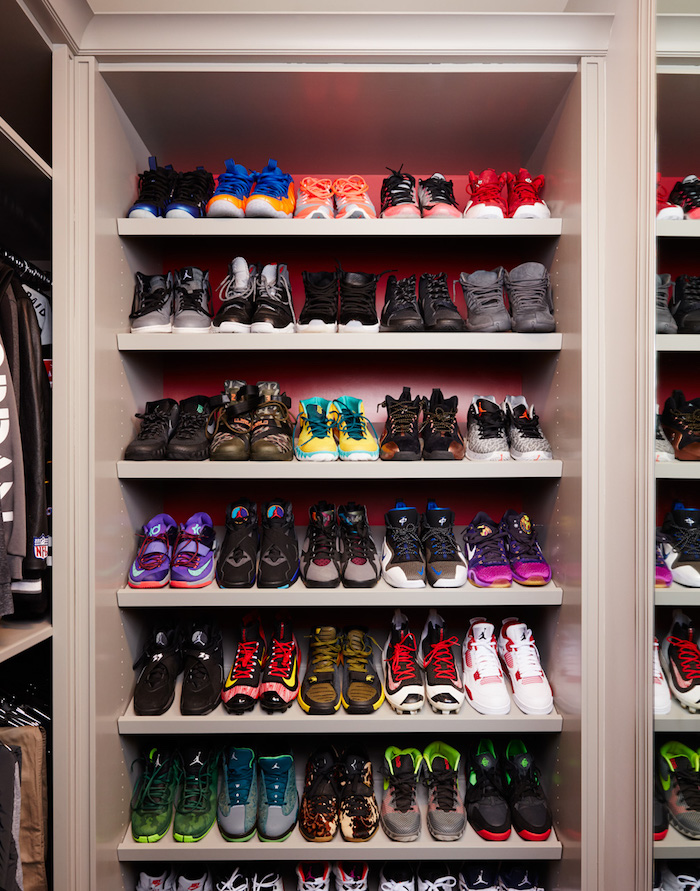 In the closet, we built custom shelving to house his extensive sneaker collection.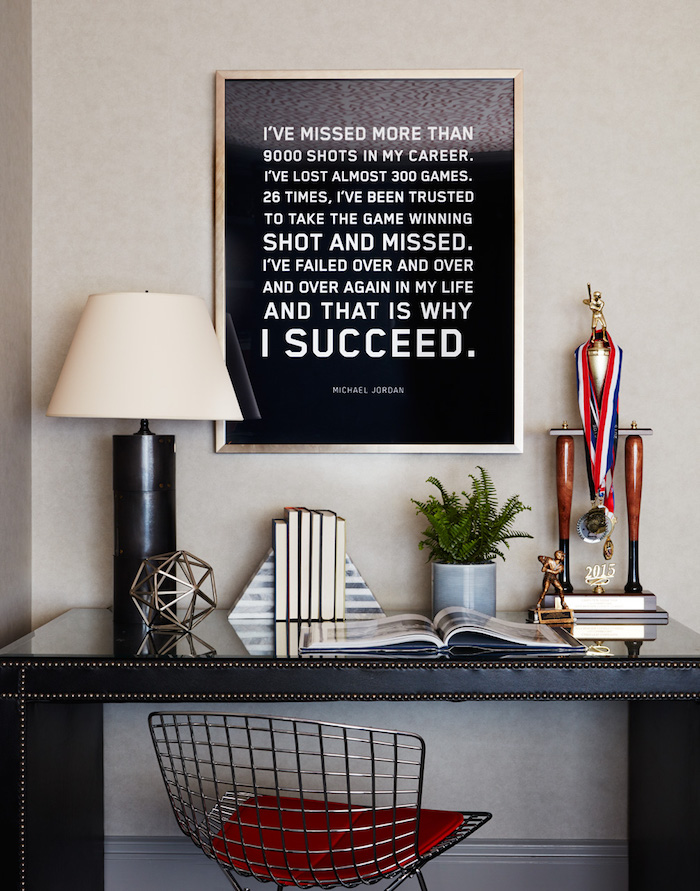 The study desk is upholstered in black leather, taking cues from the Jordan 3 sneaker. I put a lot of thought into creating a design story around the Jordans and basketball and also Michael Jordan himself who is an inspiration for almost any young athlete. I always recall that iconic Michael Jordan "Failure" commercial for Nike from the 90s which was quite powerful and inspirational, so I had a graphic designer create a poster for me with Jordan's words from the commercial to hang over Little C's study desk. This is actually one of my favorite little moments in the room!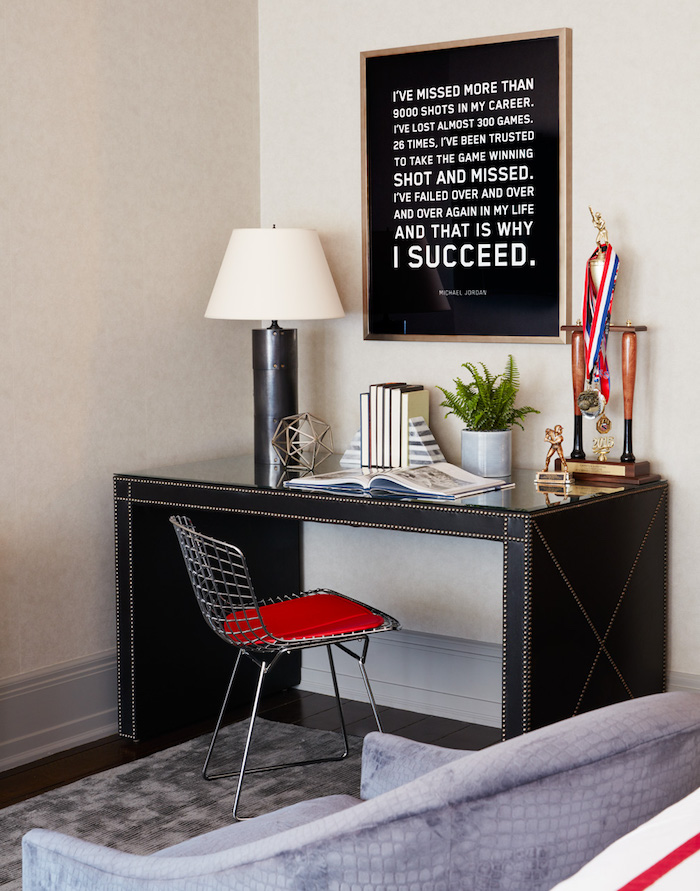 Out of respect for my clients I am not sharing sources for this project, but I did share a few with Elle Decor. You can read the story here.
Photos by David A Land