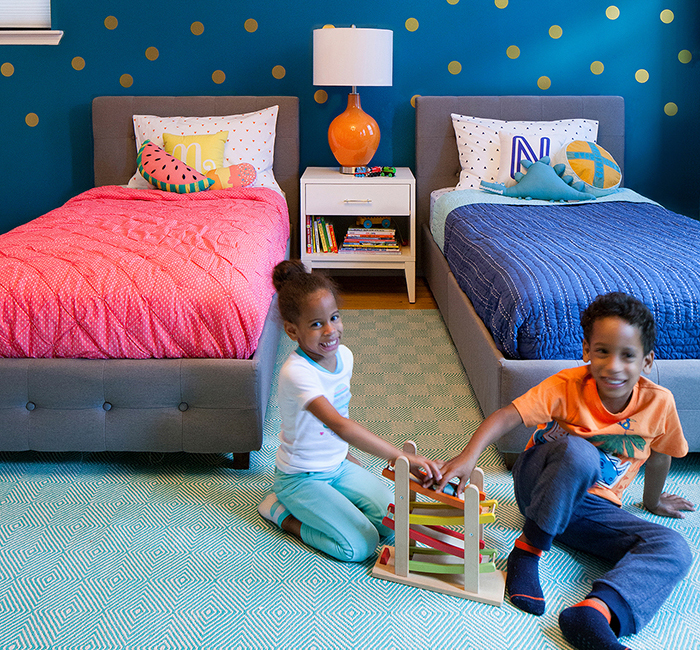 Meet Noah and Noemi. These four-year-old twin cuties are my brother's kids and two of my favorite little people on the planet. I recently redecorated their room, transforming their old nursery into a colorful and fun big kid space. Previously, they were still sleeping in toddler crib beds and now that they're officially big kids, it was time for Auntie Nicole to come to the rescue! With the help of my sister-in-law, we embarked on a budget-friendly makeover that I'm so excited to share with you! First, let's take a look at what the room looked like before….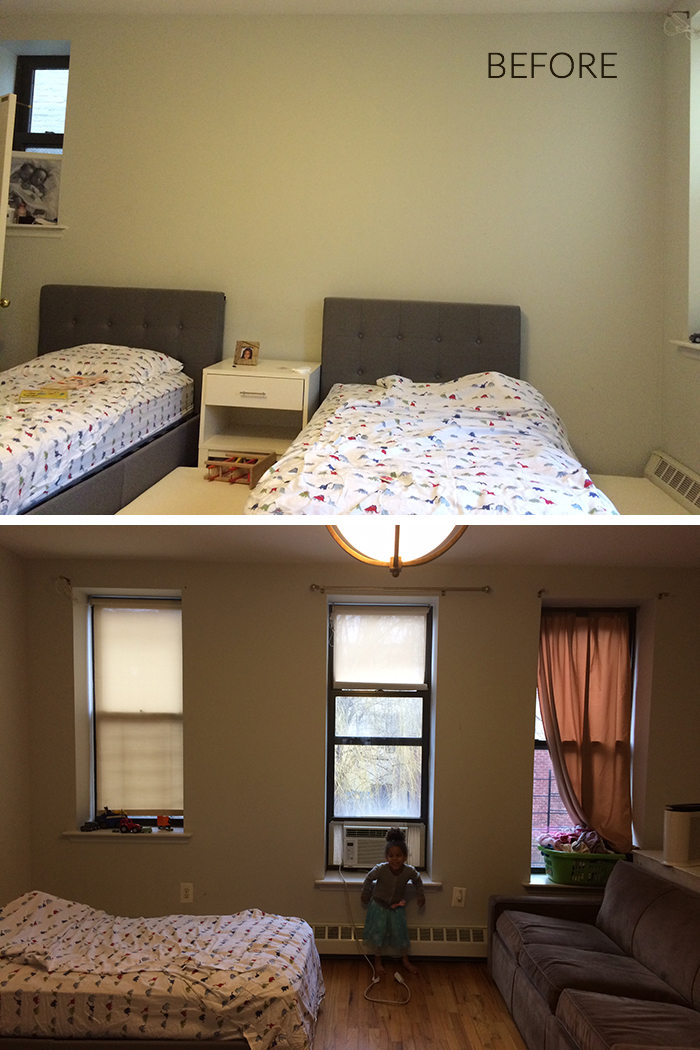 These pictures were taken right after we assembled their new beds. Imagine this space with two dark wood cribs on either side of the room and you have the full before picture. The space was a bare, blank slate that lacked personality and didn't feel youthful or comfortable. I wanted to give them a space that was colorful, a little bit whimsical and one that could grow with them as they get even bigger. The first place I started was choosing a color palette. It was a little tricky coming up with a color scheme for a shared boy/girl room that felt gender neutral while still reflecting each twin's personality. Luckily, both Noah and Noemi are fans of the color blue so I landed on a deep shade of ocean blue accented with softer aquas and pops of bold complementary colors as the palette. And now for the after shots….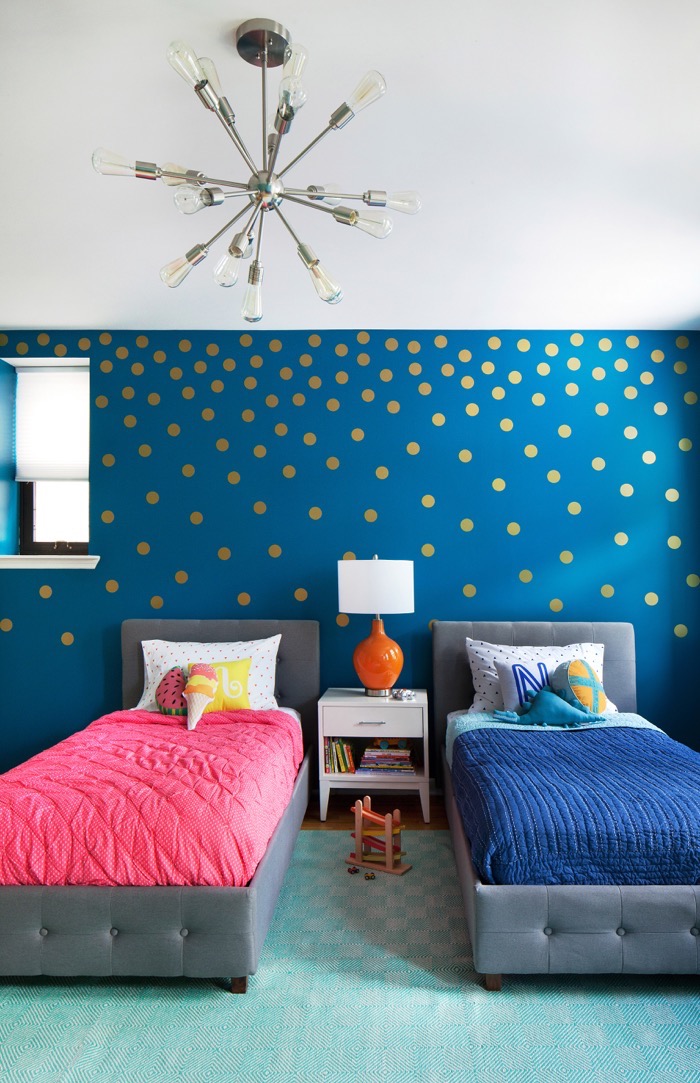 I had been dying to try the new HGTV Home by Sherwin Williams paints that are available exclusively at Lowe's and this was the perfect opportunity. I used Blue Nile for the accent wall and the rest of the walls were painted a lighter shade of turquoise called Reflecting Pool. The windows, doors and trims are Incredible White. The colors really make the space come alive! For an added pop of whimsy, we covered the wall in these fun, gold decals from Land of Nod. They simply peel and stick…and to remove them they peel off just as easily without damaging the walls. They were such a breeze to put up my 8-year-old nephew even helped and along with his mom, we put up the whole wall of dots in a little less than an hour. We used three packs and just stuck them up in a random pattern, taking a step back throughout the process to eyeball it and make sure we were happy with the spacing.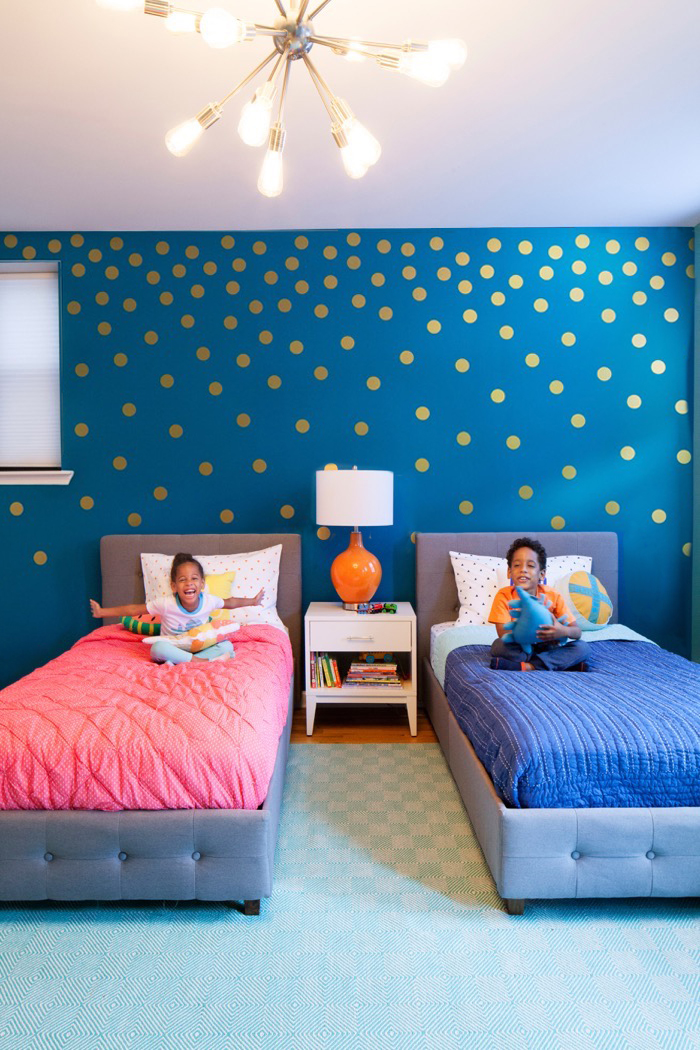 As for the beds, those were really going to be the focal point of the space in terms of furniture and I wanted something cool and modern in a neutral gray shade that the kids will never outgrow. We ended up finding these great beds from Overstock.com which were fairly inexpensive and worked perfectly in the room. We also purchased a single nightstand which serves as a visual divider between his and her side of the room. On top we added a cheerful orange, gourd lamp from Lamps Plus for a pop of contrasting color. I also love the cool, chrome sputnik light which I found at Lowe's. It feels fun and youthful which is totally the vibe I was going for.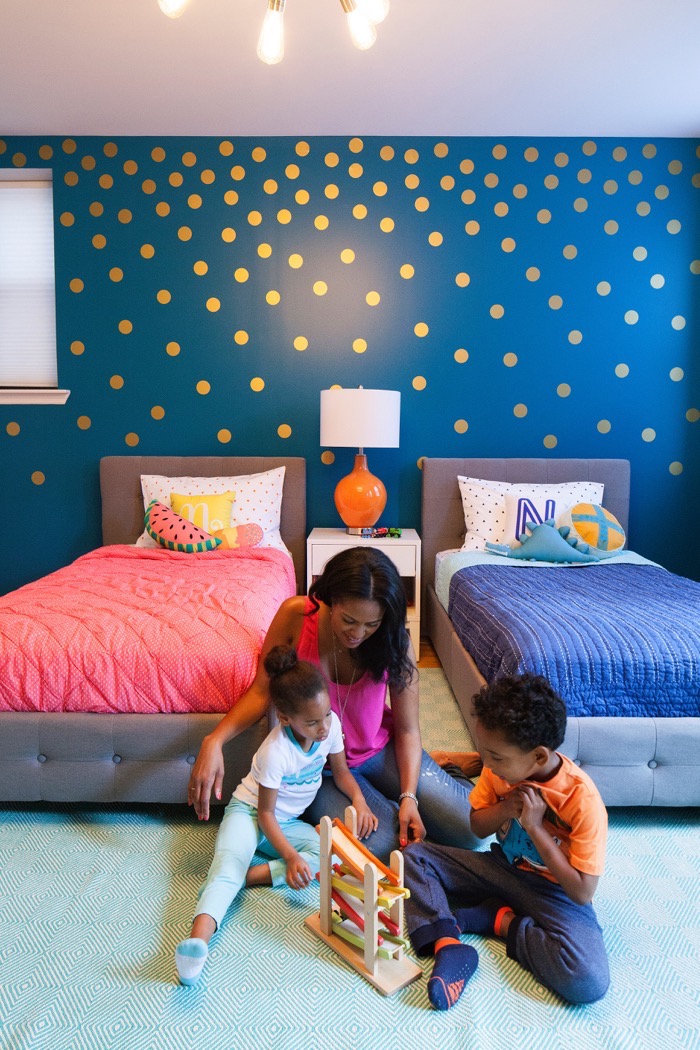 A rug was another important element of the room since the kids are always crawling all over the floor. It adds an element of texture to the room but also provides a softer, more comfortable ground for the kids to play on. One challenge in decorating this room was figuring out what to do with the windows. On the wall you see above there is a random, tiny window on the top left corner and the three windows on the wall to the right of the beds are all different heights and widths. We could have done a shade + curtain combo which would have looked pretty but would have been super expensive. I found the perfect solution at Lowe's! Did you know they have custom window treatments? You simply bring in your measurements and a specialist will help you choose and order the perfect style. There is a short lead-time of a few weeks. And, they also can match the color of some of their window shades to any paint color of your choosing which is a super cool feature. Here we just went with a simple white cellular shade from the Allen + Roth collection in a fabric called "Crossweave" in the color Snowbank. They look super clean and bright in the space. Since the kids are still little and pretty active, I went with a cordless control so we didn't have to worry about any choking hazards. The shades move up and down so seamlessly with a simple pull and push of your hand.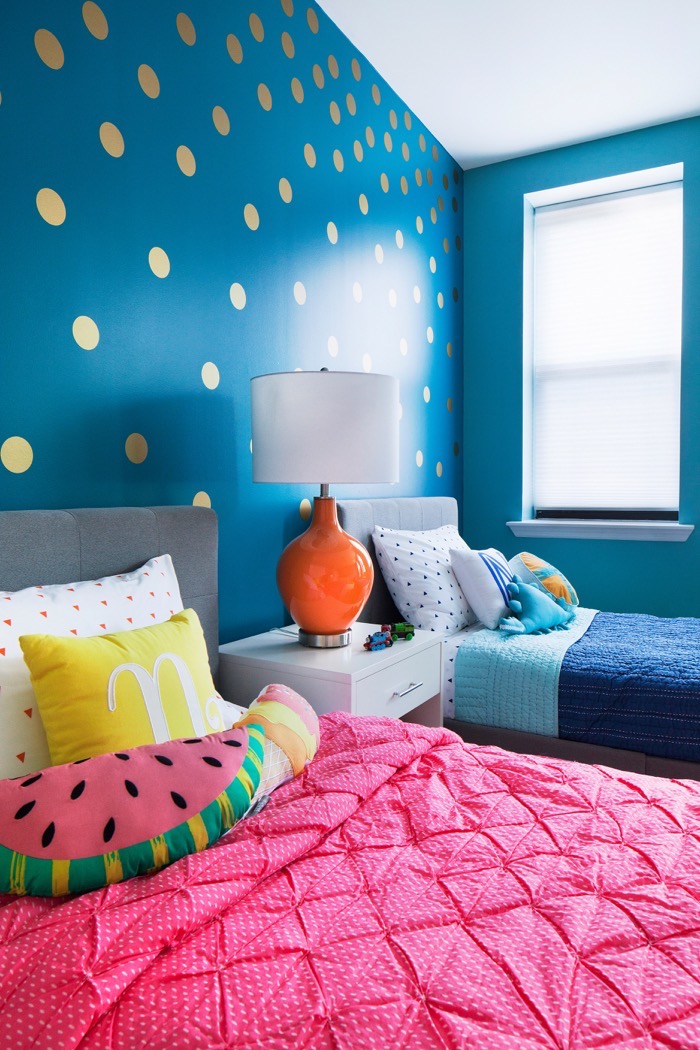 To bring in each twin's personality into the room, I used mismatched yet coordinated bedding. Noemi is a girlie girl who likes dresses and dolls and tutus and Noah loves his cars, trucks and all things blue. I chose the same sheet set for Noah & Noemi but in different colors so that each one had its own personality while still feeling coordinated. An assortment of darling little throw pillows adds the perfect finishing touch! These are the accents that can easily be swapped out as the kids grow and as you know, kids grow up so fast! What do you think of the room makeover? If you're interested in any of the items featured, I've included info below on how to get the look.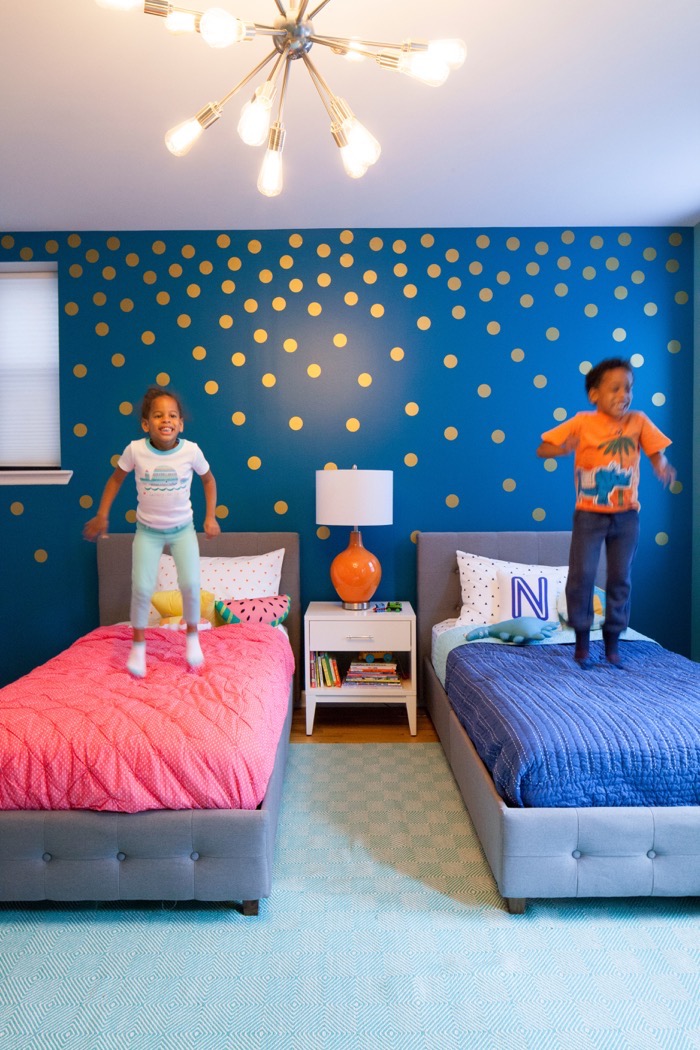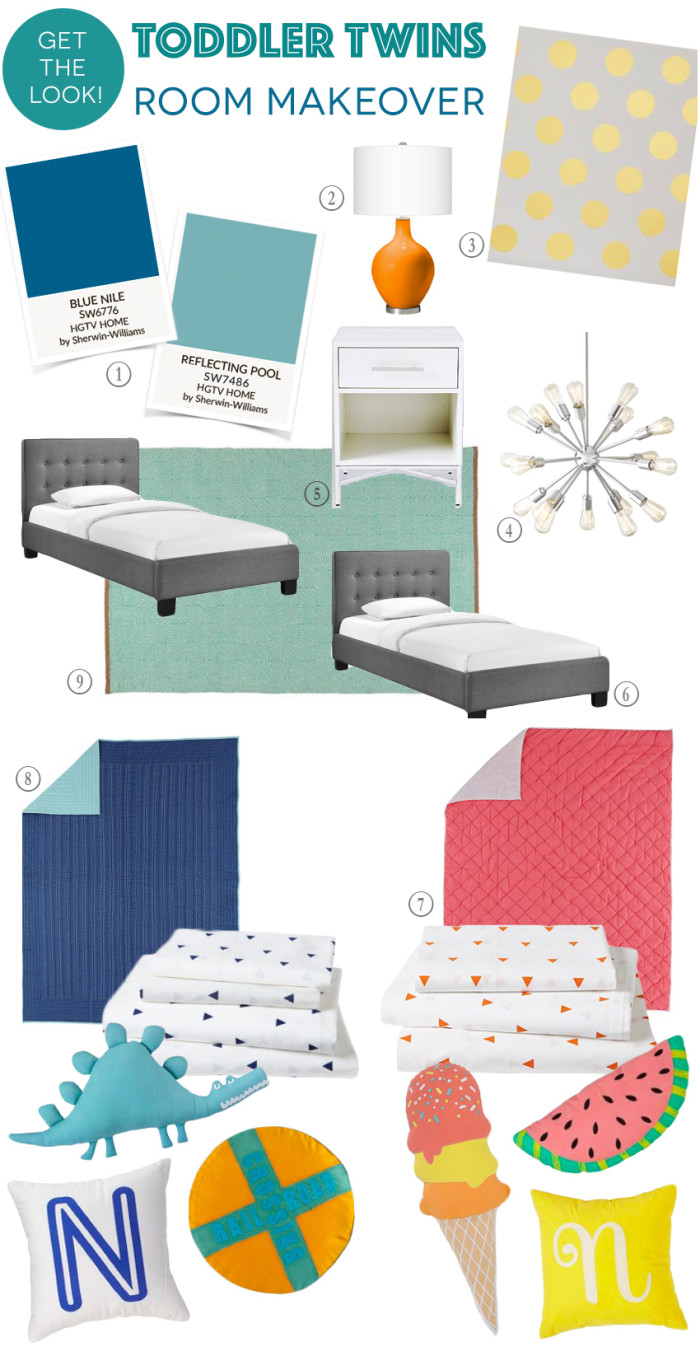 1. Paint Colors: Blue Nile & Reflecting Pool. 2. Color Plus Table Lamp 3. Gold Dot Decals 4. Sputnik Chandelier 5. Nightstand 6. Upholstered Twin Beds 7. Her Bedding: Pink Quilt (similar), Orange Triangle Sheet Set, Watermelon Pillow, Oh Joy Ice Cream Pillow, Letter N Typeset Pillow, 8. His Bedding: Deep Blue Quilt, Blue Triangle Sheet Set, Blue Letter N Pillow, Stegosaurus Pillow, Ride the Rails Pillow 9. Aqua Rug (similar)