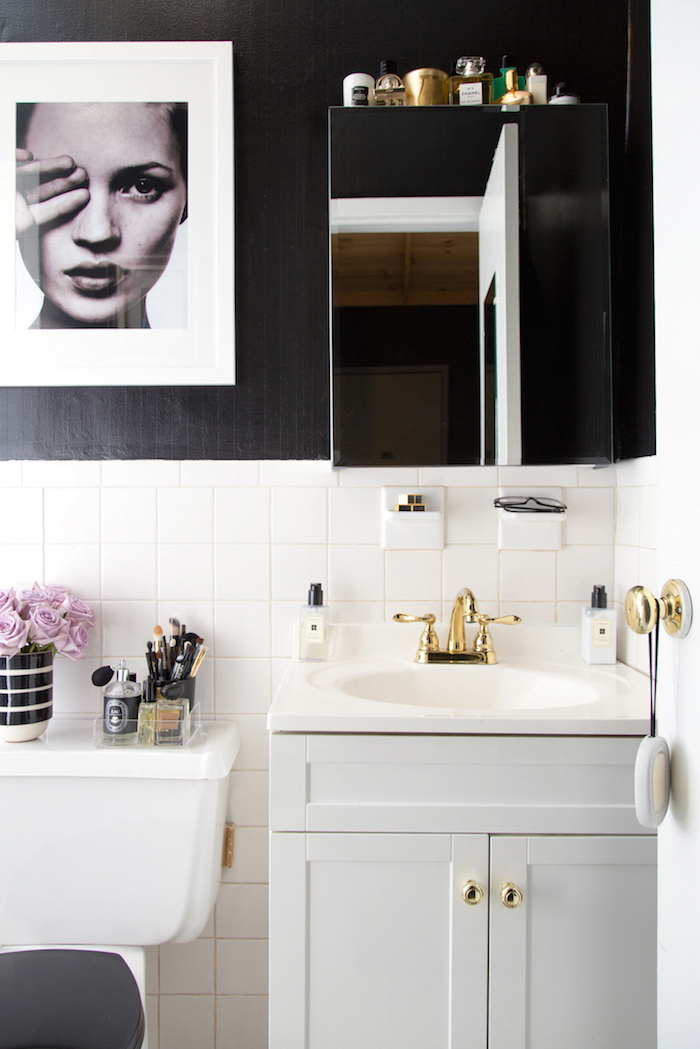 My friend Elaine is one stylish woman. She also happens to be the Beauty & Health Director at Teen Vogue and not long ago she moved to a new apartment in the super trendy West Village. Elaine says that as long as she's been in New York she has always wanted to have her very own Carrie Bradshaw moment living in the West Village but in order to live in one of Manhattan's most coveted neighborhoods, she had to make a huge sacrifice on space. Her entire apartment is just under 300 square feet! Elaine was stumped on how to make the most of her tiny studio so she turned to me for help and I guided her through the process of decorating her place which I'm excited to share here on the blog. The first room we tackled was her bathroom with the help of my amazing friends from Lowe's Home Improvement. Product links for everything used in this makeover are at the bottom of the post. Let's take a look at what this space looked like when we got started…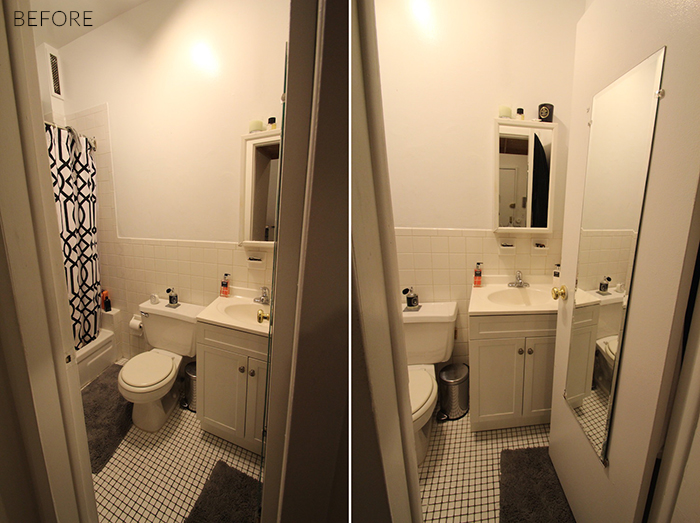 Pretty boring right? Since this is a rental, we wanted to keep the updates simple so that Elaine could execute the work on her own and so that any of the updates could easily be reversed back to the way they were when she moves out eventually. Enter Lowe's, my home improvement mecca, which had everything we needed to give this space some serious style. I used five simple tricks and a few new items from Lowe's to help pull this bathroom together. First, I chose a paint bold color for the walls to add drama. I also upgraded the faucet and hardware then picked out a larger, more stylish looking medicine cabinet as well as a new toilet seat. Finally, I layered in a cool piece of art and some stylish accessories and the room instantly came alive. Here are the after photos showing what it looks like now….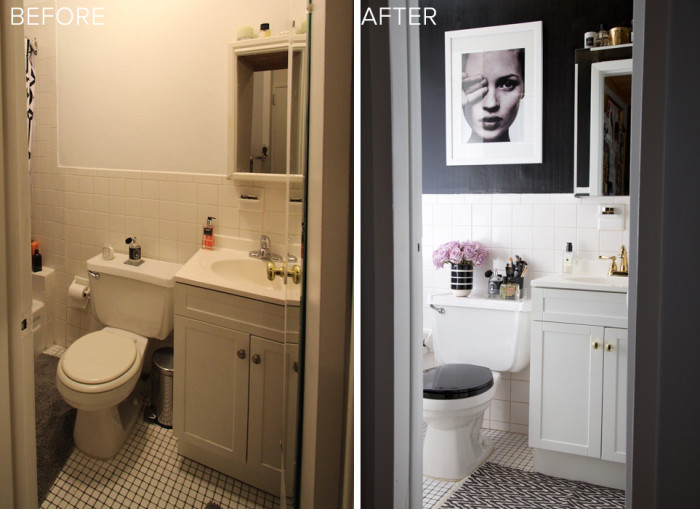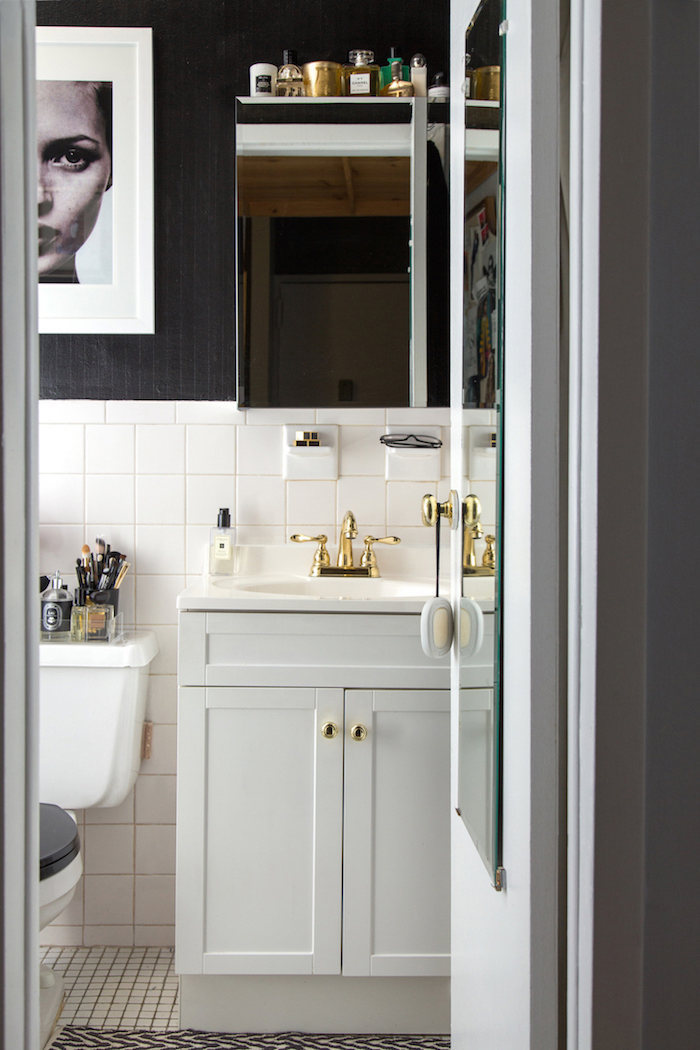 Let's talk first about this wall color! I initially had it in my head that we should give the walls a glossy coat of black paint but Elaine really wanted to try painting skinny black and white stripes inspired by this image from Pinterest. I knew getting such small stripes perfect would be tough – even for a skilled DIY'er but she gave it a try with the help of some friends and after failed attempt, I convinced her to go black. She wasn't sold at first, afraid it would make the room feel closed in, but eventually she caved and the black ended up looking a-mazing! And that's the thing with DIY. Sometimes it doesn't always work and sometimes you end up with happy accidents. In this case, you can still see a thin layer from the stripes peeking through the black paint which kind of gives the wall a cool texture. The color is Valspar's Lincoln Cottage Black in a semigloss finish available exclusively at Lowe's.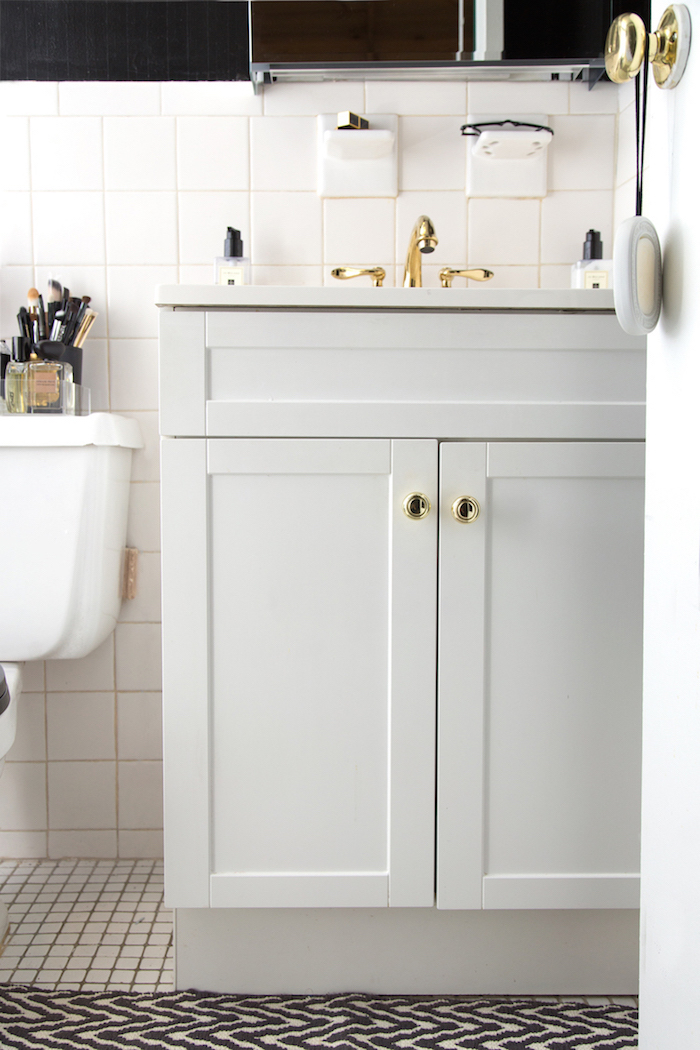 Another very simple update that had a big impact in the space was swapping out all of the hardware and cabinet knobs for brass ones which added a very luxe, glamorous vibe.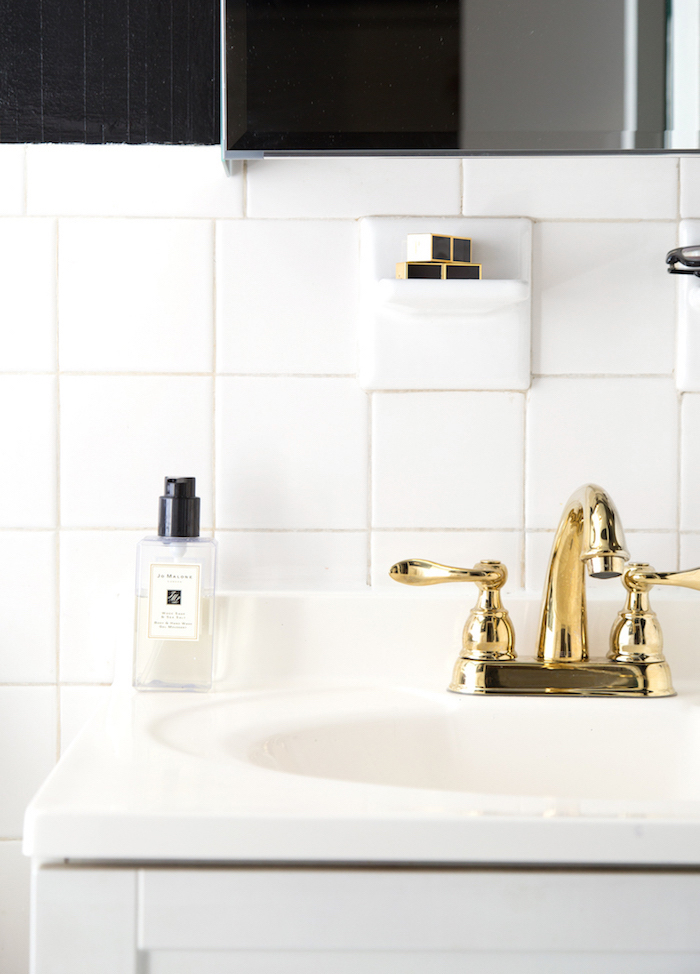 Here's a closer look at the fabulous faucet. I'm such a sucker for brass hardware ! This one is showing no longer available on the website  but you can find similar options here and here. We also swapped the cabinet knobs for these inexpensive ones that cost less than $3! Another super easy and inexpensive update was swapping out the plain old white toilet seat for a black one for some strong contrast against the white porcelain and subway tile. When it comes to color combos, I like to say that black and white is always right! Another addition was a much larger, nicer looking medicine cabinet. The one she had previously was way too small in scale and was also a bit beat up. Being a beauty editor, Elaine has a LOT of products so she needed a good medicine cabinet to house all of her favorite beauty goodies. The new one is mirrored inside and out and is much more functional and stylish.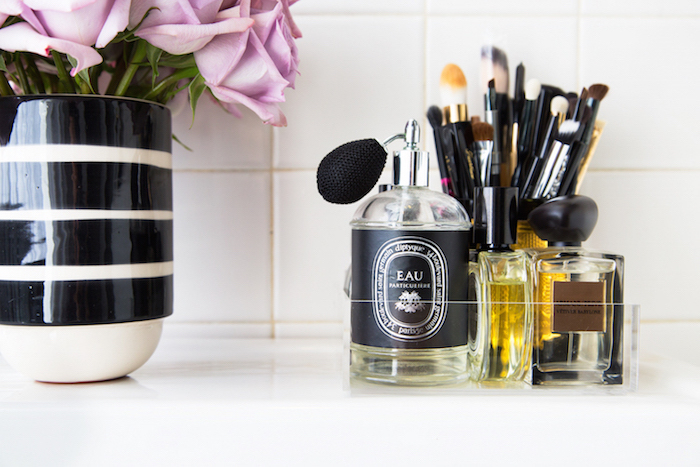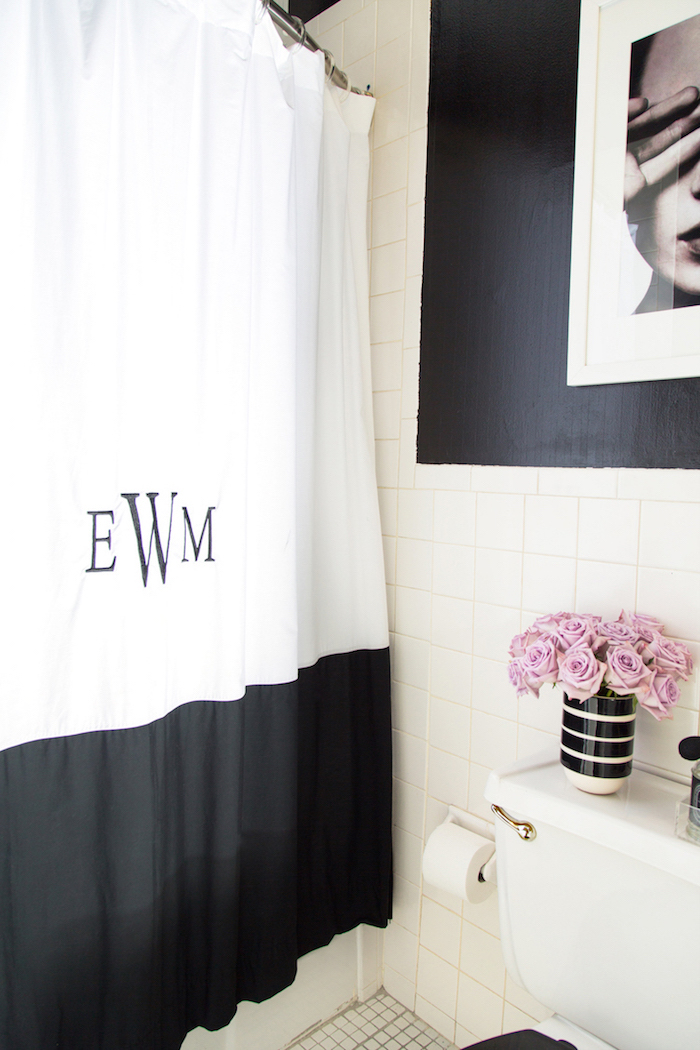 The final step in the makeover was layering in a cool piece of art and some stylish accessories like this monogrammed shower curtain, vase and a new bath mat. Elaine is obsessed with all of the great supermodels and had several amazing photography prints from her office so we picked a fabulous Kate Moss print by David Sims to hang in her bathroom and framed it in a simple, off-the-shelf white gallery frame. And that's all folks! What a crazy, good transformation, right?! And it really only required 5 easy steps! One other note – a lot of people who rent may feel like their lanlord would never let them make such changes, however, if you save all of the old fixtures and are willing to invest the time and energy to put everything back the way it was when you moved in, your lanlord may allow you to make these simple and temporary changes. Or – if the items you're adding are an upgrade to the place (such as the medicine cabinet in this case), I can't see why your lanlord would take issue with it. It's always worth an ask! Stay tuned next week for the reveal of Elaine's living space makeover but for now, check out how you get this bathroom look for yourself: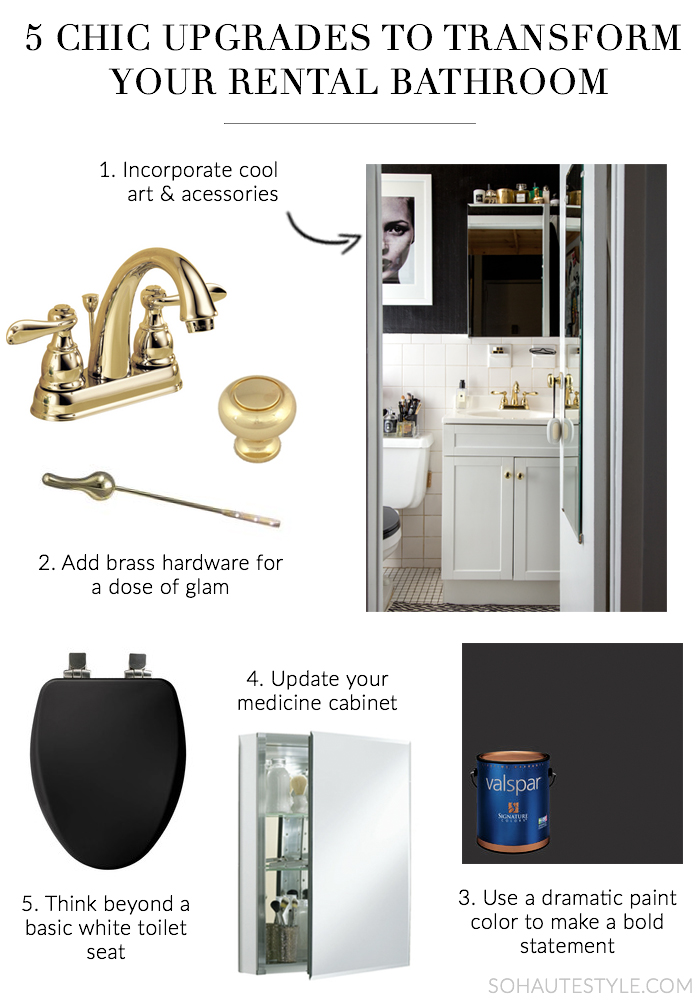 All items from Lowe's: Paint Color / Brass Cabinet Knobs / Brass Faucet / Toilet Handle / Medicine Cabinet / Toilet Seat
Other Accessories: Shower Curtain (c/o PB Teen) / Bath Mat / Vase / Acrylic Tray
Thanks to my friends at Lowe's for sponsoring this post!
PS – See Elaine's studio makeover HERE
Photos by Stephania Stanley