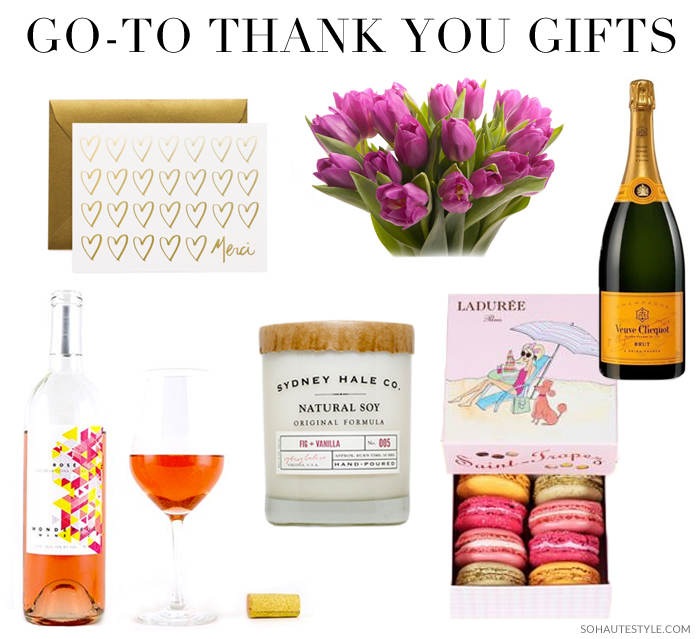 I constantly find myself needing to send thank you gifts to show appreciation for people who have done nice things for me so I thought I would share a few of my go-to gifts to give at all price points. I hope you get inspired by these ideas! And since I'm always on the hunt for fresh ideas, I'd love to hear what some of your go-to gifts are in the comments below!
$5 or Less: A Thoughtful Card
At minimum, I always send a handwritten thank you note. This is perfect for when someone treats me to lunch or has done a very helpful favor that I appreciate. Merci Thank You Card
$20 or Less: A Bottle of Wine
When I want to spend under $20 this is always a good choice because who doesn't love a nice bottle of wine!? If you know they have a preferred varietal you can go in that direction or you can look for something seasonally appropriate like a rosé in the summer or a nice full-bodied red in the winter. Wonderful Wine Co Rose
$30 or Less: A Scented Candle
I love burning scented candles at home and it's one of those little luxuries that people welcome as gifts. I like finding beautifully packaged, handmade candles in warm scents like this Fig & Vanilla Candle from my favorite candle shop on Etsy!
$40 or less: Something Edible
Sweet treats are another one of those things no one can refuse which is why they make for such great gifts. If I'm sending a gift to a group of people, cupcakes or a box of cookies are the perfect choice because everyone can enjoy them and everyone gets excited when an unexpected box of cupcakes shows up! Depending on where you order them from it may cost around $40 for a dozen cupcakes. I usually order from Sprinkes or Georgetown Cupcake which both ship nationwide and have brick and mortar locations in major US cities that hand deliver. If I'm gifting just one person, something small like a mini box of macarons from Laduree is my go-to and I'll usually spend around $20. If you know your way around the kitchen, you can also bake your own sweet treats at a very small cost! Laduree Macaron Box
Around $50: Champagne
When I want to give an extra-special thank you, I like to gift a nice bottle of champagne. Veuve Cliquot is always a go-to choice as the gift bottles come in a pretty box that you can easily wrap or present as is. A bottle costs around $50 Veuve Cliquot Brut Champagne
$50 + : Flowers
Flowers are another go-to but they can be expensive! When gifting flowers I always make sure the recipient will be present to accept them because the last thing I'd want to do is spend the money to send beautiful  flowers when someone is out of town and will never get to enjoy them! When I'm sending thank you flowers I love tulips because they're lovely and colorful but much more affordable than pricier blooms such as peonies. Expect to spend around $50 for a simple tulip bouquet. A mixed arrangement of highly coveted blooms such as peonies, ranunculus and rare roses can cost upwards of $150.  For a budget option, you can always arrange your own flowers and hand deliver them yourself for around $25! Purple Tulip Bouquet
MORE THOUGHTFUL THANK YOU GIFTS