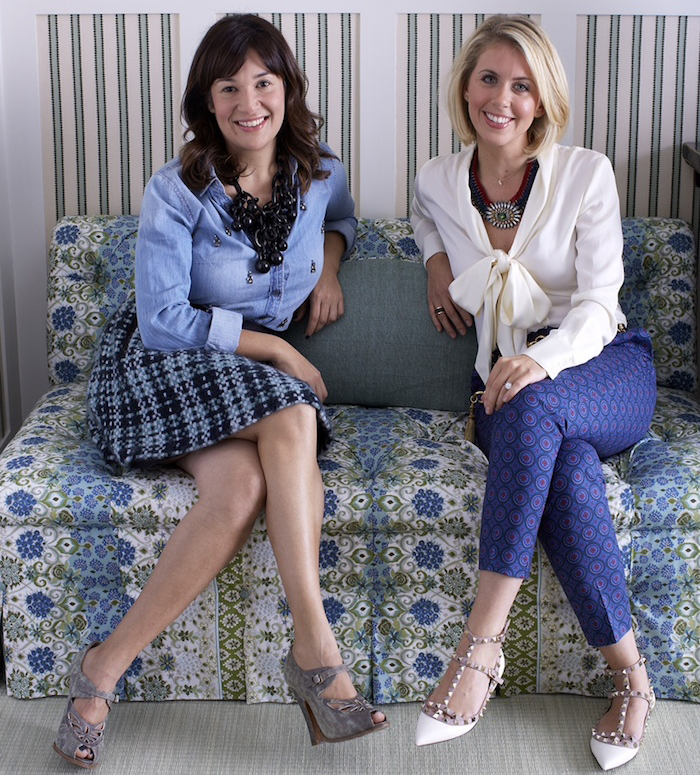 Tilton Fenwick's Suysel DePedro Cunningham and Anne Foster. Photo by Francesco Lagnese
Tilton Fenwick is one of the hottest young design firms in New York and have garnered much deserved recognition for their "new traditional" sensibility, their exuberant use of color and love for statement making patterns. It's hard to believe that this stylish design duo, led by Suysel DePedro Cunningham and Anne Foster, launched less than four years ago. Since that time, Tilton Fenwick has been named one of Traditional Home's top 20 New Trad designers to watch, was the recipient of IFDA's 2011 Rising Stars of Interior Design award, has been featured in The New York Times, major shelter publications and have designed a capsule collection of carpets for Studio Four NYC. Their latest achievement is landing a licensed collection of home fabrics for Duralee where they join an impressive roster of Designers including John Robshaw, Eileen Kathryn Boyd, Laura Kirar, Phillip Gorrivan, Thomas Paul. I got to know Suysel and Anne just as they were launching their firm and over the years we've become good friends so I couldn't be more proud of these two who are so deserving of their success and accolades! And I was incredibly honored to learn that they named one of their new fabric patterns after me and my blog! (It's called Haute!) I recently caught up with Suysel and Anne to get the scoop on their newly launched fabric line and I'm so excited to share our Q&A plus a peek at some of the collection highlights!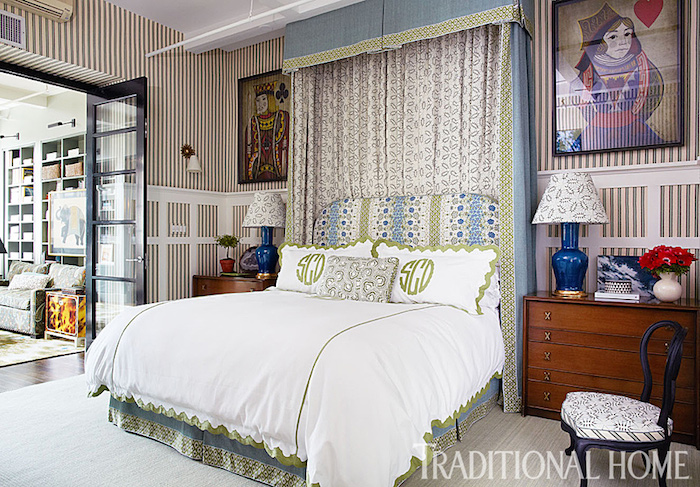 Image: Suysel DePedro Cunningham's bedroom as seen in the Feb/Mar 2014 issue of Traditional Home on newsstands now. Photo by Francesco Lagnese courtesy of Traditional Home
Congrats on launching your new fabric collection ladies! can you give us the scoop on the line?
We like to think of the collection as updated traditional, where many of the patterns are rooted in very traditional designs updated with modern colorings. We've even lovingly come to describe some as "granny chic"! "Rocat" was the first fabric we developed and it epitomizes this collection – color and pattern and stripes and floral and small all-over print but all working together so well. We used this fabric a headboard and a pair of tufted settees along with pulling out sections of the fabric as border details in Suysel's own bedroom featured in Feb/March issue of Traditional Home. We love having one fabric that can be used in a multitude of ways and we hope designers will be creative with the collection. We really can't wait to see what other creative minds will do with it!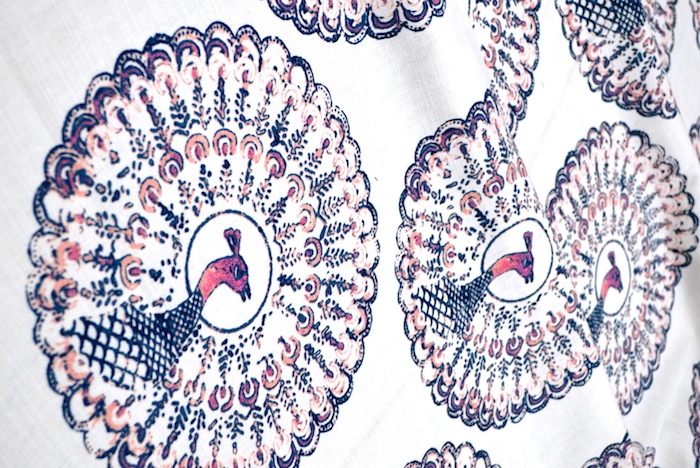 Tilton Fenwick's signature "Paboreal" peacock pattern which is available in both large and small scale. Photo courtesy of Duralee.
How did the collaboration with come about?
We first met the Duralee team in 2011, after Suysel's upstate house was published in TradHome and we were selected by the online magazine as the Top 20 New Trad designers to watch. Duralee, sponsored a design studio tour and lunch in New York for each of the designers and this is where we met Sam and Lauren from Duralee who we would later collaborate with on this collection. A year later we received a call about the possibility of working together. Pinching ourselves, we once again met with the team at the New York design studio and were overjoyed when they asked us to collaborate with them on a fabric collection. It was the opportunity of a lifetime for two gals obsessed with pattern and color!
What was the creative process like?
The team at Duralee, especially Sam and Lauren at the design studio, were our guides throughout the process. From design conception, selection of qualities, creating colorways down to finalizing the 158 SKUs in the collection, we were guided and advised throughout the process. During the textile design process, we tried to take our expertise in decorating to inform our decision making. What are we always looking for? We made an effort to respond to this question in the final production of goods in the collection. Perhaps most importantly for us, colorful statement prints were on our "must have" list, which typically become the building block for our Tilton Fenwick room schemes. We we made these patterns a priority in our collection. We also find it telling that within the timeframe of designing this collection Anne got pregnant and had a baby — who is 9 months old now, just as we are launching the fabric line! Creating this collection took 9 months longer than the human gestation period!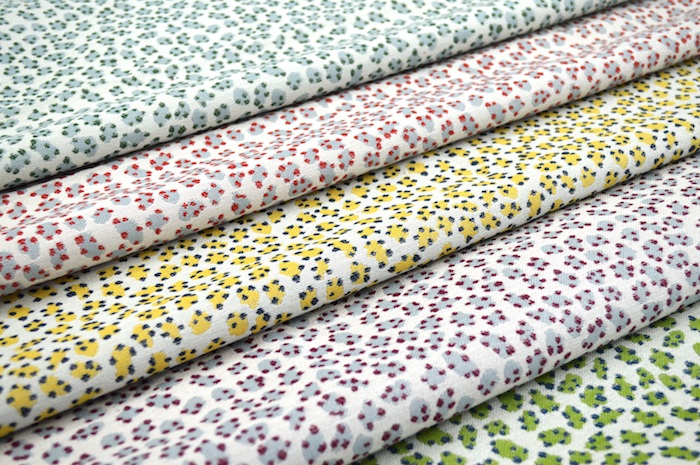 Tilton Fenwick's "Haute" pattern (& my personal favorite!) Photo courtesy of Duralee
It seems as though you named many of the pattern in the collection after family and friends…including me which is a huge honor! What was the thought behind your naming process and I'm dying to hear more about why you chose this particular pattern for me!
At first naming seemed quite daunting but once we got rolling we had a lot of fun with it. Because this is our first product collection we wanted to honor the people that have supported us and helped us get to where we are today. Many of the names come from these family, friends and colleagues. Of course, "Haute" was named for one of those incredible supporters!! The fashion blogger The Man Repeller has said that leopard print is a neutral — and we couldn't agree more. This little colorful animal print meets dots is truly one of the most classic and stylish go-with patterns in the collection. There's not much in any room that we wouldn't want to cover in "Haute" — it's namesake had to be derived from someone as absolutely stylish and fabulous! We think it's completely timeless and honestly could have put 20 or more different colorways in the collection – it's that good!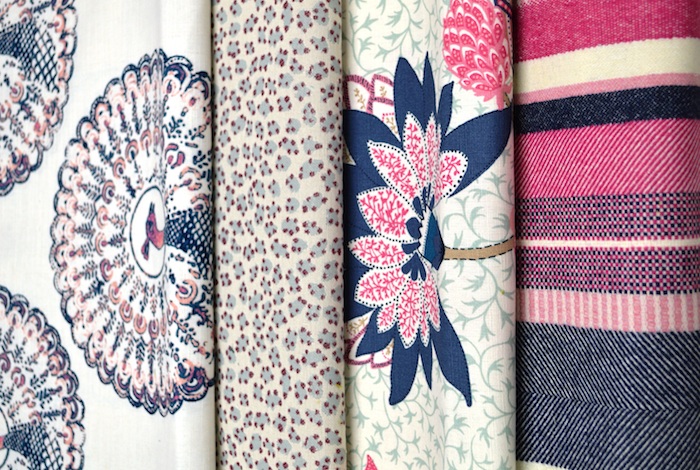 Patterns from L-R: Paboreal, Haute, Chilvers & Quintessence. Photo courtesy of Duralee.
Do you have a favorite pattern?
It is so incredibly hard to choose just a few but for prints, we would have to start with the two fabrics named after our daughters, "Gibbie" and "Cecilia". "Gibbie" is such a beautiful floral with amazing detail in every flower and incredible interest in the ground pattern. "Cecilia" is a fun take on floral meet puzzle pieces, which we found to be so whimsical and playful. We would be remiss not to mention "Zulla" as well — a play on paisley with a tiny all-over ground pattern that we love.
Aside from creating your new fabric collection, what has been your most rewarding accomplishment since launching Tilton Fenwick?
Seeing and hearing from happy clients is one of the top rewards in our industry. We received the nicest email from a client after the city shut down in the wake of Hurricane Sandy and we all spent an inordinate amount of time in our homes. Part of the email said "Every sight line gives me pleasure, every color combination delights the eye, every contrast of texture makes me hum." It is one of the highlights of our design careers to date.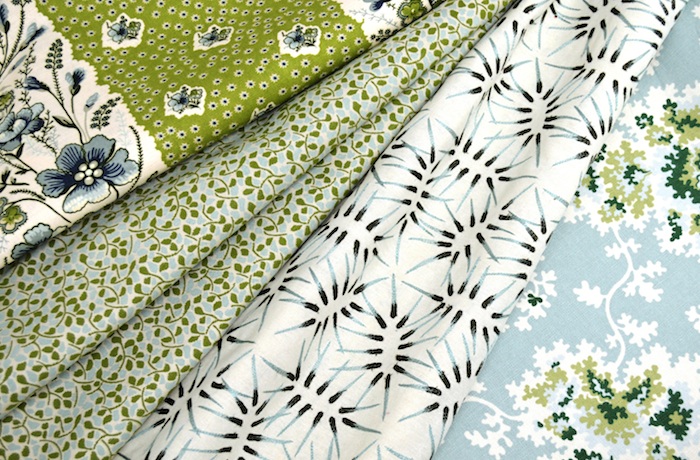 Patterns from L-R: Geniesse, Berk, Scout & Cecilia. Photo courtesy of Duralee.
What's next for you two?
We dream of a wallpaper line! Pattern on walls is definitely something we are known for. We took the "Armstrong" stripe fabric from our Duralee collection and had it paper-backed for wallcovering in Suysel's bedroom. The depth of pattern on walls makes a room sing. So until we get that wallpaper deal, we will be pasting our fabric to walls! We also see a growth for us in terms of geographic reach. We are currently working on two homes in Texas and love the opportunity to work in a state that loves BIG and BOLD! Our fabrics will find a home in many rooms in both of these homes and we can't wait to see the fabrics come to life!