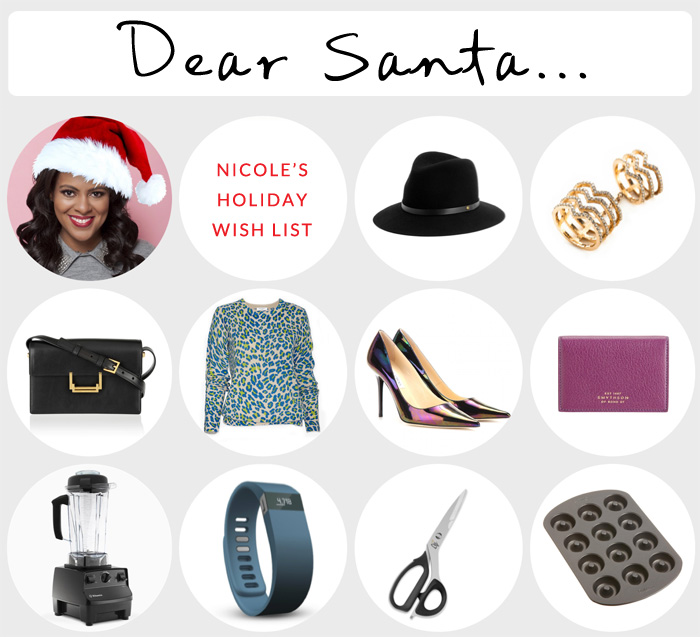 I, unfortunately, procrastinated this year and still have to run out for a few last minute gifts but hopefully by now you've gotten all of your shopping out of the way and can just relax and enjoy the holidays. And since I've posted all of the holiday gift guides I planned, I thought it would be fun to wrap up by sharing what's on my holiday wish list this year!
Rag & Bone Fedora – I've been lusting over this hat for a while. Hoping it will instantly elevate my cool status:-)
Paige Novick Ring – What woman doesn't love baubles and bling? This ring from Paige Novick is edgy and chic and I am obsessed!
Saint Laurent "Lulu" Shoulder Bag – I love a classic, logo-less bag that will last for years and never go out of style. I'm also in need of a new black everyday bag that can be dressed up or down. This Saint Laurent shoulder bag is perfection!
Equipment Cashmere Leopard Sweater – Two things I can't resist: A cozy cashmere sweater and animal prints! This sweater is calling my name!
Jimmy Choo "Abel" Iridescent Patent Pumps – Jimmy Choo's Abel pump is hands down the most comfortable high-heel I've ever worn. And in iridescent patent leather?! Bananas. Need these ASAP.
Smythson Card Case – I'm out and about networking and handing out business cards quite often and my current card case is getting a bit worn. This roomy and stylish case from Smythson features two pockets with enough space to store my cards and collect new ones.
Vitamix Blender – I make smoothies and fresh juices a few times a week and my current blender just isn't cutting it. Everyone says the Vitamix is an incomparable must-have. I want one badly.
Fitbit Force Activity + Sleep Tracker – This fitness tracker measures activity levels including the number of steps taken, calories burned, quality of sleep and more. Two of my goals for 2014 are to continue to workout and stay healthy and to get better sleep … Hopefully this can help with both!
Shun Kitchen Shears – One of the most used kitchen tools are my kitchen shears! I use them for EVERYTHING and mine are cheapy and have dulled down quite a bit. I'd like a new, quality pair of shears with sharp blades and a killer warranty that can withstand my daily use and still hold up for years. These should do the trick.
Donut Pan – Donuts are my latest food obsession. I can't get enough of them and since I am the consummate home cook, of course I want to make some for myself. I'd much prefer to bake rather than fry them so I'm lusting after a mini donut pan so that I can make delicious baked donuts at home.
Here's hoping Santa reads So Haute and will leave a few surprises under my tree;-) Happy Holidays Y'all!
PS – I added the santa hat to my photo using this fun little free app for iPhone called Santa Hats. You can choose from different Santa hats to add to your photos and it's such a cute way to spread holiday cheer! Click here to download it from the iTunes store!