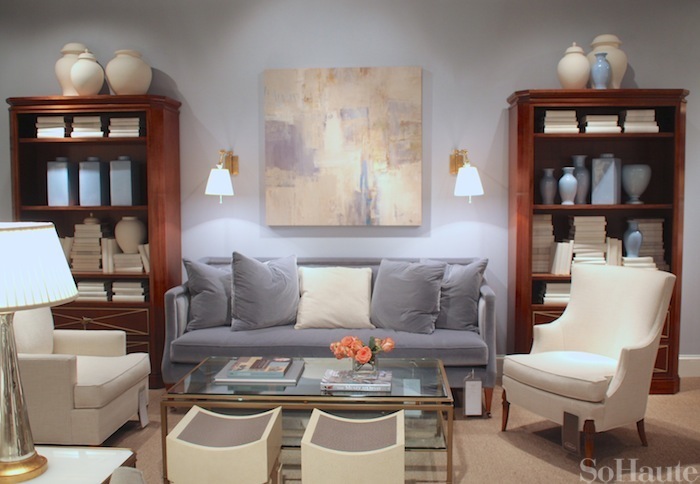 Suzanne Kasler for Hickory Chair
At the end of April I headed to High Point, North Carolina, also known as America's furniture capital, to attend the biannual High Point Market which is a trade show showcasing the best in home furnishings. My friends from Hickory Chair brought me to High Point this season and my first stop, naturally, was a tour of the company's gorgeous 25,000 square foot showroom. I always pop into the Hickory Chair / Pearson showroom to see what's new when I'm in the NYDC building, but in terms of size and the scope of furnishings on display, it pales in comparison to the company's High Point outpost. In case you're not familiar with Hickory Chair, the company has been around for more than a hundred years and manufactures high end custom furniture available through the design trade and furniture dealers. All of the furniture is American made in Hickory, North Carolina with the highest level of craftsmanship and attention to detail…and everything is completely customizable…from the size and scale to the wood finishes, colors, upholstery and hardware. The assortment is also quite broad so there is truly something for everyone and another exciting highlight is all of the company's amazing designer collaborations and licensed collections including lines by Thomas O'Brien, Alexa Hampton, Mariette Himes Gomez, Suzanne Kasler and more. I also love that the company is fully committed to environmental responsibility and sustainability both in its furniture production and business operations. This season, Hickory Chair has a wide range of new introductions and some of the notables are a new collection called Hartwood that's inspired by the romantic, old world style of Southern Europe and a new textile range designed in collaboration with Hable Construction. Let's take a peek inside their showroom…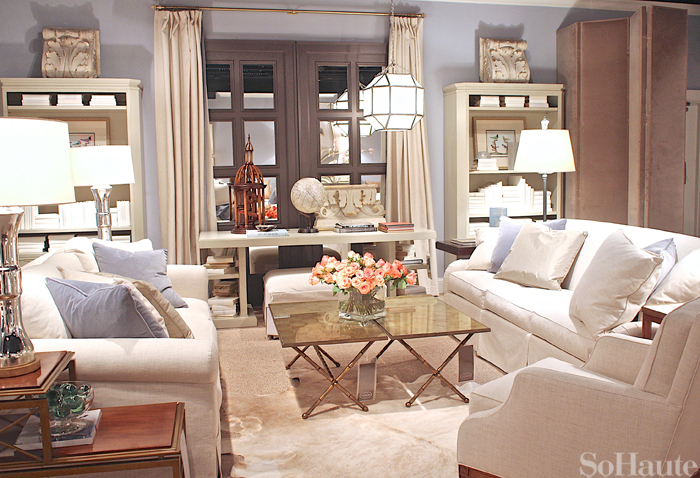 This is a vignette from Suzanne Kasler's collection for Hickory Chair which reflects the timeless, elegant sensibility that Kasler is best known for. I love the arrangement of the two Loring cocktail tables positioned together. The sofas shown here are skirted versions of  the Emory and the Celine.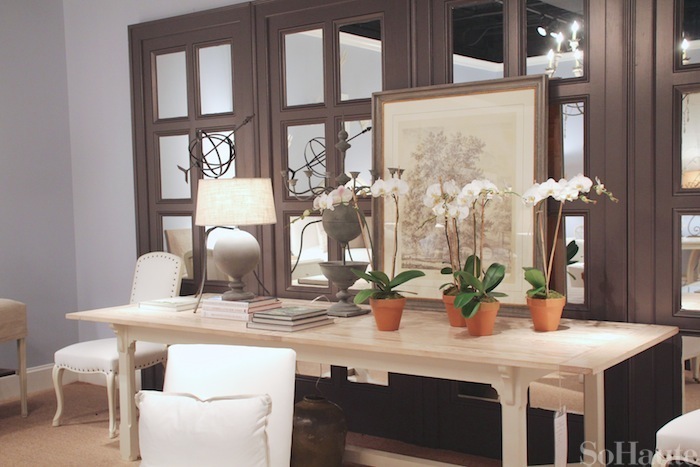 This vignette highlights Kasler's Piedmont dining table.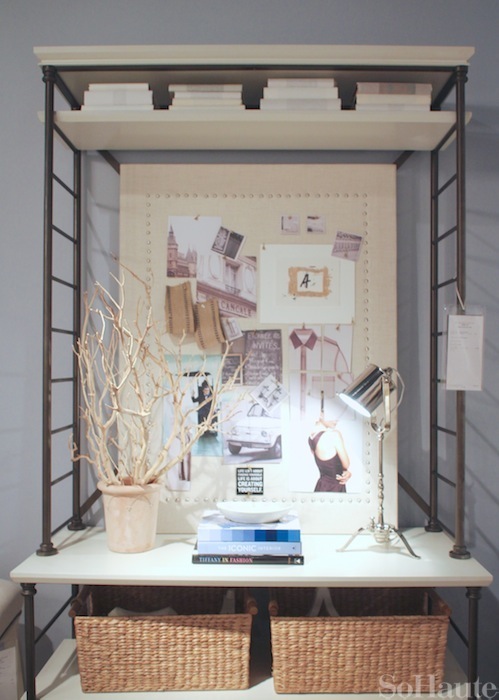 Here, the Prado bookcase has been customized to highlight a mood board featuring Kasler's latest inspirations. Always love a good mood board!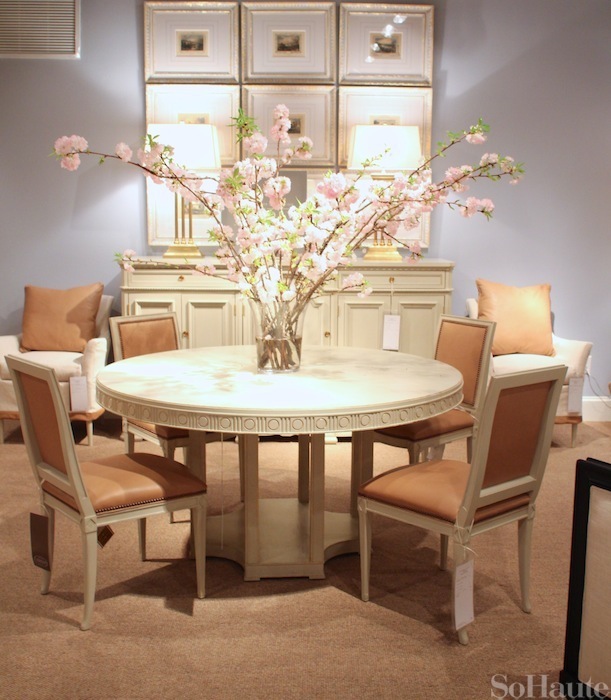 I also really loved the classic lines of these French inspired dining chairs.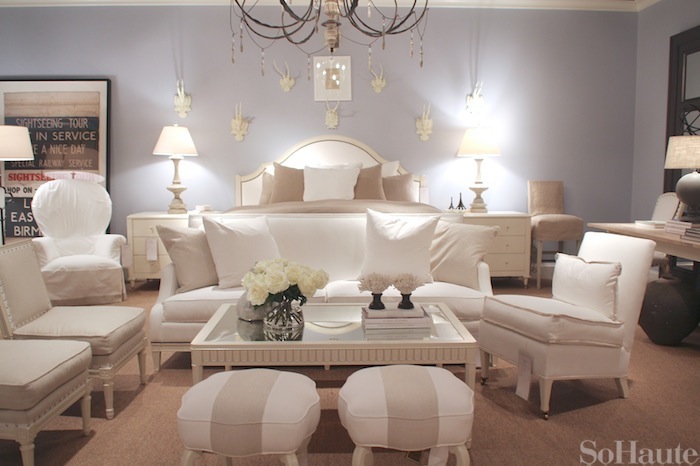 Here, Kasler's furnishings are shown in crisp white upholstery set against a cool blue backdrop. It has such a casually elegant feel.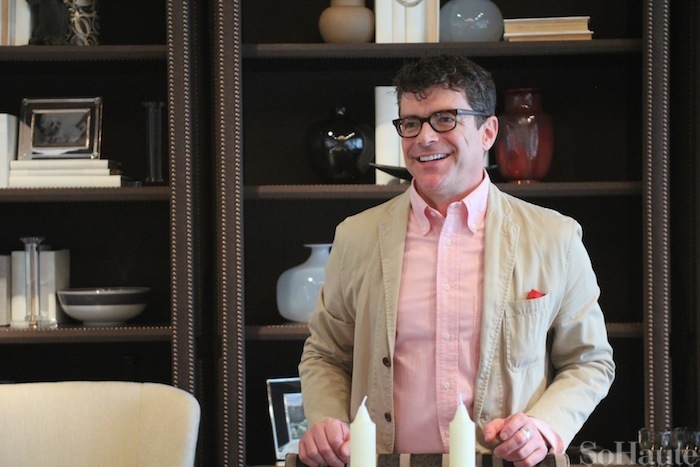 Thomas O'Brien
While at Hickory Chair I had an opportunity to chat with Thomas O'Brien who revealed that he's working on a new book that's a follow up to his popular first book, American Modern which I'm really looking forward to! It will be out later this year. One of my favorite pieces from O'Brien's Hickory Chair collection are the upholstered bookcases shown behind him in the above photo. Upholstering a bookcase is a rather out of the box design idea and the nailhead details really give it a wow factor.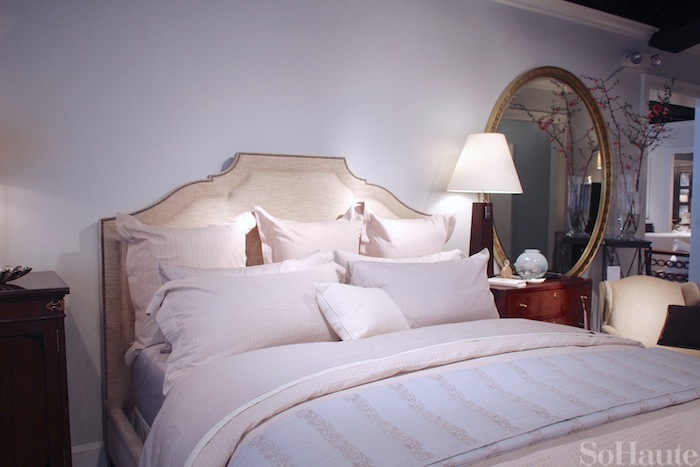 This "Fifth Avenue" bed is not a new style but is one of my favorites. It has such a timeless yet modern silhouette and can work well in any interior.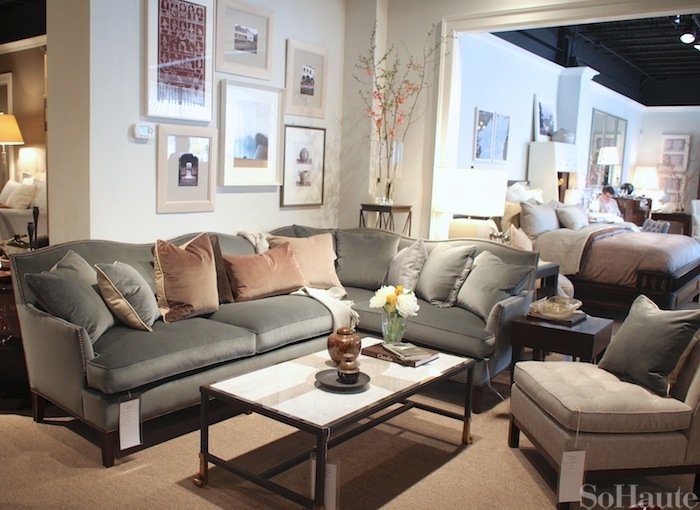 Another standout piece from Thomas O'Brien's collection is this "Pablo" corner sofa. A fun little tidbit is that it was originally designed for the home of Denzel Washington who is one of  O'Brien's clients.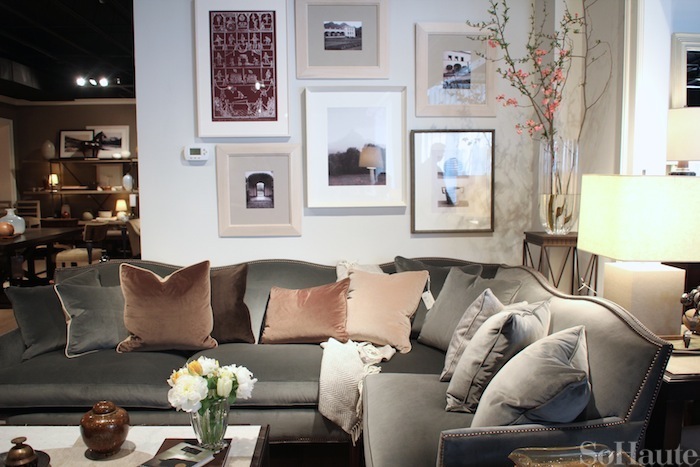 Here's a closer look. I love the graceful cures and the nailhead details. And the velvet upholstery is divine!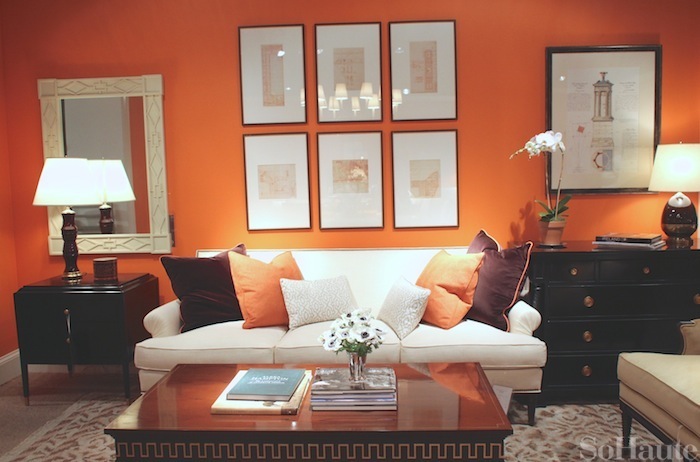 Next up is Alexa Hampton's collection. Alexa carries on the legacy of her late father, Mark Hampton, who was a design legend in the 20th Century. She, like her father, is best known for timeless, traditional design. The Alexa Hampton rooms in Hickory Chair's showroom were styled using a color palette of hermes orange mixed with pops of ebony and ivory which is such a chic combination!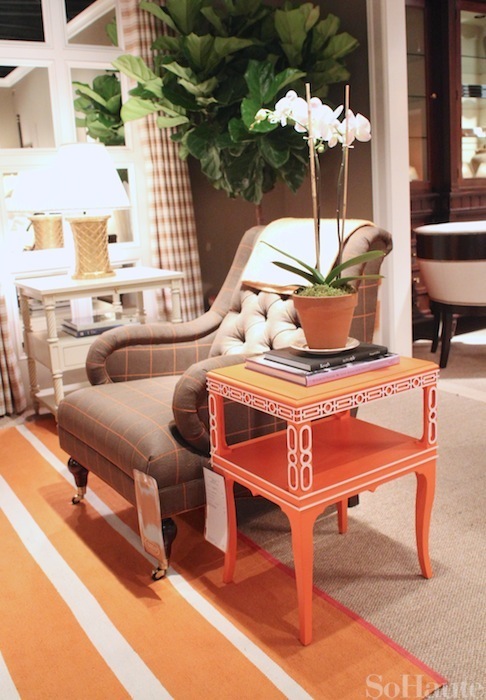 I thought this little fretwork side table, called Susannah, was quite stunning and loved the combination of the white hand painted detail on op of the orange finish.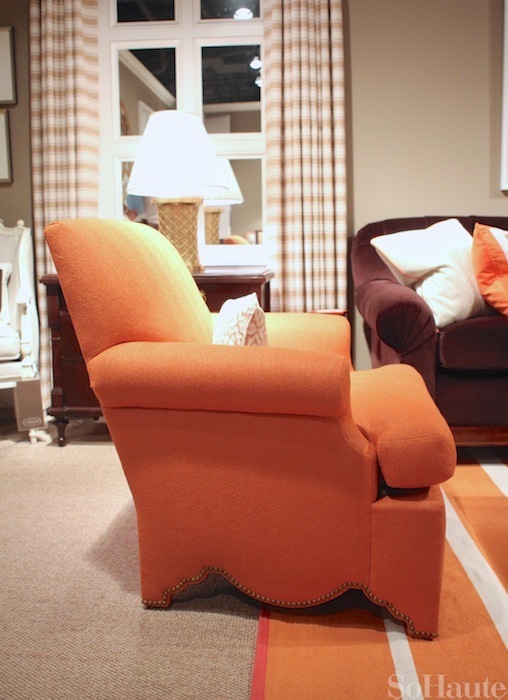 Another favorite was this lovely chair that had a scalloped base with nailhead details.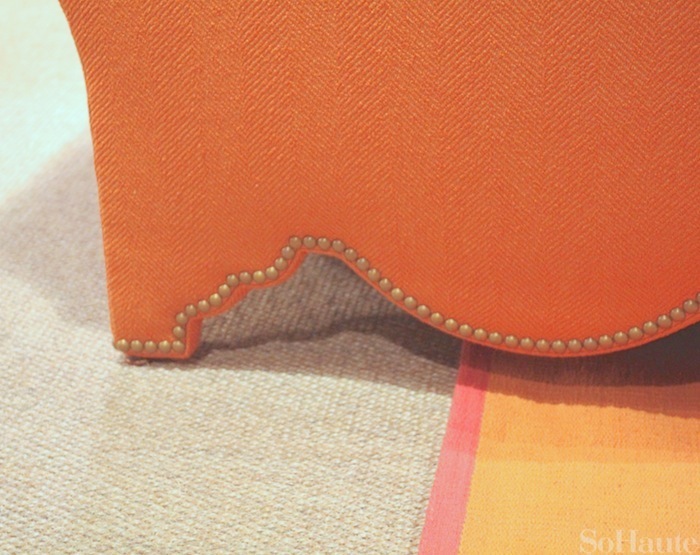 Here is a closer look. I noticed a lot of nailhead details throughout the Hickory Chair showroom and at market in general.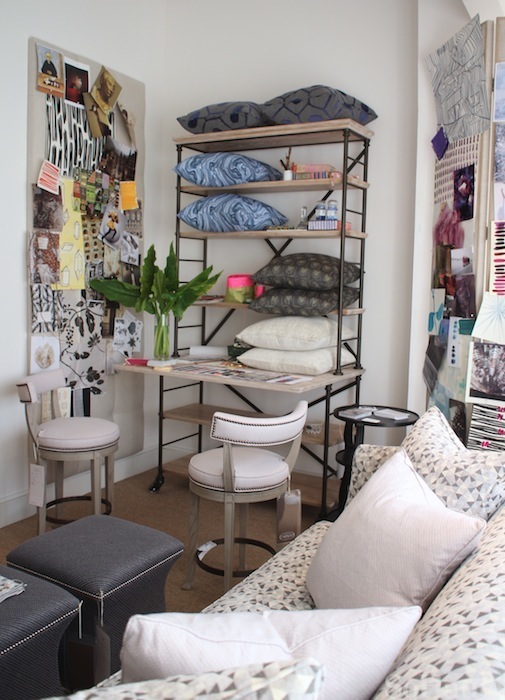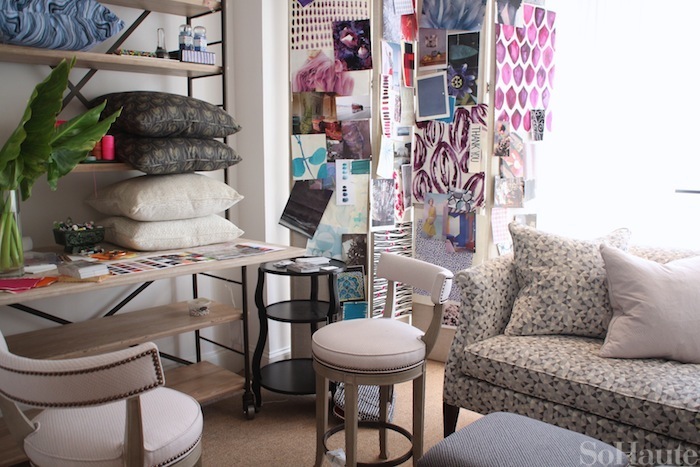 This photo and the one above it, showcases some of the new Hable Construction textiles that are exclusive to Hickory Chair. The range brings a modern feel to he pieces shown here with a mineral hued color palette and fun, graphic prints.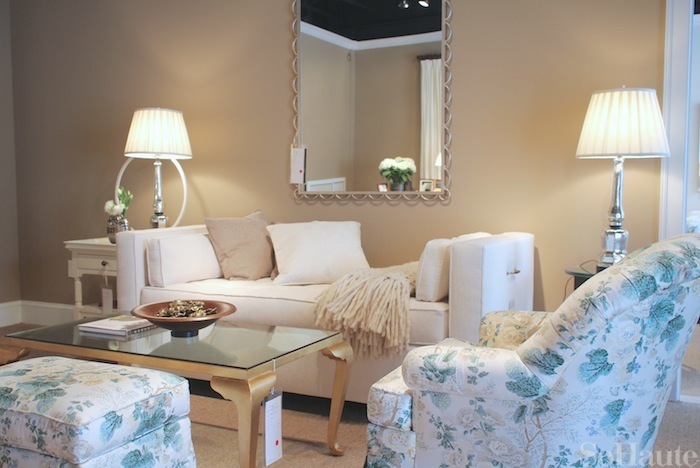 When I was visiting the showroom, there were quite a few people in the Mariette Himes Gomez rooms so I couldn't get a ton of great pictures but managed to snap this little vignette which is a beautiful and serene space highlighting a few pieces from her collection. I love the juxtaposition of the more modern chaise with the very traditional chintz covered tufted chairs.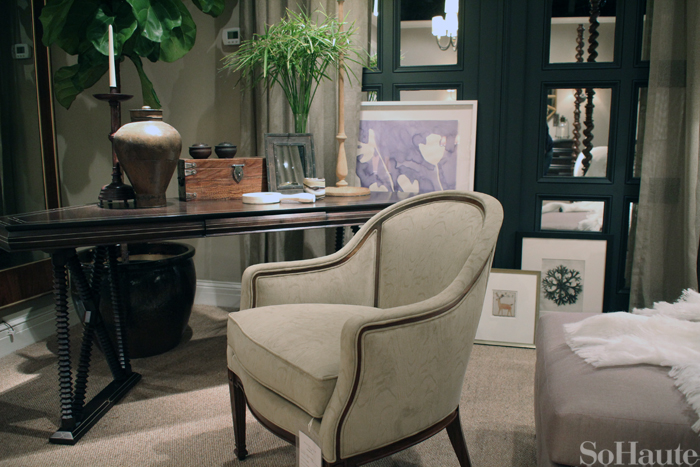 This vignette highlights the Otto desk and Avondale chair from the new Hartwood collection. The chair features another new high performance fabric that Hickory chair developed with Toray Ultrasuede that features a subtle, laser printed faux bois pattern.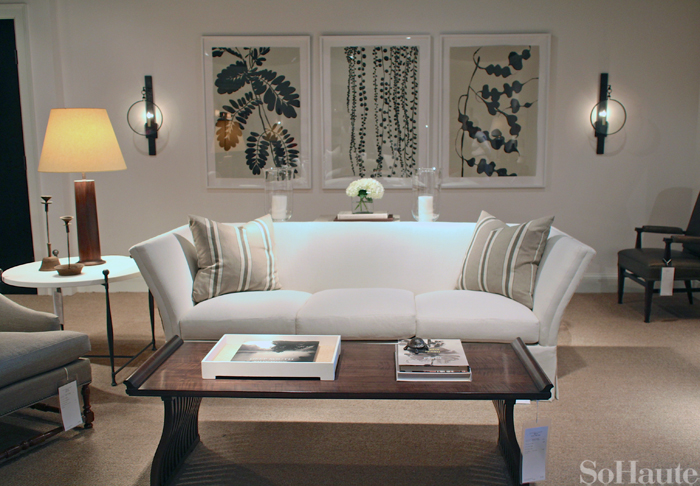 The key pieces shown here is the Pershing sofa, Oconta coffee table and Ionia side table which are all from the Hartwood assortment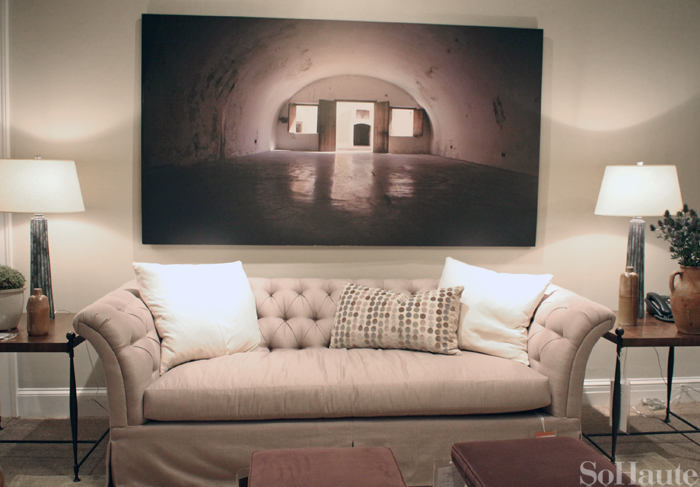 This is the Marquette sofa, also from the Hartwood range and the same Ionia side table as above except with a square top and a different wood finish.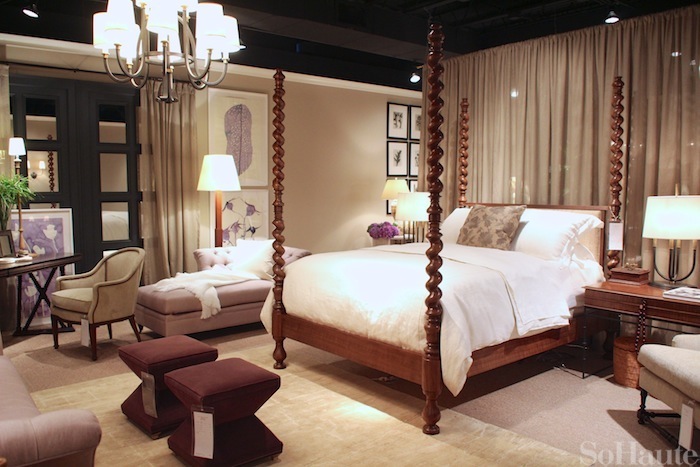 The Mautene bed from Hartwood features a four poster frame influenced by 16th century Italian design. The spiraled posts feature a rope twist design, all hand carved and are a dramatic, 8 feet tall.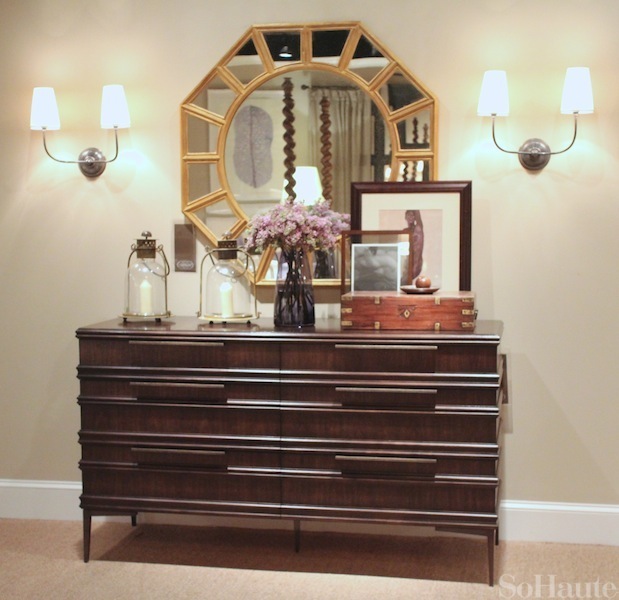 The Hamlin dresser from Hickory Chair's Hartwood collection.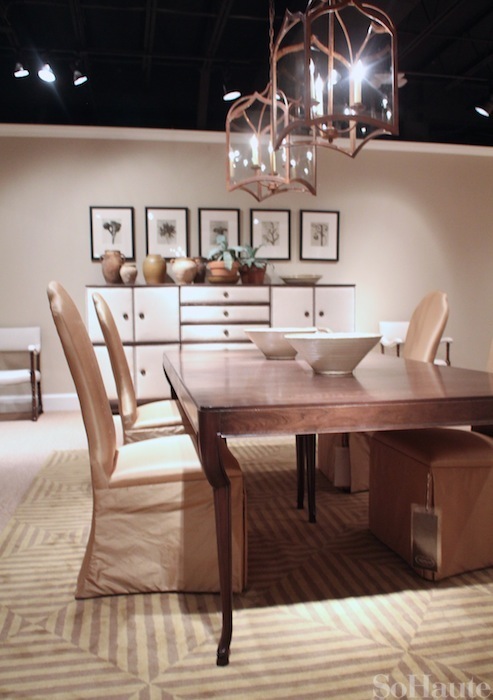 I loved this Aberdeen dining table with its graceful, guerdion inspired legs that have an elbow and hoof detail. It is made entirely from American walnut. Below are a few more shots from around the Hickory Chair showroom including close-up shots of some of the hardware which really illustrates the quality, craftsmanship and detail that goes into making Hickory Chair's furniture. The company's hallmark is "luxurious yet livable furniture that's made to order and made to last" and a piece from Hickory Chair will definitely be an heirloom that you'll want to keep forever and pass down to your children and their children.  Hope you enjoyed the tour of their High Point showroom and thanks again to the team at HC for the wonderful experience! In the next couple of weeks I'll be bringing you more coverage from High Point including a peek at Celerie Kemble's stunning new furniture collection for Henredon, a tour of the Junior League of Greensboro show house and more of my favorite products and trends form High Point market. Stay tuned!