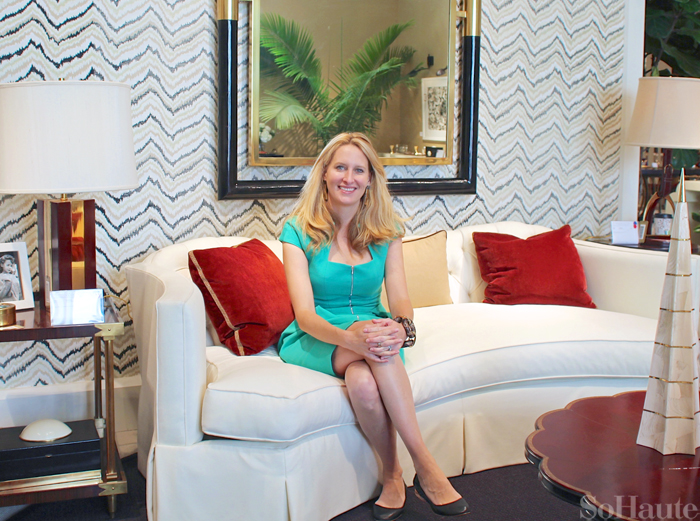 A common question that kept popping up during  High Point Market was "what collections have you seen that you're most excited about?" For me and for just about everyone I talked to, designer Celerie Kemble's new collections for sister companies Henredon and Maitland-Smith were the hot answer. Arguably the most buzzed about collections at High Point, Kemble's coordinating lines of furniture for Henredon and lighting and accessories for Maitland-Smith reflect her signature mix of new traditional glamour meets Palm Beach chic and packs some serious style.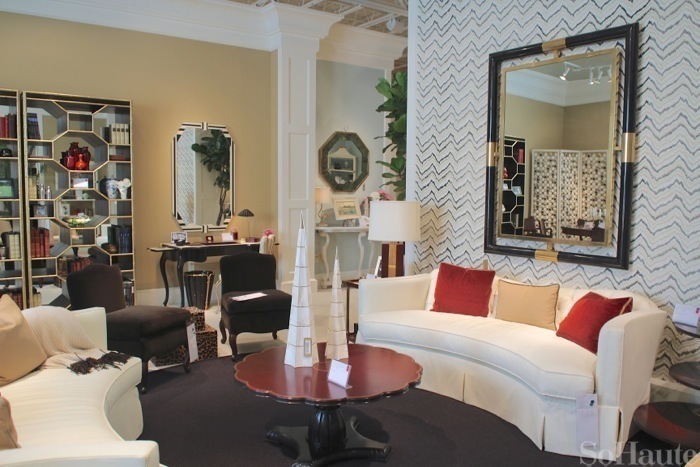 I caught up with Celerie at the Henredon showroom and was kind enough to give me a tour of the of her new lines and shared a bit of background on her inspiration and how it all came together. Celerie said that the development process took just over a year and when she began working on the lines, the original intent was to create 40 or so pieces but as she collaborated with Todd Sessa, VP of Design and Merchandising for Henredon and Maitland-Smith, the line evolved into a collection of around 130 pieces. She says that rather than creating a collection with a lot of matching pieces, she wanted to ensure that each piece felt distinctive and full of personality. The pieces are designed to stand alone or be mixed and matched together. There is also a lot of variety in the finishes that are available which make each piece extremely versatile.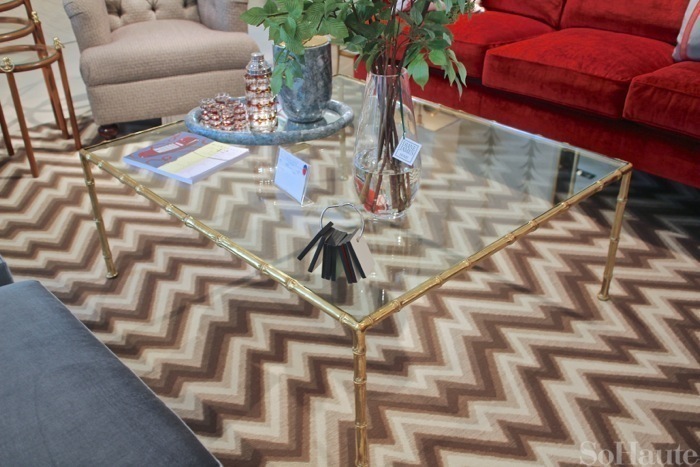 Celerie says she wanted to bring in some of her favorite antique and vintage elements and really had fun working with motifs and elements such as faux bamboo, lacquered leather, brass, acrylic, dyed penshell, eglomise rosewood and faux shagreen. She also took inspiration from many different periods and styles…from Swedish design of the mid 1700s and Directoire to French 1940s and the work of iconic early 20th century designers like Tommi Parzinger, Samuel Marx, Jacques Adnet, Maison Jansen, Sister Parish and Dorothy Draper.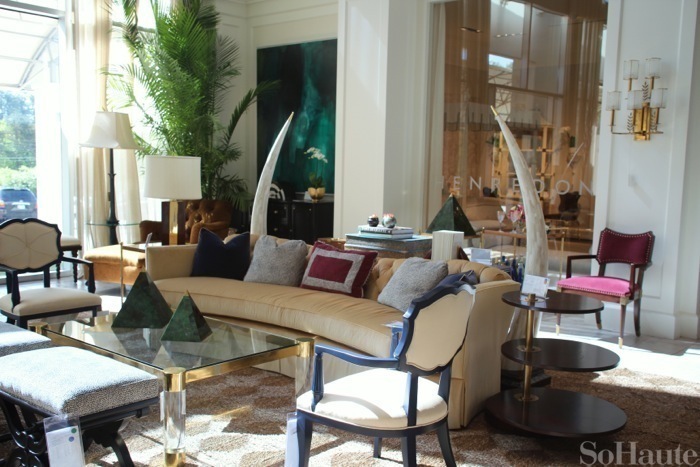 Because there are so many brands showing at High Point..literally thousands…there is a lot of redundancy in terms of trends, color palettes and styles but Kemble's collection really stood out and I really think it's quite unique and special. The pieces had such graceful, feminine silhouettes, many with a very sculptural feel and I was truly wowed by each piece. The collections are available through the design trade to ship beginning in September. Here's a look at more of the collection from inside the Henredon showroom…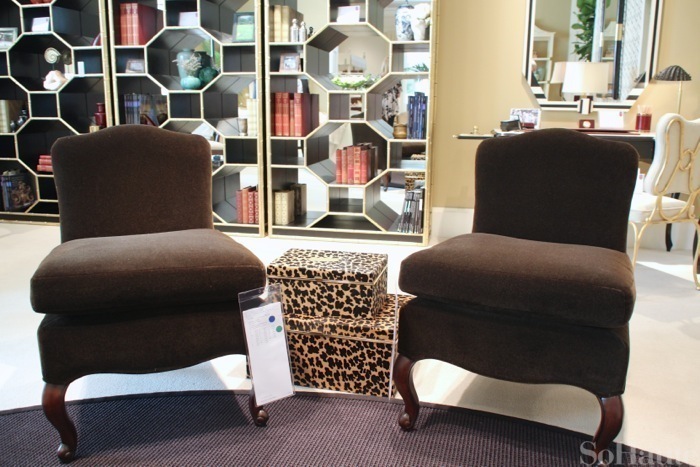 A pair of louis XV inspired slipper chairs exaggerated cabriole legs look glamorous in rich cholcolate velvet.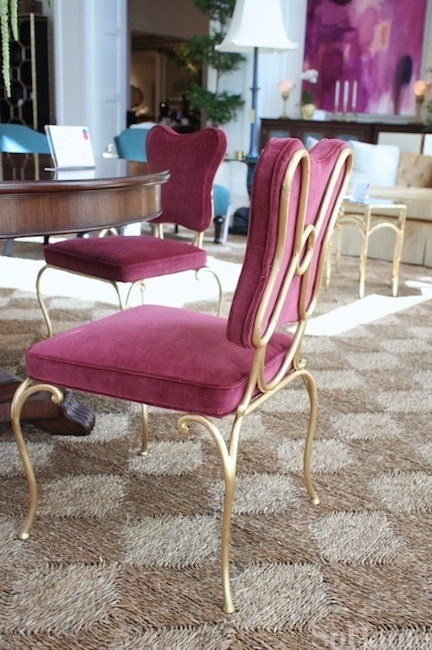 I loved the soft, feminine lines of this chair which was merchandised within the showroom as a dining chair, a desk chair and a side chair, highlighting the versatility of this piece.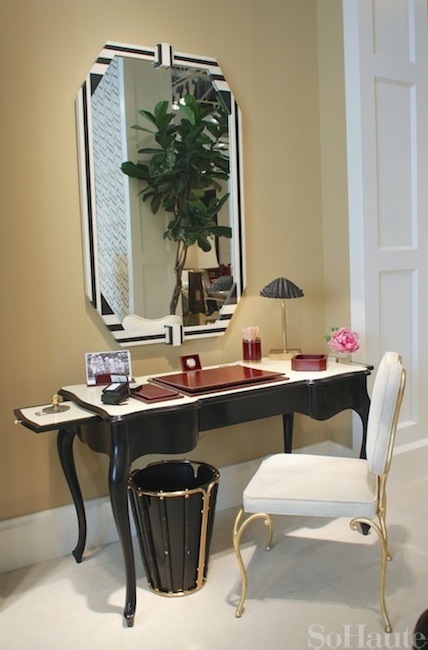 Here it is shown with a desk vignette in a classic black and white scheme. Interestingly, when I asked Celerie if she had a favorite piece in the collection she said that she was obsessed with this little wastebasket shown here!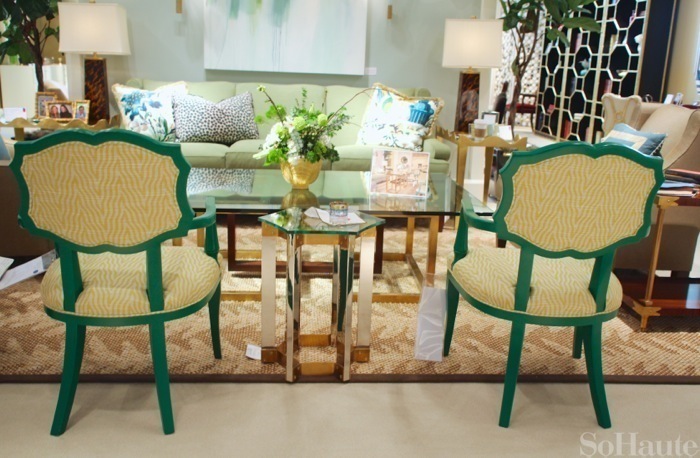 Another thing I loved about the Celerie Kemble collections were the element of whimsy throughout. These Hexafleur" chairs marry the geometry of a hexagon with a floral motif and their quirky shape was inspired by curved details on an antique wooden door.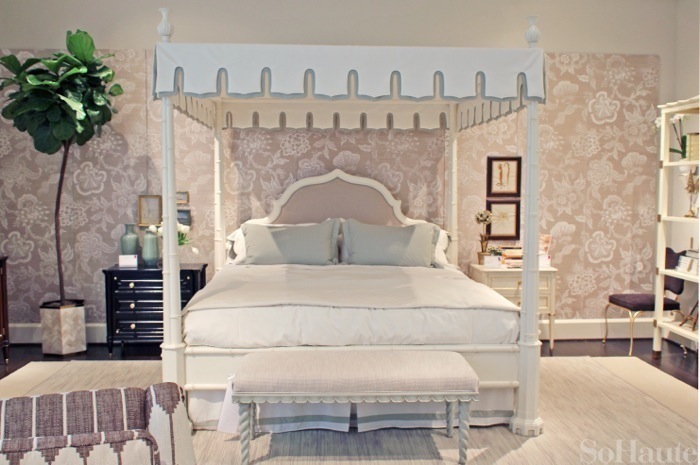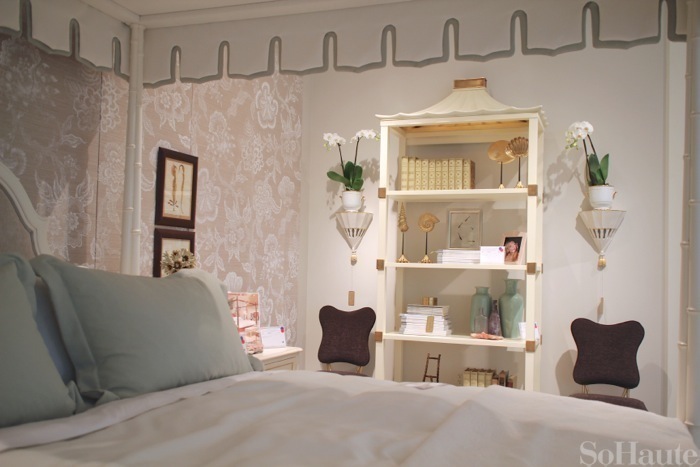 I loved the attention to detail that went into this four poster, faux bamboo canopy bed. On the other side of the bed here is a pagoda book case in a luxe lacquered leather with brass detailing.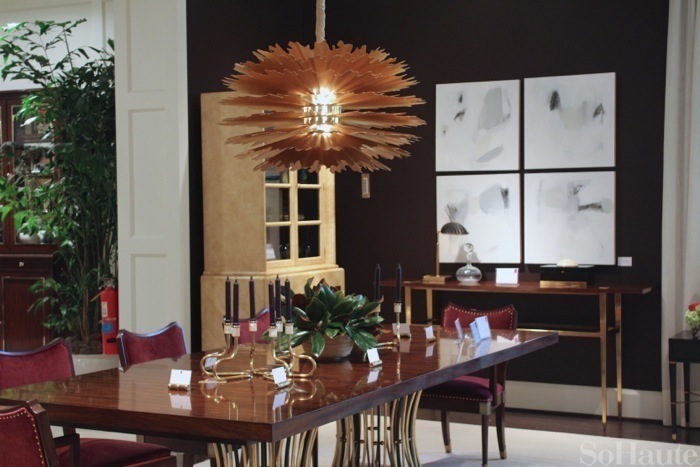 Here an eclectic pendant light hangs above a rosewood dining table with a sculptural brass base. The candle sticks on the table from Kemble's Maitland-Smith line were also quite fun.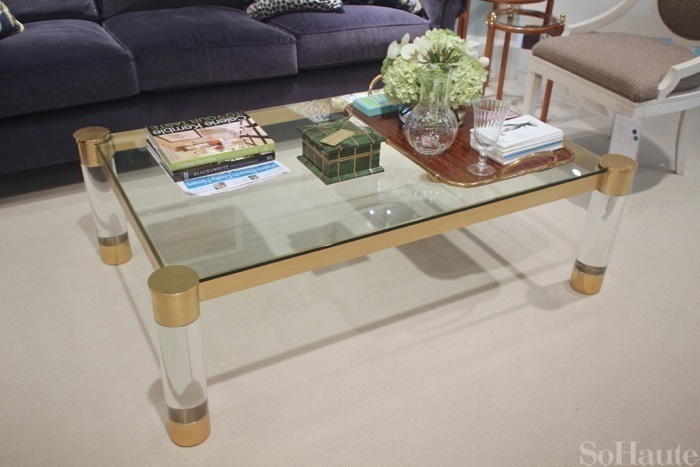 This acrylic and brass coffee table might be my favorite piece in the line. It is so chic and glamorous and I think it could live in any style of decor.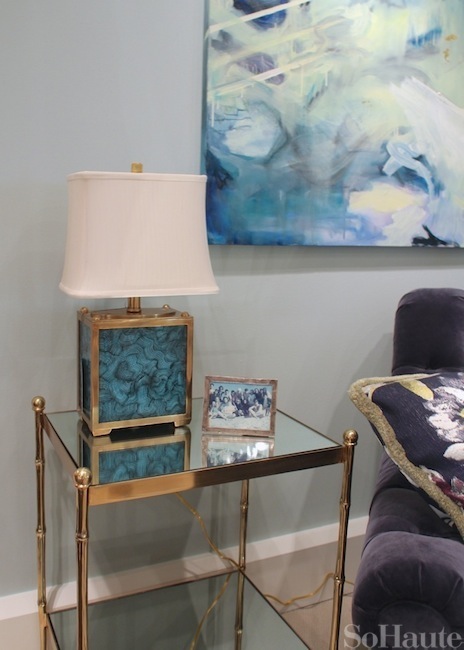 There was lots of brass faux bamboo in the collection and I loved this little side table. The faux malachite table lamp is also quite stunning.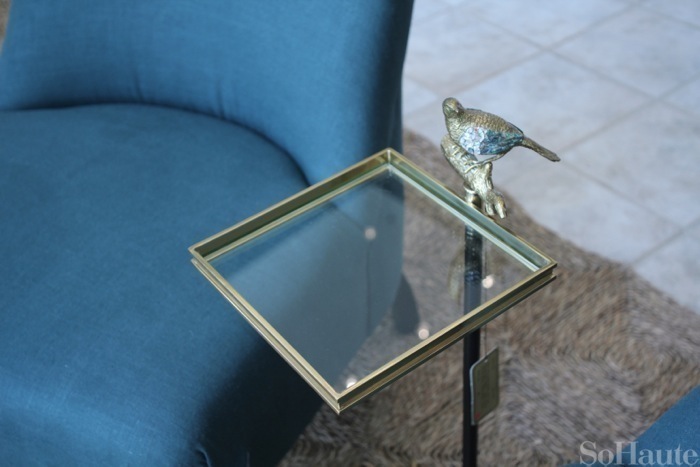 The Maitland-Smith collection included several whimsical little occasional tables like this piece which resembles a modified bird cage bas on a pedestal. The bird perched on a twig ads a whimsical touch.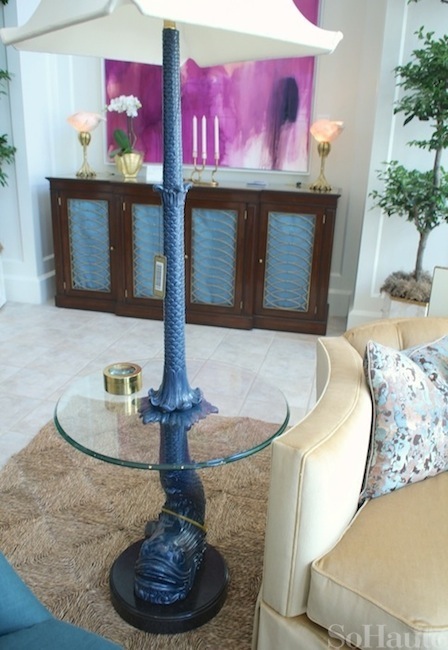 This floor lamp is another whimsical piece that has a Hollywood Regency meets chinoiserie feel with a koi fish base and fish scale details.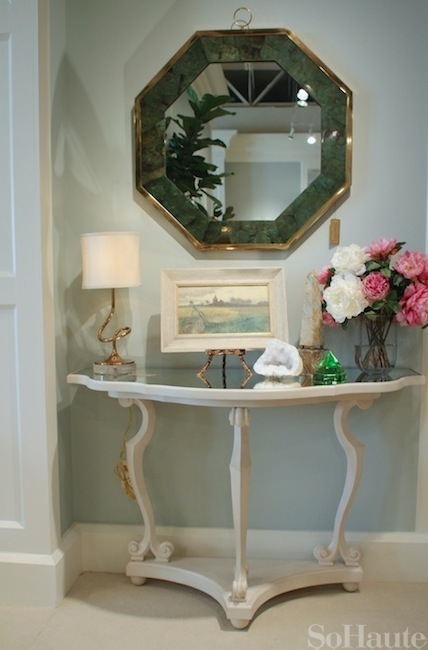 Another vignette highlights a fab octagonal mirror in a brass and faux malachite finish.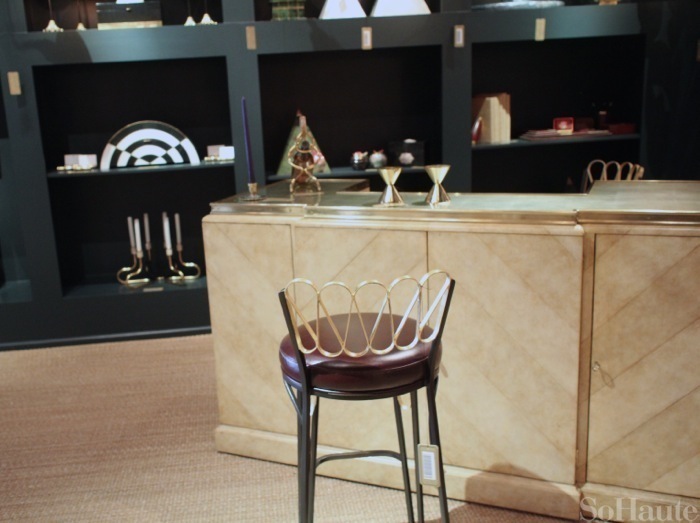 There were a few case pieces in the Maitland-Smith line including this incredibly detailed leather inlaid bar. The picture isn't completely in focus bu it's such a beautiful piece and the finish is stunning.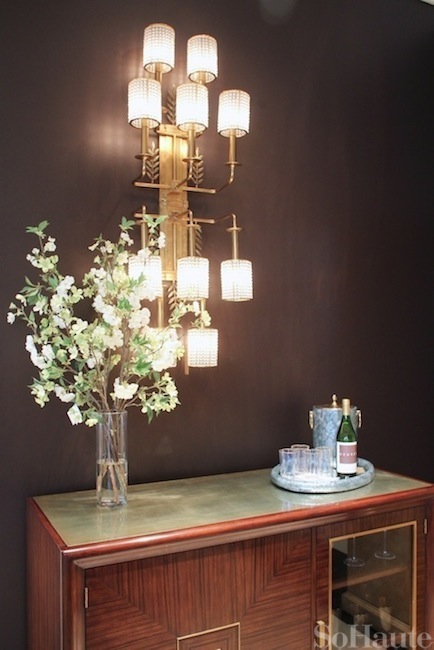 Above this bar cabinet is a pair of sconces positioned together which can individually be hung in either direction.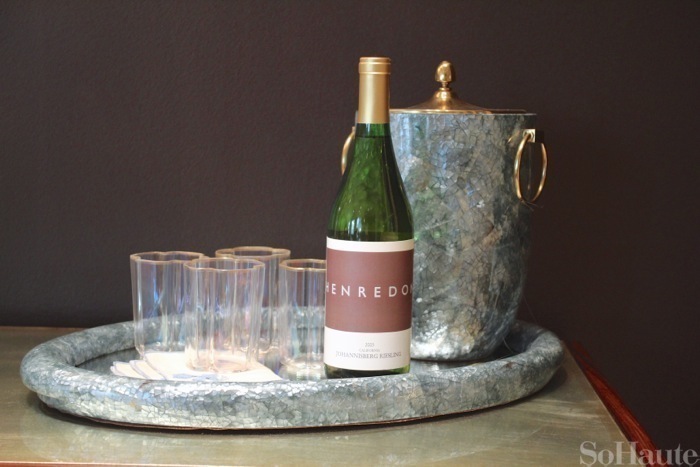 This dyed shell ice bucket and tray are the perfect accent for a chic bar setting.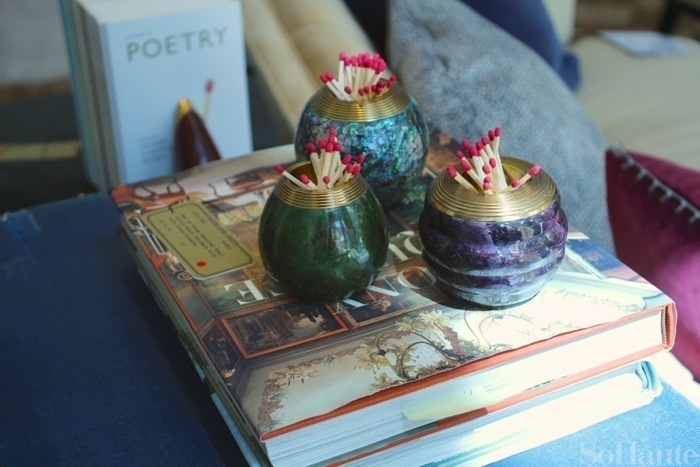 I was also utterly obsessed with these match-strikers. Pretty fab right?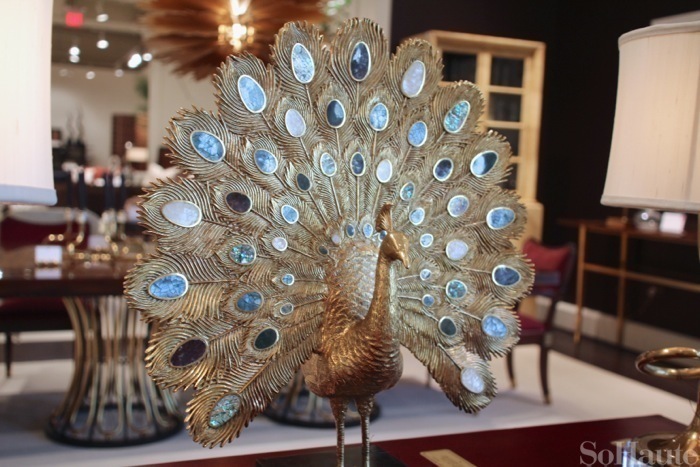 I have a thing for brass animal objets so I fell in love with this intricately detailed peacock.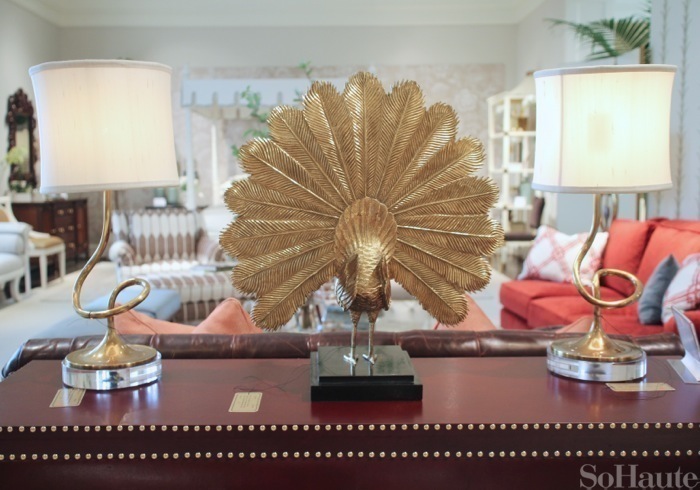 Here's the view from the back…it's just as beautiful as the front!