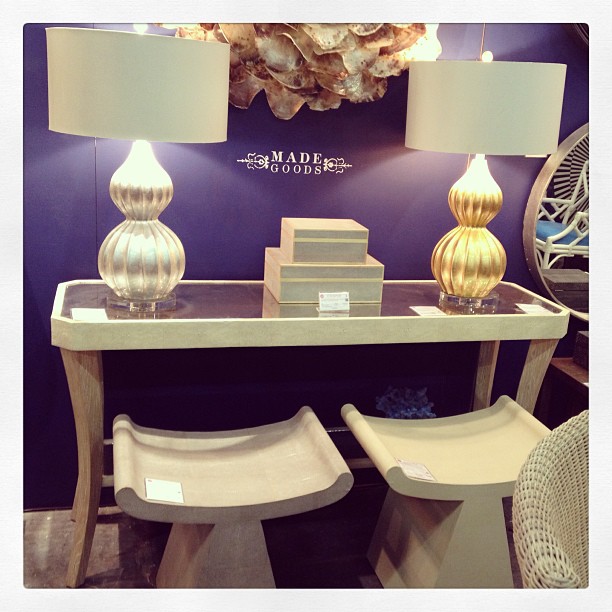 Twice a year, the NYIGF (New York International Gift Fair) showcases the best home and lifestyle goods in the market for buyers, press and other members of the design industry. I always look forward to going to check out the latest trends and to discover amazing new products and brands.  (As a side note, The NYIGF is officially rebranding and changing it's name to "NY NOW, the Market for Home & Lifestyle" which I think is a better fit. I always felt Gift Fair sounded a little misleading. ) Anyway – A couple of weeks ago I popped by Pier 94 during the NYIGF which focuses more on a cross-section of newer home brands. Armed with my iPhone and my favorite photo app, Instagram, I set out to document my favorite products and trends from Pier 94. Here's a look at some of the things that caught my eye this season, starting with the photo above from Made Goods which has a wonderful selection of chic furniture and accent pieces. I was especially loving their collection of faux shagreen items, including the Annika stools and Nella console pictured.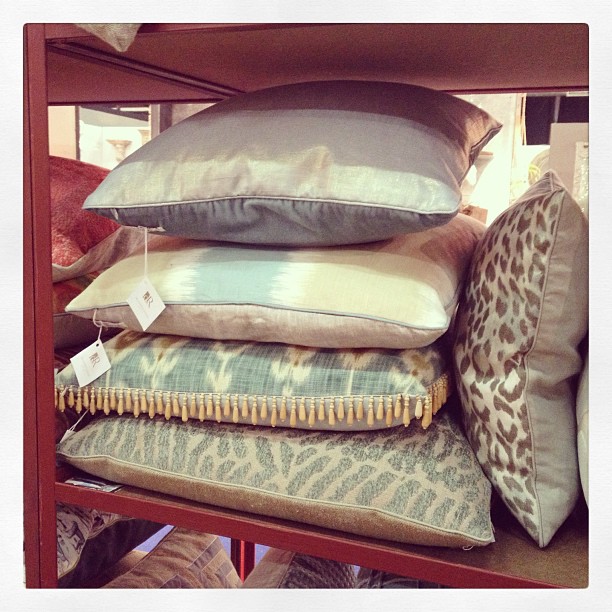 Dransfield & Ross had a lovely selection of pillows and soft goods.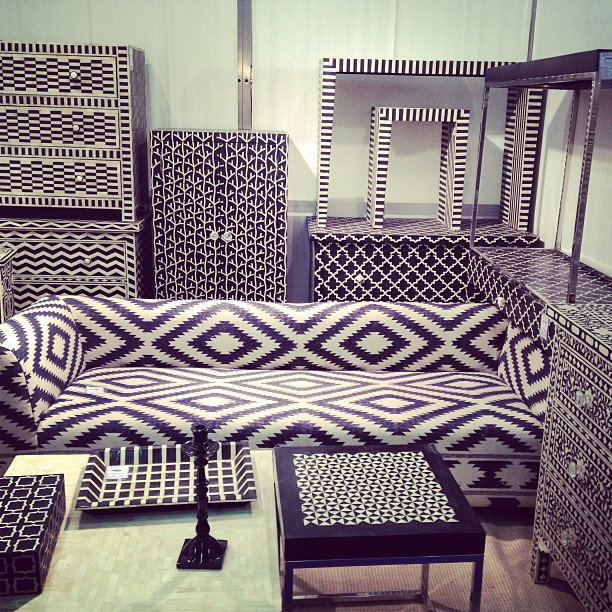 Manglam Arts, an exporter of beautiful furnishings from India had this graphic display of black and white pieces on display. I'm a sucker for anything bone inlaid and Manglam Arts had some very unique pieces. I loved the chest in the back left corner with the chevron pattern.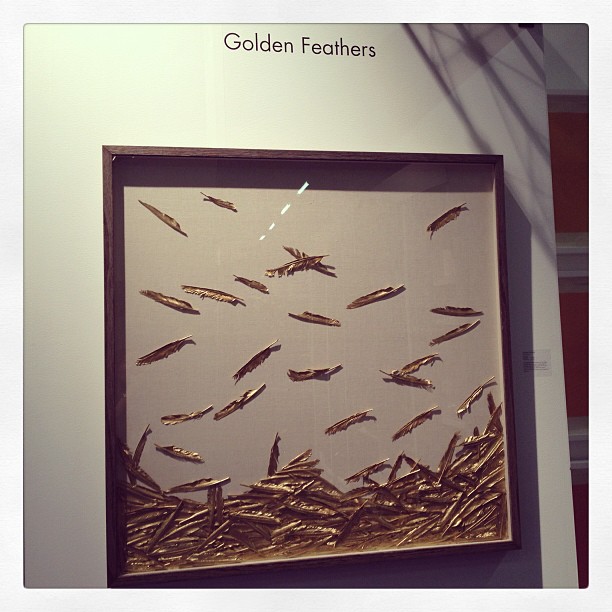 Natural Curiosities is such a great resource for art. This piece, Golden Feathers, is a new addition to the company's Animal Kingdom collection and features actual bird feathers that were each hand painted in gold and dropped onto a linen bed which illustrates the natural movement of fallen feathers.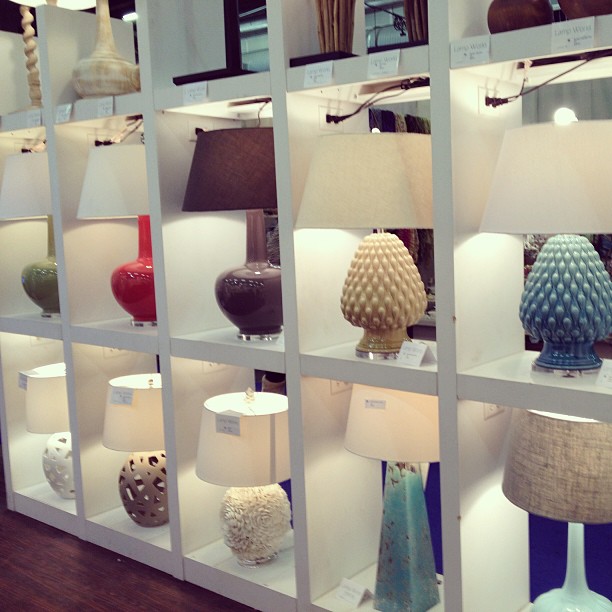 There were lamps galore on display at the Lamp Works booth. They have a plethora of lamps to suite every style and taste.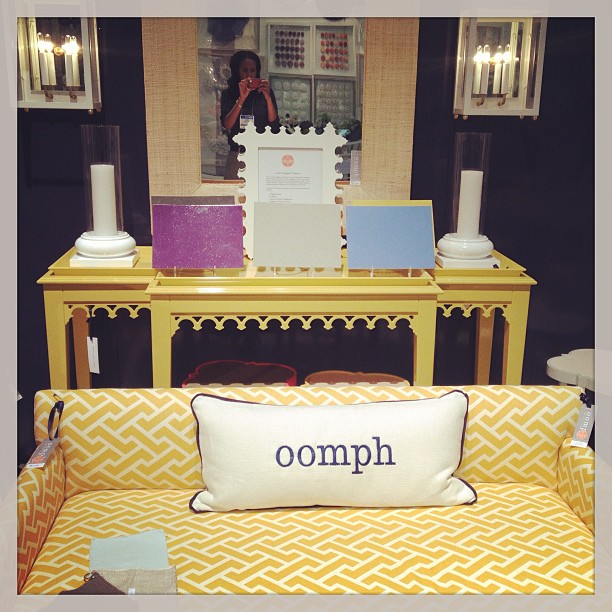 Oomph is a brand that I always love checking in on to see what's new. Their products are so vibrant and colorful and many come in a variety of surfaces and materials that you can customize. New introductions this season include the Newport console, seen here in a sunny yellow called Gambol Gold. I just love the laquer finish and fretwork detail. The X Bench Setee seen in the front is also a new introduction.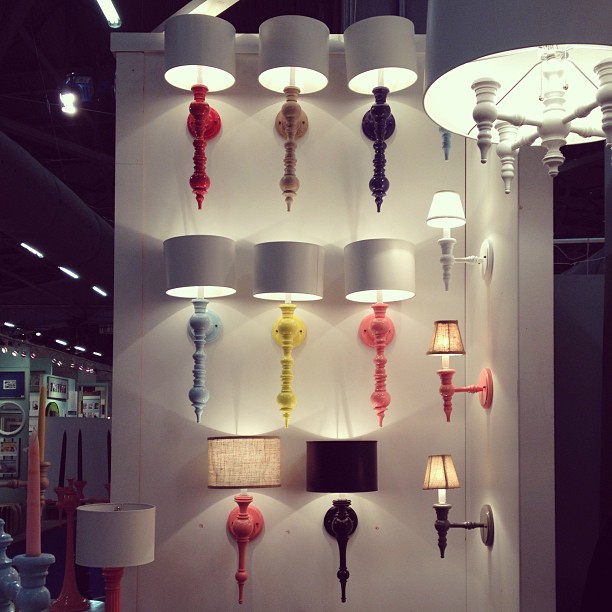 I was super excited to stumble upon the Dunes & Duchess booth this season! Launched nearly three years ago by stylist/editor/blogger Stacy Kunstel and photographer Michael Partenio, the brand has evolved from a simple collection of candelabras and hurricanes to a robust assortment of lighting including table lamps, wall sconces and chandeliers which you can see here.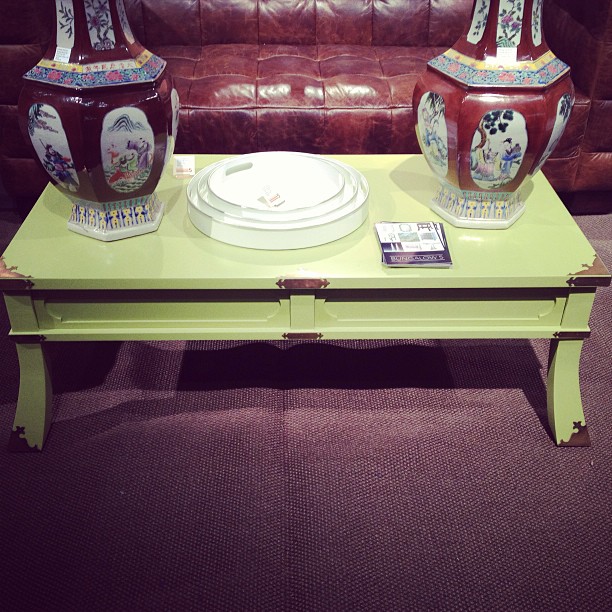 Another home furnishings favorite is Bungalow 5 which has some of the most stylish furniture and accessories in the market. Here is their Higashi coffee table which is a new introduction. I love the brass details and Asian feel.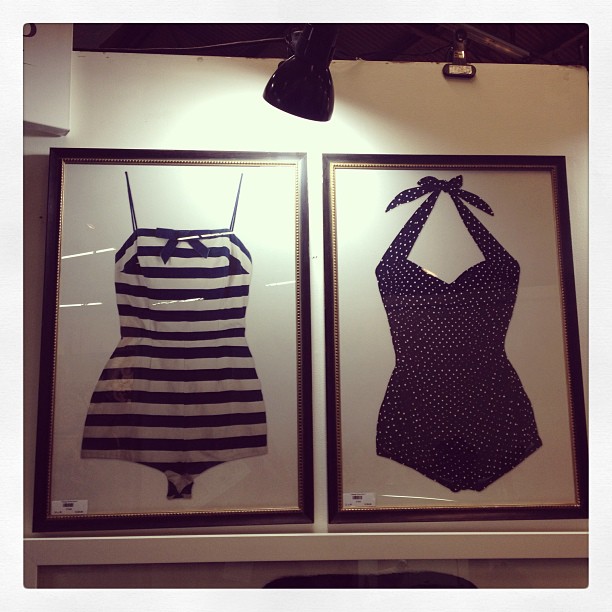 How cute are these vintage bathing suit prints? I spotted them at the Wendover Art Group booth and had to snap a photo. These would be perfect in a beach house!