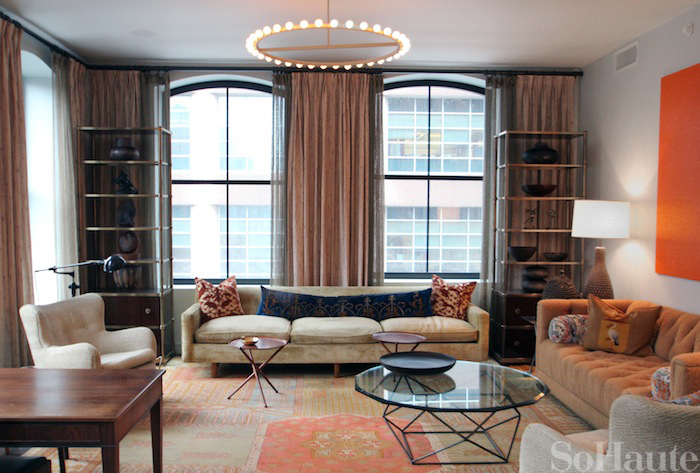 The House Beautiful residence for the 2012 Hearst Designer Visions Showcase was designed by the Rockwell Group which is very well known for it's hospitality design projects. The muse that the Rockwell Group created to inspire their design was a stylish young couple who recently transplanted to New York from Amsterdam. They are sophisticated and well traveled and both have creative careers. The husband is  American and works as the Chief Curator of the new Whitney Museum downtown, while his Dutch wife runs a small, tailor-made denim company out of their home.  The home has a very clean feel with an eclectic mix of influences.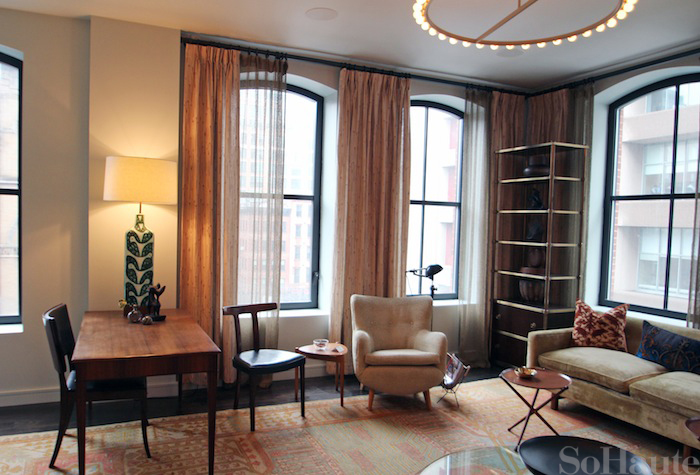 The living room of the House Beautiful apartment features a fairly neutral color palette with pops of orange and brown hues and a rich mix of textures. Throughout the space you'll see a mix of Dutch and Flemish pieces which are a nod to the fictitious wife's heritage. I especially loved the wall color chosen which was Cool Breeze by Benjamin Moore.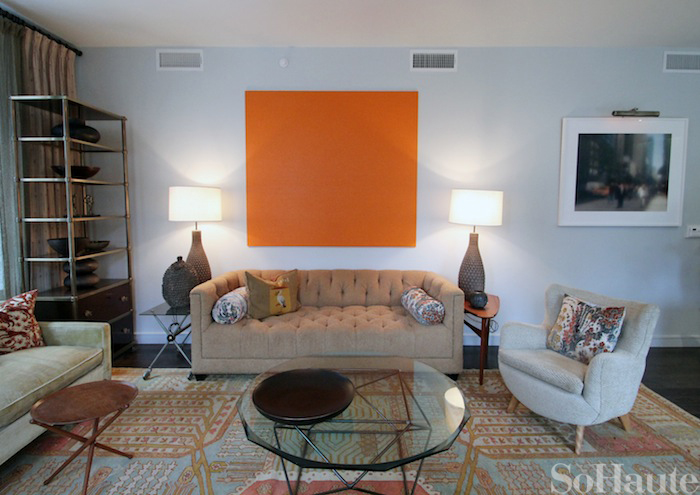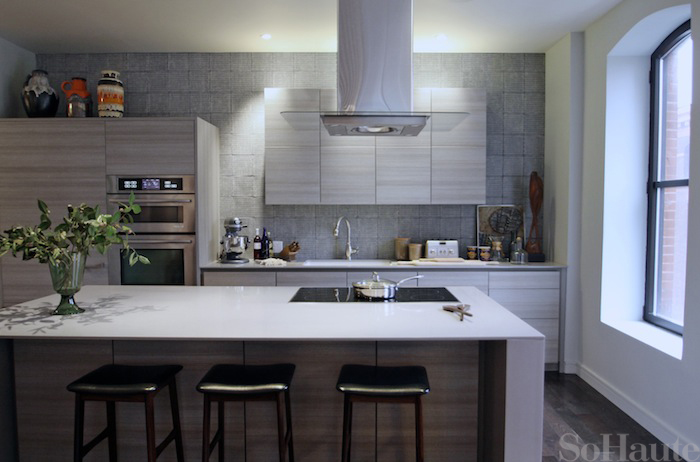 The apartment's kitchen, which opens up into the living space, has a very modern feel with teak quartz cabinetry and Silestone by Cosentino countertops. The backsplash spanning the entire back wal is a handcrafted terracotta tile from Ann Sacks, another dutch reference inspired by blue and white patterned Delft pottery. All of the kitchen appliances are from Jenn-Air.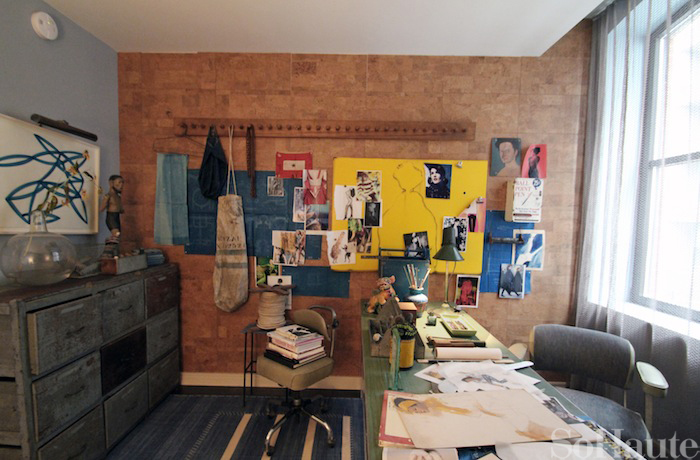 One of the bedrooms in the apartment serves as the wife's design studio space where she works her denim line. There are denim in spired blue hues and a giant cork wall which serves as an inspiration board. I thought this space had so much personality  The wall color is French Toile by Benjamin Moore and the picture lights are from Hudson Valley Lighting.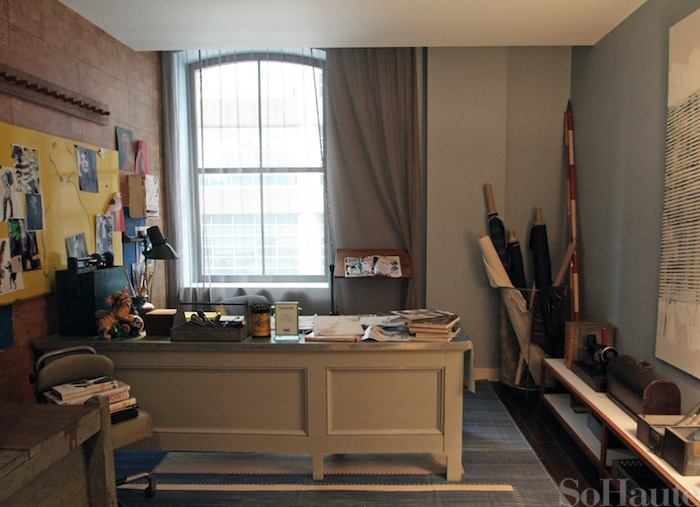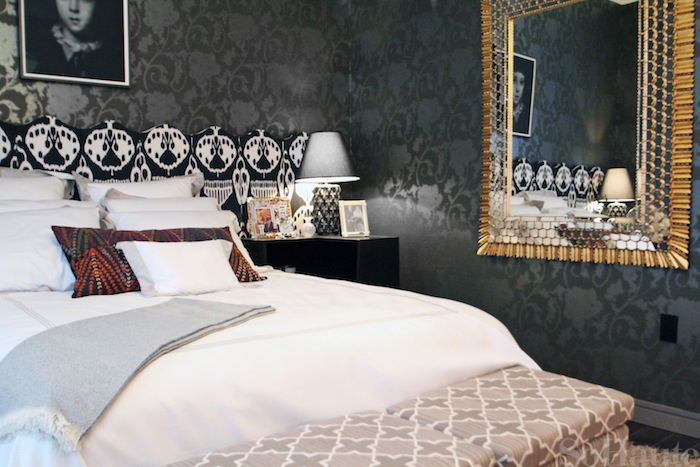 The master bedroom had such a sultry feel with dark walls covered in a pattern called Byzance from the House on the Klong Wallpaper collection from Jim Thompson. There was also a beautiful cascading crystal chandelier from Corbett Lighting which you can see a glimpse of below.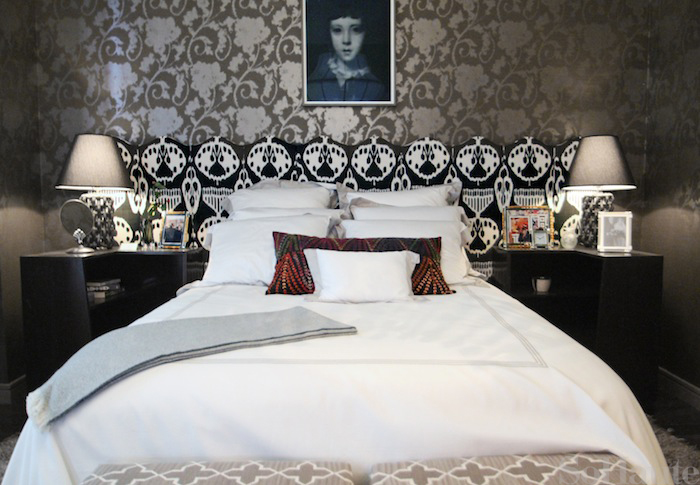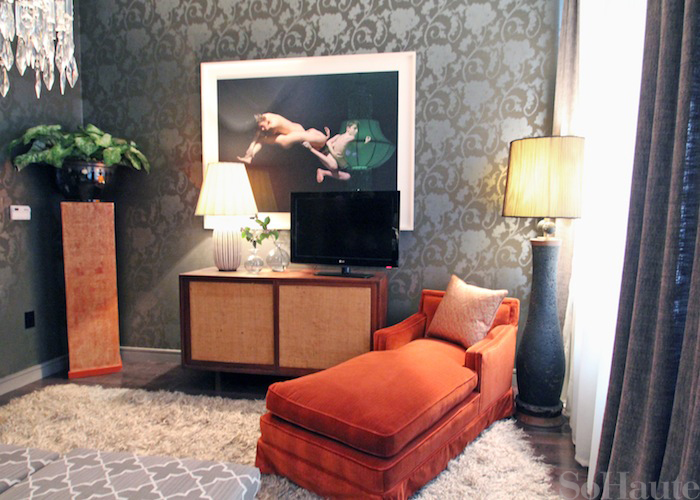 You can see a full tour of this Designer Visions apartment designed by the Rockwell Group for House Beautiful here on the House Beautiful website.
Photos by Nicole Gibbons for So Haute